In addition to the mirrored pocket door, my latest completed project is the linen cabinet. WOOHOO!!! The carcass had been done for a while but I just got around to building the drawers and installing the doors that Cabinet Now sent me.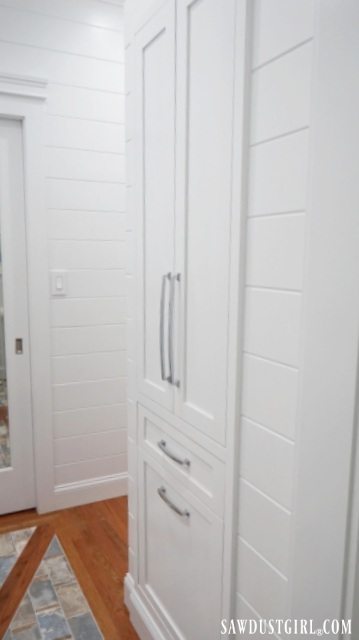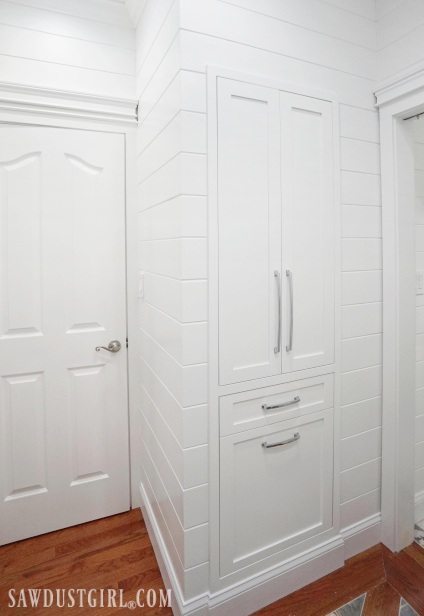 Linen Cabinet Recap
Looking back at all my video footage to get photos for these Jack and Jill bathroom posts has been enlightening. I've done so much to this space. I gutted three rooms (two closets and a bathroom), to create my vision. It's been a lot of work and it's SO exciting to finally be finishing the things that make it all functional and pretty!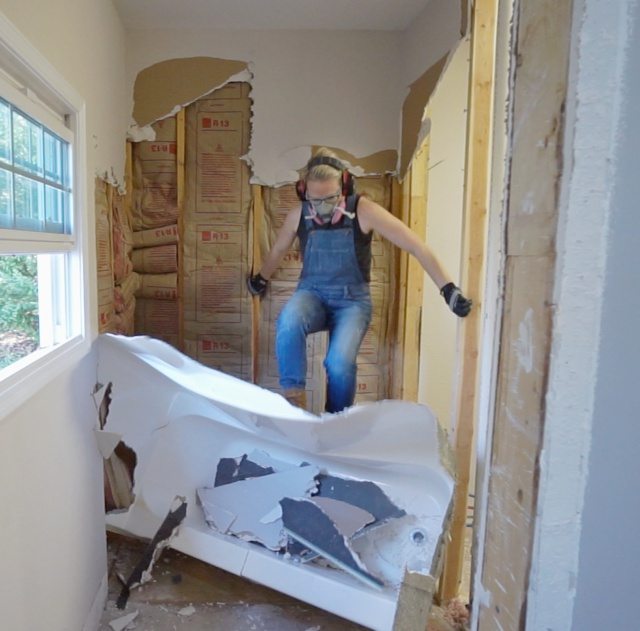 If you remember, the linen cabinet is back to back with one of the wardrobe cabinets in the guest bedroom closet. I like shallow cabinets for shelving. Shelves that are too deep are a waste of space because things get lost behind each other. So, building two shallow cabinets, back to back, gave me usable storage space for both rooms. And it was the solution to me wanting a linen cabinet in the bathroom where I otherwise wouldn't have gotten one.
It wasn't all smooth sailing. I miscalculated the width of the opening and had to plane down one of the studs to get the linen cabinet to fit.  Check out my post and video showing more of that process in this Jack and Jill bathroom update. Obviously, I did make it fit!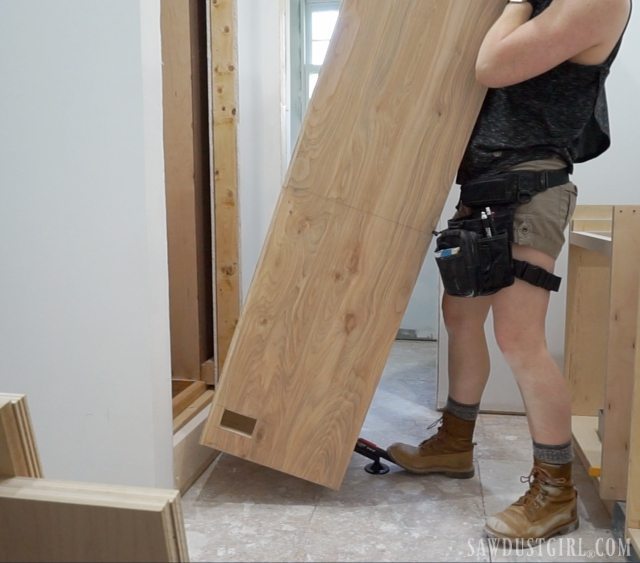 It has to have a junction box in it to house some electrical wiring from the original bathroom configuration. There wasn't enough Romex to pull to a new location so we just tied into it. I won't be using that junction box for anything but it can be accessed easily if it ever needs to be.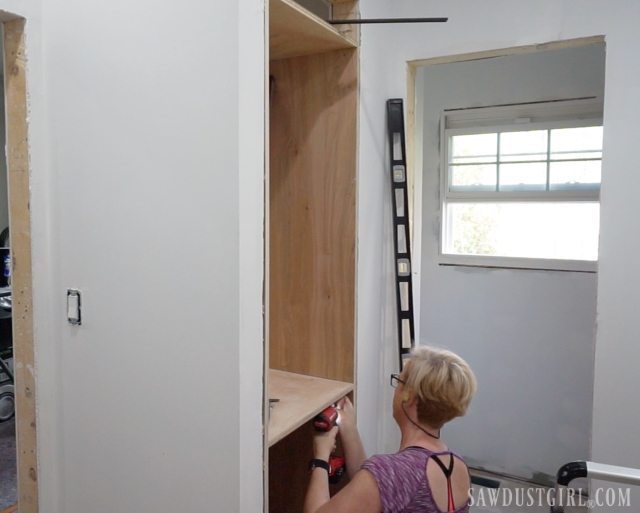 The linen cabinet is a simple carcass with one fixed shelf. I planned adjustable shelves for the top portion and drawers in the bottom. I painted the linen cabinet, trim and plywood plank walls all at the same time.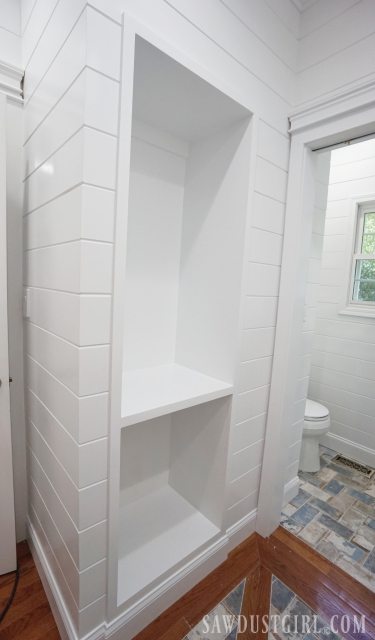 Adjustable shelves
Sometimes I'll drill the holes before assembling the cabinet. This time I drilled them after the cabinet was painted. Drilling a bunch of holes takes time. It's faster and easier to do it before assembly. Sometimes I need to quickly knock out the cabinets and move on to other things.
One benefit of waiting until after the cabinet is painted to drill the shelf pin holes is that no paint gets into the holes. I almost always have to dig paint out of holes when I do it the other way around.
I have a few different shelf pin jigs. Sometimes I use pegboard. This particular one is the Jig It Shelving Jig. (I have a review already drafted up so watch for that.)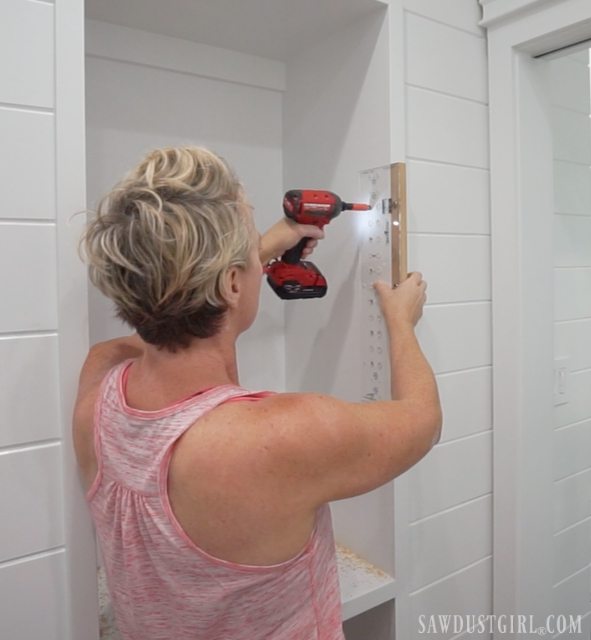 Bottom Drawers
The lower section of the linen cabinet has two drawers, which I built and installed using Blum drawer slides. The top drawer is a 4″ drawer for little stuff. The rest of the area I was torn about what to do with. One part of me wanted to do a pull out hamper. The other part of me wanted to three more drawers, providing LOTS of storage.
Madison has been using the Jack and Jill bathroom for quite a few months — even though it hasn't had any drawers or shelves. The counter and cabinet carcasses have been cluttered with toiletries. That makes me feel like I need to add as much storage everywhere!
But my original plan was the pull out hamper.  And I already had the drawer front for that — so that's what I did. (Once I get all the vanity drawers built there will be plenty of storage.)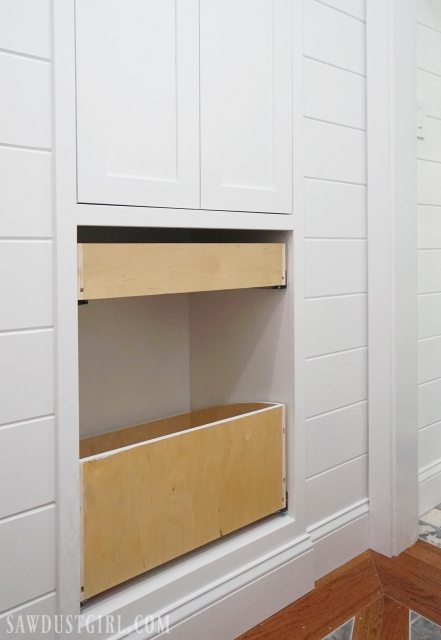 Doors and Drawer Fronts
When I build my own drawer fronts, I almost always use 1×3 for the entire frame; both rails and stiles. The rails on the Cabinet Now drawer fronts are 1×2 while the stiles are 1×3. They informed me of that when I placed the order to make sure I knew and was ok with it. I'd never done it that way but was ok with it.
I sometimes make my frame narrower on drawer fronts that are not very tall so the inset panel isn't a thin strip which would look weird. I think doing all the drawers with narrow rails works great. It maintains uniformity in all the drawer fronts.
I ordered ALL the drawer fronts and doors (49 in total) for the whole Jack and Jill project at one time. That was a LOT of measuring to do at once. These drawer fronts fit perfectly with NO trimming!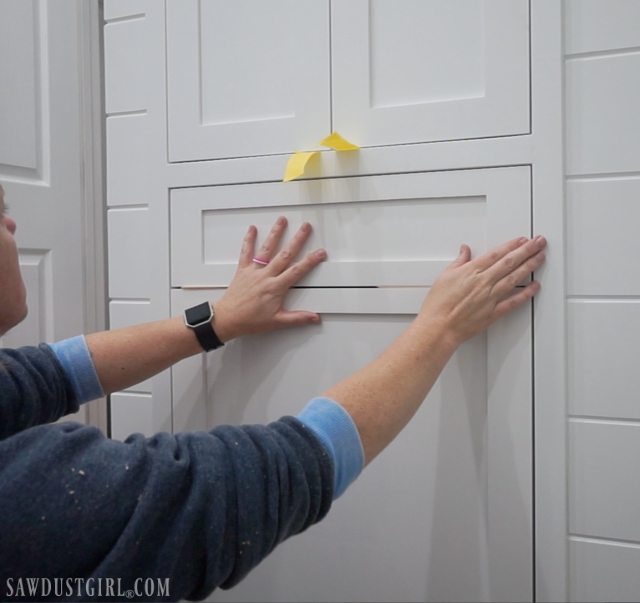 The top drawer I installed using my favorite method for installing drawer fronts.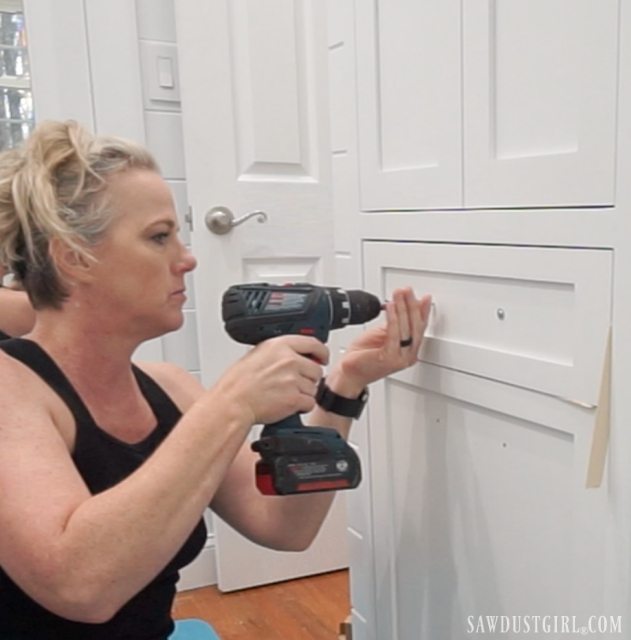 The hamper drawer took some finagling because the actual drawer is shorter than the drawer front.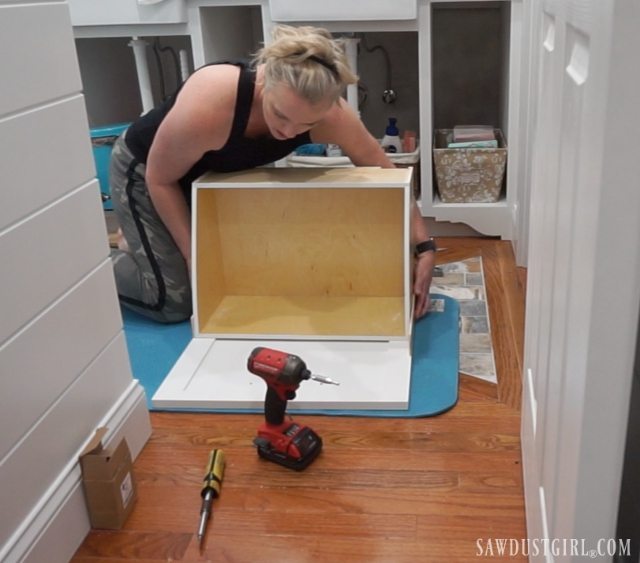 The Blum slides allow you to make small adjustments but I had to remove and adjust my drawer front several times in order to get it perfect (or near enough to satisfy my tolerance level).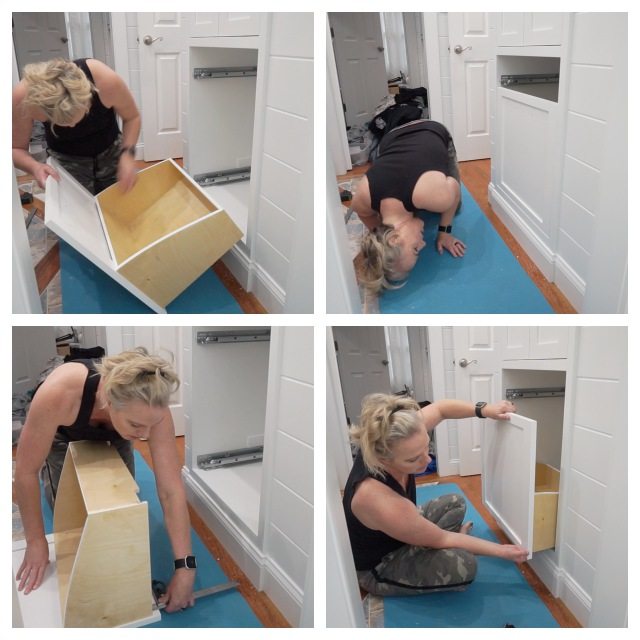 My cabinet hardware was provided by Liberty. I used Classic Edge 12″ cabinet pulls for the doors Classic Edge 6 5/16″ pulls for the drawers.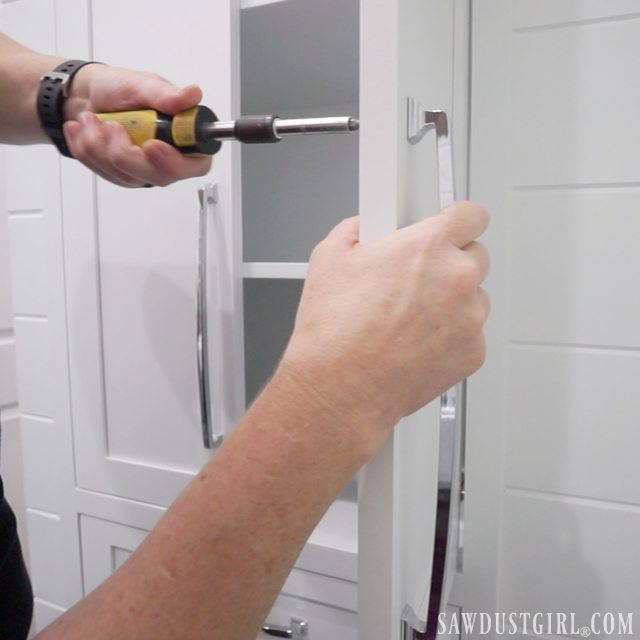 Linen Cabinet Storage Galore!
I used Blum soft close hinges so the doors (as well as the drawers)self close in a soft gliding action. It's very satisfying to watch.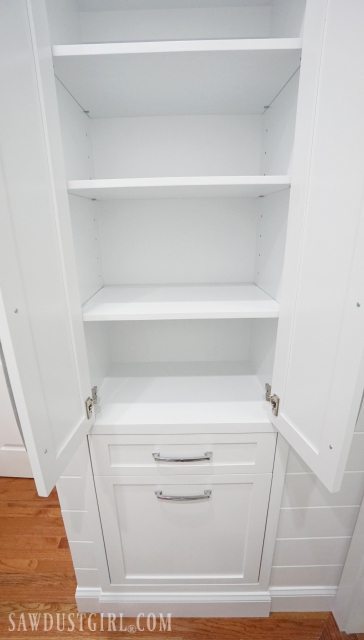 There's plenty of space on the shelves for towels and other supplies. I was very happy to move some of the "crap" off the countertop and into the cabinet. (Madison hates when I call her stuff crap, but crap is what I call things that strewed about in a messy manner.)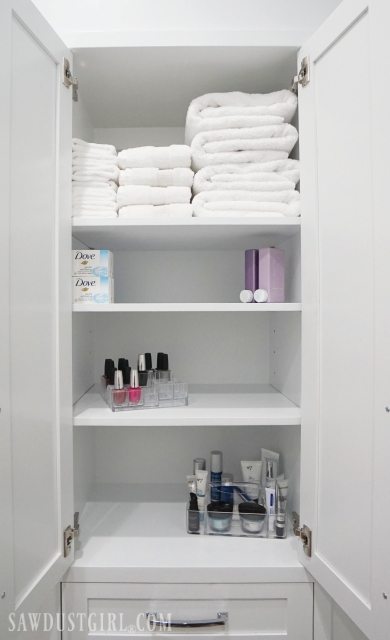 And that soft, self closing top drawer is another place for more supplies!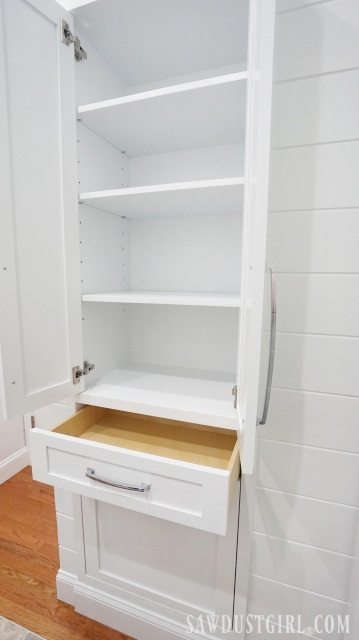 Funny (not so funny) story: Whenever Wes sees "working" self closing drawers he says, "I wish my closet drawers closed like that". Which is a "thing" between us because I DID install self closing drawer glides in our Master Closet. He's just broken the mechanism on many of his from overstuffing his drawers and forcing them closed. I throw shade his way for breaking his drawers.  He complains that his drawers don't work. Someday I might fix them for him…
Wes' broken drawer mechanisms are neither here nor there when it comes to the linen closet so let's get back to that. LOL
Laundry Hamper
The top drawer is for "crap" storage. The bottom drawer is a hamper!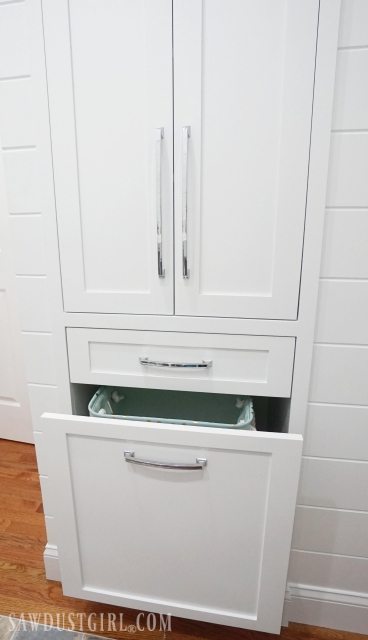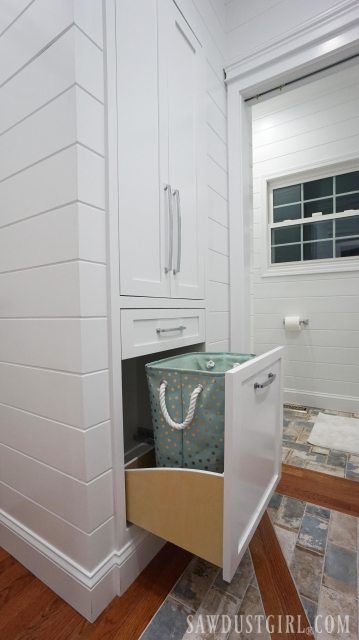 It will be interesting to see if the hamper gets used, or if dirties just keep getting left of the bathroom floor.
Only time will tell.  😀