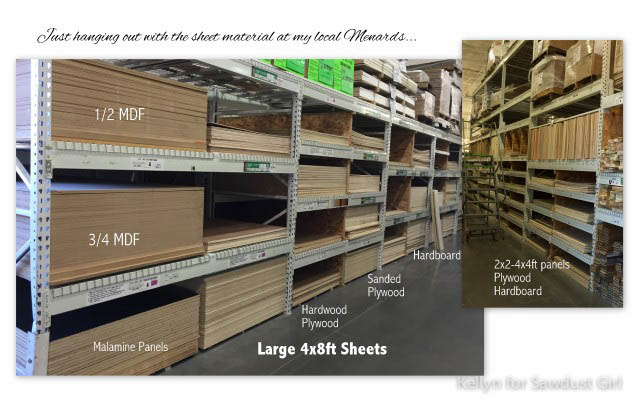 I get asked a lot, what types of wood I use to build a cabinet base, cabinet door, trim, furniture and the list goes on. There are quite a few different options to choose from and today I'm going to go over the basic materials that you can find in any big box store as well as most lumber yards.  I'll let you know what type of material I use on different projects and why.
Selecting the right types of wood for your DIY project
Soft Wood:
Pine 1x material
Pros:
It's cheap, and versatile
Easy to cut, glue and has good nailing and screw holding properties
Comes in a wide range of widths and lengths.

1×2,3,4,6,8,10, and 12 inches at 3,4,6,8,10 and 12 ft lengths

Easy to paint and stain.
Cons: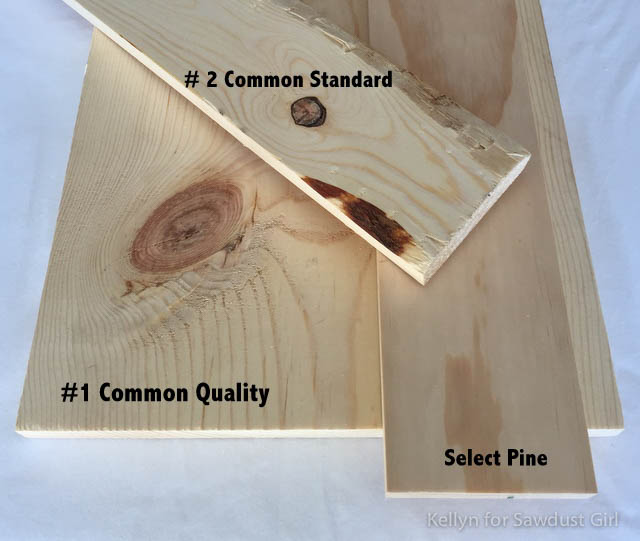 Pine comes in 3 Universal Grades:
Grade:

Other Names:

Price:

Appearance:

Uses:

#2 Common Standard Board

**Basic 2×4 construction studs are #2 grade or better

Home Depot & Lowes: Furring Strips

Menards: Standard Board

Least expensive

$1.80 average price 1×[email protected]

Most defects (knots and torn corners) but has at least two sides square

50% clear cutting area

Garage shelving or projects where perfect appearance is not important. Craft projects, DIY signs where you desire defects to the wood for character.

#1 Common Quality Board:

Lowes: Whitewood Softwood Board

Menards: Quality Board

$3.80 average price 1×[email protected]

66% clear cutting area with at least three sides square

Light construction, or crafts and furniture where knotty pine character is desired.

Select Pine Board:

Home Depot and Menards: Select Boards

Lowes: Radiata Pine

Most expensive

$5 average price of 1x4x8ft

83% cutting area and has four sides squared with minimal to no flat knots

Ideal for interior use for furniture and trim.
Sheet Material:
MDF, plywood, hardboard
This is what most of your cabinet carcass, drawer bottoms, shelving etc. will be made out of.  Every builder I have ever talked with has their preference (and sometimes strong opinion) of using MDF vs plywood.  I personally love and use both in different circumstances.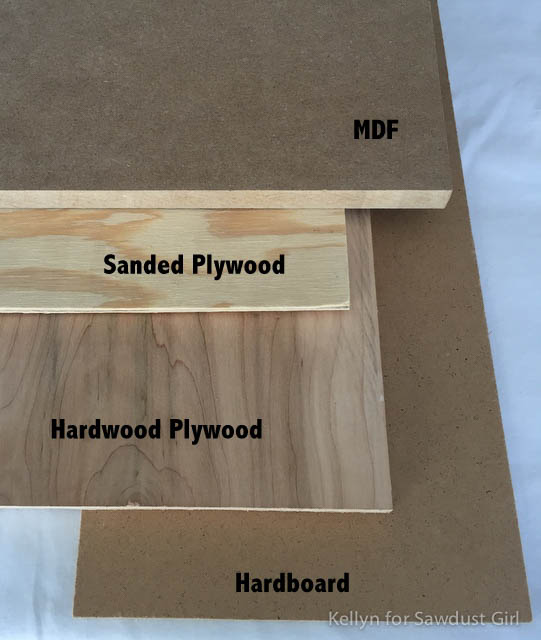 MDF
Medium-density fiberboard  ($35 average price of 3/4in 4x8ft sheet.  Also comes in 1/2″ and 1/4″).
Lets talk MDF first, because I think it gets a bad rap.  Yes, it's cheap, extremely heavy and made of condensed and glued sawdust, but it cuts** like butter and paints like a dream.  (And yes, if you do it right, the edges paint up nicely too!)
(How to paint MDF and get smooth edges)
**Always use a mask while cutting wood and sheeting material, but especially for MDF. This dust should NOT be inhaled.
When it's painted, you can't tell if it's MDF or Wood.   Can you tell which door trim is made of Select Pine and which one is from a sheet of MDF?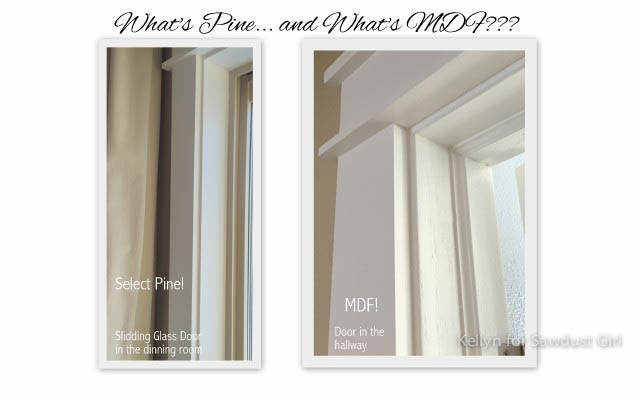 The cost difference is significant. $0.65 per linear ft for the Select Pine board, but when I cut down a 4x8ft sheet of MDF it's only $.29 per linear foot.  Yes, I still have to sand down the edges and prime and paint.  But the cost savings to me beat the worktime – most of the time.  Especially if I do a big batch at once.
But here's the catch about MDF.  The moment it comes in contact with moisture it bubbles up and is defected forever.  There are some that say if you prime and paint the MDF so it will not soak up the water, it will be fine… But honestly I will not use MDF in the kitchen, bathrooms or around windows, and instead painted Select Pine boards.  To me the risk isn't worth it.
Plywood
Next is plywood.  There are different grades of plywood, just like pine boards.  But we are going to focus on Sanded Plywood and Hardwood Plywood.
Pros:

Cons:

Light weight

It comes in ¼, ½ and ¾ inch widths

Wide range of sheet sizes, 2x2ft sheets up to 4x8ft sheets

Hardwood Plywood can be left sanded and raw, or paints beautifully

Expensive (Hardwood ¾ in 4x8ft Plywood sheet ranges $40-60)

Sanded Plywood only has 1 side sanded, and does not paint well.

Harder to cut and edges can splinter when cutting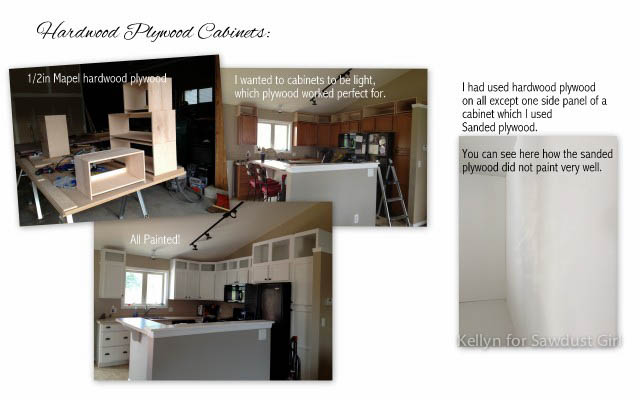 Sanded plywood, has a softwood outermost layer like pine and is only smooth on one side.  I mainly use it for any shelving that doesn't need to look pretty and perfect – like basement storage shelving. Also for my workbench and work tables in the garage, and workshop.
Hardwood Plywood is the BEST furniture grade plywood, and would be the alternative to MDF for a cabinet carcass.  You can commonly find Birch, Hickory, Oak and Maple hardwood faced plywood at the big box stores and can order any species you like.
So here's the thing…
If you plan on painting your cabinets inside and out, to save some money in your budget for some "bling-bling" –  by all means, MDF is a great choice.
BUT- if you want to leave the interior cabinet carcass raw, or stained, hardwood plywood is the way to go. You can even buy plywood that is pre-finished with a clear coat.
Hardboard
Moving onto hardboard, also known as backer-board.  I always have sheets of this stuff on hand.
Pros:

Cons:

It comes in ⅛ or ¼ inch widths

Wide range of sheet sizes, 2x2ft sheets up to 4x8ft sheets

Will always come with at least one smooth side

Easy to cut and paint.

Scratches easily

Do Not sand

When cutting down to size, it leaves a raised and rough edge.
Uses:
⅛ inch width – behind batten board for a smooth wall finish, backs of cabinets which also helps hold the carcass square and sturdy.
 ¼ inch width – bottoms of drawers, cabinet door panels or where I would need ¼ width for wall trim detailing.
Hardwood and Trim
Hardwood is what you use for cabinet face frame, cabinet doors, even trim.  There are many species of hardwoods; poplar, hickory, birch, oak, mahogany.
I strongly suggest using hardwood for all your face frames and cabinet doors.  Yes, it's more expensive than pine, but pine is too soft and will not hold up a cabinet door for long, and will not hold up to the amount or ware-and-tare cabinets get.
If you are painting your face frames, poplar is great!  Staining, not so much… go with a different hardwood species.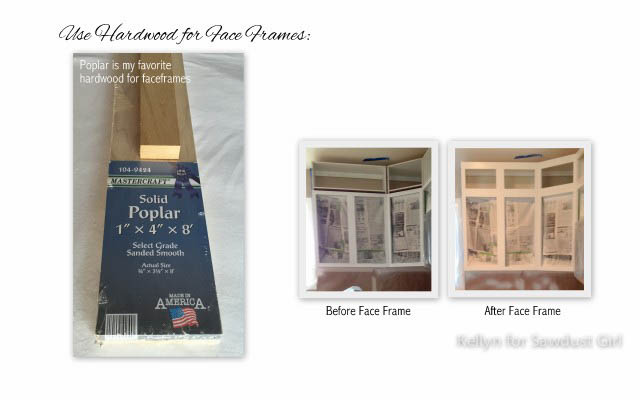 So there you have it.  Just the basics…
Now lets chat about getting bids from contractors for some massive project that you don't want to tackle yourself.  You get multiple bids and they're all different.  What types of wood does each bid cover?
MDF is going to be cheaper, but is a great option if you decide to have the entire structure painted. And frees up some money for some "bling-bling" or more decorative trim.
If your bid is for plywood, make sure they are using furniture grade hardwood plywood.  It will be expensive but gives you the option to stain or paint.
Make sure the face frames are made with a hardwood like poplar especially if you want cabinet doors.  I supposed pine face frames would be fine for display shelves that wouldn't get much use all the time.
These are only some of the types of wood.  We didn't even get into 2x material or detailed trim and I hope to get to that some day.  For the time being, have fun roaming through the endless sea of possibilities in your local lumber department.   And then go build something awesome!  🙂