I've been building these built-in wardrobes for my Master Closet for four months so I can't even express how happy I am to finally say, "IT IS FINISHED!"  It is amazing to have so much space to hang and store our clothes.  I'm so happy that I stuck it out — even though I wanted to throw in the towel a few times.
Master Closet Built-Ins
The large drawers are practically big enough to climb in and have 100 lb. glides that are soft/self closing (for the person in this house that never manages to get drawers fully closed!  u-hem, u-hem)
The door you can see is to the laundry room and behind the camera is the Master Bathroom that will be getting redone sometime.  That project will include tearing a portion of the closet/bathroom wall out so I haven't built my 9'x6′ shoe cabinet yet.
Then, of course, there's the matter of the built-in ironing board that is going in next to that off-center window and the rolling ladder… so the closet is only mostly done!
(Who just thought of Princess Bride, "…he's only MOSTLY dead"?  I did!)
But it's usable!
Walk in closet before
It's leaps and bounds better than it was when we moved in.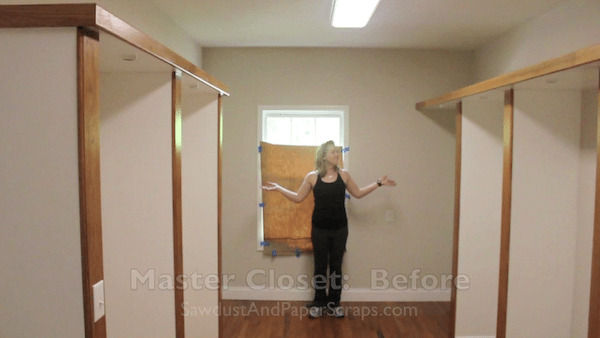 And we are going to enjoy it!!!
In case you missed my progress updates along the way, here's a short recap of my project.  As well as a celebratory happy dance!
A HUGE thank you to Wes for his help this weekend.  I was ready to toss in a match last week. Thankfully Wes pulled some "enthusiasm for using a drill" out of nowhere and came through for me!
It's been a long, hard journey and now that it's (mostly) done, I can say it was worth it!   Now, we can move in and enjoy the holidays. And hopefully my next project won't be QUITE so involved or time consuming.  Here's hoping!
*Have a question about my closet? Plans, materials, Lights, progress, tips…? Feel free to peruse the "Work In Progress" posts of the entire Master Closet.  And be sure to check out the closet with the plank wall.
Get the Closet Plans!
Learn how to plan and design a walk in closet