You can install drawer fronts in as many different ways as there are stars in the sky.  Well, maybe not THAT many — but there are a lot.  I've played around with (e'hem) a few different methods. Today I'm going to show what I've found to be the easiest way to get perfectly placed drawer fronts.  I built these drawers for Blum self closing drawer glides, which have some adjustability. The following tutorial shows you how to adjust the drawer front. To use this method, you need to pick out your drawer pulls before you install your drawer fronts.  I used these 6 1/4″ brushed nickel cup pulls.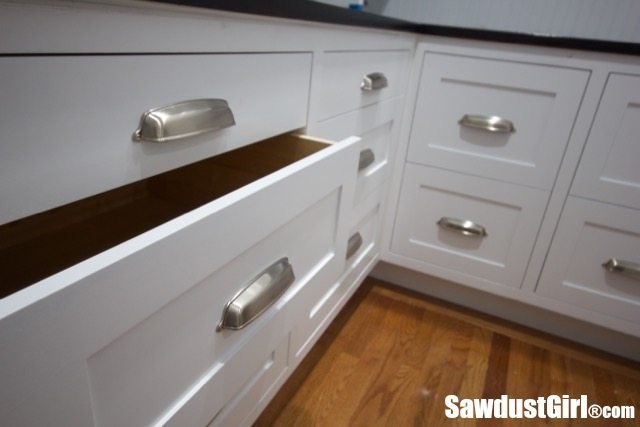 How to Install Drawer Fronts
You can use double sided carpet tape to attach the false drawer front to the drawer box. Then you pull the drawer open and drive screws in from the back.  Carpet tape is very strong so if you don't position your drawer front exactly perfectly it's VERY difficult to pull the drawer front back off to reposition it.
My new favorite method is using Drawer Front Adjusting Screws.  While they are available in different lengths, I'm using 7/8″ long which work on both my drawer sizes: 5/8″ and  1/2″ material.    You mainly want to make sure your screws are not too long or they will poke out of the front of your painstakingly painted drawer front.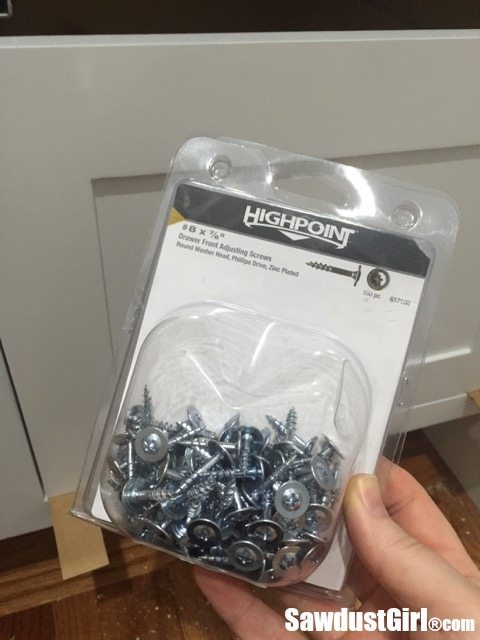 The first thing to do is drill holes in all your drawer boxes.  I used a 1/4″ bit.  Make sure to drill off to the side where the thicker part of your drawer front will sit.  This is especially important if you have a thin 1/4″ panel in your drawer front.  Make sure your holes will match up with the "stile" portion of your false front.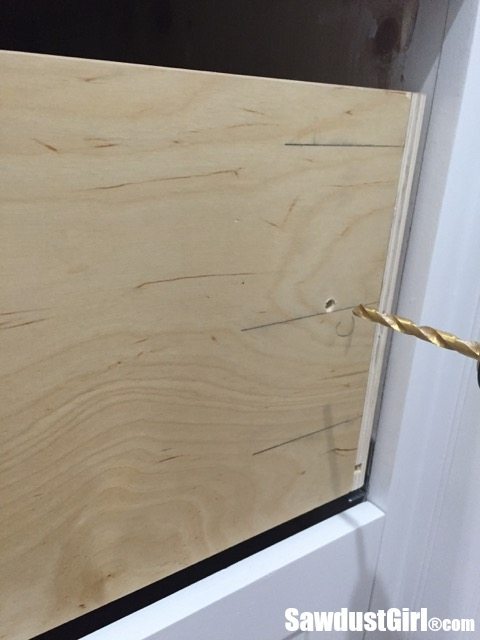 Drill two holes; right and left.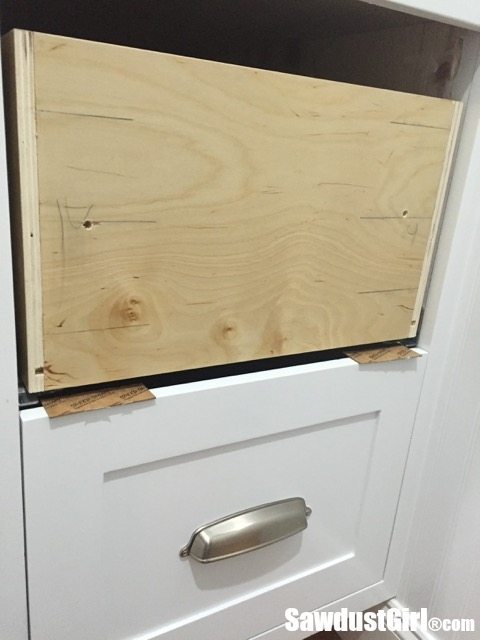 Once your holes are drilled, use spacers to get your drawer front in place with equal spacing on all sides.  Dimes are a great 1/16″ spacer, nickels are good for 1/8″…I'm using cardboard shims because they were sitting on the counter asking to be grabbed.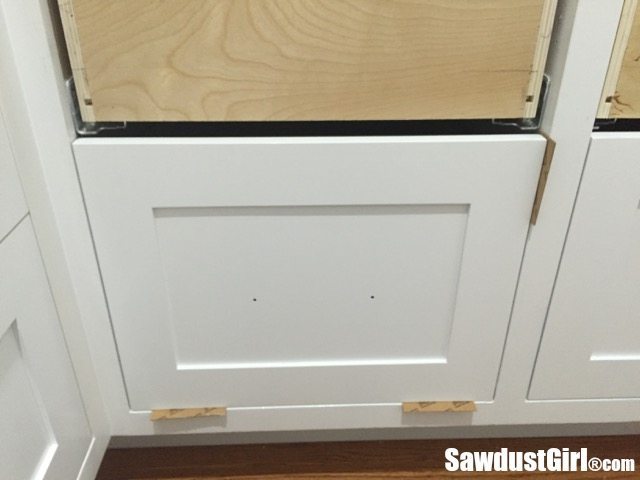 Once you have perfect placement, use a couple washer head screws THROUGH the drawer pull holes to secure the drawer front to the drawer.  This is why I wanted to drill the holes for the cabinet pulls first.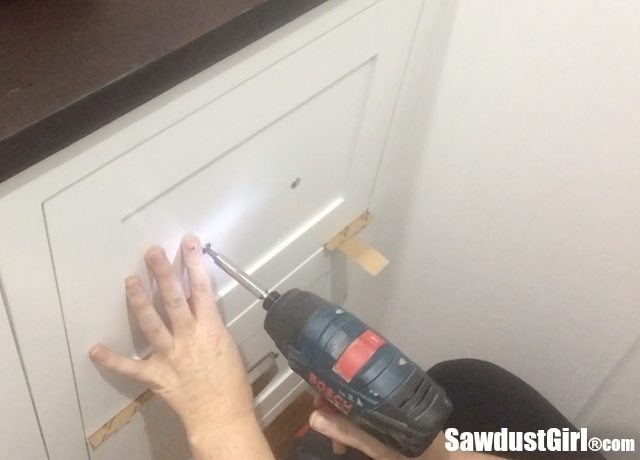 Now you should be able to remove the shims and the drawer front will still be exactly where you want it.  BTW, washer head screws here hold the drawer in place without marring the wood — it would be smart to put a piece of painters' tape over the drawer first to protect the paint though.  I didn't.  I thought about it but was too lazy to get up and get some painters' tape.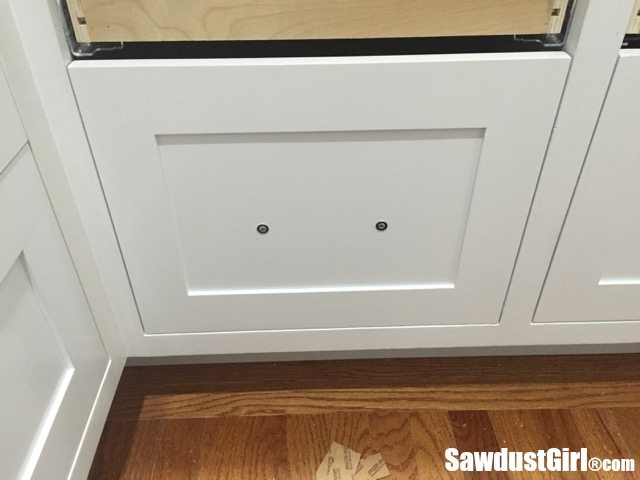 Now pull your drawer open.  You don't have drawer pulls yet so you'll have to get creative to find a way to get your fingers in there to pull the drawer open!  Generally a good place to try is using the space above, where you have yet to install the drawer front — or below where you already have installed a drawer pull.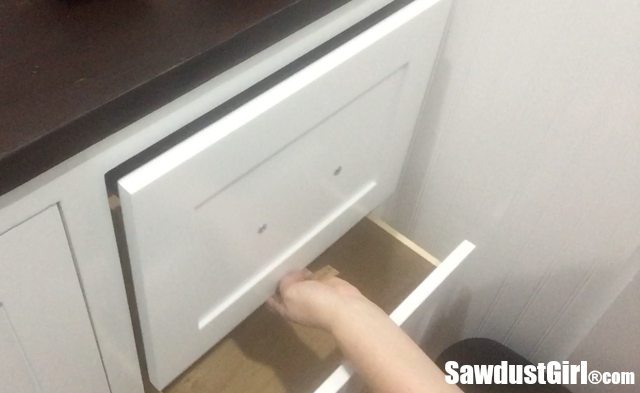 Now use two of you Drawer Front Adjusting Screws through the two holes you drilled in the drawer to secure the drawer front from INSIDE the drawer.  The point of the hole is to allow the screw to move around in any direction to allow you to adjust the position of the drawer front.  The washer heads are quite large they'll pull the drawer front against the drawer and cover the hole — regardless of the screws position in the hole.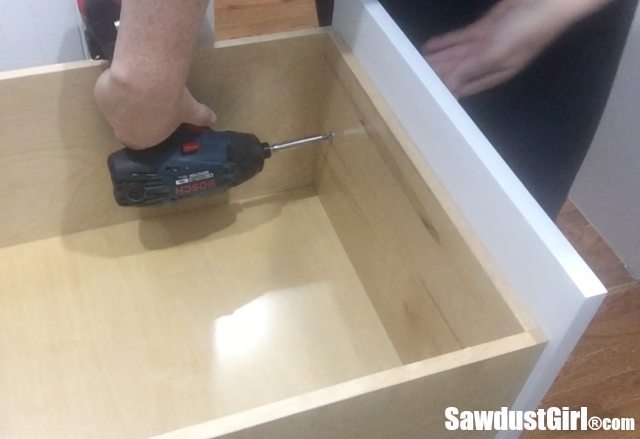 Now you can remove the screws on the front and check your spacing.  If you had any "slippage" (you drawer front moved around on you while you were driving in the screws), you can slightly back up the screws in the drawer and reposition the drawer front.  Don't remove the screws!  Back them out JUST ENOUGH so you can move the drawer front slightly.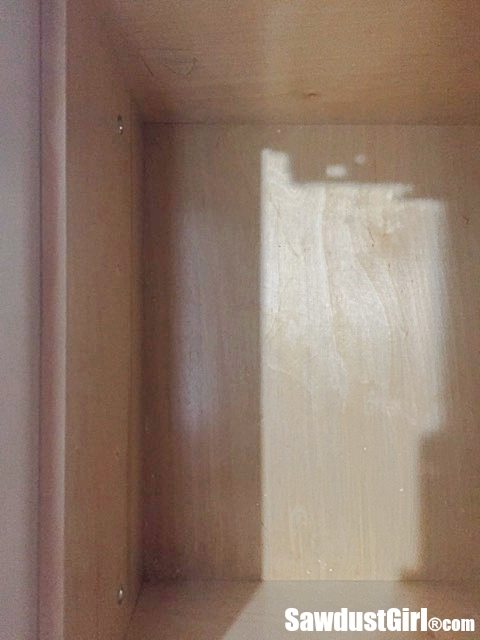 It may take a few tries to get the placement perfect because you have to do the adjustments while the drawer is open.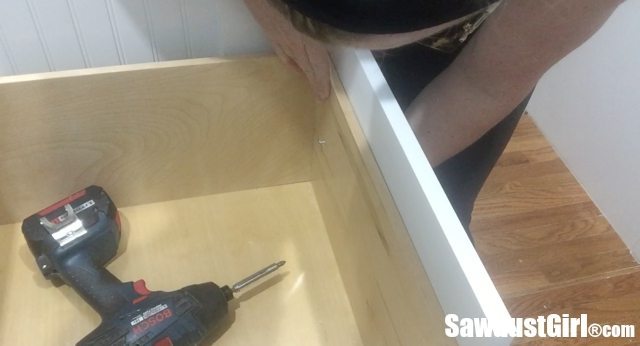 Once you get the drawer front PERFECTLY secured from inside the drawer you are ready for drawer pulls!  Almost.  Your drawer front has holes for pulls but the actual drawer does not.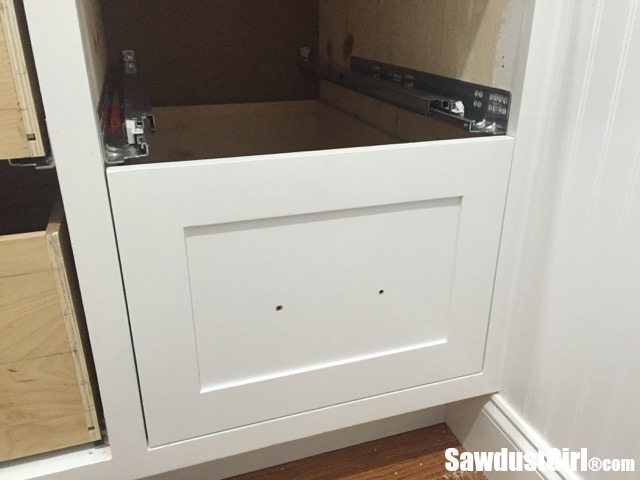 Using the same drill bit that you used to drill your drawer fronts for your cabinet pulls, drill through the drawer box using the holes in the drawer front as your obvious guide.
*Use a scrap of wood on the back so your drawer doesn't tear out when the drill bit pushes through.  It happens very easily so back up the "cut (drilling) with a scrap of wood to protect the drawer."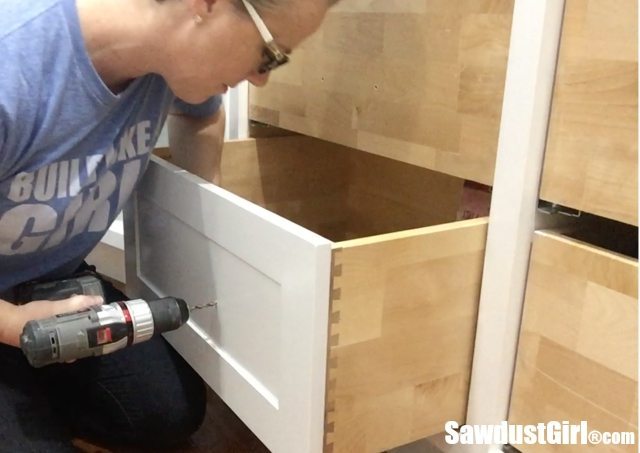 Then you can install your drawer pulls!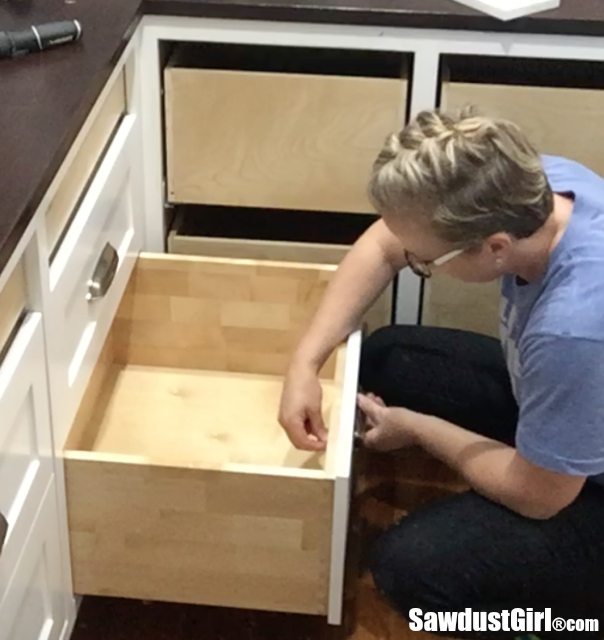 I use a powered driver to get the process started but ALWAYS finish off with a screw driver and tighten by hand.  These little bolts are super easy to strip or break.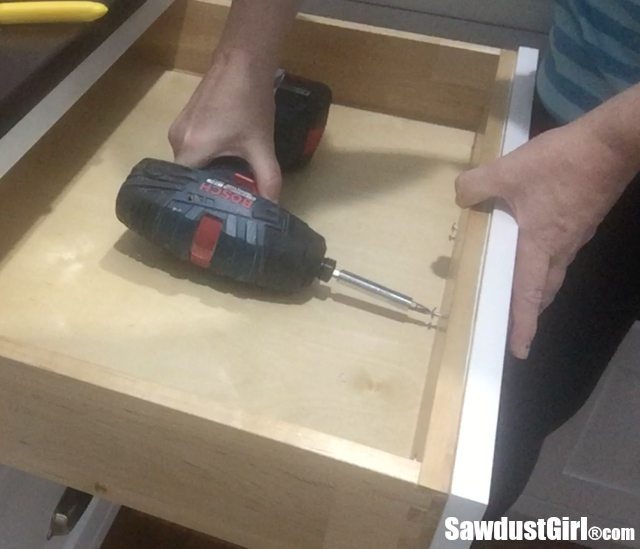 P.S.  If the bolts that come with your hardware are too long, cut them down with some bolt cutters.  Also, 8/32 and 4mm bolts are not interchangeable in drawer hardware.  The 8/32 bolt cutter hole will cut the 4mm bolt though.  Mine did anyway.  Make sure you use the correct bolt for your hardware.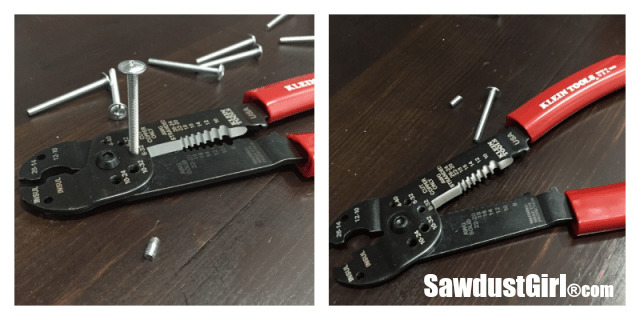 Now, you probably dry fit your drawer fronts before you painted to make sure everything was going to fit correctly.  Don't be surprised if, after shimming and screwing and adjusting and tightening…you have to do a little additional trimming here and there.  It happens!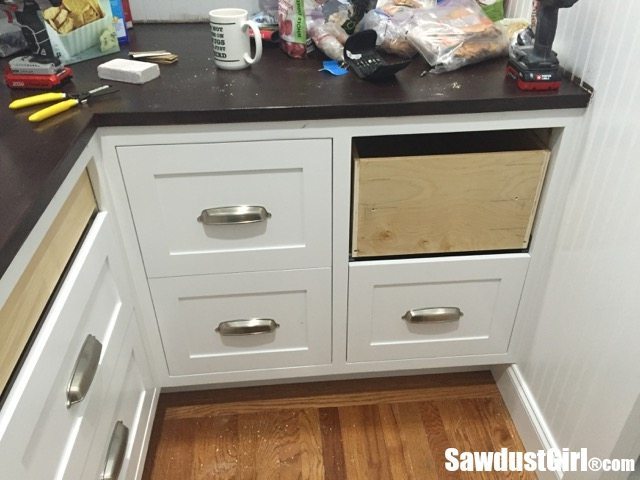 I had to trim a little off the top drawer fronts on the left side.  These drawer fronts being flat pieces of poplar.  I ran them through the table saw.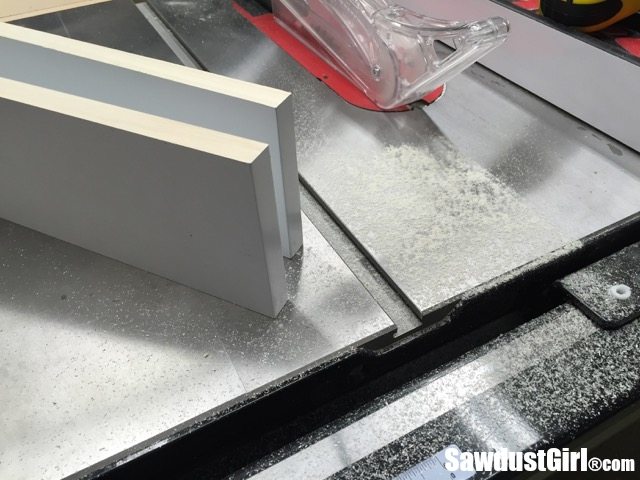 You can also "manipulate" the fit with a hand plane — if you need to shave off a little here or there.  It happens!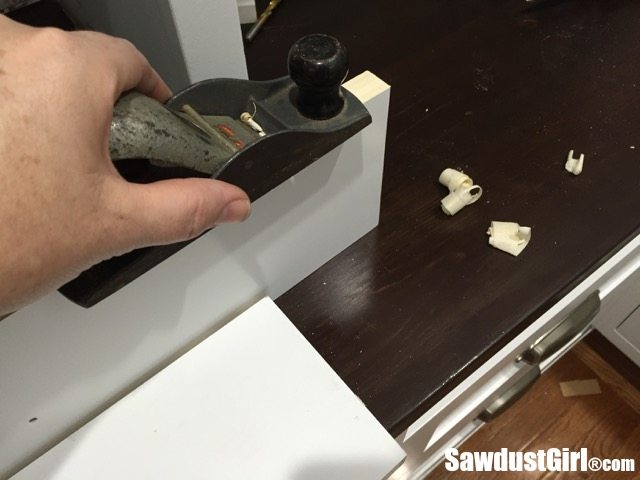 Then you'll obviously have to sand and prime and paint those parts again.  LOL  Then install and you're done!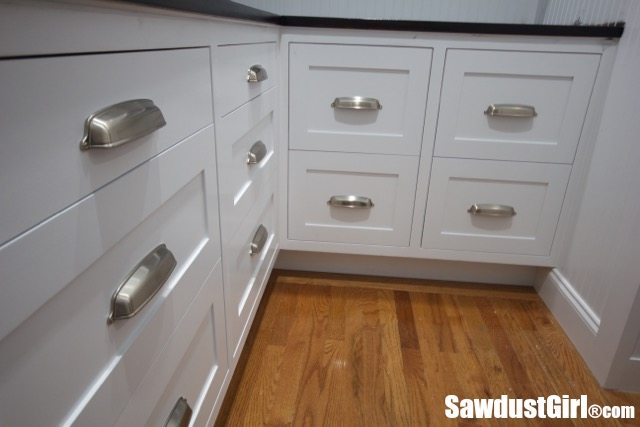 Things you may want to know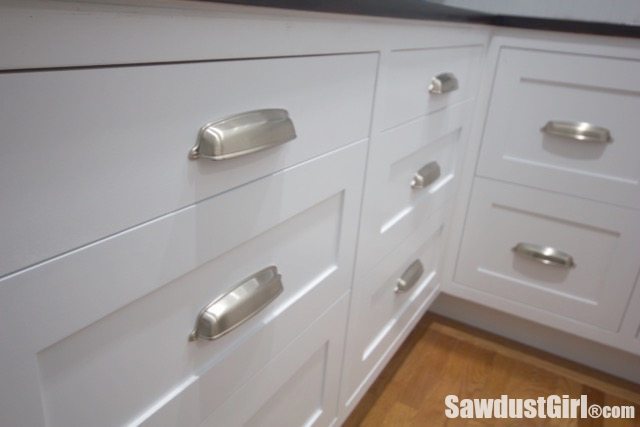 Get all my cabinet building tips in one place in my Cabinet Building 101 eBook.  You can download it and keep it on hand!
$9.99Add to cart