A few weeks ago I agreed to join a Christmas House Tour with a group of my blogger friends. Several weeks can sometimes be enough time to knock out a serious amount of work. So I wasn't completely out of my mind for allowing myself to think that making this commitment would give me a firm deadline to FINISH some of the five hundred million gazillion projects I have going on. Or at least the Jack and Jill bathroom. And now here it is. The day on the calendar where I put my name to signify the time in the future in which my house would be transformed into a beautiful fairy princess castle.
And with that introduction, I'd like to welcome you to my 2017 Christmas House Tour Only Clean Places in MY House Tour!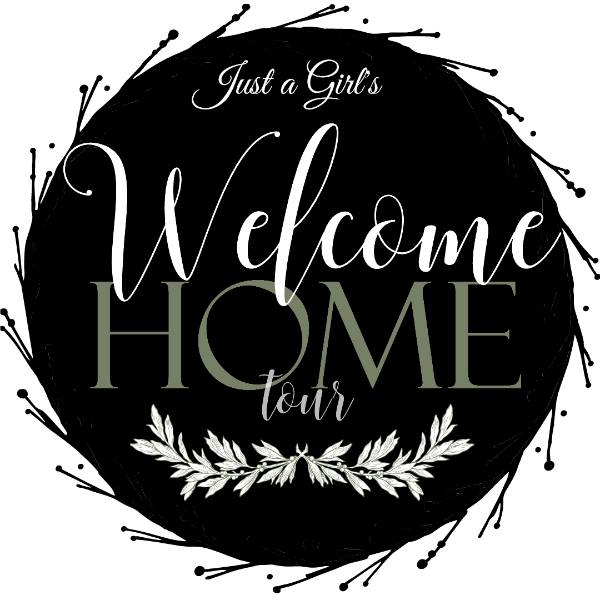 Honestly, I've been feeling really overwhelmed lately. This house is just A LOT. I always have just the right amount of too many projects going on at one time. That "just right" level of stress and chaos keeps me motivated to keep pushing through projects. But then the sewer saga happened. And that was the tipping point for me. When you have toilet water pour into your basement you HAVE to deal with it. I had to add a major amount of additional work in four additional rooms to my already "pushing the limit" workload.
I've been in a funk for weeks, trying to work but getting frustrated by the little things like not being able to find anything I need when I need it. I might have broke down one day. Wes had to remind me that — I'm allowed to take a break. And it's almost Christmas. So the last few weeks I actually stopped working on any of my five hundred million gazillion unfinished projects. I've gone shopping. Wrapped all my presents. Completed a 1000 piece puzzle and watched at least 5 Christmas movies.
Also, Penny and Madison helped me get the front rooms of the house cleaned up and decorated for Christmas. So much winning!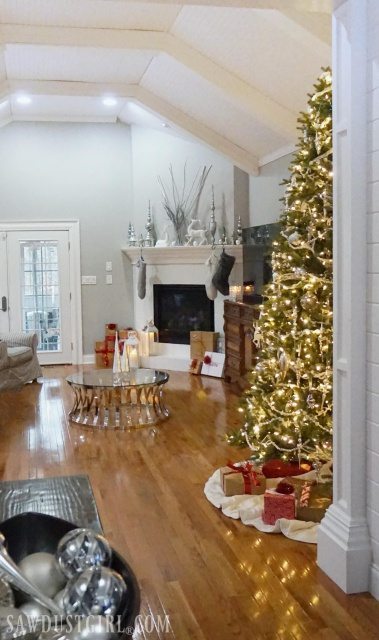 Up until last week, we were using a cabinet carcass as a coffee table. Not anymore! On one of my recent shopping trips, I was attracted by some sparkly and bought a real, genuine coffee table. Our house looks 100% better without the bare plywood cabinet frame sitting in the middle of the living room. I don't love the coffee table and will return it after Christmas. Then in my spare time, I have plans to build a tufted ottoman… And I still hate my giant corner fireplace and can't wait to bash that out and move it.  WAY down the road after every current unfinished project is completed.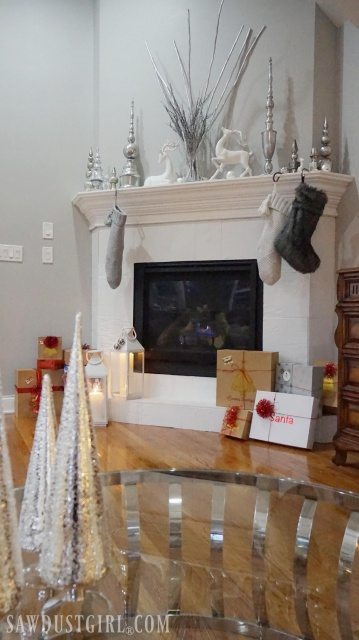 As we cleaned, Penny and I decided to add some holiday cheer to the room. Apparently, we "fiddled" with the decor so much, Madison couldn't see what we had changed. She also said that our first setup was best, but that girl is CRAY.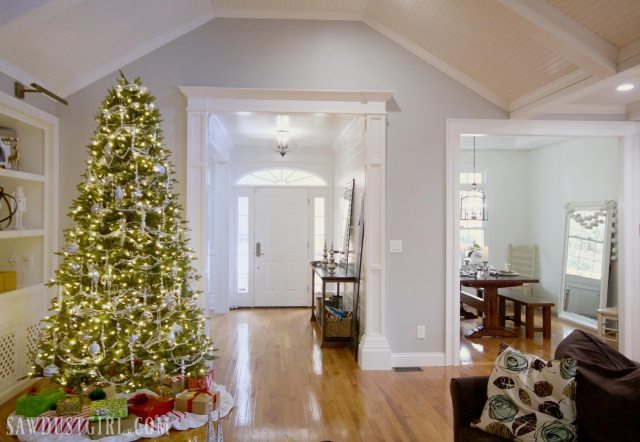 Our Christmas tree makes me feel the spirit of the season, too. Madison almost didn't want to put the tree up because we waited so long (she loves it now that it's decorated)!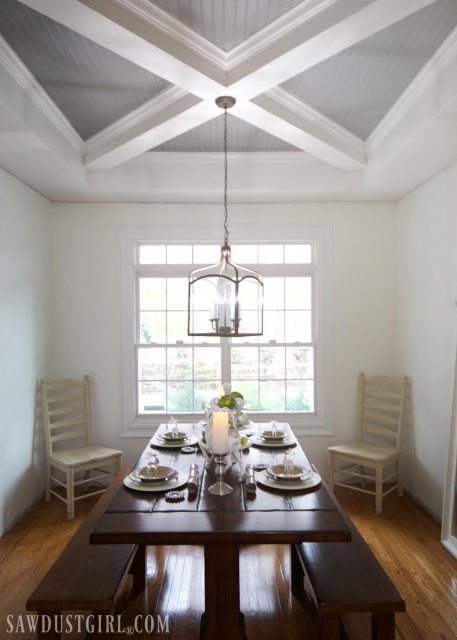 The dining room still needs crown molding and baseboards but I love the ceiling! Penny and I cleared all of the crap out of the room, cleaned all our junk off the table, and made it pretty. Wes was so excited to come home and see we had a place to eat again…even though we still usually eat on the couch and watch tv. 😀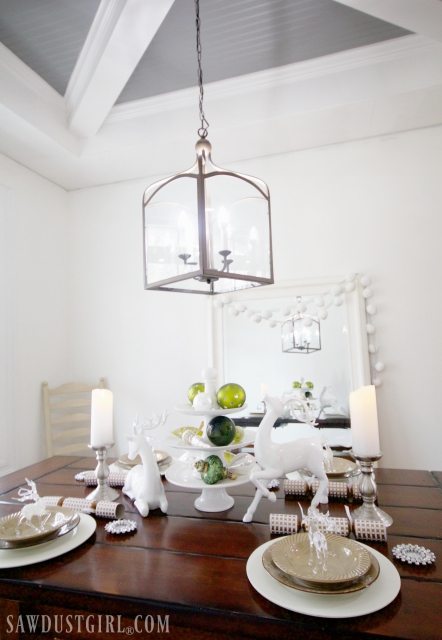 I'm using the glass reindeer ornaments Madison gave me last Christmas as table settings. We all agree they look adorable next to the big mommy and daddy reindeers. So cute!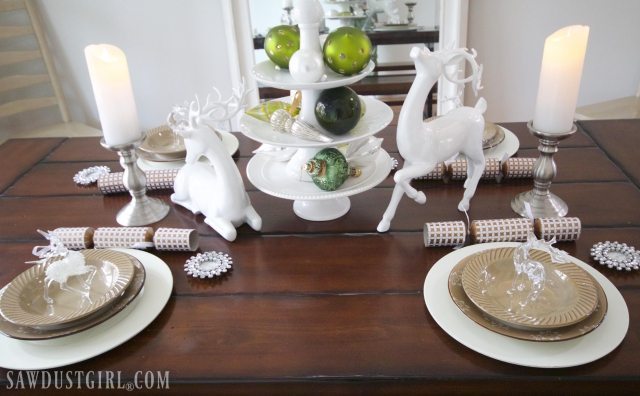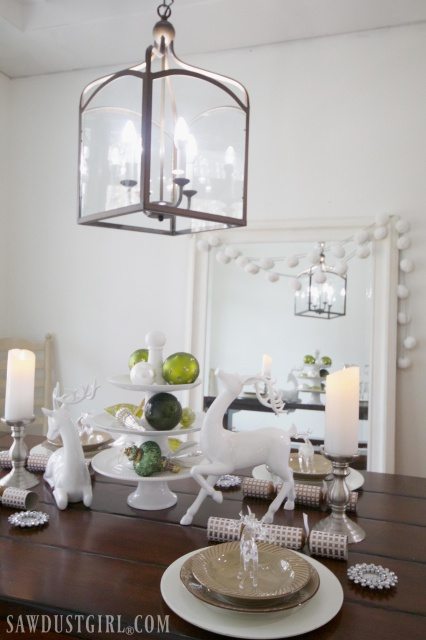 Our dining room chandelier has been released, too. When the dining room became a storage space for all of our junk, I moved the chandelier up higher so Madison and Wes wouldn't hit their heads on it. Back when we were clearing things out, Madison hit her head at least 3 times! By the third time, she swore to me she would smash it with a baseball bat if I didn't raise it higher. Finally, it's back to it's rightful place and we can see our food again!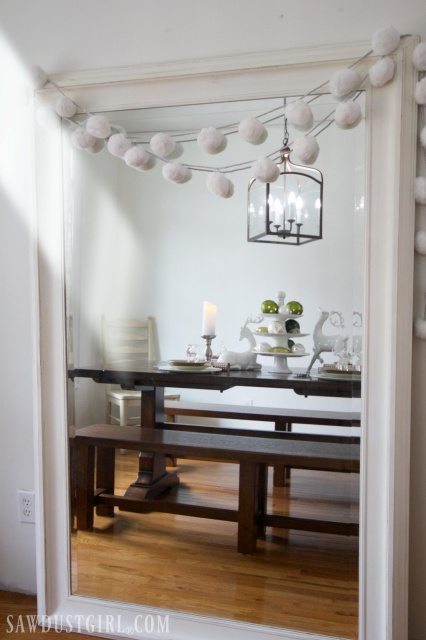 Penny and I also put the huge white mirror in the dining room. It's not the best place for it, but it's so heavy and bulky, I don't want to move it again. It used to be in our bedroom, then it was downstairs, then it was in the hallway….yeah, I'm not moving that bad boy again. Well, not any time soon.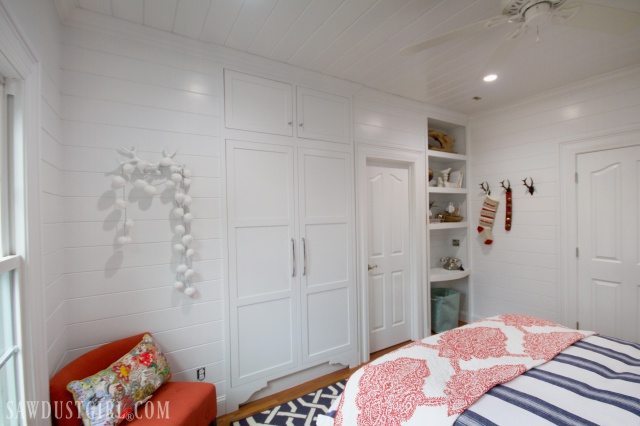 The guest room is actually finished! That and Madison's bedroom are the only completely finished rooms in our house. I can't show you Madison's bedroom though because even though it's "done", it's a MESS!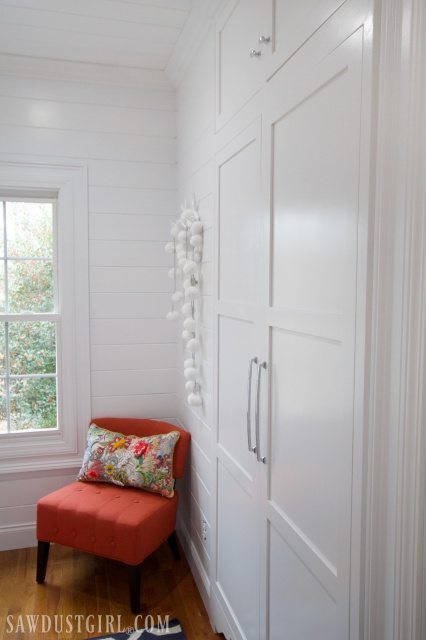 We spent a lot of time getting the guest room to look just right. Every piece of decor was rearranged and replaced at least once. Madison tells me it was agony to watch…Drama Queen!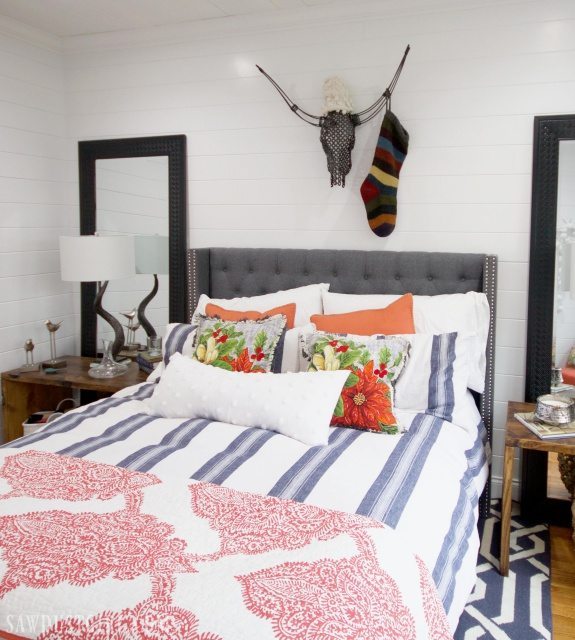 For the Christmas season, I decided to add a couple festive touches to the room. Our skull has a stocking hanging from his horn, and a small, white wool hat on his head. I tried to find a red Santa hat, but out of all of our costumes, we didn't have one.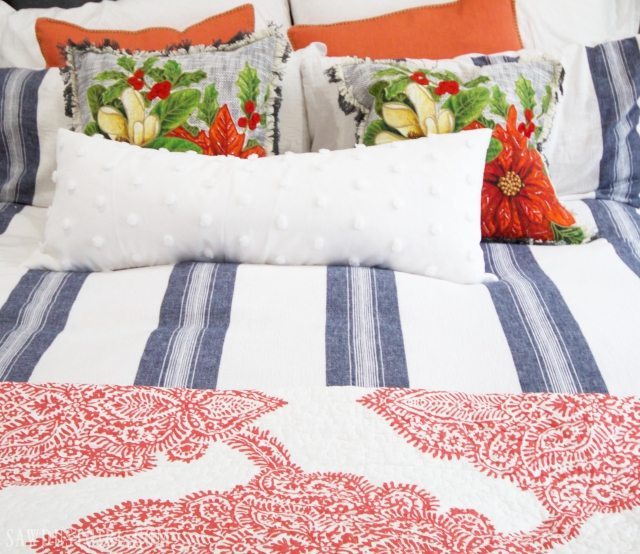 The pillows are crooked, but I don't even care. A room in our house is done, finally, so I can deal with a couple crooked pillows. Kind of. I mean, I'm going to go back and fix them, but I'm in the middle of a house tour right now…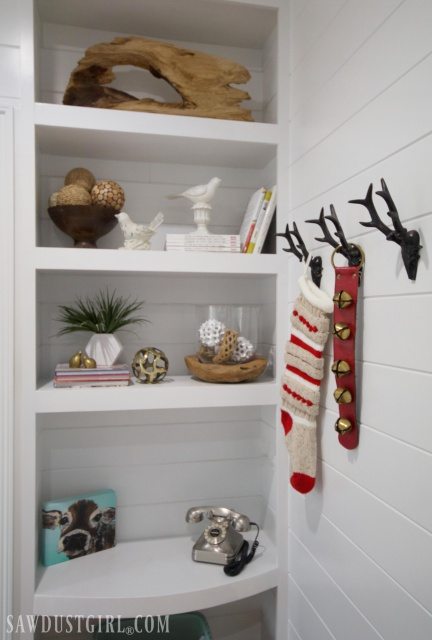 On the hooks next to the built-in curved desk, we hung another stocking and some sleigh bells! The holiday cheer is here! Also, as a side note, Julie and I saw the cow painting at TJMaxx and we just had to bring it home. It fits the room's theme perfectly, and we've come to love the little guy!
Back in the main living area…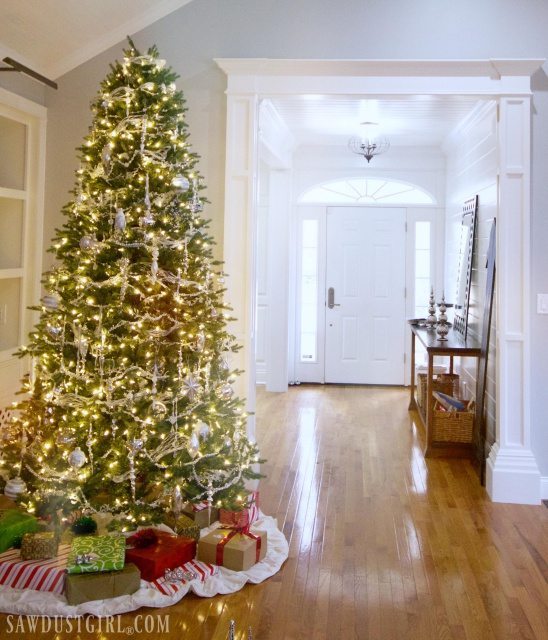 This is the entry-way table. You may not know the struggle I've gone through to find the right mirror for this table…and this one's not it either. Again with the sparkly!  I should not make "home decor" purchases during Christmas decorating time.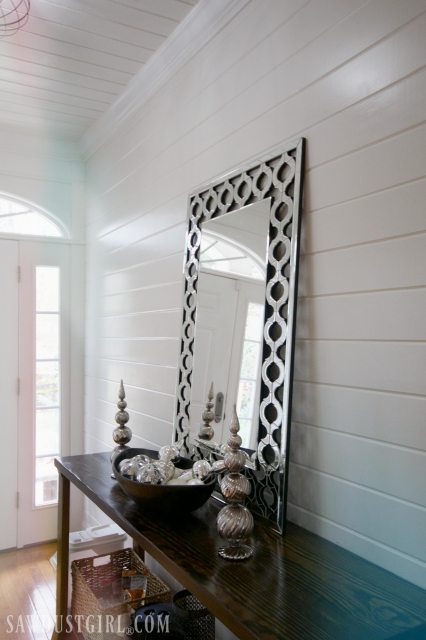 The library is right off the entry. I'm sure I haven't shown you how much clutter it has been collecting over the last year since I started the Jack and Jill bathroom.  It was FULL.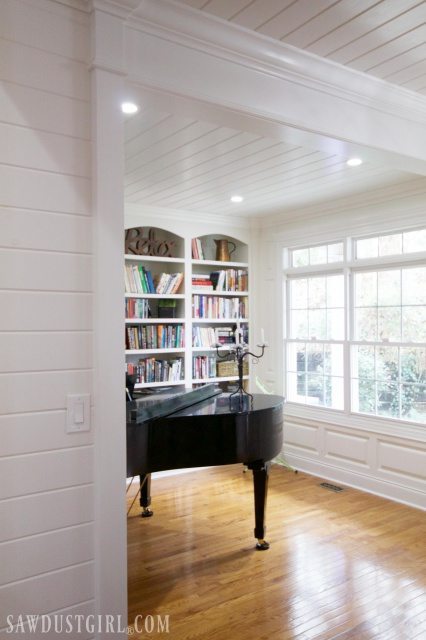 For too long, my bookshelves and piano have been trapped behind huge boxes of tools and materials for projects. Including two giant boxes, each storing one part of a two part toilet that I had ordered (and didn't use) for the Jack and Jill bathroom. Anyone who looked in our windows thought we were hoarders–we probably are.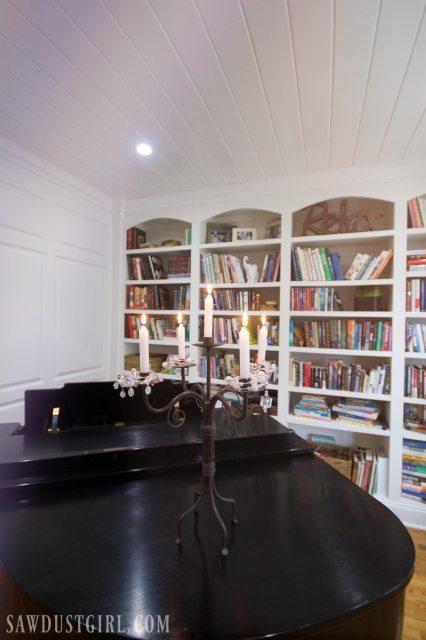 You can imagine my relief when we finally cleared out all of my unnecessary tools, toilets, and trash to reveal the beautiful library. We didn't even decorate but this room transformation feels SO amazing. Now I want to buy another Christmas tree…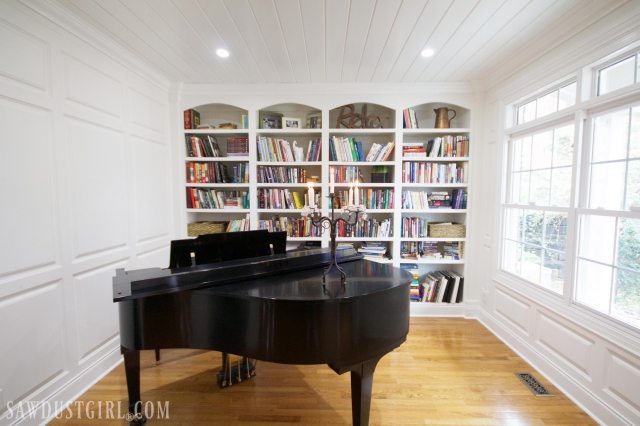 Sadly, that's the end of the magic. Those are the only clean rooms in our entire 6000 sq/ft house. I hope you enjoyed this aesthetically pleasing journey through a disappointingly small portion of my house. Maybe 2018 is the year I'll finish transforming this baby into a fairy princess castle…
Hop over to my friends' blogs to see their truly beautiful home tours!
Just a Girl
Home Stories A to Z
Honey We're Home
Tatertots and Jello
Hi Sugarplum
A Thoughtful Place
Not Just a Housewife
Pretty Handy Girl
Centsational Style
The Inspired Room
320 Sycamore
Thrifty Decor Chic