I'm so happy to finally share the guest bedroom reveal!  This little bedroom remodel began almost a year ago, along with the Jack and Jill bathroom.  It's finally finished, and it is fit for a queen!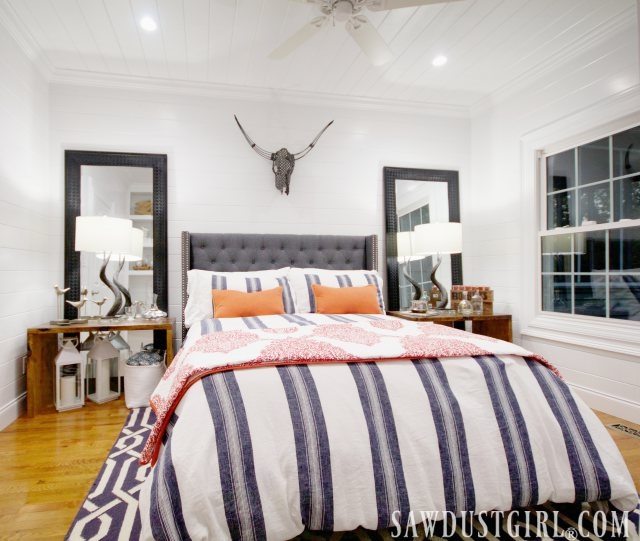 Little Guest Bedroom
The guest bedroom is a little bedroom and there's not a whole lot of extra space so we were very thoughtful about everything that we brought into the room. We wanted things that would be beautiful, but also make the room more functional. There is room for a bed, two nightstands and a little chair in the corner.  Almost all of the accessories including the mirrors, lamps, bedding, pillows, chair and most of the decorative accessories, we found at Home Goods and TJ Maxx.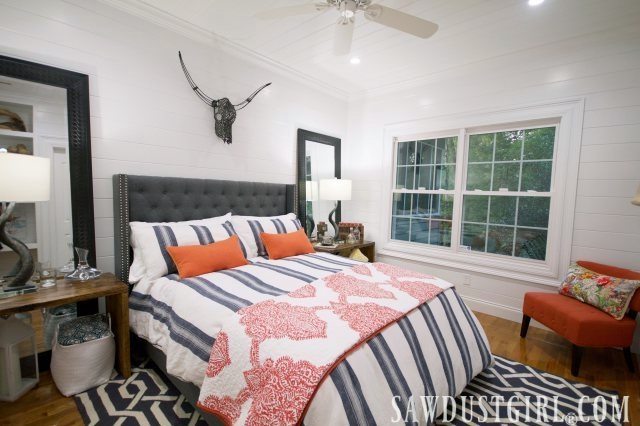 The focal point and our favorite piece in the room is this this awesome steer head made out of washers. We fell in love with when we found it at Home Goods and it was the driving force behind everything else we added to the room.  Unfortunately I can't share a good source for another one just like it, but I did find some cool faux skulls on Houzz.  If you're hoping to find something similar, check those out.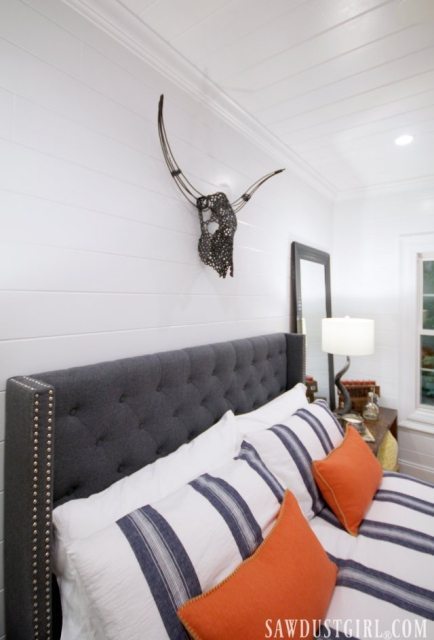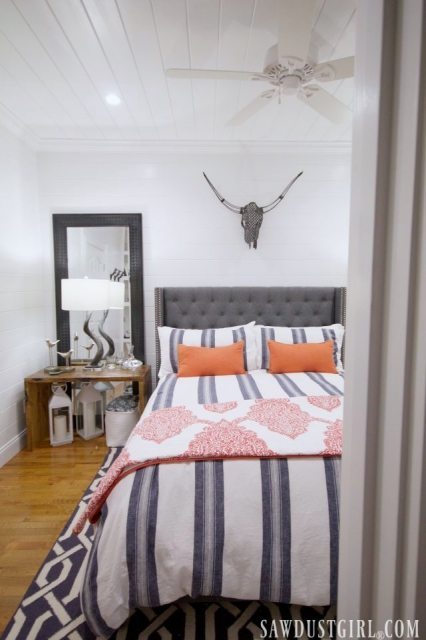 Little Bedroom Design
Back in the framing stage, I planned this little desk nook.  I built the floating shelves and curved desk that mimics the nook in Madison's pretty bedroom.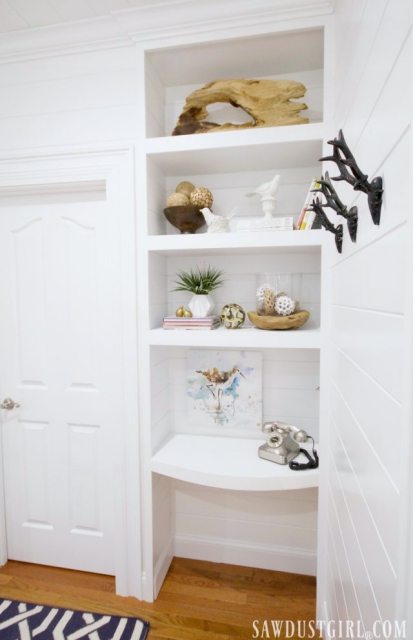 The built-in wardrobes are perfect for this little bedroom. They provide great storage for guests clothing, suitcases, toiletries, etc. and make keeping the room neat and organized easy; and the gorgeous handles and knobs add just the right amount of glitz and sparkle.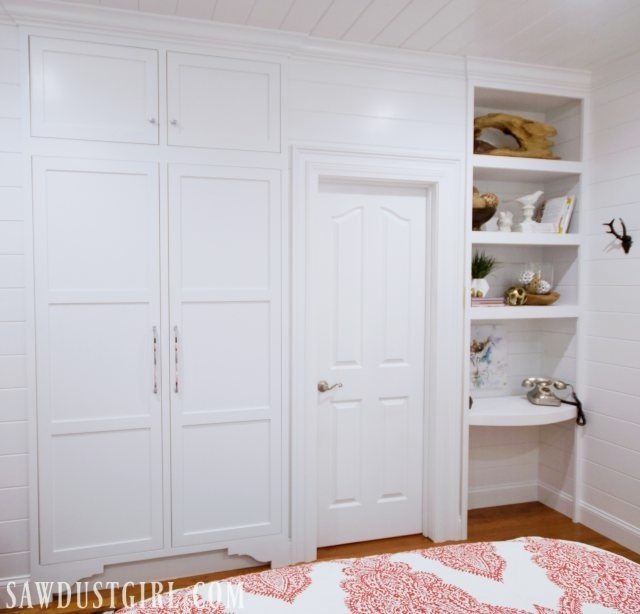 Large, full length mirrors sitting behind the bedside tables reflect light and help make the small space feel larger, and their black frames keep the space anchored, and dare I say, sexy.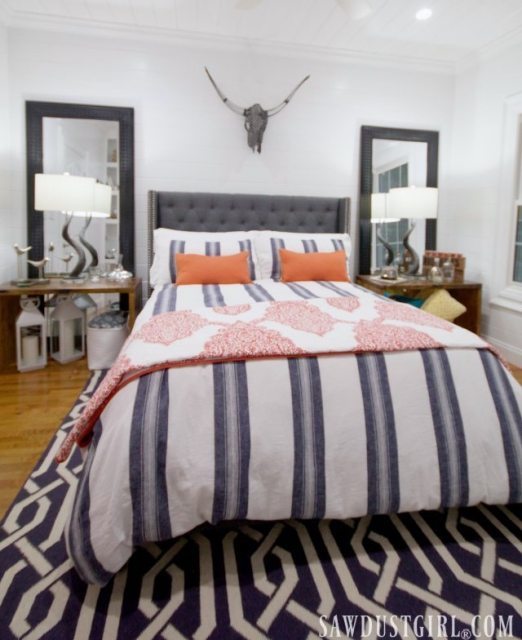 And speaking of bedside tables, just look at these beauties! Julie and I built these this summer when she was last out.  Building custom furniture to exactly fit the space you want to fill is the way to go. I love their solid masculine feel, yet because they are open they don't feel heavy and clunky and give us extra space for some decorative baskets for storage and additional decor.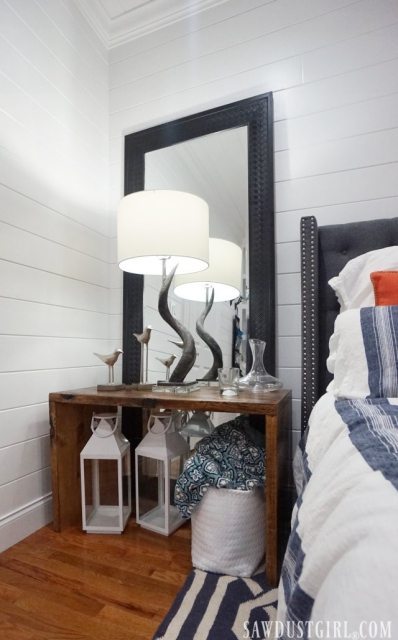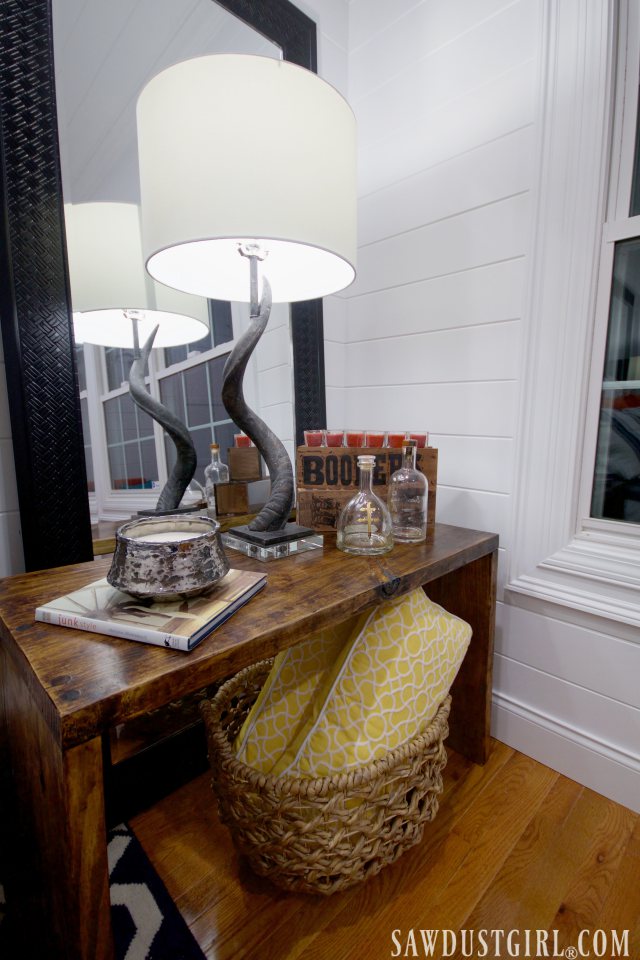 Can you believe that finish is all done with Briwax?  We'll share how we built and finished the bedside tables asap.