The doorway from the entry to the living room used to be pretty boring: just drywall meeting drywall. I wanted to create something a little more significant and interesting so I created a decorative column on each side. Topped it with a pediment. It make such a big difference and adds interest and character to that wall. Now I'm going to show you how to build decorative columns.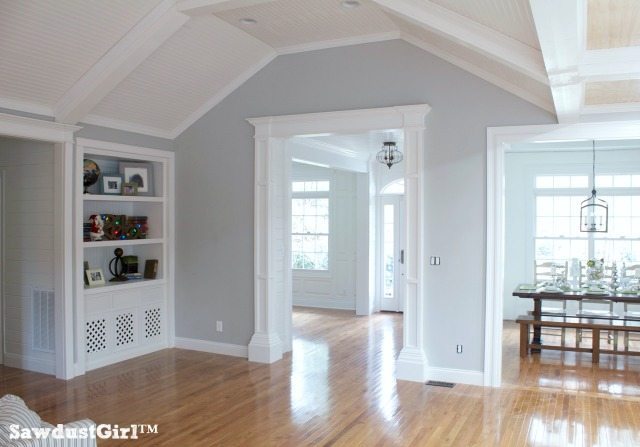 How to build decorative columns
1.  Build the base with 2×4 and 2×6
Secure a 2×4 on one side of your corner wall.  Overlap that with a 2×6 on the adjoining wall.  This will give you a 1/2″ discrepancy in width.
2.  Cover the base with 1/2″ MDF
Cover the 2x framing with 1/2″ mdf on 3 sides.  Leave the end of the 2×6 uncovered evening out the width of both sides of your column to 6″.

3.  Create boxes with 1×2
I used prime pine but you can use any 1×2 material.  Create boxes over the MDF. You can either miter the outside corners or trim one side by 3/4″.  Use glue and nails to secure.
Place your horizontal pieces where ever you like.  You might want one long box.  You might want to break your column up into two sections…I created three sections in my columns.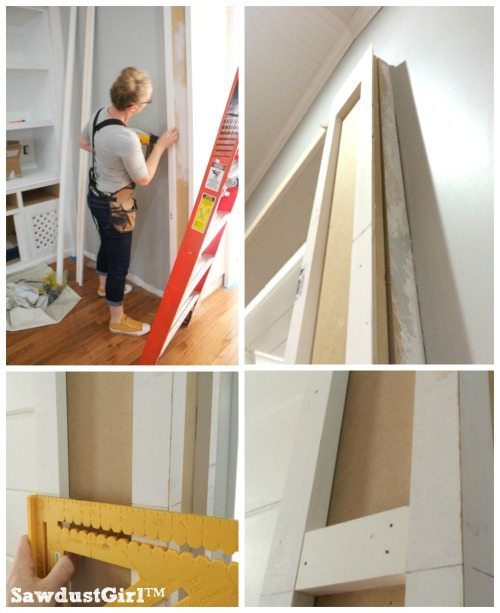 4.  Header
If you are creating columns around a doorway like I did, you may or may not want to add a header.  I built my header by installing a 2×6 and then covered that with MDF.  I didn't cover the header with 1x material like I did the columns.  I wanted my columns to protrude passed my header because it looks really cool when you get to the part where you add the crown moulding!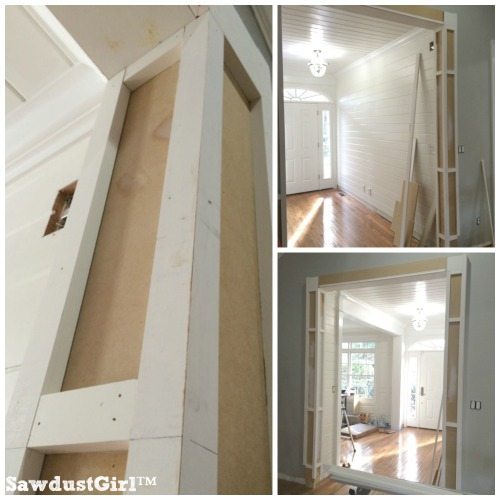 5.  Base
Decide how tall you want to build your base.  I wanted a huge, chunky base about 14″ tall.  I placed my lower horizontal 1×2 piece at 14″ and started layering moulding pieces over it.
Use scraps to block out the lower portion of the column with each additional moulding you add.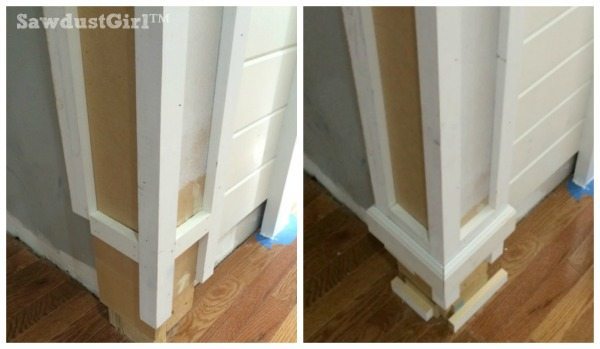 Miter all your corners
Get a helper if you need a second pair of hands.  🙂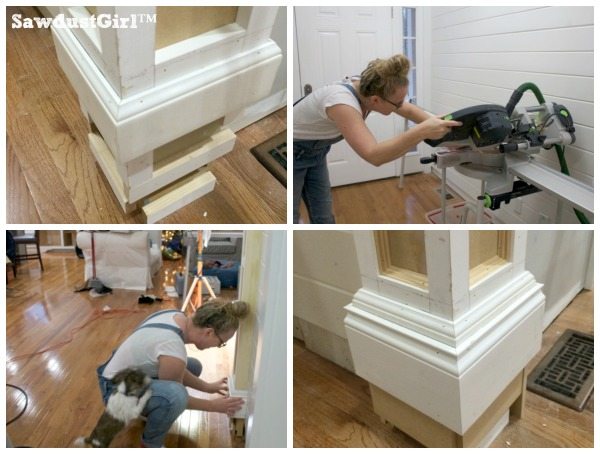 There is no rhyme or reason to my layering.  I just grabbed a bunch of moulding and baseboards and placed them where they looked good to me.
The bottom layer is 1/2″ mdf topped with a small cove moulding.
Using painters tape is a great way to snug up mitered corners while glue dries!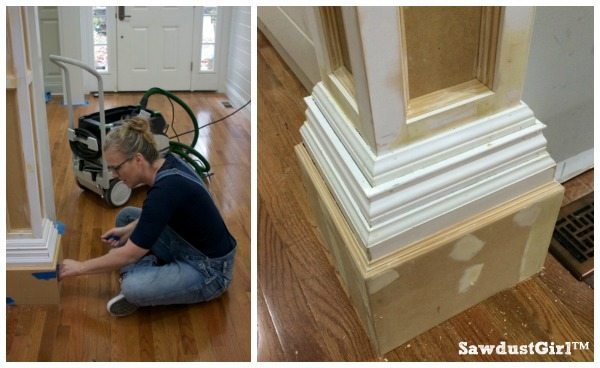 6.  Applied trim
I added a small decorative moulding to the inside of the "boxes" on my columns to give them more detail.  You can skip this step if you want a simple design or don't want to hassle with it.  (It is a LOT of cuts.)
Column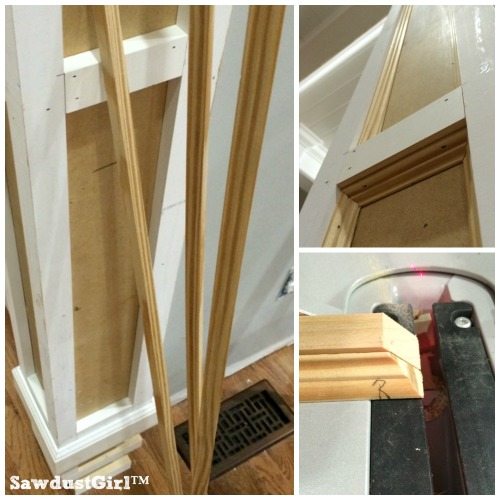 *Tip – Use a piece of scrap wood as backing when cutting small moulding to prevent tearout and give you cleaner cuts.
7.  Fill and sand
Fill all your nail holes, cracks and seams with your favorite wood filler and sand, sand, sand everything smooth!

8.  Add crown moulding and bottom trim to header
9.  Caulk Prime and paint.
Or do those two in reverse order if you don't have all the materials you need but you want to keep making progress so you just do what you can when you can!  Use my Crown Moulding Templates to make that step easy as pie!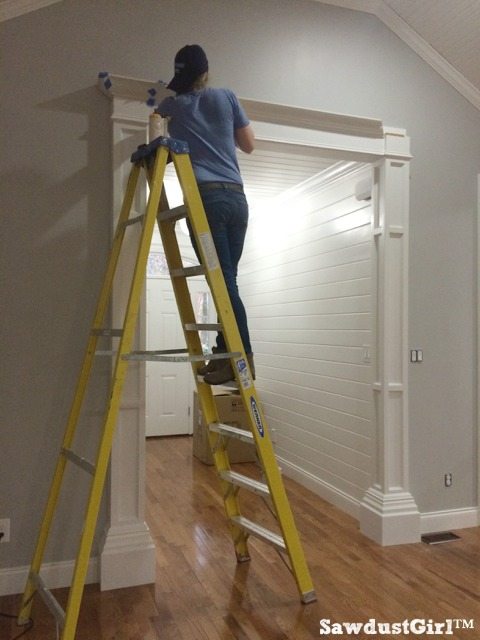 Now step back and enjoy your hard work!


(Obviously I've done more than just build decorative columns.  If you're new here, check out the progression of this living room space.)