These are the woodworking plans for the built-in wardrobe with side cubby as seen in Kristy's bedroom.  If building these wardrobes to flank the storage bench and queen platform bed . you would want to build two towers but reverse the cubby in one so the cubby faces IN towards the bed from both sides.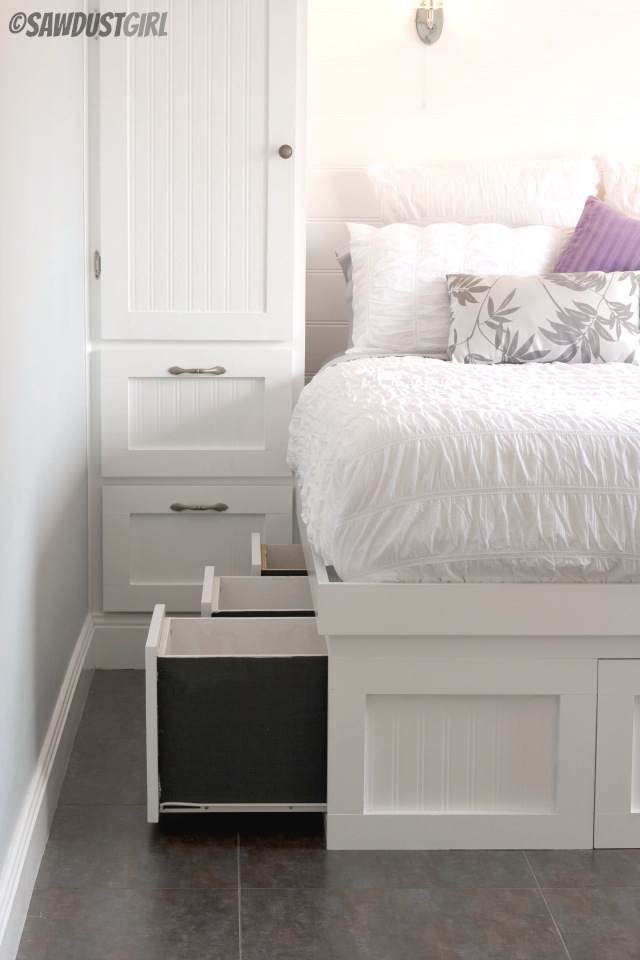 Built-in Wardrobe with Side Cubby -plans
*You should adjust the height and width of your towers to fit your specific room size.
Rule of thumb for cabinet width; I hardly ever build a cabinet wider than 32″.
Cut List and Materials
1 3/4″ wood screws
wood glue
1 1/4″ pocket hole screws (pocket hole jig)
3 sheets of 3/4″ MDF or Plywood cut as shown.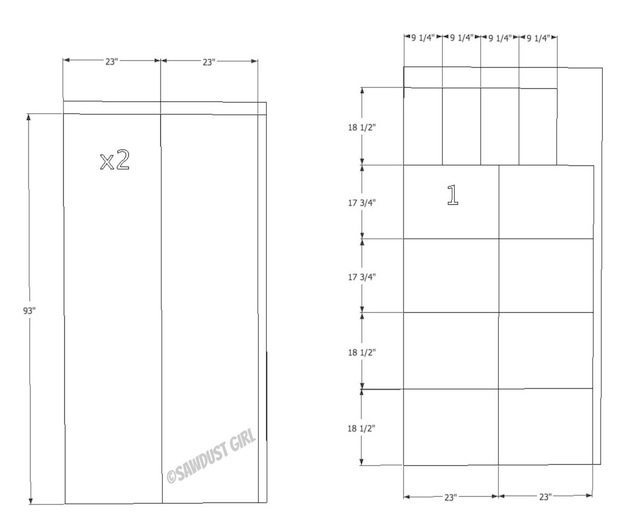 1 sheet of 1/4″ hardboard or plywood for backs.
1 sheet of 1/4″ beadboard or smooth panel for sides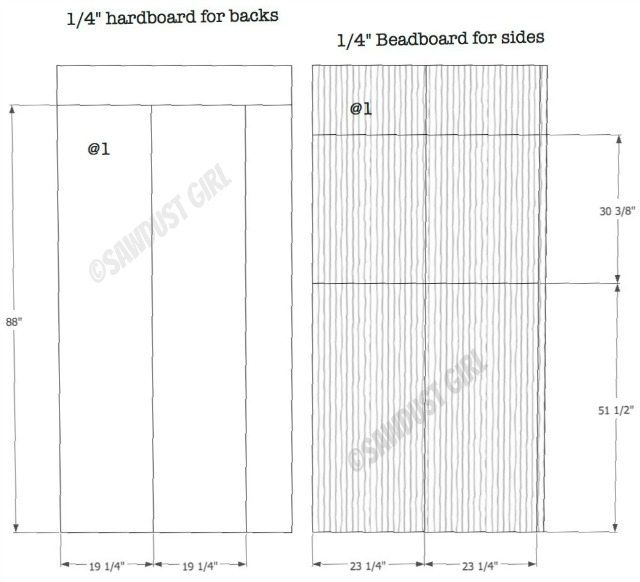 Build it:
1.  Attach horizontal supports with 1 3/4″ screws through the side that is one full piece.  These will be covered with beadboard or flat panel in the end so there is no need to hide the screws.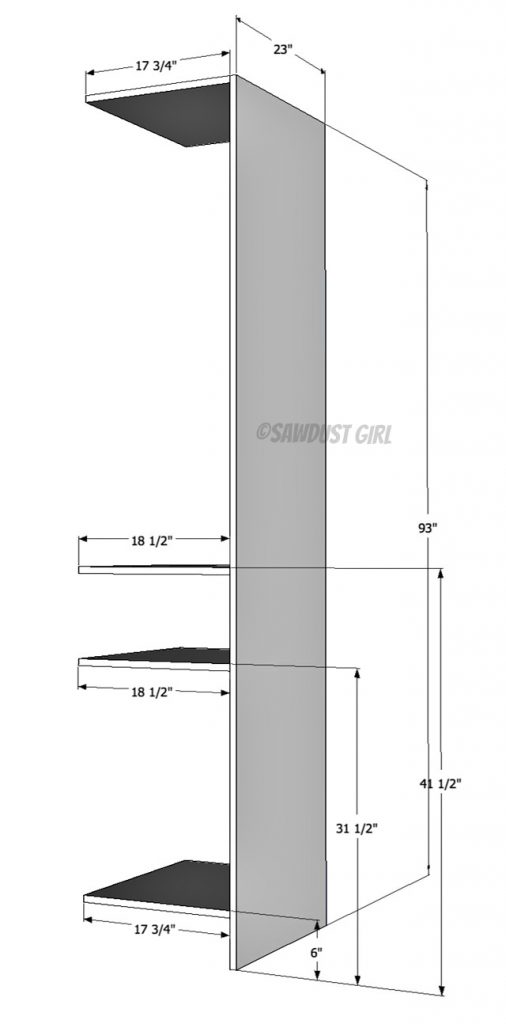 2.  Attach second side in sections keeping the cubby open.  You will have to assemble this cabinet laying on it's back because this side won't support itself.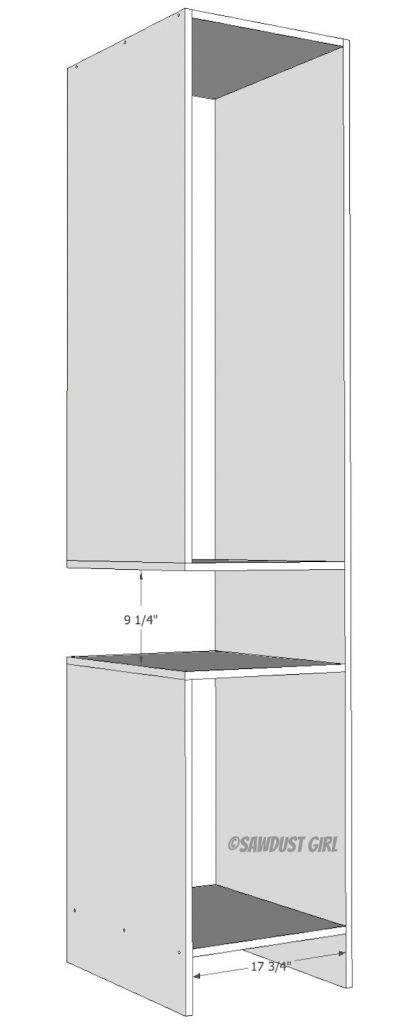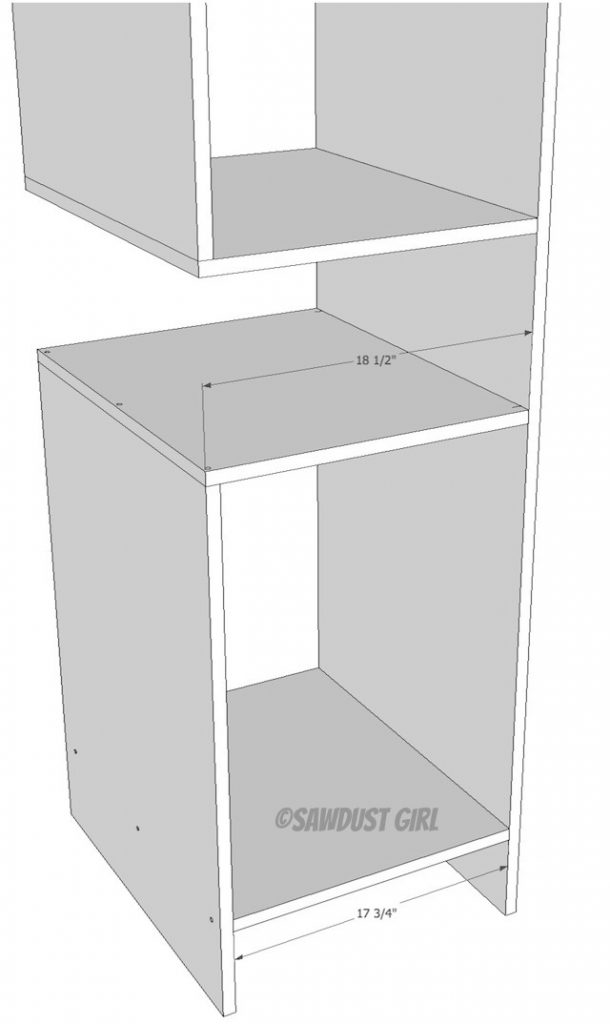 3.  Secure front and back of cubby.
*Remember you are accessing it from the side so you need to make one as a mirror of the other so both cubbies are open INSIDE as they flank the bed.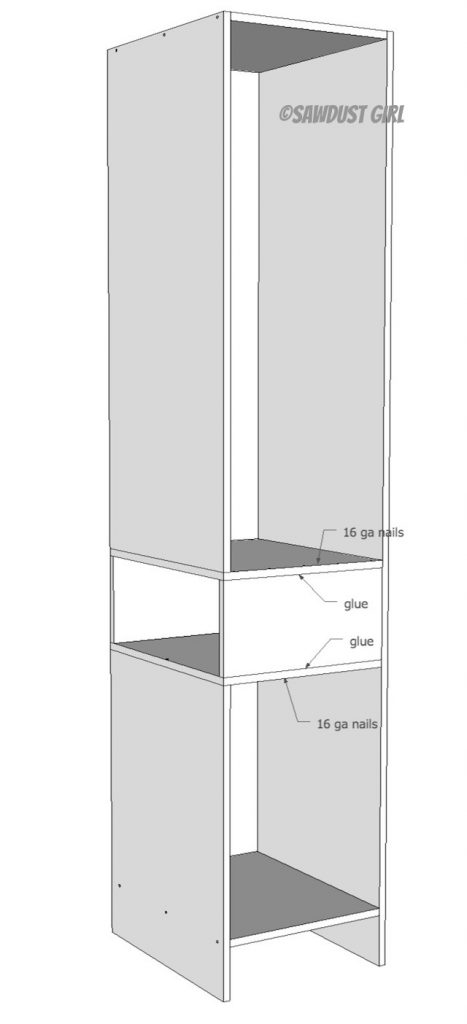 4.  Attach back cleats so you have something to secure the cabinet to the wall through.  Use pocket hole screws.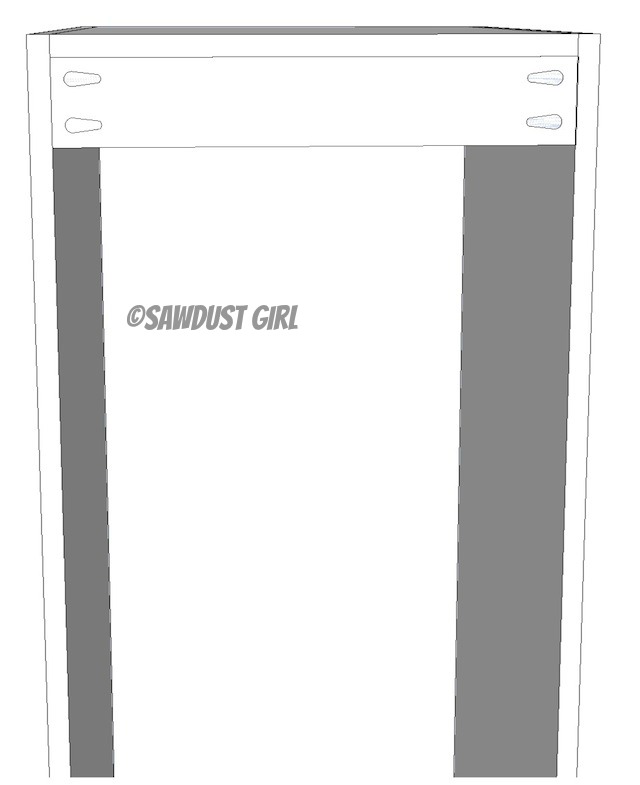 5.  Square up and attach the back.  I use an air stapler to attach cabinet backs.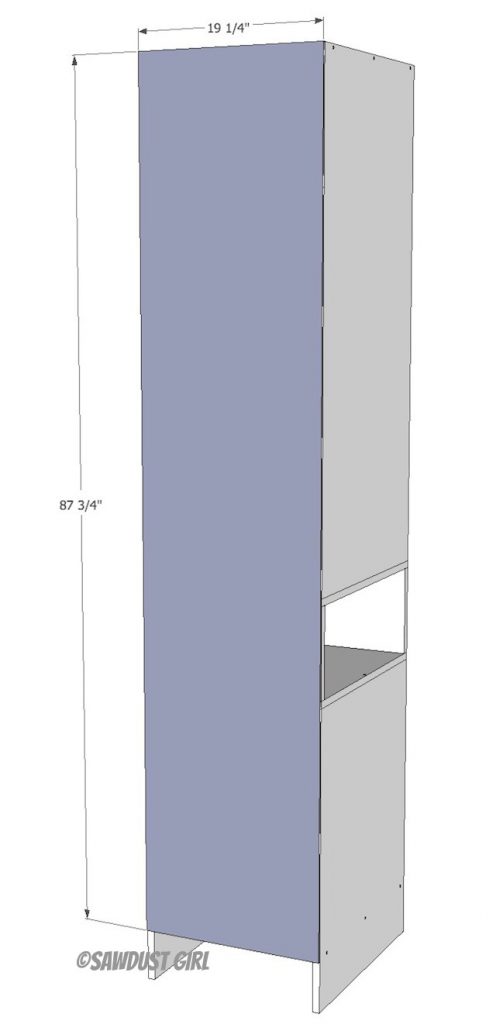 6.  Build and attach the faceframe using pocket hole screws.  The faceframe will have a 3/4″ overhang on the outside of the cabinets.  It should be flush with the inside of the cabinet.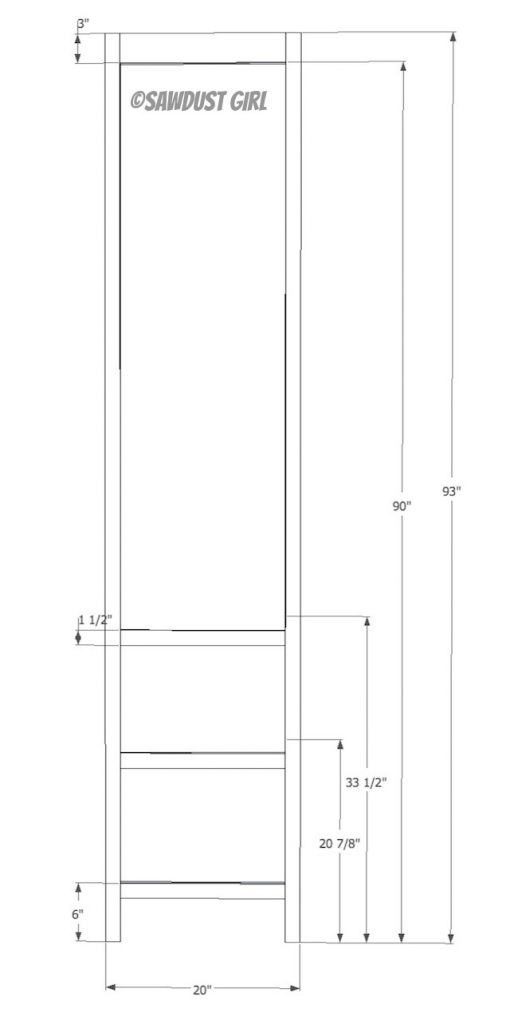 7.  Build a side face frame to frame the cubby opening.  Glue and nail these pieces into place making sure to use nails that won't punch through to the inside of the cabinet.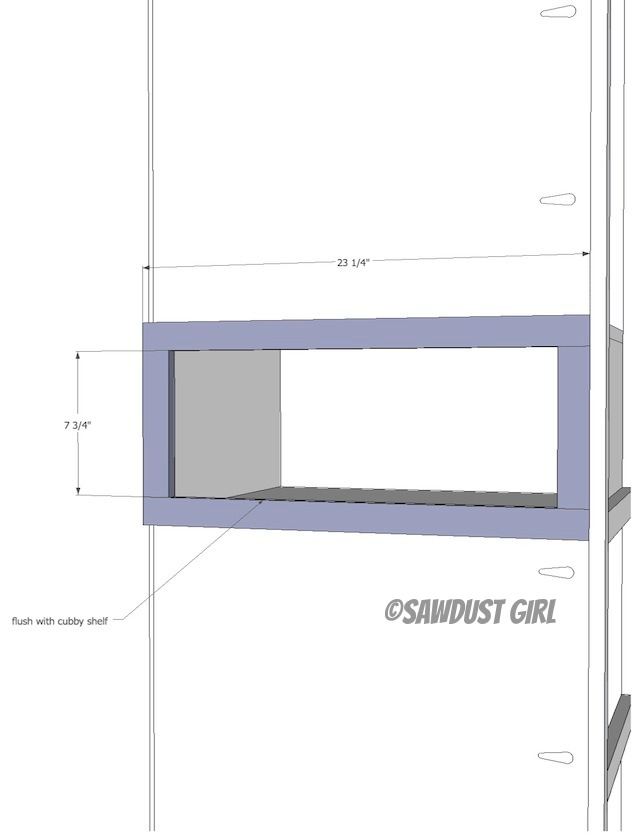 8.  Add 1/2″ cleats above and below the cubby frame if you want your beadboard panel flush with the outside of your cabinet.  If you want it inset, leave the cleats off.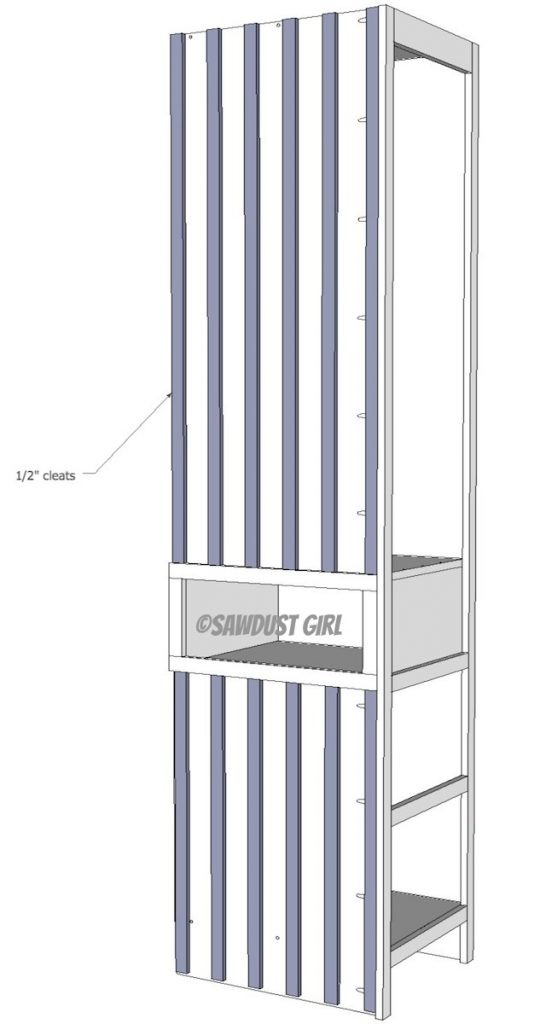 9.  Attach beadboard or flat panel to the visible side of your cabinet to cover all the screws and pocket holes.  I use caulk to glue it on or you can nail it on with small brad nails.
10.  Build drawers, doors and drawer fronts using the multitude of tutorials I've already provided, install and BAM —  You're done.  🙂
Check out Kristy's bedroom reveal to see what this all looks like in real life.  So much prettier than the drawings.  🙂  Get the rest of the free plans for this collection of Built-ins: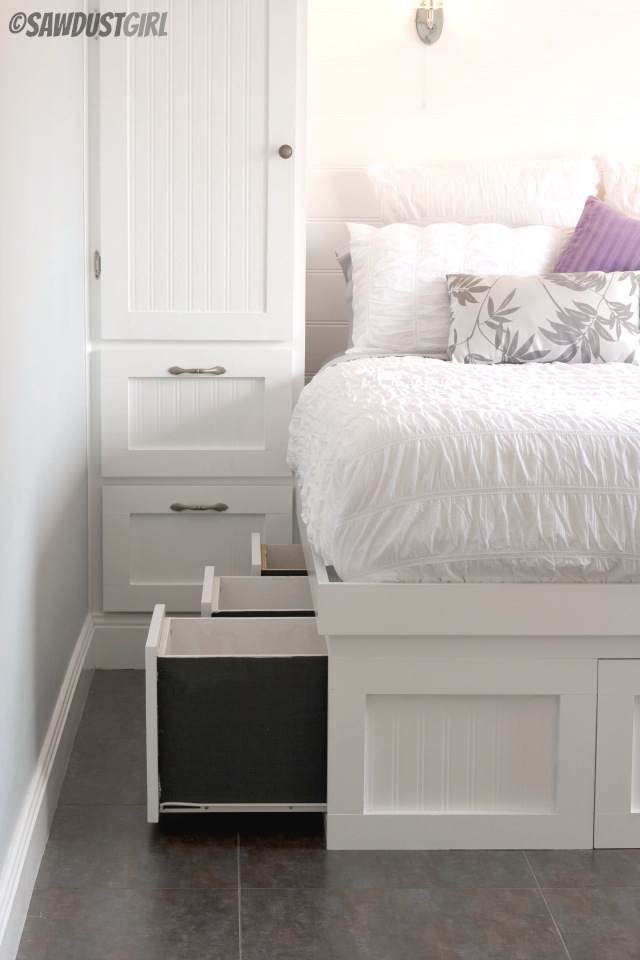 Get my Cabinet Building 101 eBook.  All the information in one place that you can download and keep on hand!
$9.99Add to cart