We did it! We purchased our DREAM Property! (And then some!!!)
As I mentioned in my post, "Looking forward to the Future", we decided we need to move in order to "build our dream". We want land and I want a building instead of a garage, in which to grow my business. Obviously, I have to finish our current house before we can sell it. However, figuring it would take some time to build our dream, we began our search for "the place" where we would want to build.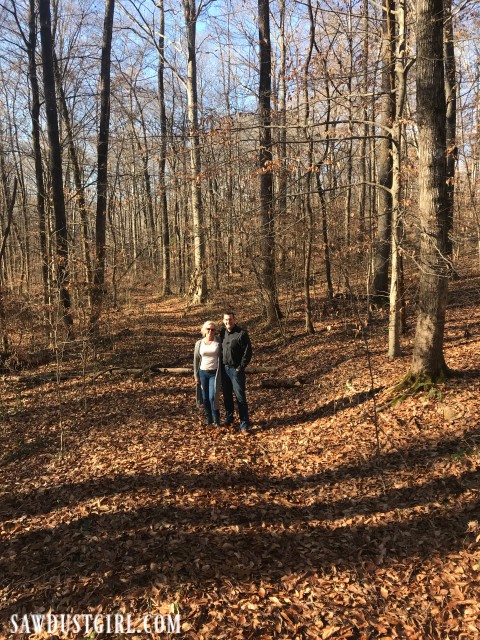 What do we want in our new Property
Land – 5 to 15 acres (secluded, but not out in the Boondocks).
A building, separate from the house for my workshop/business.
Not more than a 30 min drive for Wes to and from work.
Building New vs Renovating
Originally, we thought our new house would be a custom build. I always thought I'd like to design and build something from the ground up. However, after looking through hundreds of house plans to get ideas for layouts, design elements and functional features I might want, I realized something surprising. I don't really have any pressing desires for "dream house" features. There are only 2 things that are MUST haves in my next house:
A great kitchen! Ever since I renovated this kitchen, Wes has become a REALLY good cook! If I had known that all I needed to do was build an awesome kitchen to turn on that talent, I would have done it in our very first house (and all 5 houses we've lived in after that)! He loves cooking in our kitchen and I love eating the food he is happy to prepare. It's a WIN/WIN situation. You can bet I'm going to push the limits in the next kitchen to see how that, in turn, ups his cooking game!
A Master Suite. Obviously this includes a bedroom, which I continue to be happy to share with Wes. However, since we're talking "Dreams" here, I would like separate closets and bathrooms. We have different tolerance levels for each other's habits and routines. (In all honesty, Wes is very tolerant. But I can build –so I'm going to eliminate the avenues that lead to some current irritations for me.)
With the new revelation, I expanded my property search to include 5-15 acres with an existing house (that I could renovate into our Dream House) with space close but not too close to the house where I could build my "Dream Workshop".
My Dream Workshop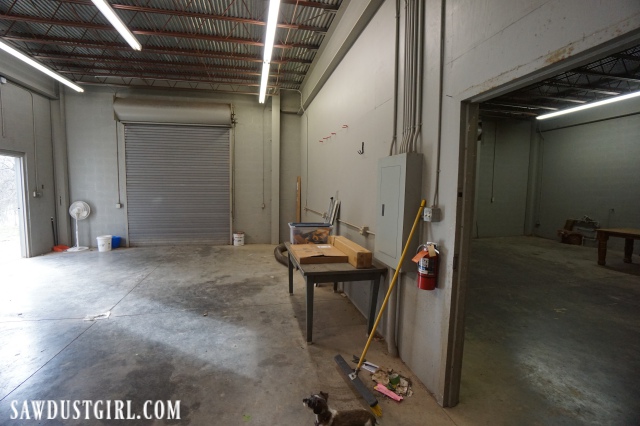 So, I already mentioned that I no longer want to work out of my garage. In addition to wanting more land, my desire to have a better workshop is actually the thing that is driving this "we're moving" bus. I have some very specific wants for my dream workshop:
I want a completely separate, building.

Not a garage
Not attached to our house.

I want multiple, separate spaces so I can build in one place and do finishing work in another space. All this without moving anything around, cleaning or setting up to prepare for the "other" task.
I want my new workshop to be large enough to accommodate more than one person working at one time.
Two stories.

The Dirty Work happens on the ground level.
"Office Work" happens above. This work includes: designing and drawing up plans, researching, having meetings via Skype or phone, writing blog posts, editing photos, editing videos, doing voice over work. All the stuff I currently do at the kitchen island or in my loft studio. However, because I'm "at home" I have 500 interruptions that a person who works "at the office" doesn't have. (Mainly the dogs who bark at every leaf that falls. But also, if anyone else is in the house and they know that I'm home — they NEED to see what I'm doing and lots of times they want to chit-chat with me while I do it.)
Also some other things that I'll tell you about later.
Expanding the Search
After expanding my search to include existing houses, we spent a couple Saturdays doing "drive by's". These were preliminary eliminations of potential properties. With our specific wants, it's pretty easy to see what is NOT going to work. I'd send our realtor the addresses of properties we wanted to see.
We didn't change our search from "buying land on which to build" to "buying a house to renovate that sits on 5-15 acres and has space nearby where we can add a big, 2-story, workshop building." We just expanded our search to include both. I mean, what are the odds of finding, exactly what you want? It took us 6 months to find our current house and I only had one thing on my "must have" list back then. This time around, we're looking for some serious "Dream Material" with kind of a weird "wish list".
Here area some thoughts about looking for property:
Sometimes things look better in the listing than they do in person.
Sometimes 6 acres on the map looks promising but when you get there it's just a big hill with no potential for a future workshop.
Sometimes things look so weird in the listing you almost don't even go look at it in person.
Diamond in the Rough
Not to give you the idea that we looked and looked and looked at properties. While that list is based on my reactions to actual properties we went to, we only spent 2 search days with our realtor. And we only looked at 3 or 4 places each day.
When we arrived at one scheduled showing, the selling realtor was there to meet us –because this was "unique place" that needed explaining.
It was perfect!
11 beautiful acres with an existing house AND a separate 2-story workshop/building!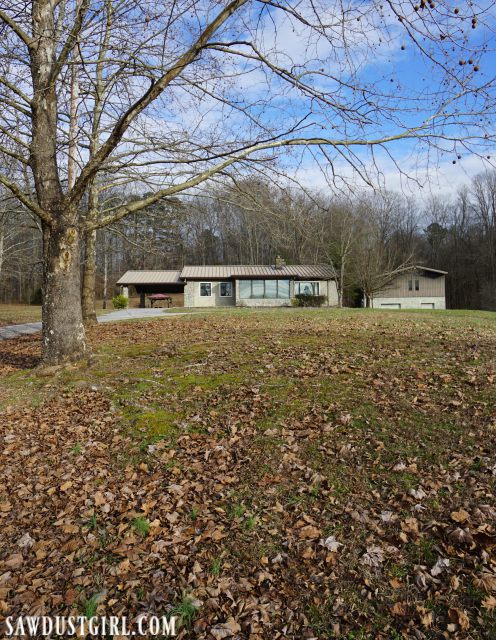 I mean, it's not perfect. But it can be. And it will be so much easier/faster to create what we want out of what's already here than it would be to start at land zero- and build up from there.
The house is …quite weird. But I know how to deal with a weird house. And it's good enough to live in until we decide what we want to do with it. Eventually we'll probably add on. However, my first focus will be the shop building. MY business building! Sawdust Girl Inc. Headquarters
We bought a House…and stuff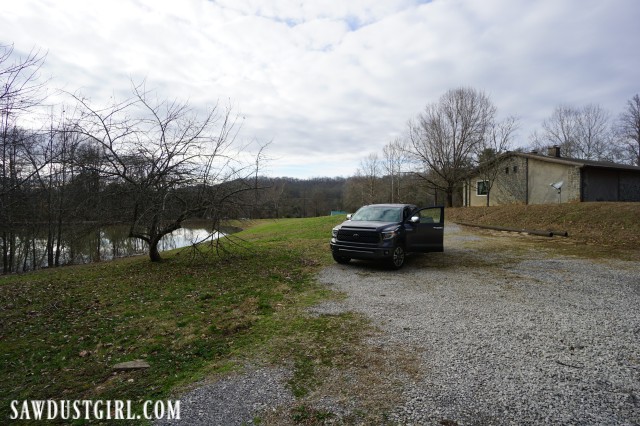 Our new property is in Clinton, TN. It is rural. We have septic tanks. We'll have to hire a trash service to pick up our garbage. We own a pond AND 5 acres of lawn that we'll have to mow. We actually bought a big lawn mower this weekend as Wes is quite worried about all the leaves on the ground.
Apparently, the leaves are providing a perfect hiding place for all the ticks. They are waiting to bite their way into our little dogs lives. Ticks are gross. BTW, Brody and Bella LOVE running around at the new place! Which is a problem in and of itself as there are coyotes and foxes out there. We see them on the cameras Wes has installed to keep an eye on the place until we move in. We're going to have to figure out how to keep those little guys safe.
Woods, Mountains and Waterfalls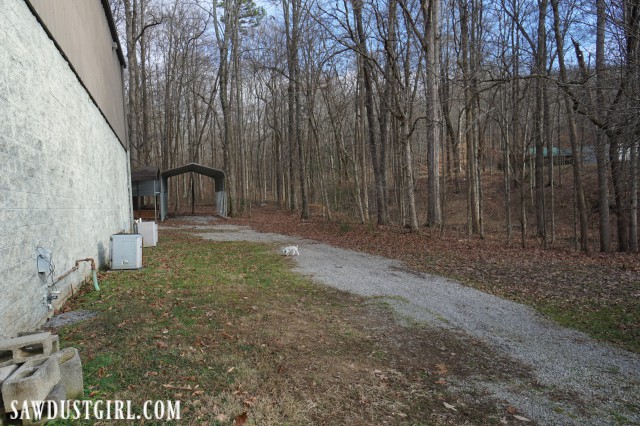 We now own a whole side of a mountain! Out West, we'd consider this more of a hill. But we're in TN now so- that there, is a mountain. Also, there's a little creek that flows down our tiny mountain hill -which we refer to as a waterfall. There's a trail that runs all the way to through woods in the back end of our property. All the way back to our little mountain. This weekend, we also purchased a UTV that we can drive back into the woods and gather up all the firewood that we'll cut from fallen trees. We're going to be such homesteaders (wannabes). Except for the fact that I hate ticks and mice…I'm going to crush this rural living!
Sawdust Girl Inc. Headquarters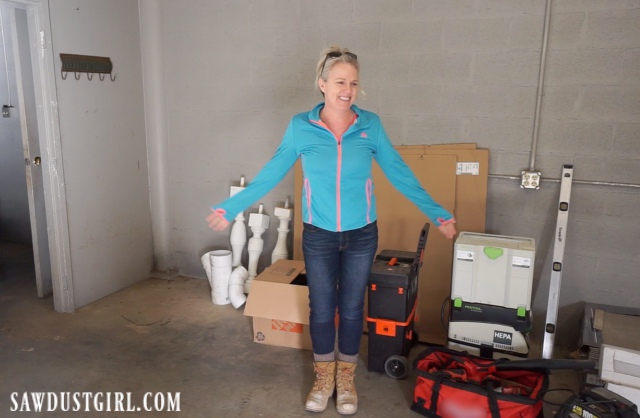 So obviously, the thing I'm most excited about is the "better than I even knew I wanted" workshop building.
The separate building is a reasonable distance away from the house. Close enough for my convenience of walking to work, but far enough away to discourage people at the house from wandering over just to "see what I'm up to".
There are two separate bays, each of which are larger than my current workshop.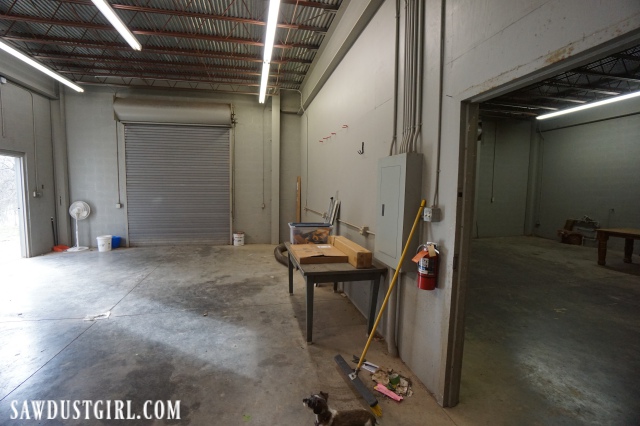 I never measured them. I walked in and was like, "wooooo", and knew it was big enough. This is bay 1 which is slightly smaller than bay 2.
Bay 2 is currently housing some of Julie's belongings as well as some things we've started moving out of our Maryville house. (To make more room to finish up those renovations.)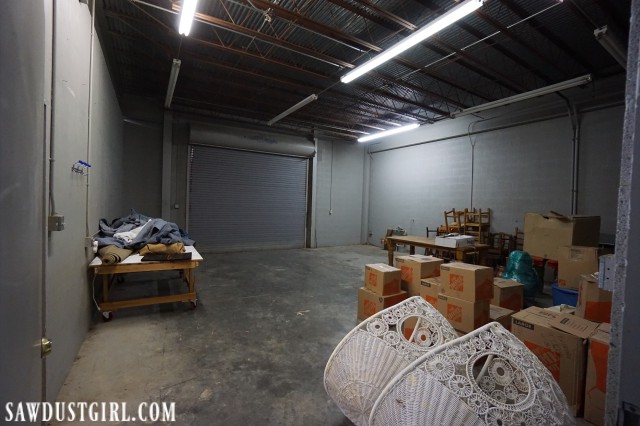 Bay 2 has a door leading to a hallway. On one end of that hallway is a door going outside. The other end has a metal stairway, leading to the upstairs. In that hallway is also a bathroom. (If you can call it that. It's a room housing a toilet.)
Upstairs is a big open space for me to make what I want of it. At some point, someone started building something up there. They never got far enough to clearly demonstrate their plan or intention. I'm pretty sure I'll tear out what little framing was put in and start over.
Gotta get Moving so we can Move!
I never expected to find something with an existing workshop building that was perfectly what I wanted, ON a piece of property that was better than we imagined. Let alone find something so soon. But we did, and I wanted it bad!
I didn't want to not buy it because the timing wasn't quite right. So we bought it. It's ours. And we are excited!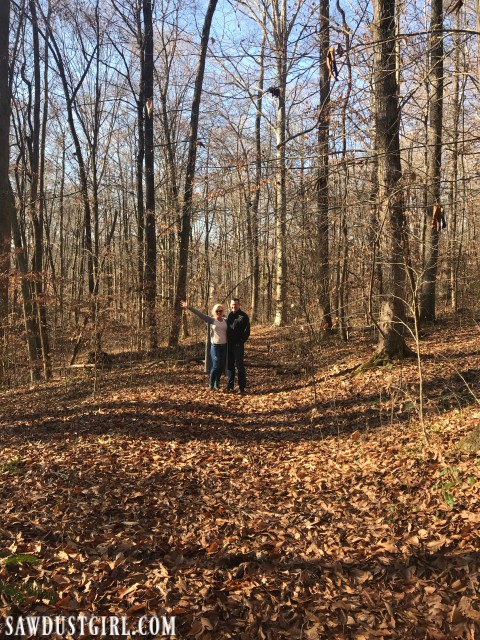 And we also now have two mortgages so I need to finish this house ASAP. I want to get it on the market by April!
Thank goodness Julie is returning from her very long vacation in Costa Rica with her daughter (while on winter break from college). She is now fully recovered from her surgery and ready to do some hard work.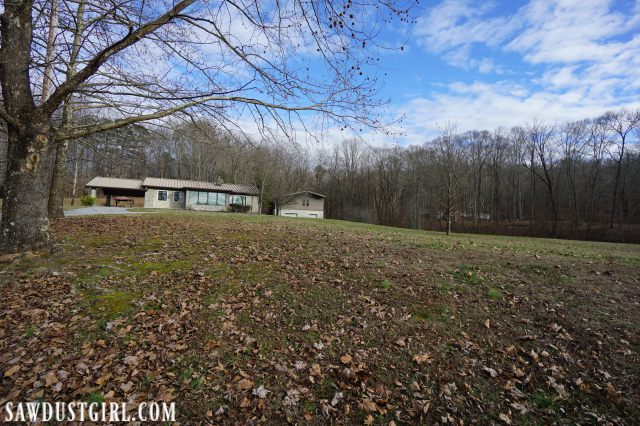 The sooner we get the Maryville house finished, the sooner we can move to to Clinton. (And then I'll help Julie look for the "little farm" she is hoping to find.)