As you know, I'm working furiously to finish my house. But life isn't all work. Time spent with friends and family is important. And sometimes that happens spontaneously. Like last week while in the middle of installing my kitchen cabinet doors, I took a last minute trip to Huntington beach. Then Julie and I drove back in a giant moving truck.  She is moving to TN!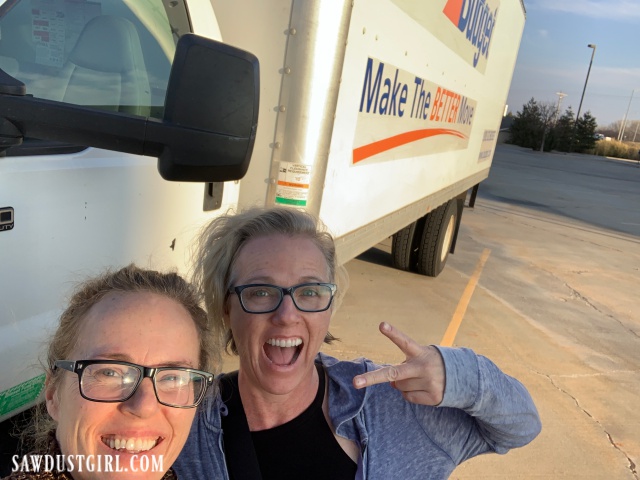 I've been telling Julie that she should move to TN for years. After living out here for 5 months last year as we worked on Calderwood Cottage, she was finally convinced. We've always wanted to live close to each other, so when she fell in love with TN and got excited about how affordable it is (compared to San Diego) and started looking at properties, I couldn't have been happier.  The plan was for her to find a property to buy and then move out here but…
She's living in a rental house so she doesn't have any renovation projects to work on in California. (Which keeps her happy and busy.)
And I have a LOT of renovation projects here that she could help with.
Who knows how long it will take for her to find "the place"
It will be easier to look out here than through a computer screen from California.
So we decided she'd move out here and live with us while she looks for a place. That way she can help me finish my house while she looks. (I'm so happy about that!) We decided she'd come help me with my house in February. Then in March, we'd both fly back to California and drive back with a truck full of thangs.
Rolling with it
But circumstances recently aligned to where it made sense to move her now.  Julie just had a 5 pound benign tumor removed from her abdomen. It was a major surgery with an expected recovery period of 6 to 8 weeks.
Julie doesn't approach recovery the way most do. She was determined to be a rockstar recoverer and be good as new by week 3. Then get back to life as usual.  I took matters into my own hands, and went to go oversee the recovery process.
We knew 3 weeks was too long to sit on the couch and wait to get better. What better way to optimize our forced down time than drive a moving truck across the country? We packed up, hired loaders to put everything into a big truck, and hit the road. The drive could be at our own pace and was a great way to limit Julie's activity for a whole 5 days.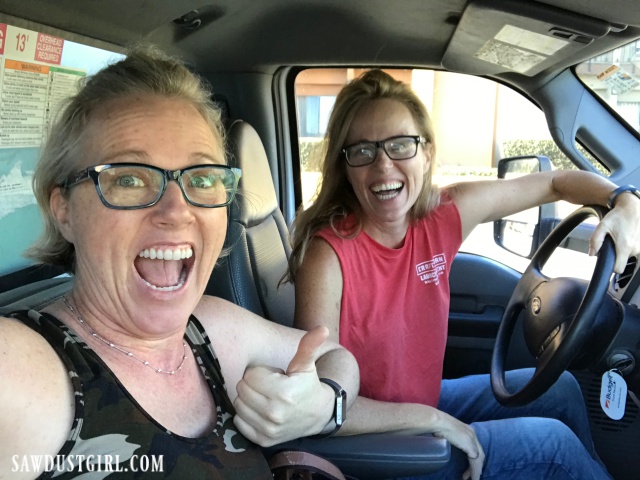 Probably the worst rental truck ever
The journey was more exciting than we expected. It was both comical and horrendous. For the most part we made the best of the situations… but there were A LOT of situations. To name a few:
The interior of the truck was about 3,000 decibels – so we had to wear our noise canceling headphones to protect our hearing. Which only helped a little.
I don't think there were any shocks or struts on the truck. It felt like we were sitting on springs. We were gaining fitbit steps from all the bouncing., 15,000 -17,000 steps each day!
The lights were pisspoor and aimed in the some kind of weird direction.
It rained for 3 days straight. The cab did not protect us. There was a constant drip from the grab bars.
The defrost did not work. It was day 3 before we finally determined the formula require to get the heat to work at all.
The truck was gutless. As soon as there was a slight incline the truck would slow down. Pedal to the metal was ineffective.
We had to keep our luggage in the back of the truck. Each night the massive garage door had to be opened which emitted a strong smell of pot.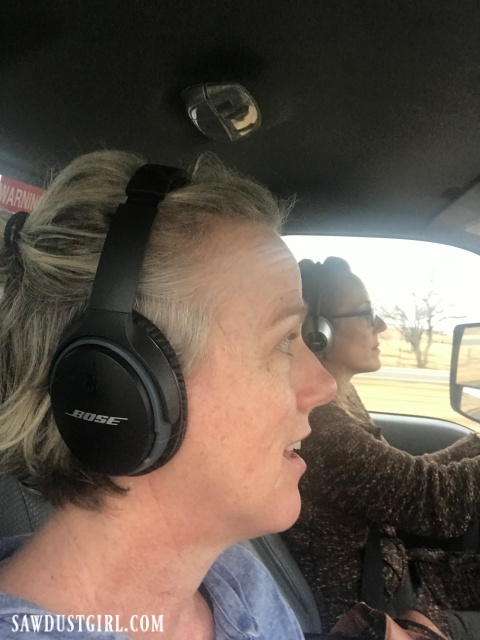 Drive like a boss
The first night we escaped LA with a 2 hour night drive. That's when we discovered the challenge with the lights. We determined to leave early in the morning to maximize daylight. That worked 3 out of the 5 days. However, two days we drove into new time zones and lost an hour so we had more stressful night driving with several life or death experiences.
We drove through NV, AZ, NM, TX, OK, and AR, to get to the state of TN. BTW, why does Arizona have so many state signs?!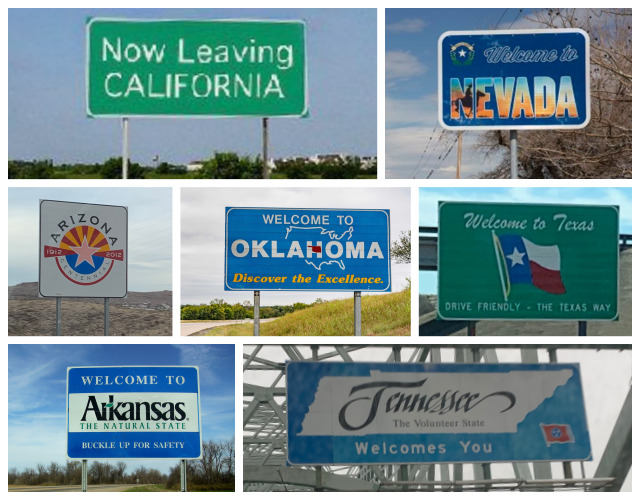 It's amazing how tired you can be after sitting in a truck all day. Two nights we didn't even eat dinner, just slumped into the hotel room and went to bed. One night it was because we were literally too tired. The other night, it was because there was no alternative beyond our giant truck to get around. No taxi, no Uber, no Lyft. And we didn't want to waste 1/2 a tank of gas to go to McDonald's or Walmart (literally the only choices). We had apples and crackers.
Laugh every day – even if you're faking it
In long stretches without radio we entertained ourselves with road trip songs. We're good at entertaining ourselves but not good at counting backwards. 99 Bottles of Beer on the Wall — can be pretty tricky. We had a lot of laughs along the way.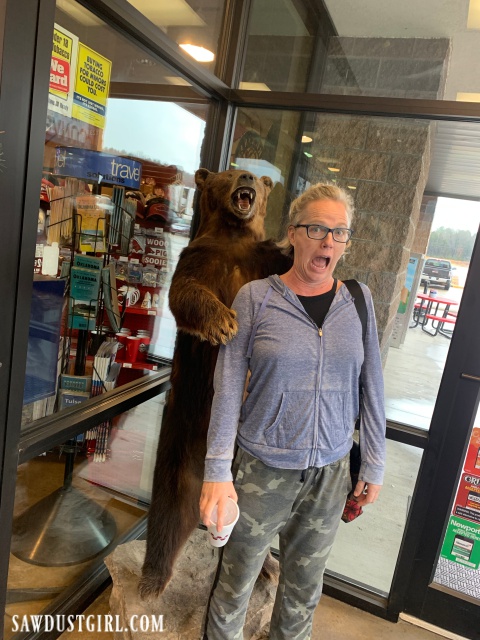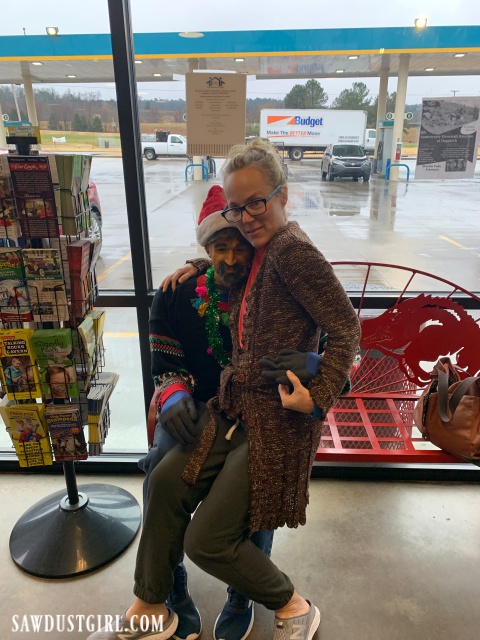 Noise
We did a little complaining too. The truck was seriously, soooo loud! We both had headphones and though they aren't terribly comfortable after 8 hours, we decided to wear them and try to protect our hearing. It made conversation a bit challenging but "safety first" is our motto.
Two days after the trip, my ears are still ringing.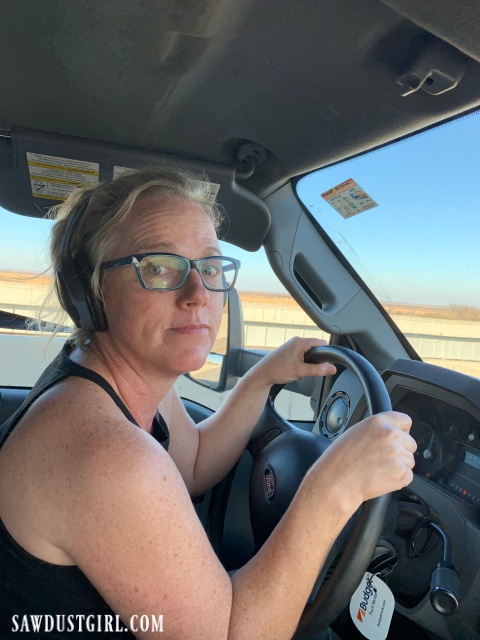 Julie did most of the driving. One, because I, apparently- based on a couple peoples' opinions, am not a great driver. And Two, I get sleepy after 30 minutes in a vehicle. Perhaps that contributes to the alleged poor experiences people have had with me at the wheel.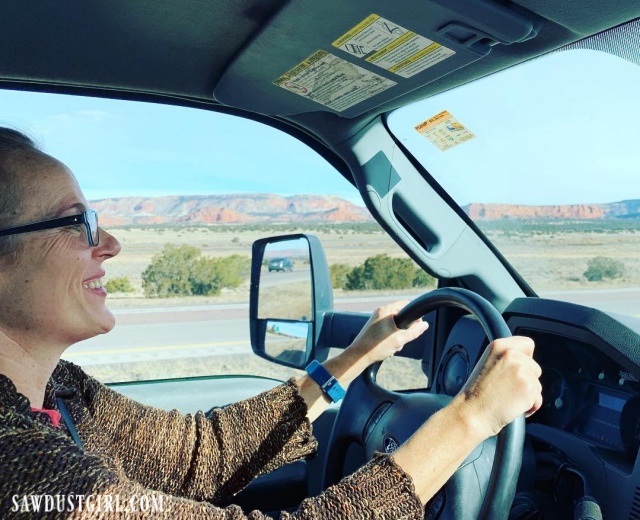 Rain
We had several days nice days but THREE days of pouring rain which dripped through the grab bars and puddled onto the cab floor. We didn't find out until unloading the truck that rain water was also dripping into the onto Julie's belongings: furniture, artwork, and most importantly, her tools! She'll be having some conversations with Budget tomorrow!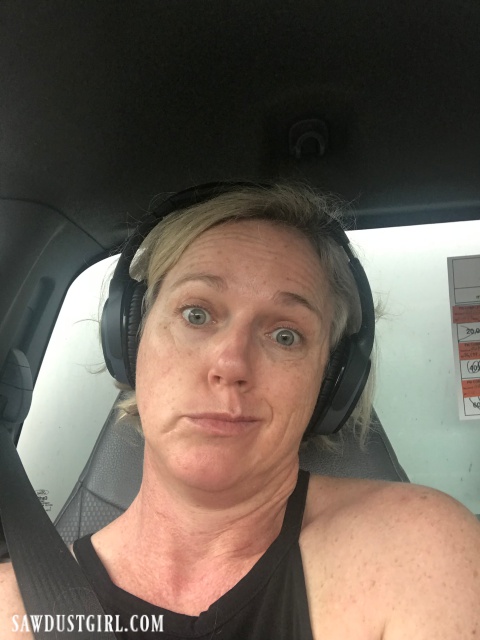 It was A LOT of driving. But it was absolutely worth it. Julie can recover while I continue working on my house. She'll fly back to CA to spend Christmas with Sophie and then they're spending 3 weeks in Costa Rica!
Then she'll come back and help me work on my house and we won't have to do the "big move" in March. 'Cause it's already done! And now we can look for a nice place for her to buy…maybe in this town we passed not too far out of Nashville.
Bucksnort!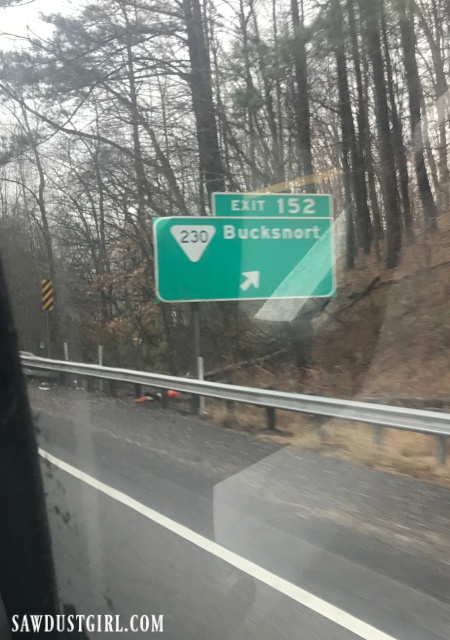 Just kidding, she can't live that far away from me. I've set a 20 minute maximum drive time from my house – for her search radius.  Because we plan on doing a lot of helping each other with our houses, making stuff, doing things and working on lots of projects together!