Continuing with Courtney's Fireplace Wall Built-ins …Catch up here: Part 1, Part 2, Part 3, Part 4.
I had a Skype consultation with Sandra the other day and am now ready to begin Phase II of the project, the fireplace area! I bought all the materials and started tackling the project around 9:30 PM. Luckily, the boys can sleep through a lot. The first piece of crown took forever to get off; the other pieces, just minutes. Then I got out the drywall compound and smoothed out the wall where the crown was. If you had asked me about drywall compound before this project, I would have claimed to not have known and not have cared about it. But now I feel empowered having one gallon of it in my garage, and being able to get it out whenever it seems appropriate. I also added one more coat to the ceiling patches where the previous recessed lights were, and I think the ceiling patches are going to work out just fine. Amazing!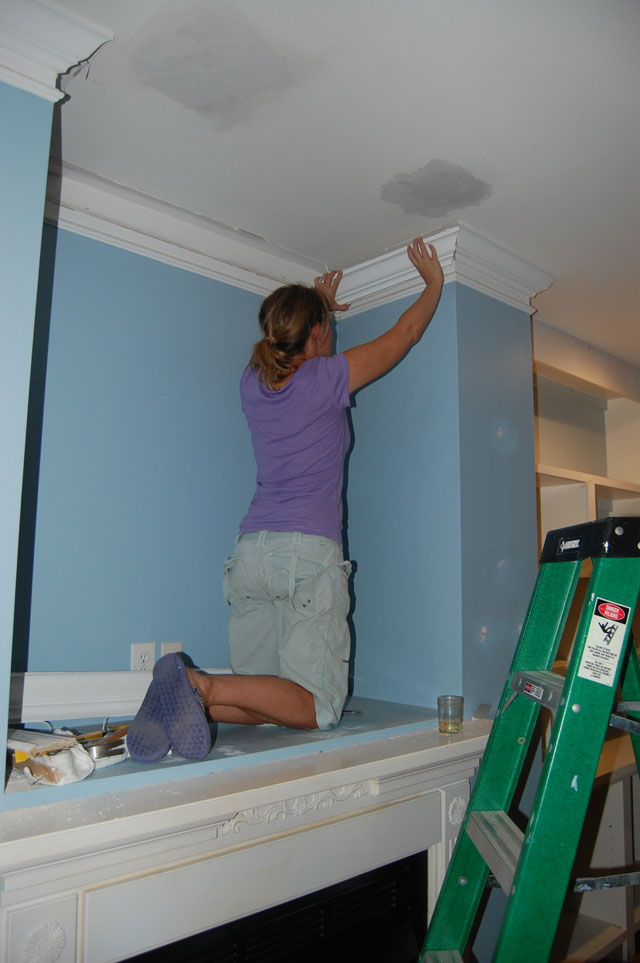 After discovering there are no side studs in the "cove" area over the fireplace, Sandra and I discussed different options. And then I broke my cardinal rule: I did what Sandra advised against and used big toggle bolts to hold the sides of the shelf up. Hopefully it will hold, and not send our electronic equipment crashing down onto our television! Yikes! My husband, being the gem of a father that he is, took the kids out for Father's Day and gave me time to work on the shelf above the fireplace. I got the hardboard top and bottom fitted in, which really made the shelf feel even more solid and sturdy. And I got one coat of primer applied!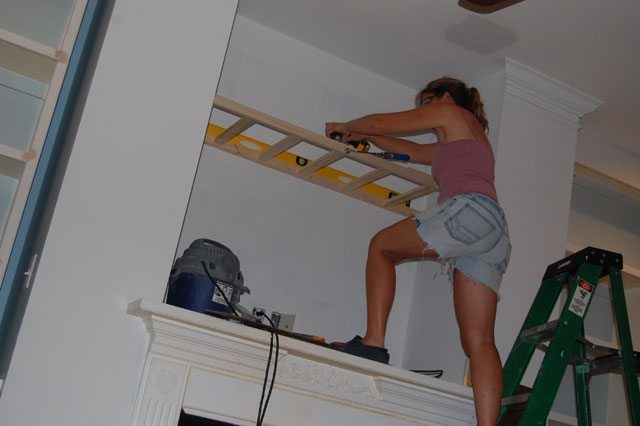 ————————————————————————————–
Both boys are now a year older and there are approximately 20 new toys strewn throughout the house. I find that when I work on my project, the house doesn't get cleaned and the fridge doesn't get stocked. The house is a mess and the garage is a mess! Too much of my work time is spent looking for one of my two mechanical pencils or one of my two tape measures. Now I see why people wear tool aprons–I need one of those! I can't work in the garage because every surface has tools, wood, or moulding on it.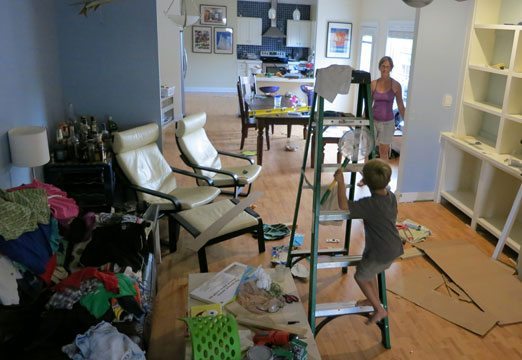 When Sandra and I had our first Skype conversation, I remember being intimidated by the scale of project that she suggested, and I said, "But please let's leave the fireplace mantel alone!" I've since had a change of opinion, and have realized that the fireplace is the wrong style for our house and my new bookshelves. I'm really looking forward to tearing it out, but I'm again intimidated by the thought of building a mantel!!! I want to add tile around the fireplace, too. Seems like just as I got semi-close to finishing, I added a whole 'nother level to this project!
————————————————————————————–
Fast forward one week – I'm still chugging along and making a new mantel. It has a total of three layers of MDF in front to build it out, and two layers of MDF on top, for the mantel (to make a big, smooth, television shelf and spot to hang our Christmas stockings).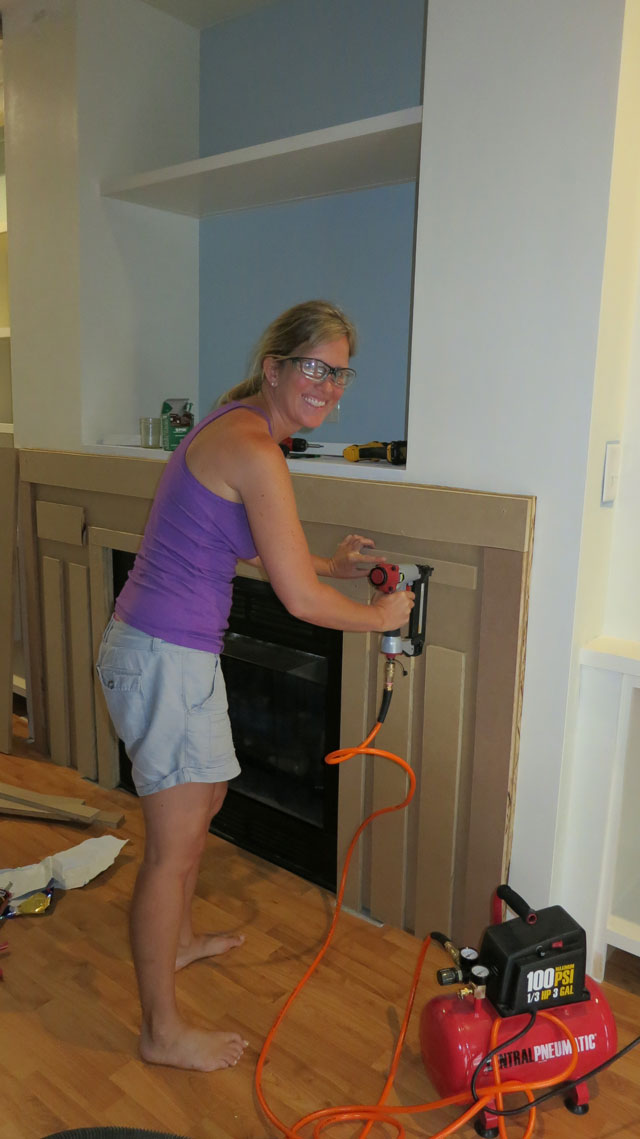 I made a template out of construction paper to get the right size for the mantel, but of course, I still didn't get a perfect fit. I keep having these great ideas that fail upon execution 🙁
But guess what? I am going on a vacation and need a break from this project! I need a break from thinking about it and stressing over it and working on it, and I need time to enjoy my family. But now I'm having all these nightmare scenarios about a water pipe breaking or a fire while we're gone that will destroy my precious shelves before I even have a chance to enjoy them.
One night at 9pm, I decided it would be a good time to tile the fireplace. Four hours later, it looked pretty good. I'm not sure if I love it or not; I'm not sure if the pillows with the large brown and white polka dots are making the fireplace look odd, what with the clash of patterns. But the next morning, my husband, unsolicited, told me that he thinks the tiles were "a great idea." And later, while we were sitting on the couch admiring the project, he said, "It looks awesome." My little son said, "This looks pretty, Mama." Yay!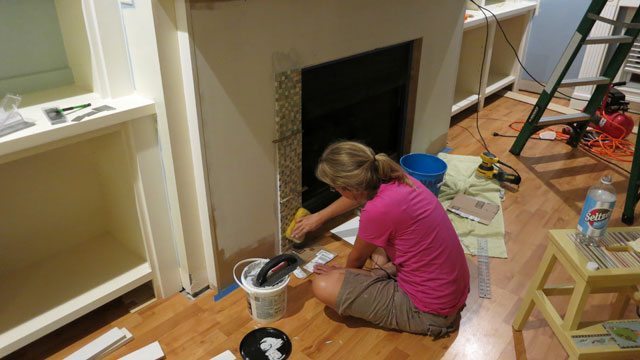 Along this crazy journey, I've been impressed with what a professional Sandra is. She is always cheerful and ready to help, even when I feel like just throwing some wood together and calling this thing "done". And she really knows her stuff. I haven't given her a scenario yet where she doesn't know the answer. She's even called me from the airport, as she started her much-needed vacation. I appreciate that she spends time thinking about my project, just like how I do.
Two days before our vacation started, the baseboards and moulding are back up, and almost everything has been caulked. I say "almost" because I decided that, if you have to stick your head inside a shelf to see where it needs to be caulked, that part can be skipped!
Unfortunately, I decided that I really dislike the fireplace. Something is off. But I will send a picture to Sandra and let her work some mental design magic while I'm laying on the beach in Belize. I need this vacation!!! I need to spend time with my family!!!
Keep reading: Part 6