Oh my gosh I did it, I did it, I did it – of course with Sandra's amazing help.   I never thought this day would come.   After all the late nights, whining to Sandra, skyping, texting, face timing, working, measuring, cutting, patching, filling, priming and painting my craft room built-in cabinets are done!
I can't tell you what a huuuuuuge sense of pride and accomplishment I feel.   I literally feel like I can take on anything now.   But hear me out…I don't want to take on anything for a looooong time.   This project KICKED MY BOOTAY!    I just want to sit in my chair, relax and just stare at my handiwork.   For real.   I know it sounds weird but I birthed this baby….or so it feels, and I just want to lavish in a project complete and well done.
So if you remember our original plan was to do a built-in desk.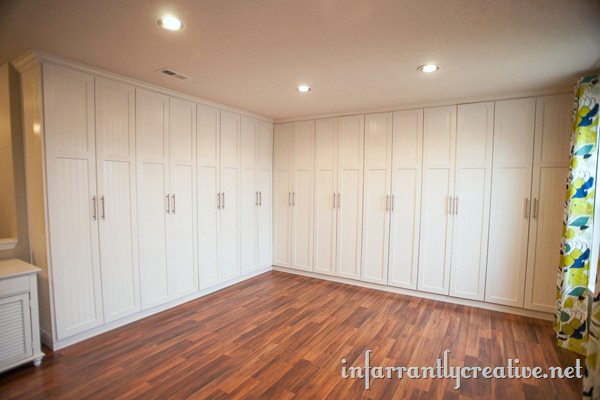 After finding a nice desk on Craiglist for cheap we decided to go that route instead and I painted it to match the cabinets. I didn't want to lock myself (or the future homeowners) in with the built-in desk. I feel like the cabinets are versatile enough that it can accommodate whatever this room might be in the future.
If you follow along on Infarrantly Creative you already know I used my lifeline and phoned a friend to help with the doors. A girl knows her limitations. After working on the project for two months I was over it! I needed to call in reinforcement. I am so glad I did. I knew the doors would be the end of me if I took it on myself.
So do you want to hear the good news…
The original bid I got from a local cabinet company was $12,000 for what I built myself! The second bid I got was $8000. All in for the cabinets with wood, hinges, handles, latches, paint, primer, screws, crown molding, beadboard, shelf pins, and nails was $1657.91! That is a HUGE savings and it makes built-ins affordable!
You can see in this last picture some of the details coming together. Come follow along on Infarrantly Creative in the next couple of weeks to watch this room come to life with all the other things I created.
Now can you please give Sandra and huge round of applause?? She deserves it for putting up with me for two and a half months! From the bottom of my heart Sandra – thank you. Thanks for putting up with me, I will forever be grateful for the time and energy you took teaching and empowering me to build it myself.
Read the Beckie's whole story here: Part 1, Part 2, Part 3 and Part 4
Check out Beckie's complete Studio with the island, hidden door paint shelf and all her craft supplies.