Build this Queen sized platform bed frame with storage drawers. Pair it with your favorite headboard for an attractive AND functional storage piece.    Material is 3/4″ plywood with a 2×4 base.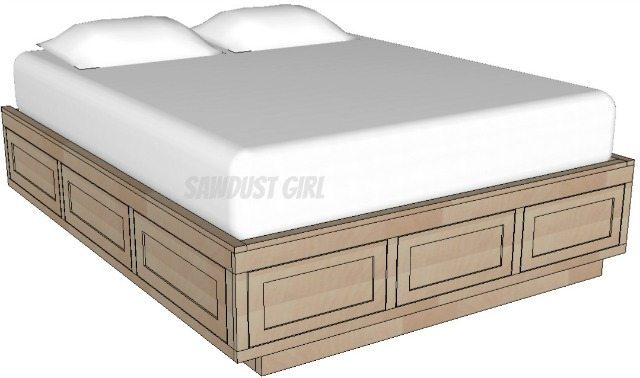 Queen Platform Bed Frame with Storage Drawers
Materials:
Use 3/4″ plywood or MDF
Wood glue
1 3/4″wood screws
3″ construction screws
2×4 lumber for base
Step 1: Build Drawer Boxes
Build 6 identical storage boxes.
Attach bottom to sides
The bottom is attached 3/4″ from the bottom of the sidepieces.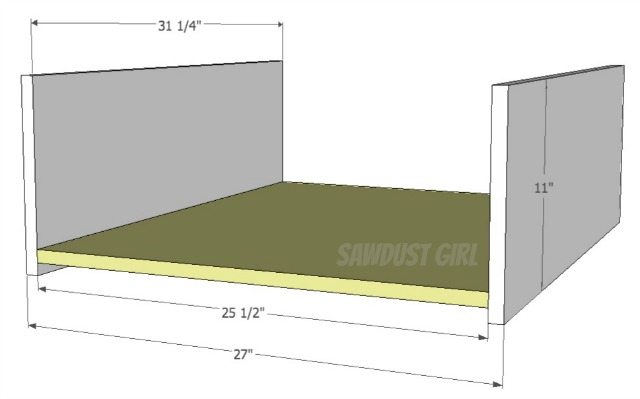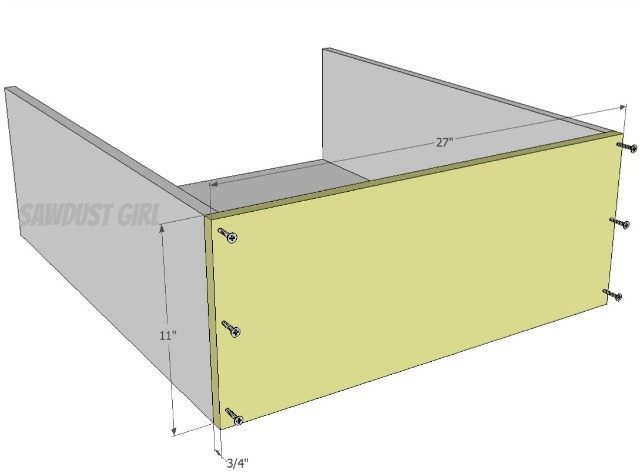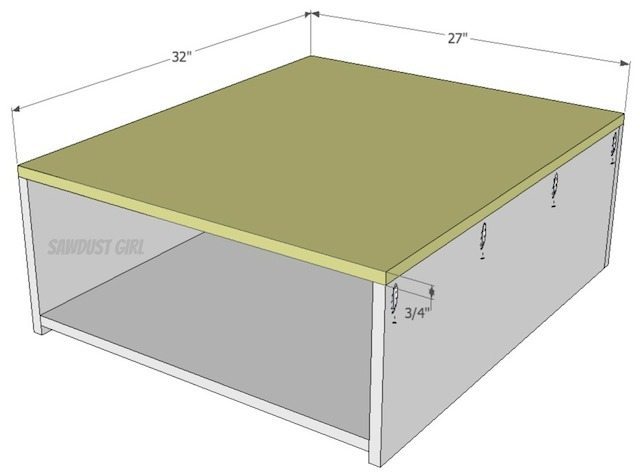 If you put all the compartments together this is what you should have.  If your measurements are slightly different, adjust the next steps to fit YOUR compartments.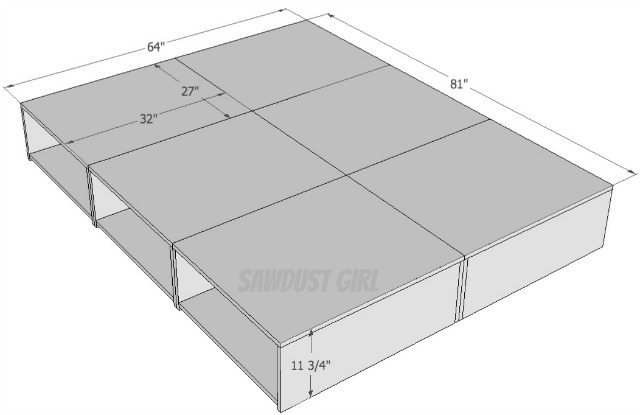 Step 2:  Build the Platform Base
Use 2×4's and 3″ constructions screws to assemble as shown below.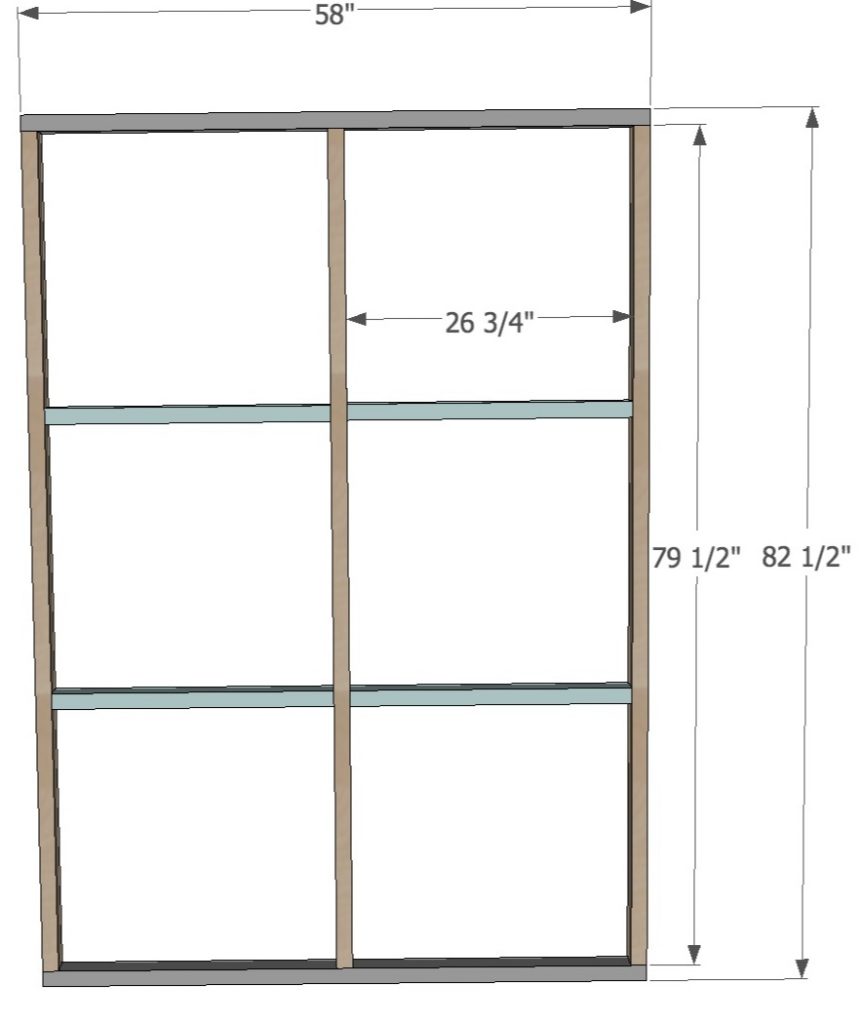 Step 3:  Secure Storage Compartments to Base
Attach a 2×4 cleat to bottom of each storage compartment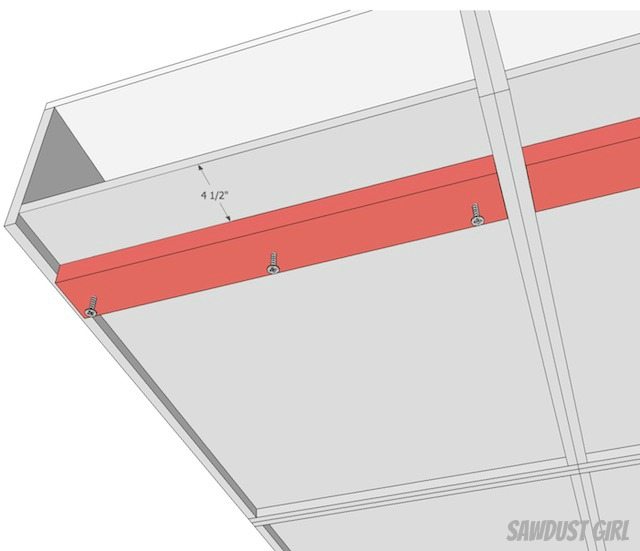 Each cleat should fit INSIDE the base.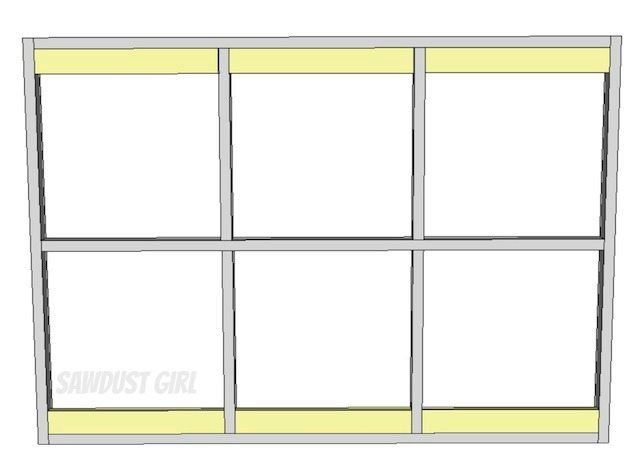 Set the storage compartment inside the base and secure the compartments together by driving 1 1/4″ screws into the sides.

Step 4:  Head and Foot pieces
Add "head" and "foot" to the bed frame. These should be 64″ x 13 1/2″ if everything is perfect.  However, things are almost never perfect.  So adjust the dimensions of your head and foot pieces to fit your actual bed frame.  The width should be exactly the same.  The height of your head and foot pieces should be 1 3/4″ taller than your bed frame.
Use 3/4″ MDF or Plywood for your head and foot pieces
Attach using 1 1/4″ screws driving through from inside the cabinet compartments.  (You might have to climb inside to get enough screws in there.
Each board extends above the platform by 1 3/4″

Step 5:  Build and attach Faceframes
Use 1×2 and 1×3 poplar.
Build and attach with 1 1/4″ pocket hole screws.
refer to post on building and attaching face frames for basic instructions
Faceframes match height of head and foot
side face frames go on first
Footer faceframe extends to the edge of the side face frames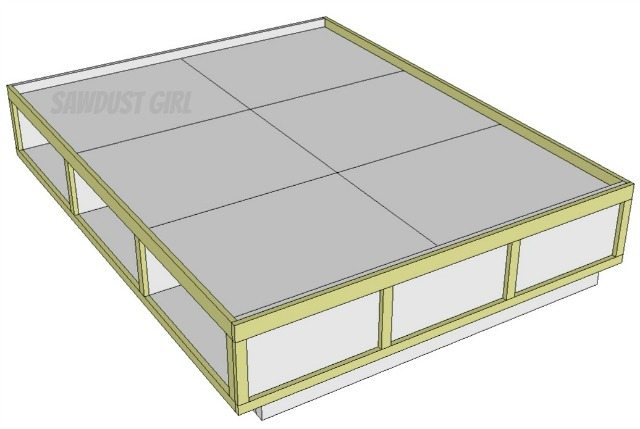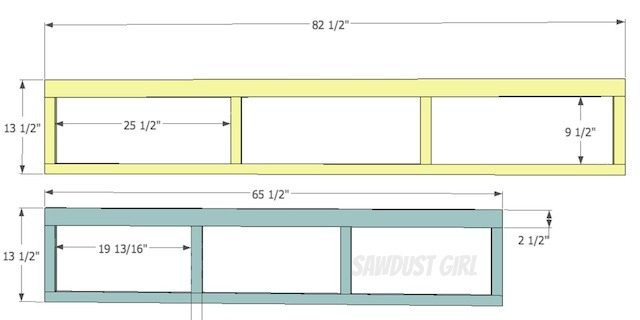 Step 6:  Add filler strips
Add a 1×2 to the inside of the two sides and then the foot
Glue and nail (from the inside)  the 1×2 flush with the TOP of the face frame and "foot"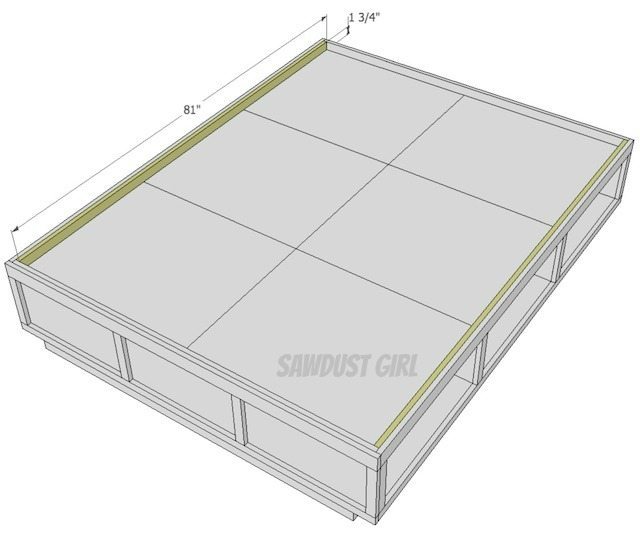 Step 7:  Add Top Face
Add another 1×2 to the top of the U-shaped bed platform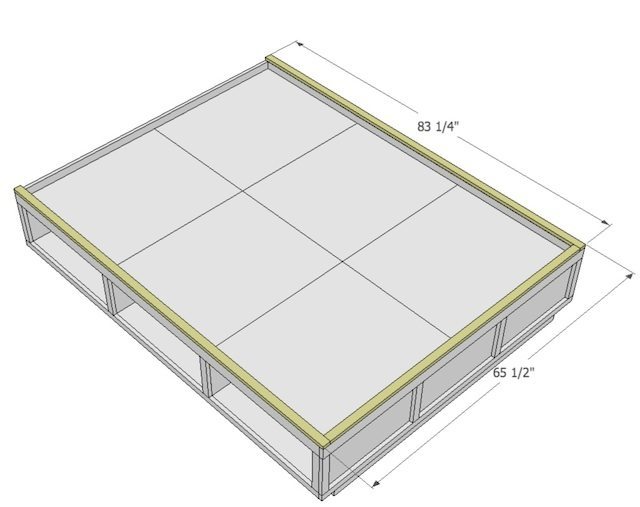 Phase 4:  Drawers and Drawer Fronts
Build and install drawers and drawer fronts using relevant instructional posts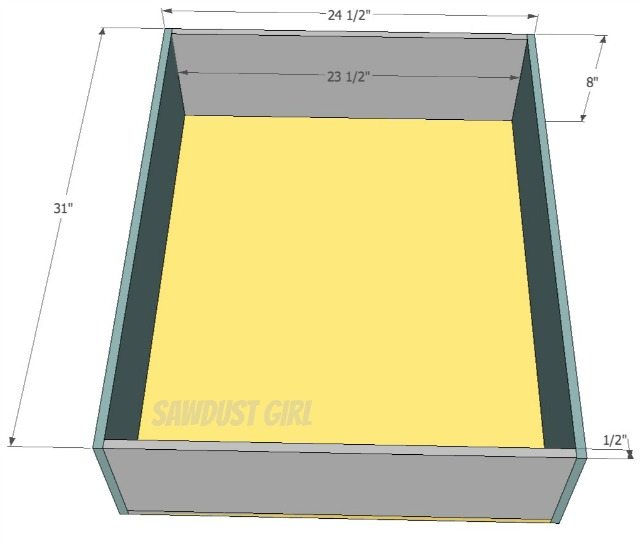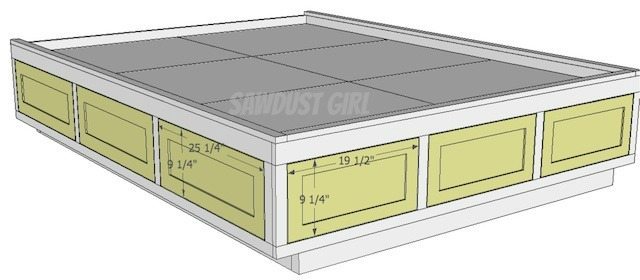 Finish with paint or poly and enjoy!
You might find my Cabinet Making 101 and Painting Tips helpful too.
And if you REALLY like what you see here — I'd LOVE it if you share and pin my posts with ALL your friends!  😀
See other free woodworking plans for Beds