The kitchen is done but I have so many little detail "tutorials" that you're getting lots of snippets before the final reveal. Hope that's ok. Too bad if it's not. LOL Today I'm showing you how to have operable, inset cabinet doors, with no knobs or pulls. Just like the ones I have under my kitchen island!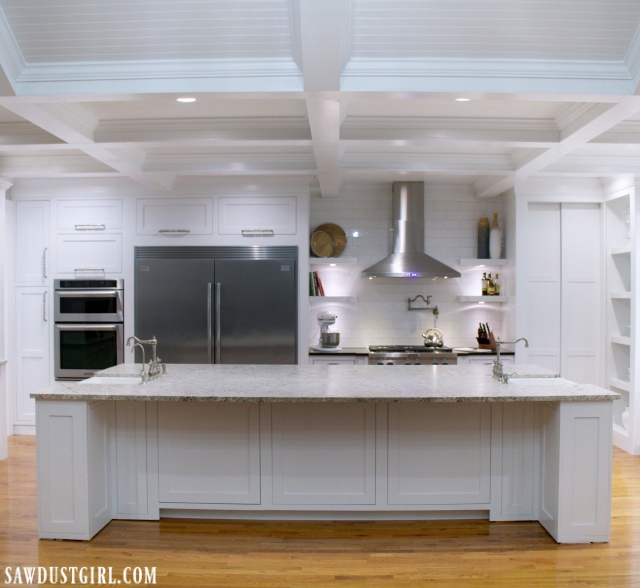 The three center cabinets are 24″ deep.
Of course you knew that, because you've seen this island dozens of times without doors. But if you hadn't seen it before, you probably wouldn't know. And why would you? An island bar, where you have to crawl underneath the countertop to access the cabinets isn't terribly convenient. But I'm not about to waste any space so I put cabinets there. I have lots of things that I don't use very often, like for holidays and parties. So having it tucked away and crawling under the countertop when I want to retrieve it, isn't so bad.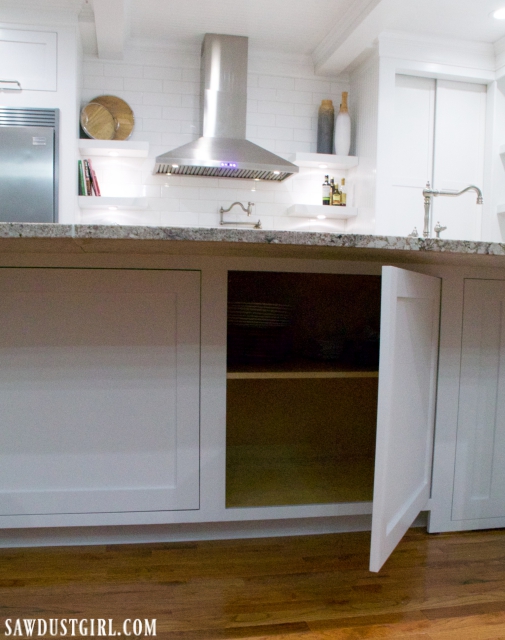 Since this area will be filled with barstools, you won't see much of the doors. I suppose having pulls at the top wouldn't have mattered. They'd be heigh enough that you wouldn't see them or hit your knees on them. All the same, I made them functional without door pulls.
The cabinet doors are installed normally with normal hinges. I used painters' tape for temporary pulls until I could get my latches installed.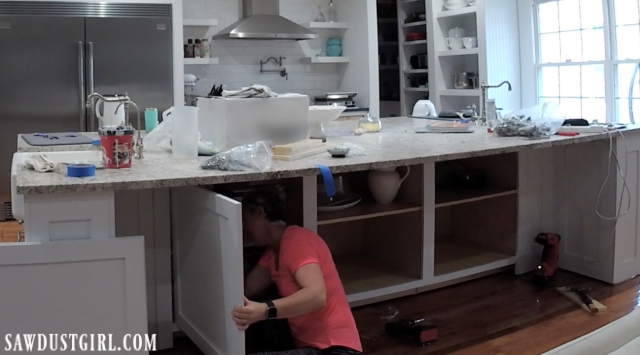 With a push Latch (or touch latch), you push it once and it pops out, push it again and it closes. So you can push on a cabinet door and the latch pops out and pushes the door open. Just enough to get your hand behind it so you can pull it open.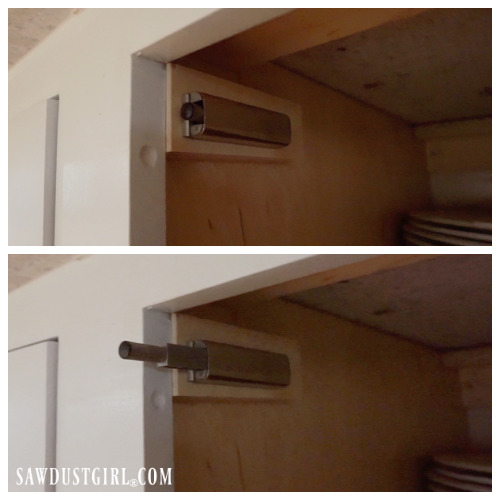 You can see it in action in the video below.
The doors simply look like panels, matching the sides of the cabinets that flank the sitting area. But they are doors and behind them is lots of storage space.