Today I'm showing you how to build a drawer with a Locking Rabbet Drawer Joint.  This method requires a table saw or router table.  If you don't have access to one of those, you can build drawers with pocket hole screws or loose tenons using pre-finished drawer material.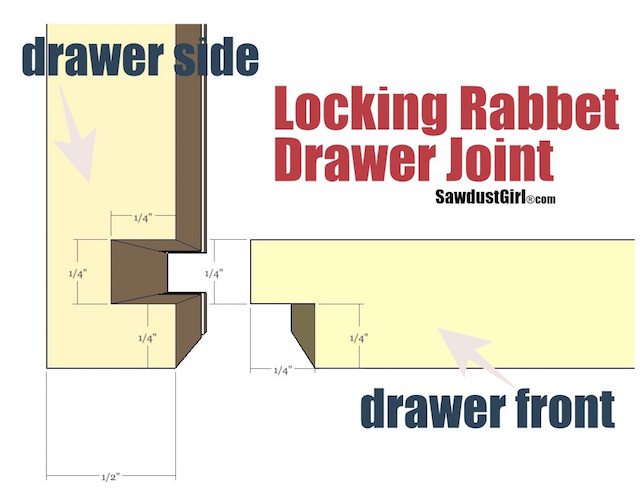 I've been building a lot of drawers lately.  I just built 28 drawers that were only 2 1/4″ tall.  That seamed like a LOT of pocket hole screws or loose tenons if I were to use my Festool Domino.  A biscuit joiner might be a good option for drawers that small but I got rid of mine years ago and didn't want to go buy another one.  I just wanted an easy way to put these little drawers together without running in to town to buy anything.  Using a dado stack in my table saw, I cut 1/4″ wide grooves, 1/4″ deep, 1/4″ from the material edge.  These grooves and a little wood glue is all you need to build drawers with a locking rabbet drawer joint.  No fasteners required.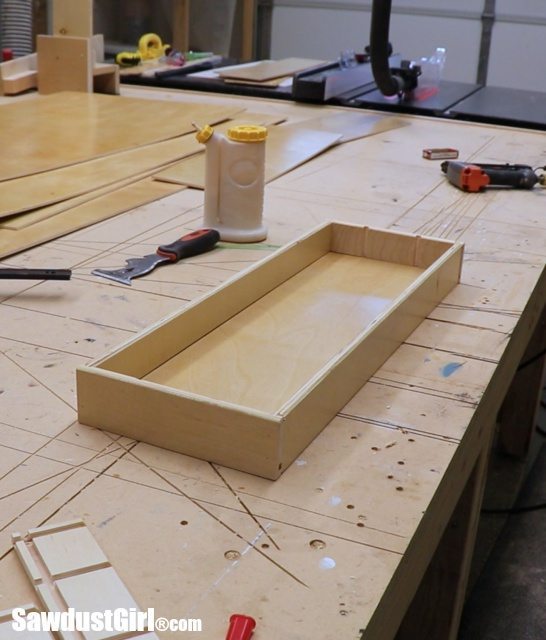 How to Build a Drawer with a Locking Rabbet Drawer Joint
I use a dado stack in my table saw to cut the 1/4″ grooves required for this method.  Alternately, you could use a 1/4″ slot cutting bit in a router table.  I'll be referring to a table saw, rip fence and dado stack in this tutorial.
We are making 2 assumptions in this tutorial:
You will be applying false drawer fronts
You will be using 1/2″ drawer material
Sizing drawers
The grooves used to make up the locking rabbet drawer joint are 1/4″ deep.  The grooves will be exposed and we want those to be hidden by the false drawer front.  The front and back pieces are the "captive" pieces (locked into the sides).
With 1/2″ drawer material, you simply subtract 1/2″ from the desired drawer width.  Depending on your drawer hardware, it may be important to know if your drawer material is truly 1/2″ or if it is undersized.  If using the Blum Tandem drawer glides it won't matter if your drawers end up slightly smaller than you planned. Regular, side mount hardware is not as forgiving.
Once you determine the sizes you need for your drawer sides and front/back pieces, cut all four pieces.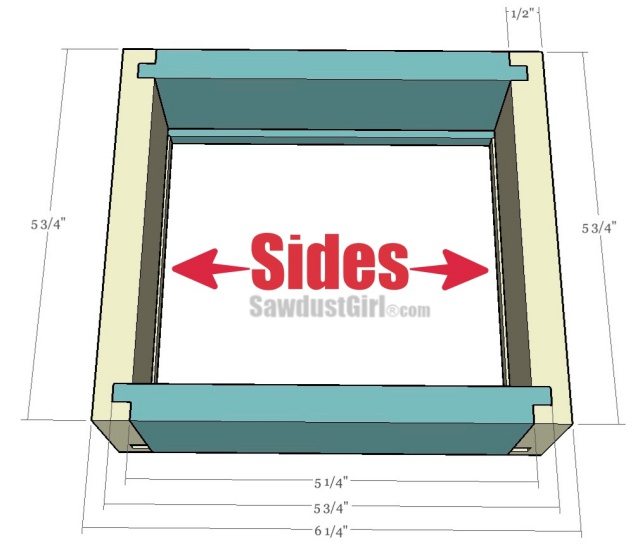 Set up your 1/4″ Dado Stack
You should be using a 1/4″ dado stack raised to cut exactly 1/4″ deep groove.  A digital height gauge here can be really handy.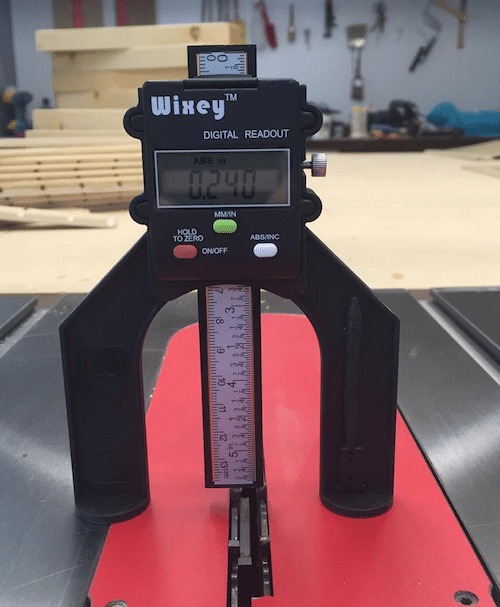 Set your rip fence 1/4″ away from the dado stack.  Run all four drawer pieces through, lengthwise to cut the groove for the drawer bottom.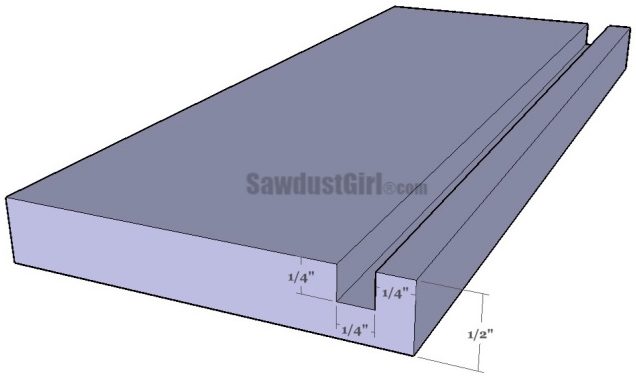 I use my Micro Jig push blocks to hold down and push these small pieces through the cuts.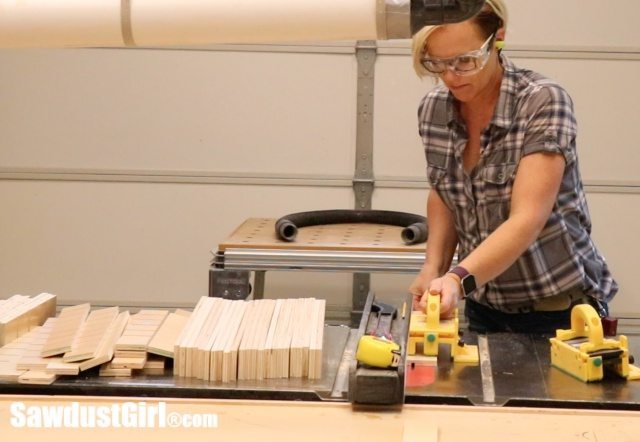 Drawer Sides
Next, with the fence in the same position, cut your drawer sides next.  Cut grooves on the ends of the drawer sides with the drawer bottom dado facing down.  So all the grooves are cut on the same side of the drawer sides.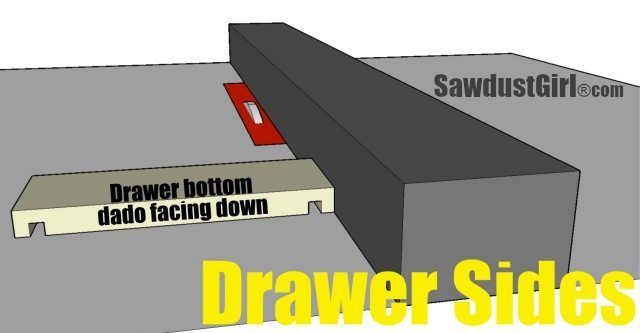 I create a little jig with my miter gauge to safely and securely push these pieces through the cut.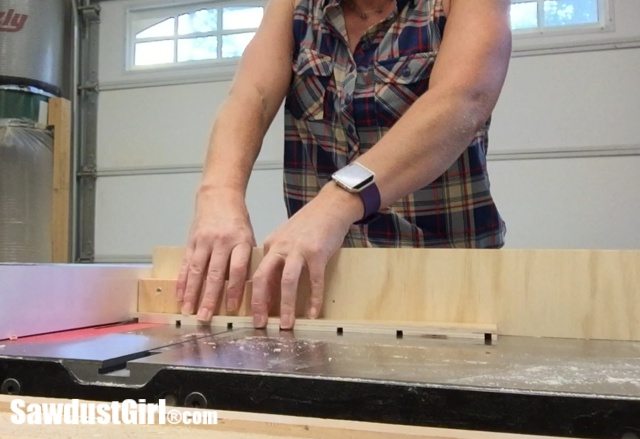 Drawer Fronts and Backs
Next it's time to cut the rabbet on the drawer fronts and backs.  The drawer bottom dado will be facing away from the sawblade.  So the side grooves and bottom groove are on opposite sides of the drawer piece.
These can be cut two ways.
1.  Cut with the drawer pieces standing on end.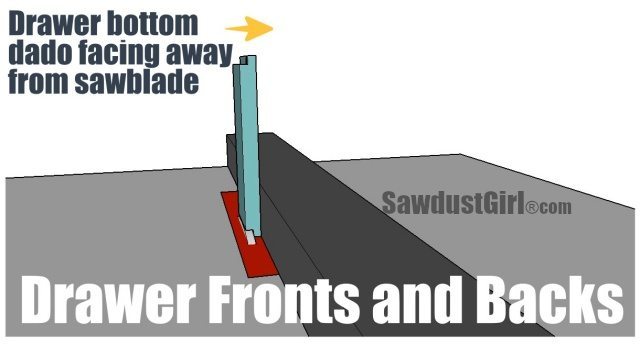 It's safest to build a little jig to hold these pieces securely and keep your hands away from the blades if using this method.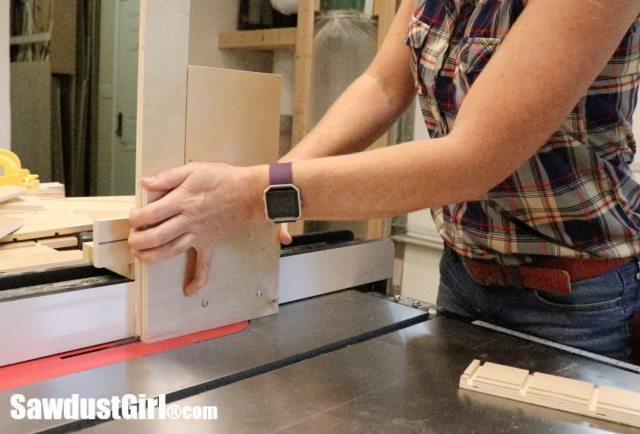 2.  Attach a sacrificial piece of 1/4″ wood to the rip fence, taking up the space that had currently been between the blade and the fence. Now you can run the drawer fronts and backs flat on the table saw.  Make sure the drawer bottom dado is facing up if using this method.
*Use the miter gauge and sacrificial wood scrap to make sure the material stays square to the fence as you push it through the cut.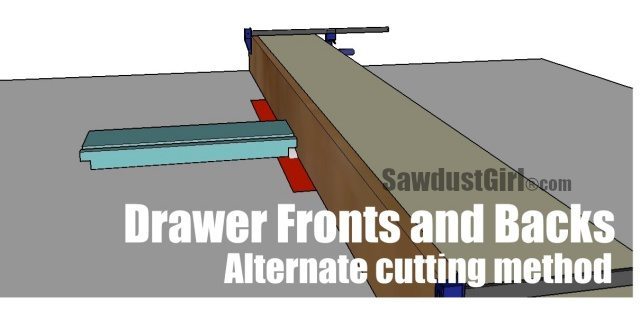 Assemble
The rabbets on the drawer fronts and backs now slide into the dados on the drawer sides.   Make sure your drawer bottom dado is facing IN while attaching all your drawer parts.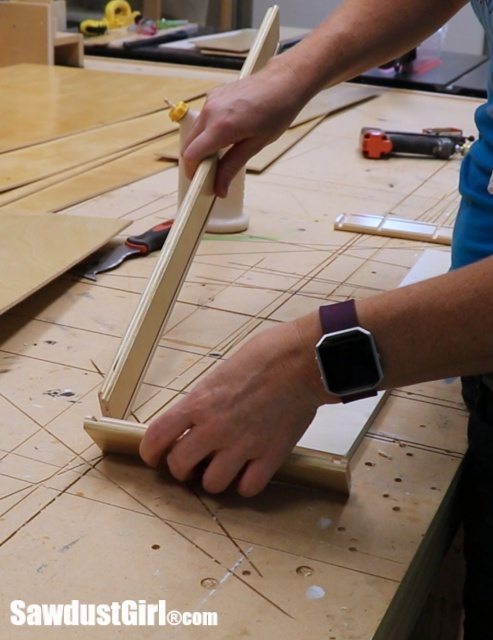 Spread wood glue on the joints before assembling.  Attach the drawer front and back pieces to one drawer side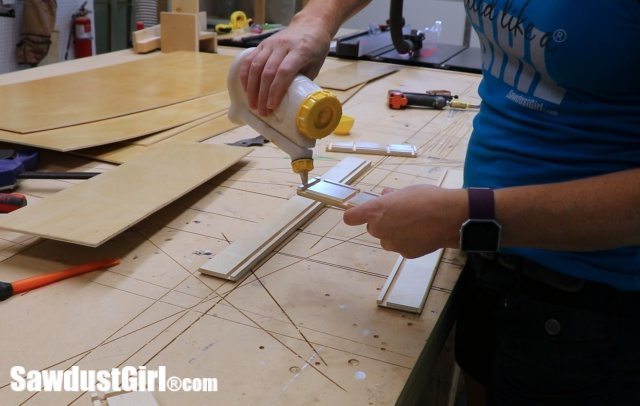 I use a little 23 gauge nail gun to hole things together while I continue assembling the rest of the drawer.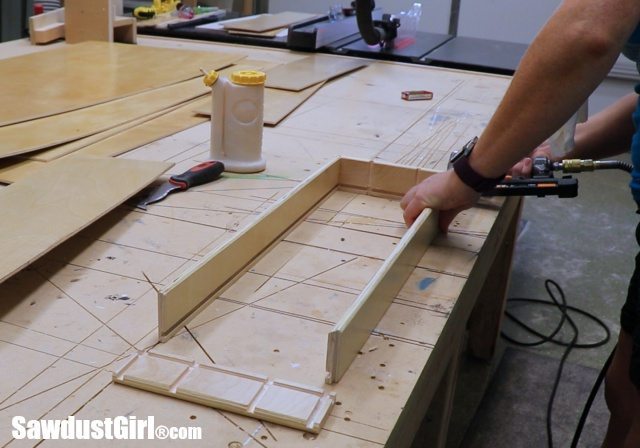 Slide the drawer bottom into place.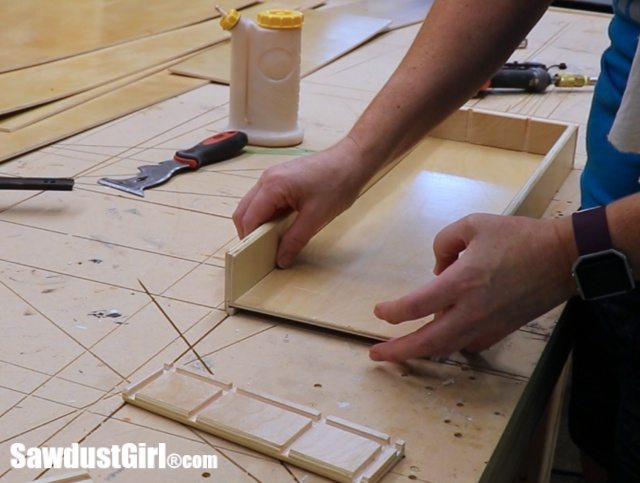 Then attach the second drawer side.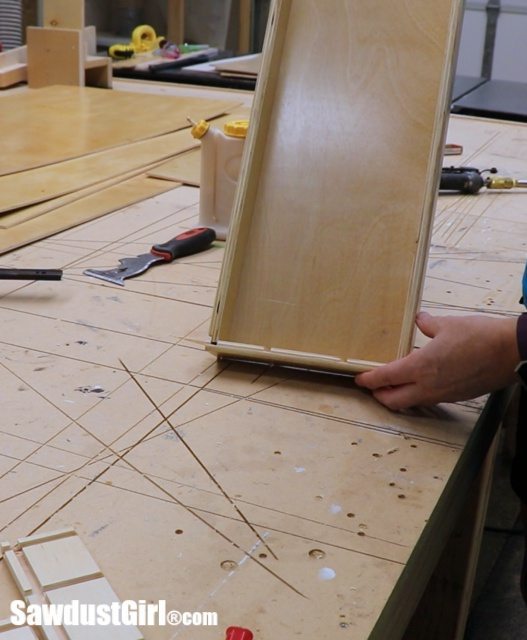 I secure the second side with more nails to hold the pieces together while the glue dries.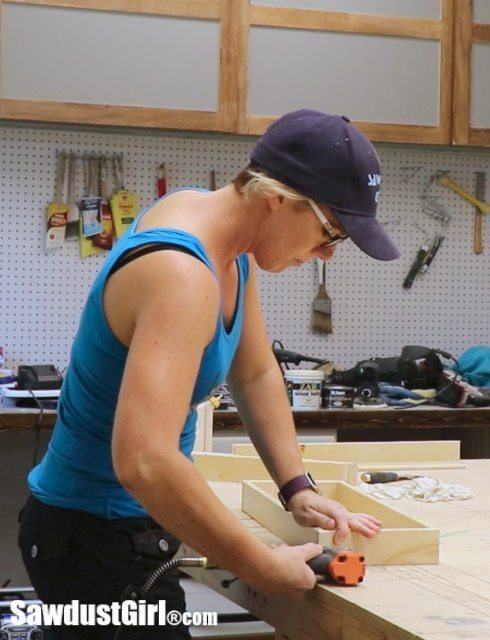 If you don't want any nail holes, use clamps to secure your drawers while the glue dries.  Or you can use nails and clamps.  Whatever you want to do!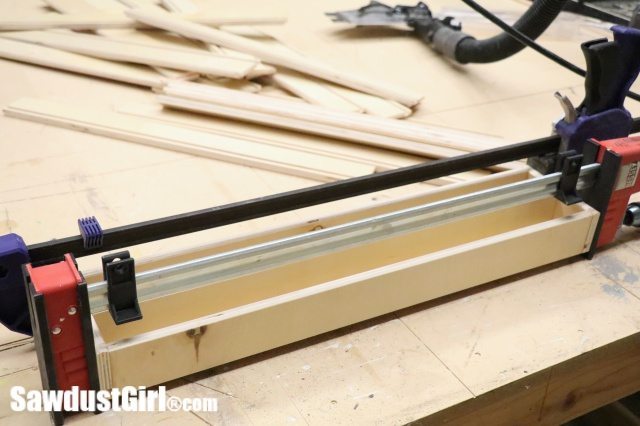 A note about my drawers:  they have additional grooves cut into them for drawer dividers.  Also, they are odd sizes because they are for a shallow, angled cabinet.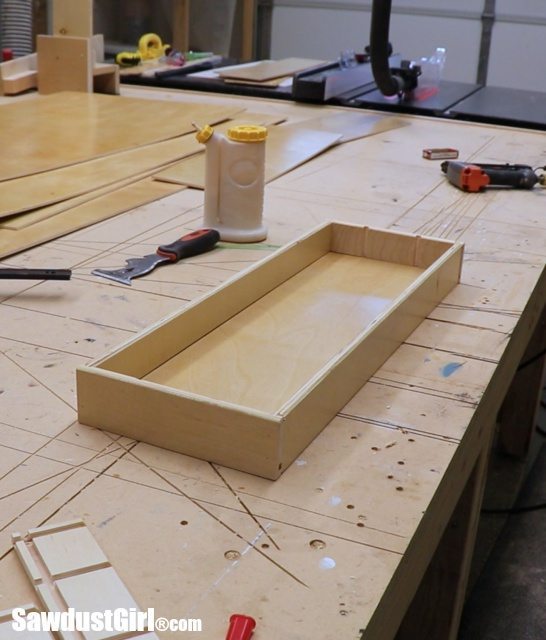 I hope that all made sense.  The locking rabbet drawer joint is a pretty easy method for drawer building if you have a table saw (or two).  I seriously am considering buying a small, second table saw.  It would be nice to have one dedicated for a dado stack so I don't have to switch blades constantly.  I don't cut the drawer bottoms until I'm assembling the drawer because those pieces never fit based on paper figures and tape measure and eyeball measurements.  Drawer bottoms are always a "cut/test fit, cut again/test fit again, and maybe one or two more times until I get it right" kind of activity.  For me.  Not saying it will be for you but it almost always is for me.  I just embrace the journey.
That's it for today! See you next time.