A LOT has happened since my last Lodge update in January. You may recall in that update that Wes and I both got Covid. It took me a good month to get my strength and lung function back. We got a little more work done on the Lodge before I got the news about Mom. Thankfully, my buddy and weekend helper, Terry was able to keep some of the work going while I was gone. I've been back for about a month now and have made some more progress. Here's an update on the progress that's been made out here since my last update!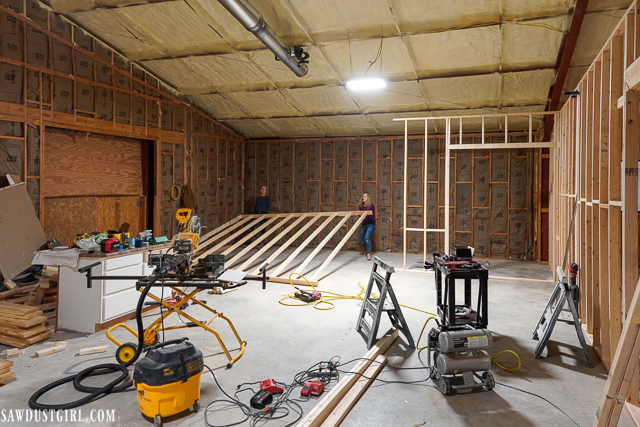 Julie and I framed the pantry. That night as I was playing around with my space plan on my computer, I changed my mind about the doorway. I try to think ahead about how each space is going to be used. As much as possible I try to avoid having an open door blocking countertop or storage space. Or sticking out into a room which was the alternative for the 36″ wide door I purchased for this spot. I would have done a pocket door but the wall isn't wide enough. I decided to pull the doorway forward, creating a recess for the cabinets and appliances in the kitchen and creating more wall space in the pantry for the open door- when it is open (left swing).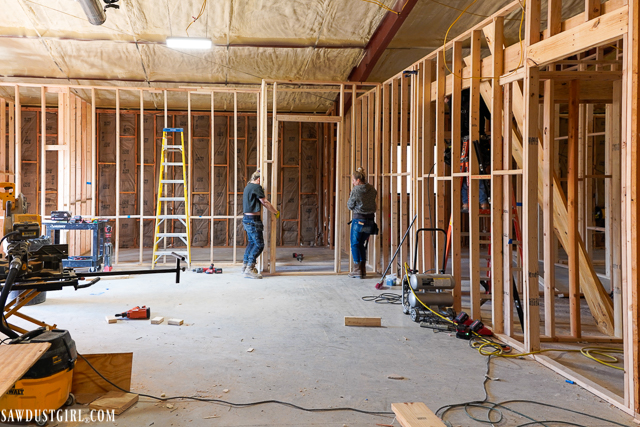 Next up was to build some stairs to the newly created "loft". This makes the ceilings in the rooms on the right side of the hallway only 8′-4″ tall, which is a tad short for my liking. However, lowering the ceilings on those two rooms created the opportunity to have an entire additional floor!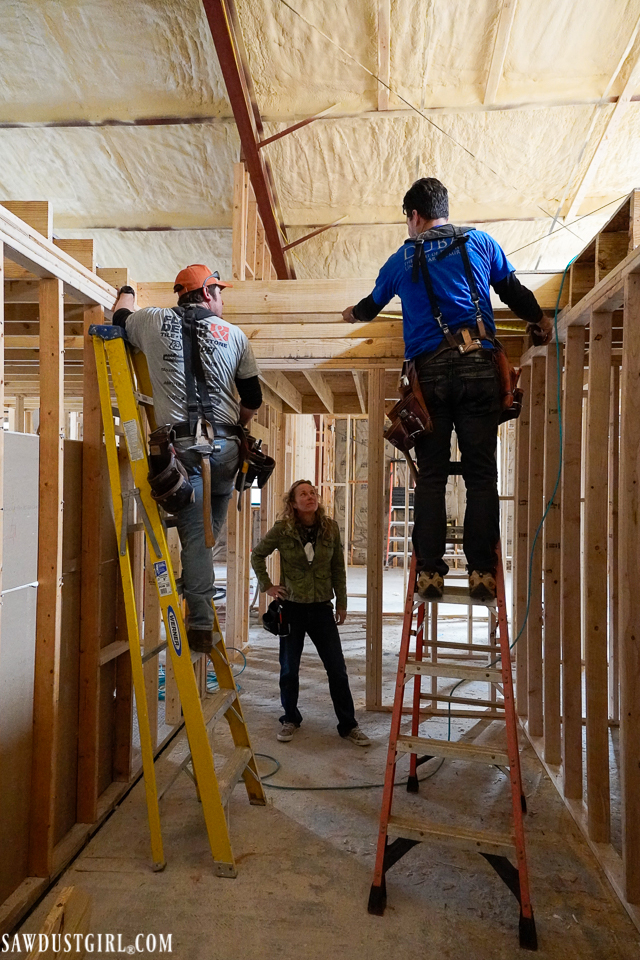 Julie and I spent a day "trial and erroring" — trying to build stairs before deciding THAT was a task best left to pros that have done it a thousand times. I already had a crew of framers scheduled to come in for a couple days and "just finish up"–so we left the stairs for them.
Now that 2×4 prices have doubled again I'm looking at the "temporary treads" and calculating how many $$ we wasted there! Although, OSB and plywood is equally sky-high so it's really a non issue. We had to put something down and 2×4's is what we had! AND, having temporary stairs made it 1000 times easier to get up and down while finishing the work in "the loft".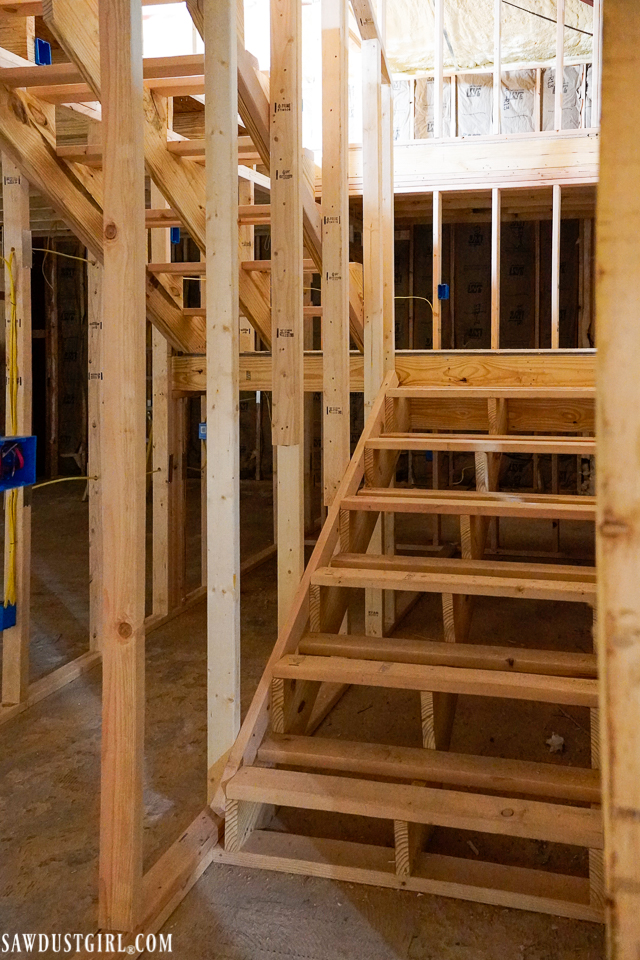 I think that crew was here for three days. In that time they: installed ceiling joists in the last 3 rooms, finished laying the subfloor in the loft, and completed the odd's and end's of framing we had left scattered about.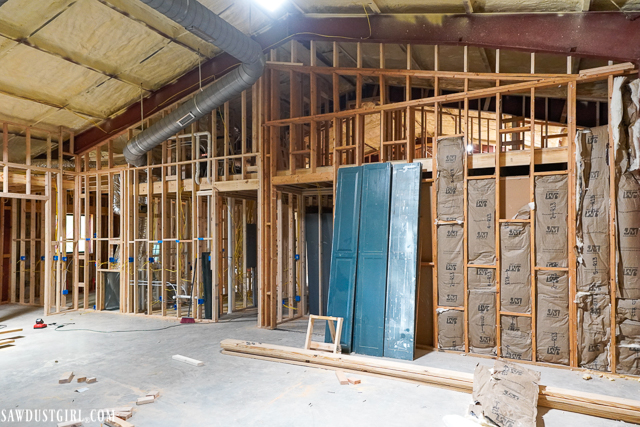 Then we had a bunch of holes cored through the 4″ concrete floor for all the pipes that needed to come up from below.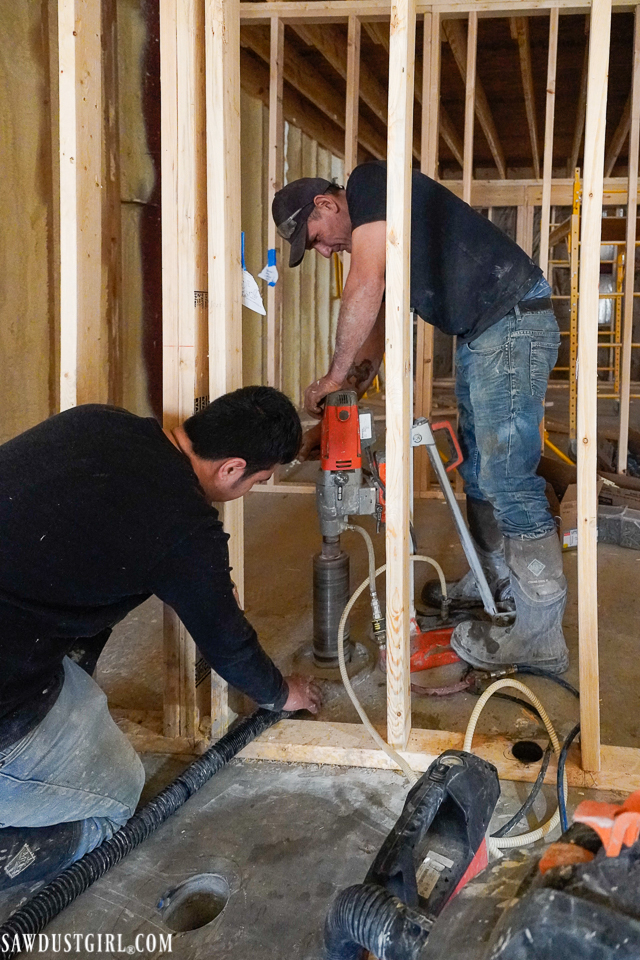 Plumbing and electrical rough in are mostly done.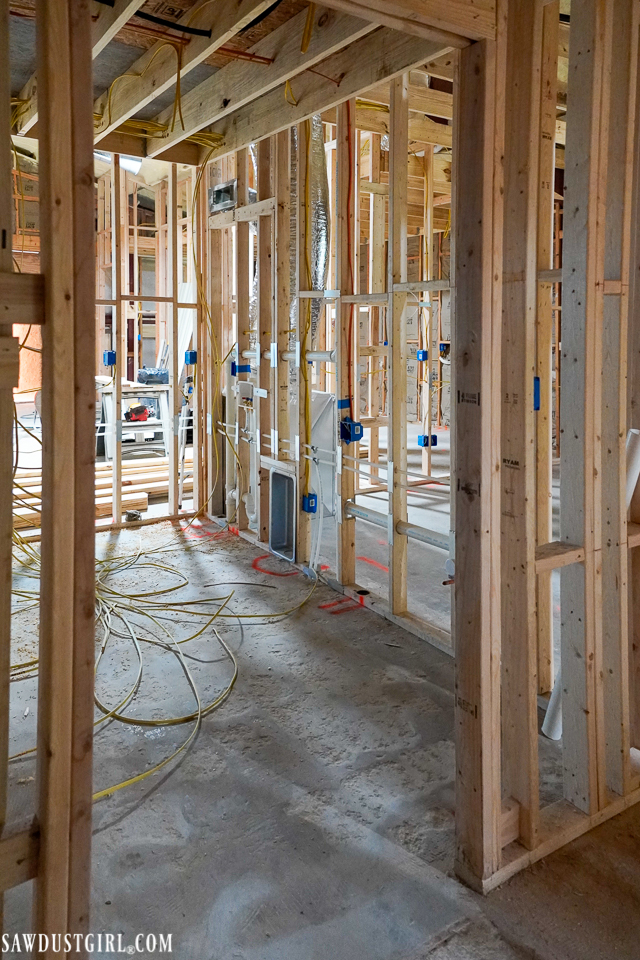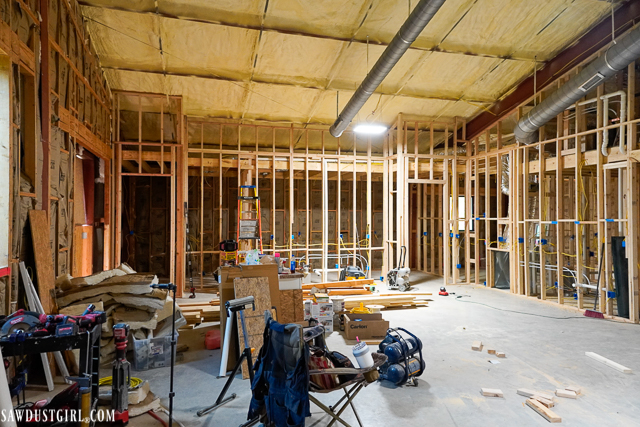 The thing that is causing me the biggest headache is windows, siding and gutters! I literally have not been able to get anyone who is not "slammed" to come look at it, or to actually show up, or who knows what the heck they're doing if they do show up! I have a call in to three more companies so…crossing my fingers!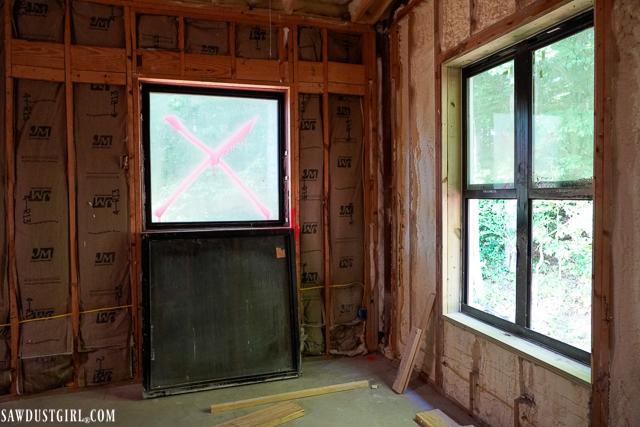 I need to get that sorted asap because that has to happen before I can get drywall up. And I desperately want to get to that step! After that, I can start doing the pretty things and I DESPERATELY need to start building some pretty things.
The PLAN
My plans have evolved multiple times over the last 18 months. (I'm sure you've been thinking it!) Keep in mind while you read on, that since first looking at this property, I've always loved the upper floor of the Lodge with it's high ceilings and HUGE gathering room. I always imagined that being a kitchen and great room and thought it would be the coolest Lodge home ever!
I started out intending to build suites IN the Lodge.
Then I decided to add on to the main residence and build the guest suites as part of that addition.
That meant the Lodge was going to be workshop and studio space with 1 – 2 guest suites and a small kitchen.
With Covid and the skyrocketing construction prices I put the "addition" plans on hold, and started framing the studio/workshop space on the second floor of the workshop building (What I now call the Lodge).
While working on that space, after removing the bulky ductwork, Julie and I realized how much more space there was that we could tap into. I started playing around with my computer design program to see how I could utilize that space without undoing all the framing we'd already done.
This is what I came up with – and what we built.
Main Floor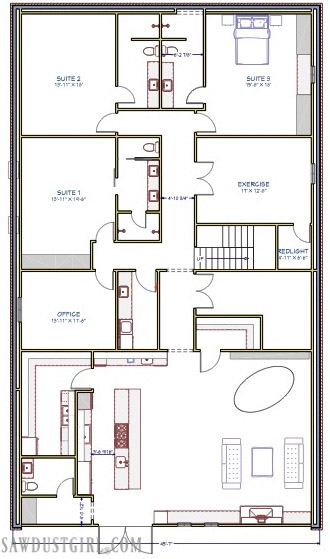 Loft
I had to be creative with the stairway and entrances into each room because the roof is only high in one spot, then it slants down. I was able to create two more bedrooms in the loft with an additional media/hang out room between the two. That media room has a powder room and a coffee bar so it will be super convenient for guests!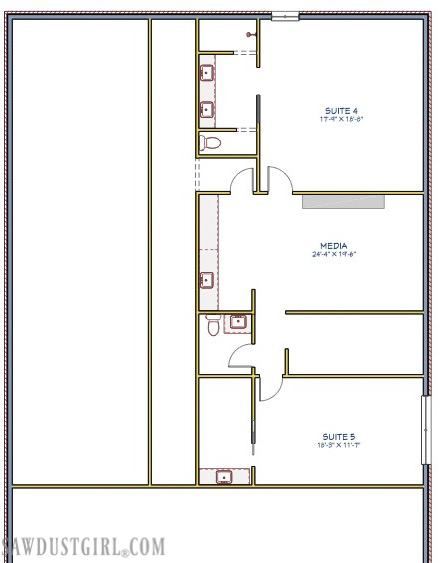 I always planned on Wes and I living in the Lodge while I renovated the main residence so that has persuaded some of my decisions. I've also been trying to figure out how to best create a space for my dad so he can come visit/live here whenever and as often as he wants. Wanting a space for him is giving me more angst about timing than anything.
I'm really trying to let my soul/mind/spirit (whatever it is that makes my insides ache when I worry) just relax about things. What will be will be. Goals are good but I'm not putting construction deadlines on myself right now because there are too many things out of my control.
Also, Julie and I are going to Idaho to help Dad with a BIG project he's been tackling with the help of our brother Sid (when we need a small army to conquer the task). We don't even know how long it's going to take so we're getting one-way tickets and figuring it out as we go because that is where we need to be right now.