I have to admit that I still haven't painted my front porch. It IS pressure washed but the weather has been too humid and/or rainy to paint. So I've been working inside and it has been AMAZING to get back to some of the projects that have been on hold since Calderwood.  I am currently working in the space in the loft that is opposite my Craft Room.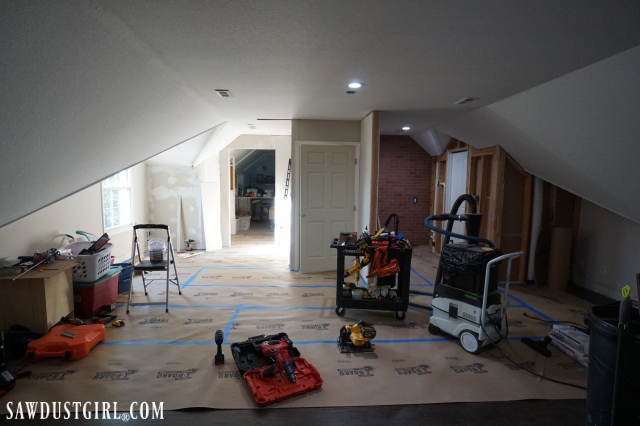 The Loft before last week
When I walked up here last week, this is what greeted me!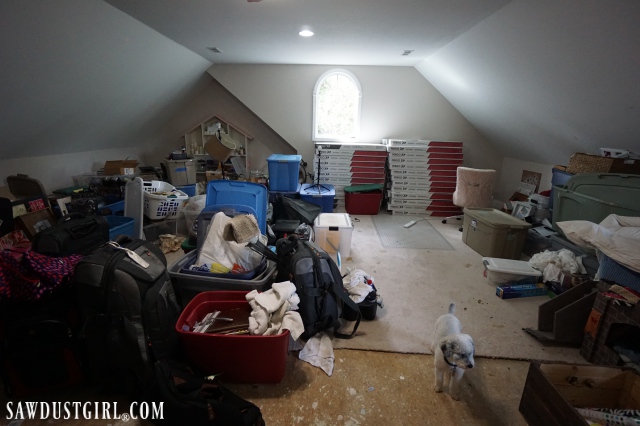 Just – so – much- stuff! I went through all the stuff and took two trips to a donation center with my truck full of things I no longer wanted/needed.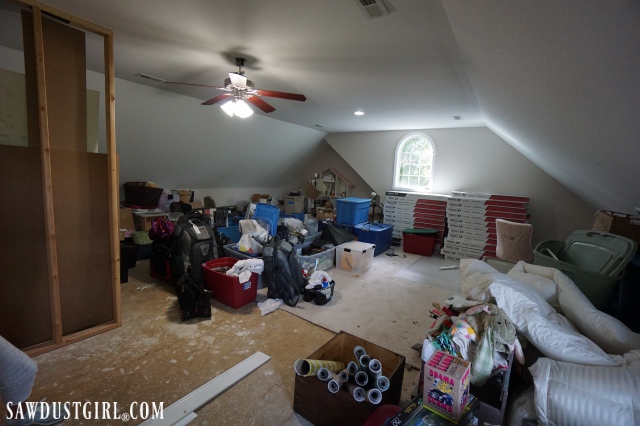 With the help of some friends, we relocated the remaining stuff, tore out the carpet and tack strips and installed the rest of the loft flooring. Big improvement already! In addition to my electrician changing some of the lighting situation.
(He has to come back and install more because it's way too dark in there with only two lights. He insists that I told him I wanted two. I insist that I said, "no way two lights will be sufficient". No matter. We'll get it sorted out.)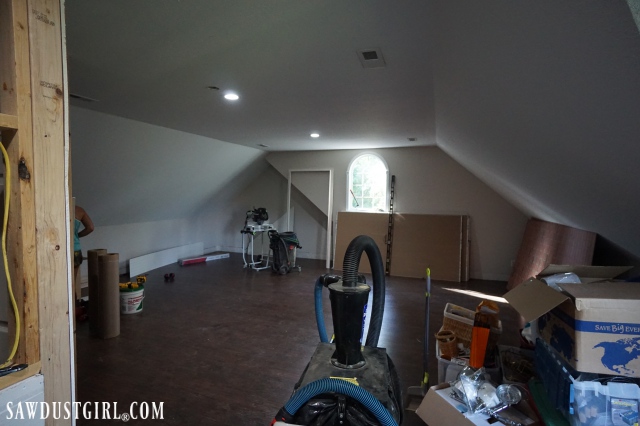 I'm covering the floors with thick cardboard to protect them while I continue to work in this space. It may not make sense that I installed the floors first, but I didn't want to move the boxes of flooring ONE MORE TIME! So now the floors are in –and out of my way. (And adequately protected.) Floors in – Check.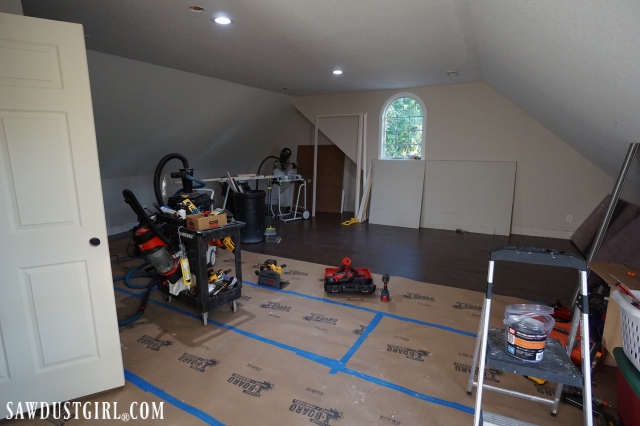 Next up was installing drywall and a door. Our little dog, Bella, sneaks into parts of the house that are never used and uses them as a bathroom. You can tell from the "before" photos that the loft qualified as a hardly ever- if not quite never used spaces. It's definitely a space that Bella doesn't recognize as "part of the den". So we've been putting up a baby gate at the bottom of the stairs, which is neither attractive nor convenient. Door in – Check!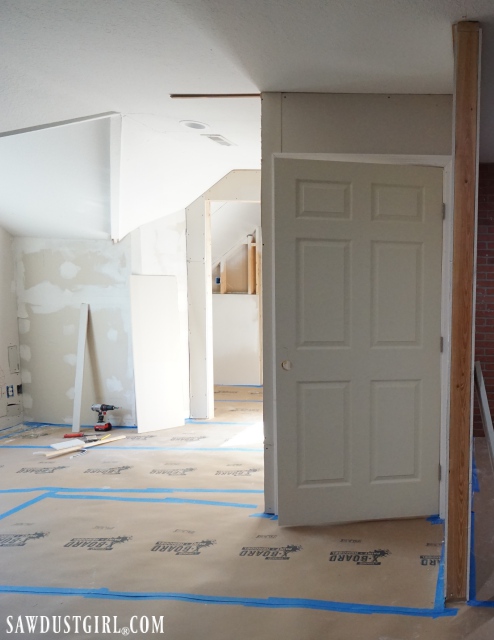 Ironically enough, I didn't CLOSE the door yesterday when I finished working for the day. When I came up this morning there was a fresh surprise waiting for me!
Today's to-do list I added – Close door – Check!
Next, I installed more brick paneling on the wall next to the powder room. I wanted to continue that detail since I used it on two accent walls in my craft room.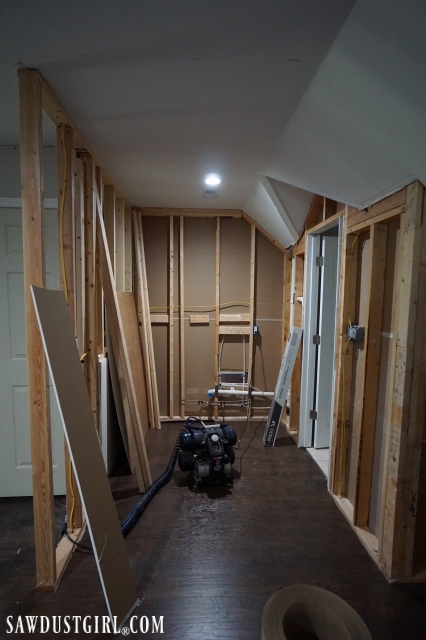 The first panel was tricky because there is an angled ceiling in addition to a receptacle and water and drain pipes. The receptacle cut was less than stellar but there'll be a cover over it so it'll be fine. Might have to be one of those extra large covers but who's judging? Huh? I have zero problems using an extra large outlet cover!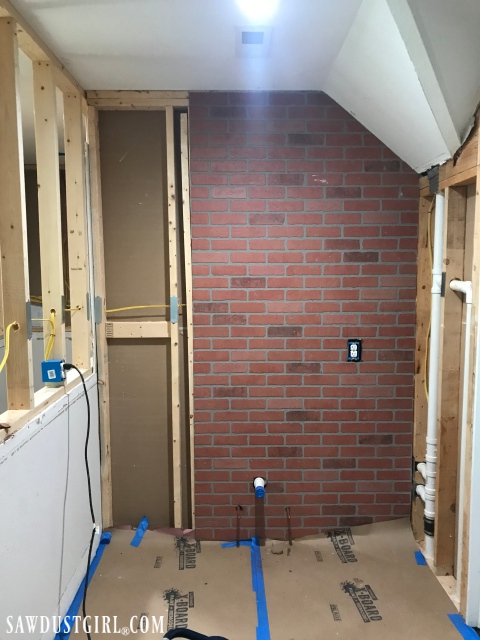 Also, track saws are the best! If you don't have one yet, do it! I have a corded Festool track saw and this cordless DeWalt which is great too! I use both of them, all the time. The DeWalt is usually what I grab when I need it for something that is not happening in my workshop.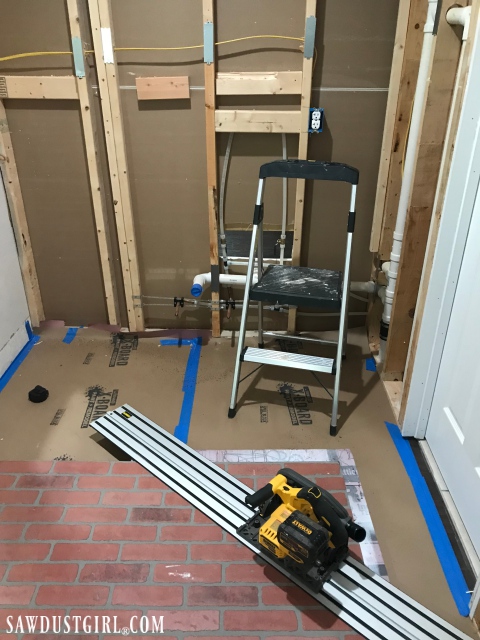 Second panel went up in 20 seconds. Easy peasy. I will probably add some plaster as I did on my other brick walls. Mainly to hide the seam and make it look more authentic.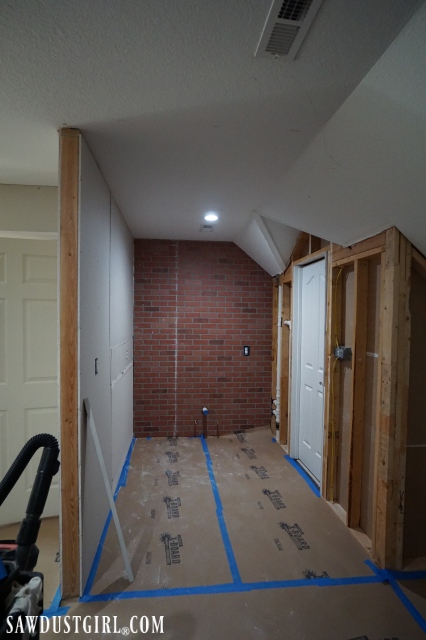 There's still more drywalling to be done before I can mud. I may leave the mudding because I have professionals coming to do the basement in a couple weeks. I might have them mud the loft at the same time. Depends on how motivated I am to just push through and finish the whole LOFT space without taking a break to go work on something else while I wait for something or someone in order to finish it. That's what always happens and why I have 20 projects going on at once. I feel very motivated to stay in the loft until it's done. Then move down to the main level and finish that. Then move down to the basement and finish that…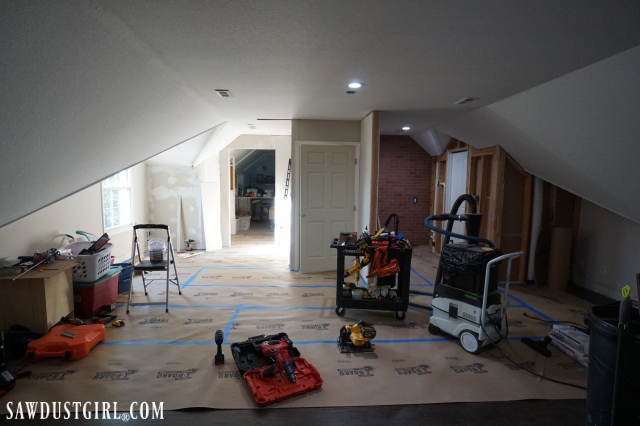 There are always hurdles and new issues that develop,  so I remain willing to bend and change with the current situation. But at the moment, I feel very motivated to complete the loft. The whole thing. And I want to do it quickly without quite so many gidgets and gadgets as I originally planned for this space. I don't NEED a daybed under the window or a secret bookcase door for the closet… Just make the space useable and good looking.
Do you think I can do that? Let go of the "ooh wow features"? My brain tend to always want to make things very complicated! Working on Calderwood taught me to let go of some things and find a balance between function, beauty and getting it done sometime this year.
So I think I'm equipped to get this loft done sometime this year!