I finished up the Kitchen Entry project with lots of moulding.  'Cause moulding makes everything awesome!  I've already shared the Decorative Columns I built and how I added Crown Moulding.  Today I'm finishing up with baseboards and a decorative coat rail!  (And I'm sure it won't surprise you to see I re-painted part of my walls too.)
This post is sponsored by Metrie.  I was provided with materials and compensation to share my creations with you.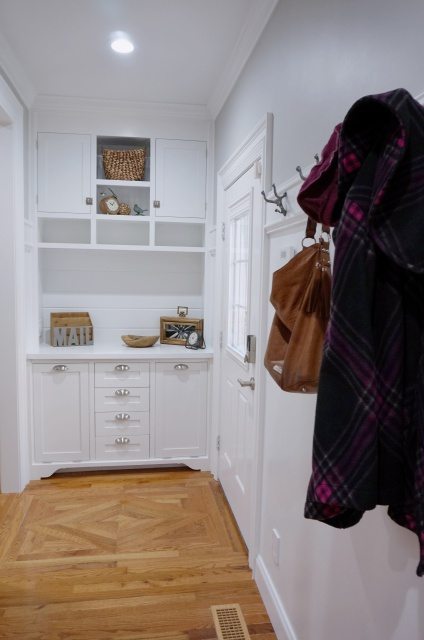 I was originally planning on putting hooks in the hutch area because I had hooks there when it was a bench and that is where I hung my purse.  Now that this is an, almost completely completed, functional entry, I realized that we need somewhere to hang other things, like coats.  So I decided to put in a coat rail.  (I think I made up that name.  It's like a chair rail but it's higher and has hooks on which to hang up coats.)
I used construction adhesive and nails to install 5 1/2″ Fingerjoint Pine Flat Stock.   I'll refer to this as a 1×6.  I added construction adhesive because this is the pocket door wall and I don't have any real studs to nail into on half the wall.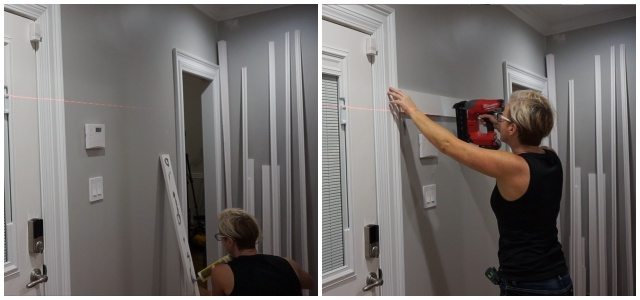 I didn't want the rail sliding down while the adhesive cured so I jarred an extension pole between the opposite wall and the rail.  It worked!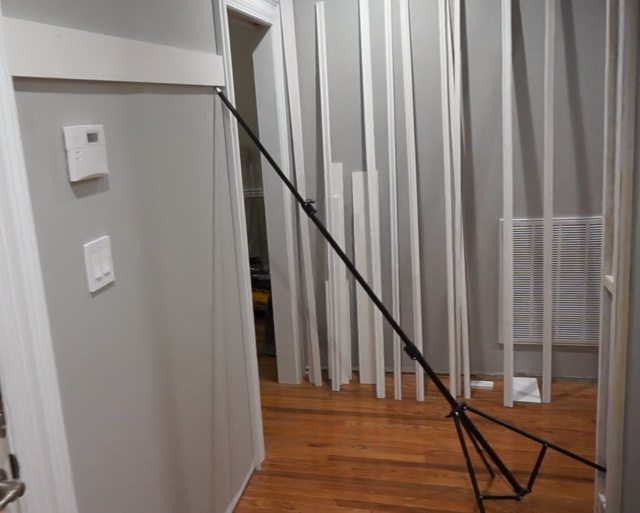 I filled, sanded and painted the 1×6 before moving on so I could roll the paint on at this point.  Rolling is easier than brushing.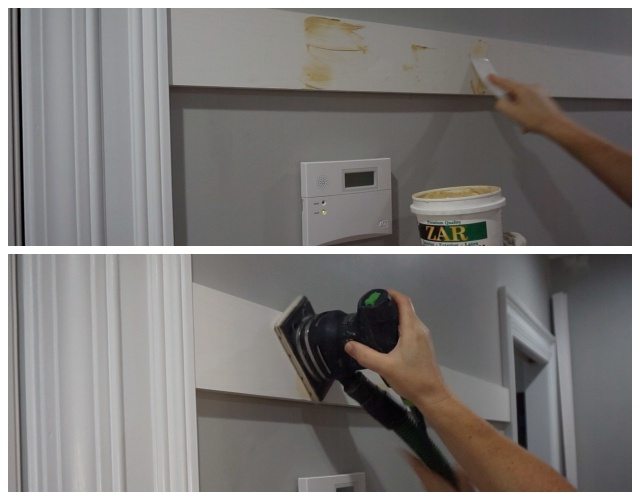 Next I added an applied moulding to the top and bottom of the 1×6.  This is Metrie's 42PR Pine panel mould.  It's the same moulding that I used on the decorative column/end of the plank wall.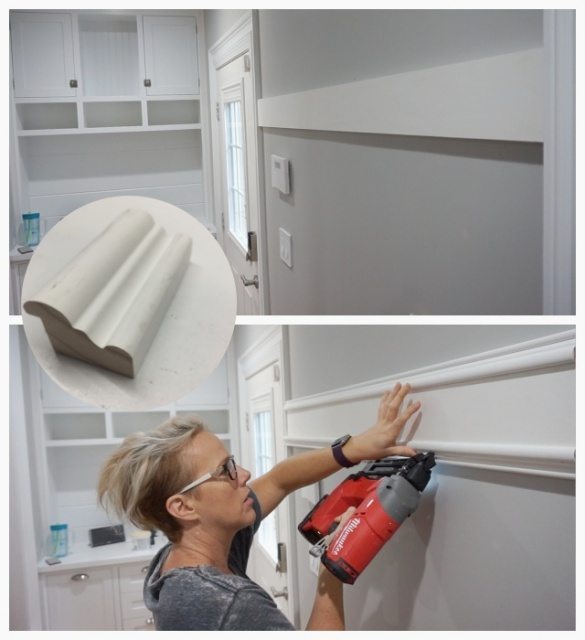 Next I painted the moulding with a brush.  Flat part was already painted.  Boom!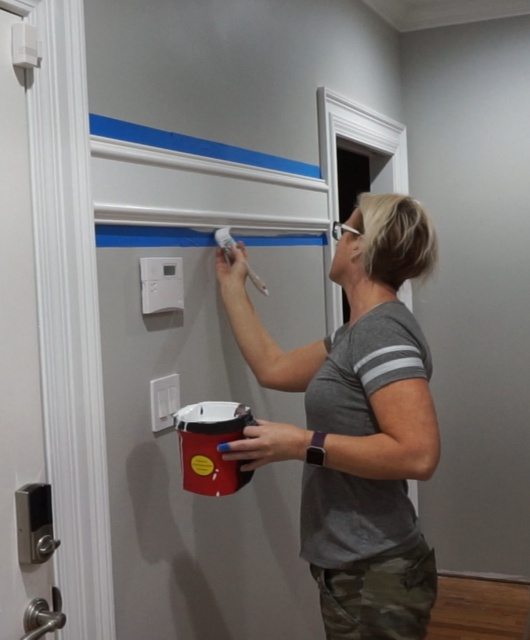 Then I installed my baseboards.  Again, I used construction adhesive on my pocket door wall and then caulked to make it pretty.  I use the same 5 1/4″ Metrie baseboards throughout the house.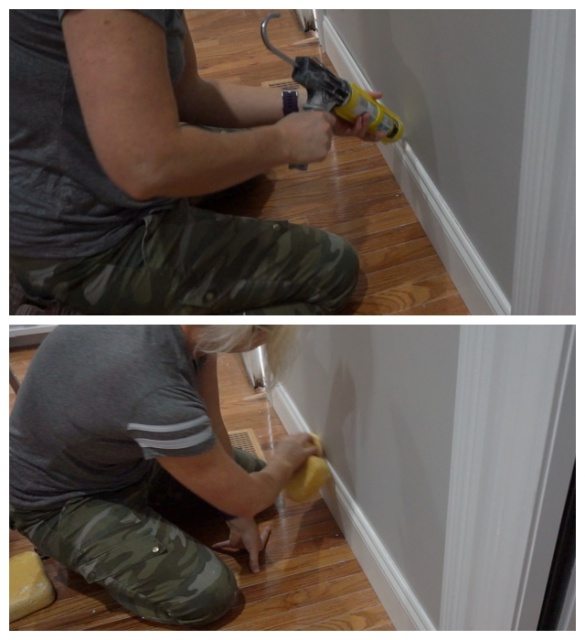 I installed all the baseboards in the entry space, including the small reveal behind the new pocket door trim.  I use caulk to set those small pieces in place.  If I can get a nail in them too, great.  If not, caulk will hold them just fine.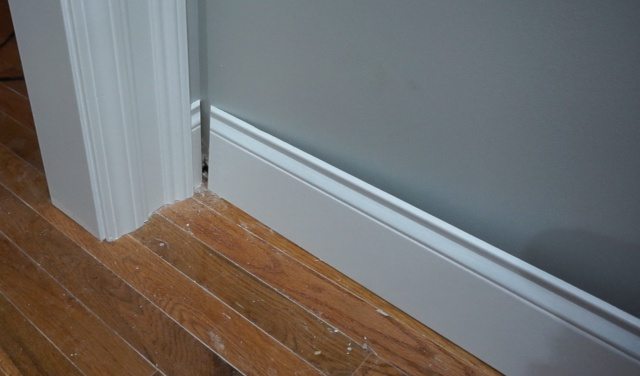 THEN I decided I wanted to re-paint the walls under the coat rail.  I went with the same color and sheen (SW -Decorator White in semi-gloss) as the coat rail. The Light French Grey is a flat paint and the semi gloss will hold up better against wet jackets and such.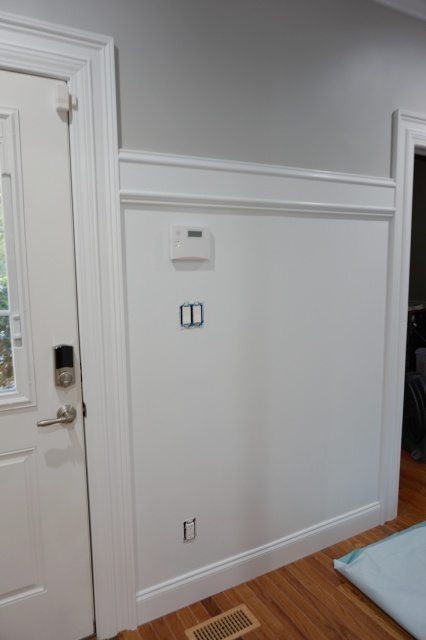 In installed the decorative coat rail on the opposite side of the hallway too.  (The other side won't get hooks though –so it probably wouldn't be called a "coat rail".)  I think having hooks on both sides of the hallway would make it feel cramped when walking through.  If you were wondering.  Probably didn't need to worry about moving the thermostat because I won't hang anything on the wall after all.  It feels better moved over, regardless.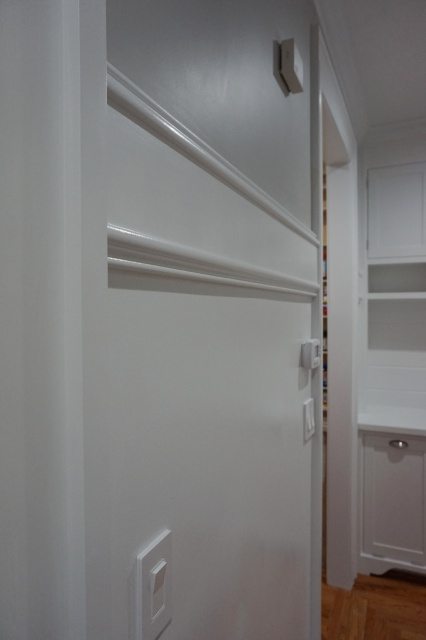 I left the end wall all grey.  It is part or a whole other hallway and I may change my mind again when I get to that hallway. For now, the end wall is all grey.  The columns and crown moulding look great!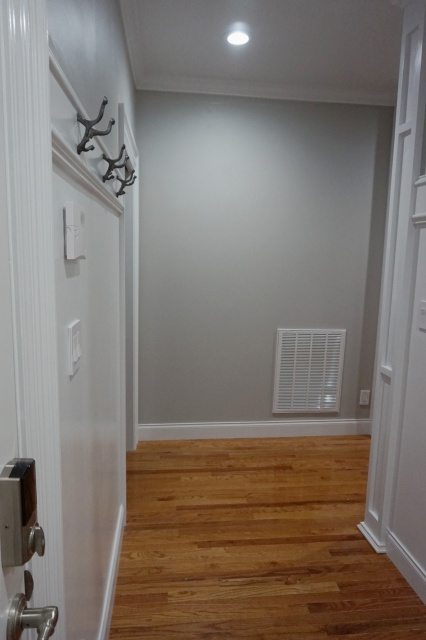 But I wanted to add something to the base of the column.  I held a piece of the 42PR Pine panel mould in place and loved the look so I trimmed out the base in that.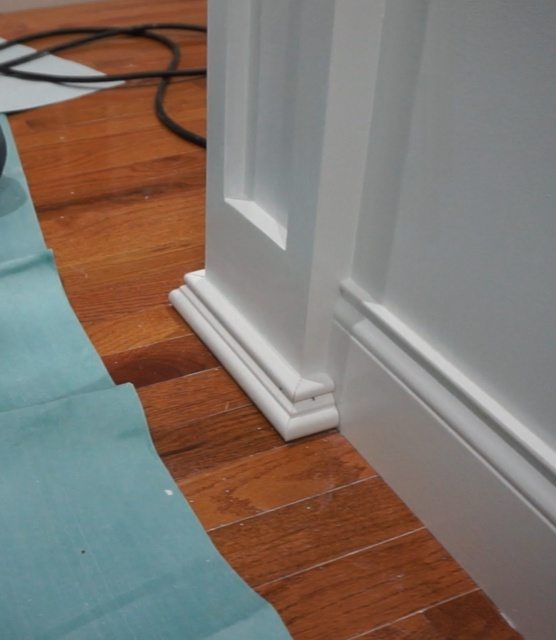 I ripped some pine to fit into the rabbeted edge of the moulding and used caulk to glue it in place.  It probably wasn't necessary but I put it anyway.  In case a lead footed someone ever kicks the moulding.  'Just seemed like a good idea.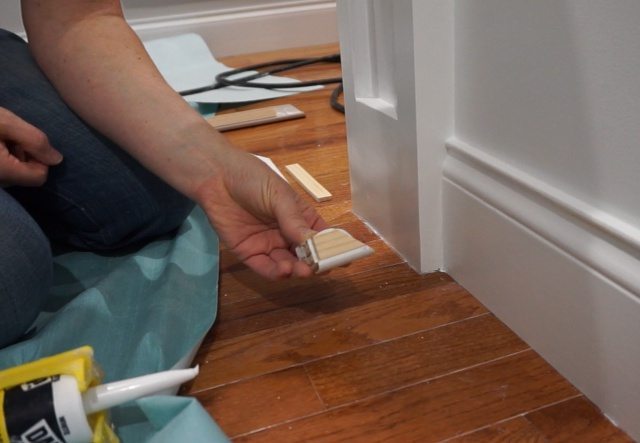 I mitered the corners, adhered all the pieces with caulk and nailed them into place.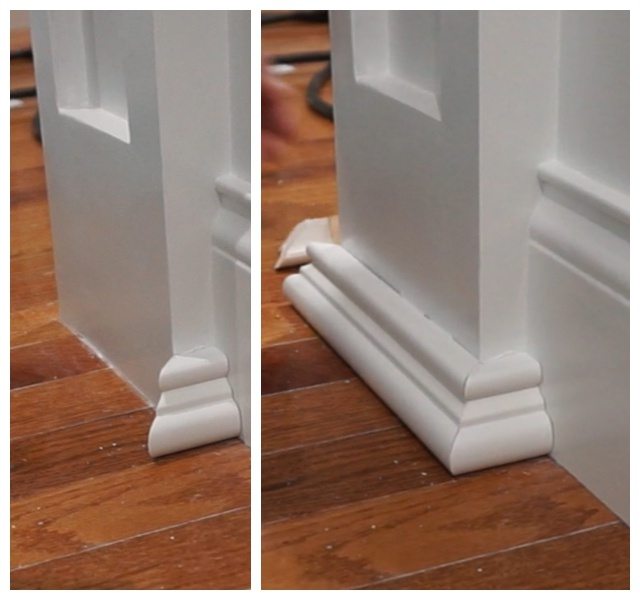 My eyeballs are so much more happy with this architectural column than they were with the plain, drywall corner.  All the chunky moulding really MAKES the project.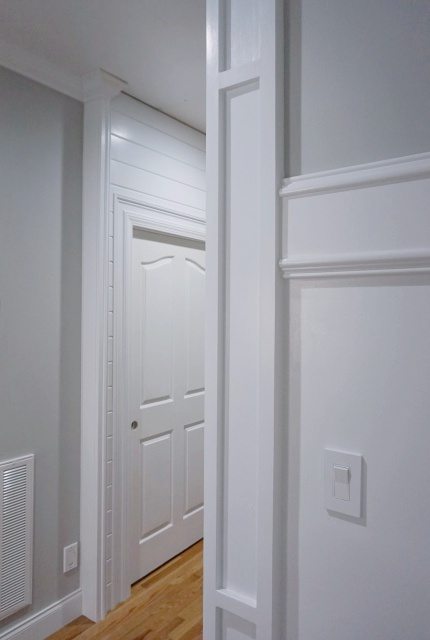 I love lots of moulding- and I love that this "one" day remodel is DONE!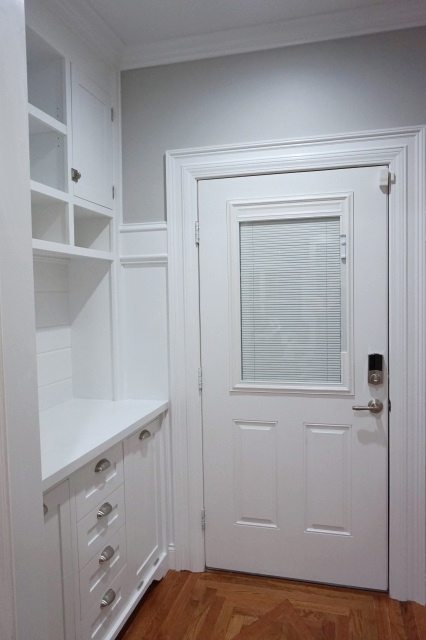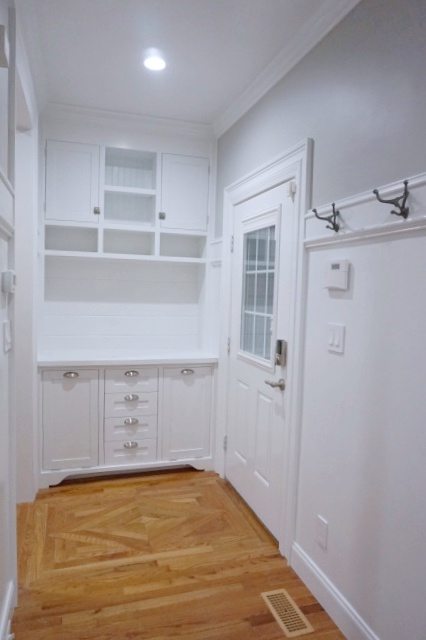 Some tchotchkes are purely decorative but most serve a functional purpose.  My favorite thing is the wood bowl that holds my keys.  Well, I guess my absolutely favorite thing is — now this space is ready to be lived in.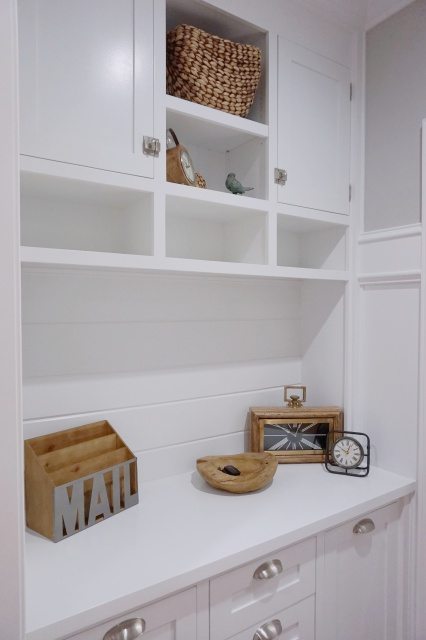 I'm already loving the function of the coat hooks and all the storage drawers.  No more cluttered bench!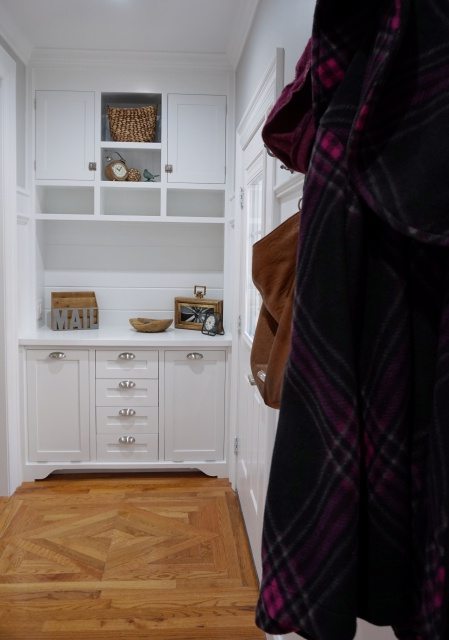 The kitchen entry hallway is definitely more functional now and it's an added bonus that it's so dang pretty.  I love walking through here every day.  Even though my one day turned into 28 days — it was worth it.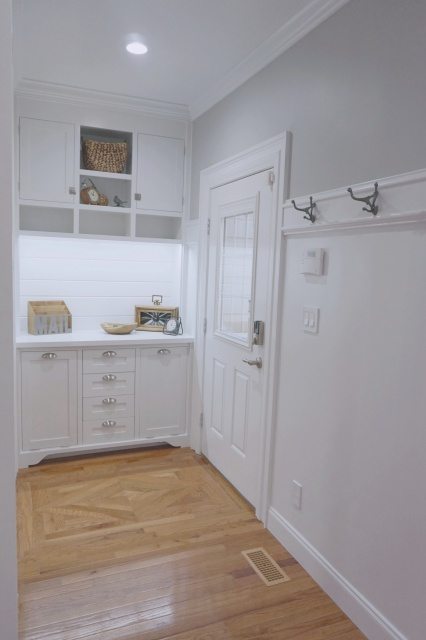 This post is sponsored by Metrie.  I was provided with materials and compensation to share my creations with you.  Check out Metrie.com to see the entire line of interior moulding and doors.