I finished off my cooktop cabinet by adding decorative legs. This was always my intention and something I had to plan for when getting my granite pieces cut and installed five years ago.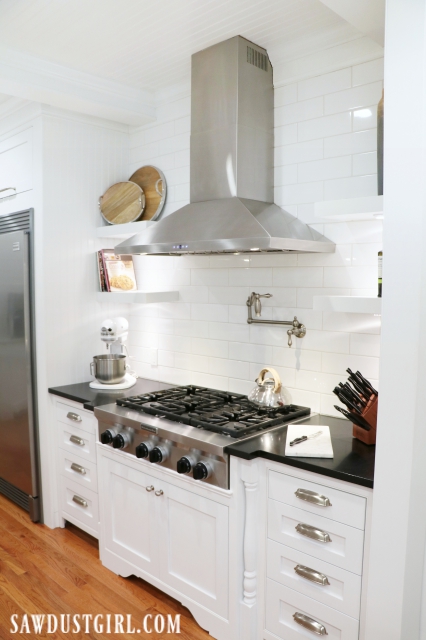 Back then, I had no idea what I would end up using as spacers, but I figured I'd find some kind of decorative legs that would work. OR I would build a pretty square leg (mimicking my decorative columns).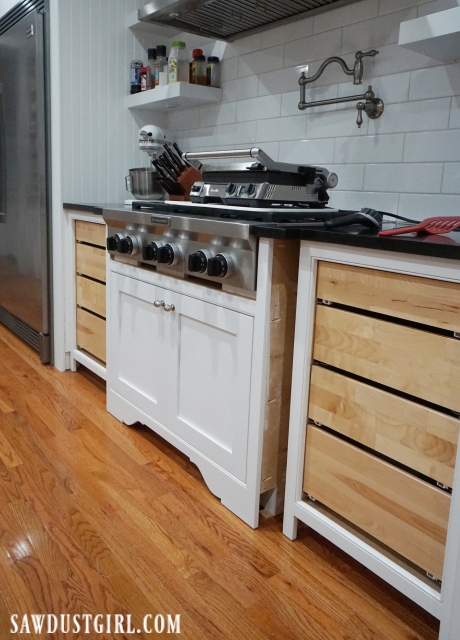 Adding Decorative Legs to Cooktop Cabinet
Fast forward to last week when I was ready to tackle this project. I brought up two decorative legs I had purchased back when Julie and I were working on Calderwood Cottage. While scouting around for baseboards at a local salvage store. I found a huge pile of spindles and legs (of all sizes and shapes). The owner said I could have them for $2 each! I picked out a handful, none of which I had any purpose for but they were too good a deal to pass up. I'd figure out a way to use them at some point. One of them was nearly perfect!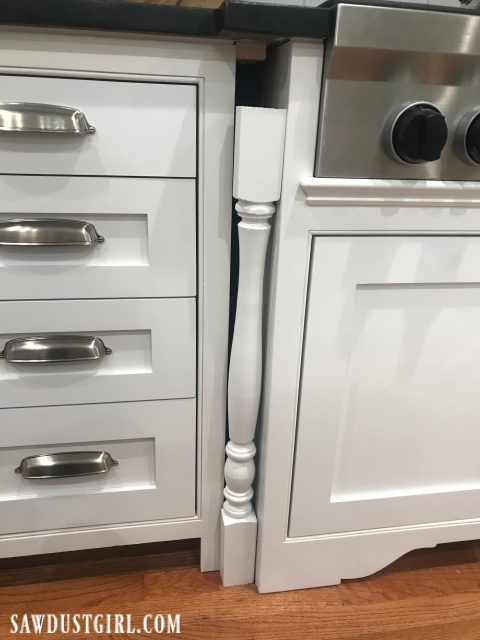 It needed a bit more height but the width was great. I decided to add the additional height to the bottom — because that's what made my eyes happy. The legs would need to be attached to a backing to close off the gap around the rounded parts.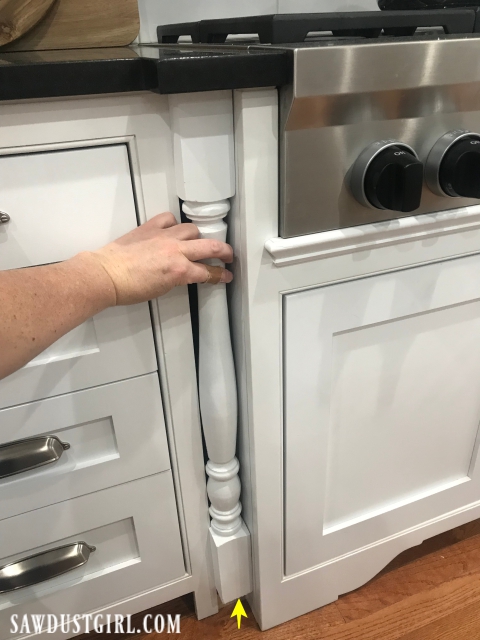 First I used a track saw to cut a bit off the back of these legs. I didn't cut them in half, but cut a bit off the back so it was flat. This made it easier to attach it to the backing, a strip of 1/4″ MDF.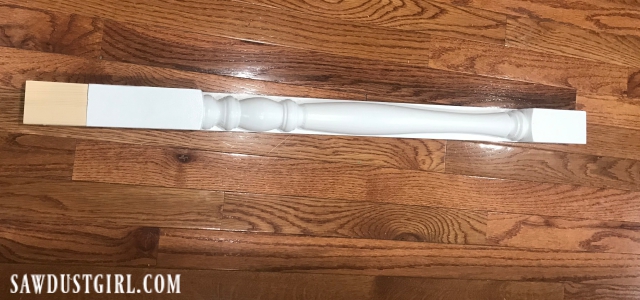 Titebond Thick and Quick made quick work of fusing the new piece to the leg. Then I used caulk to stick the whole new leg to the backing and secured it with nails through the back.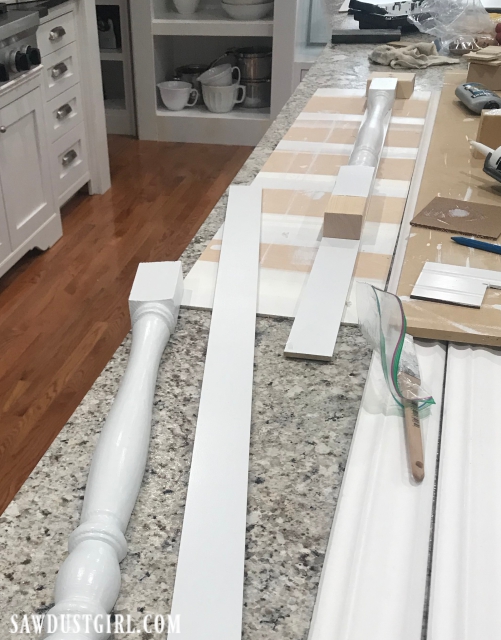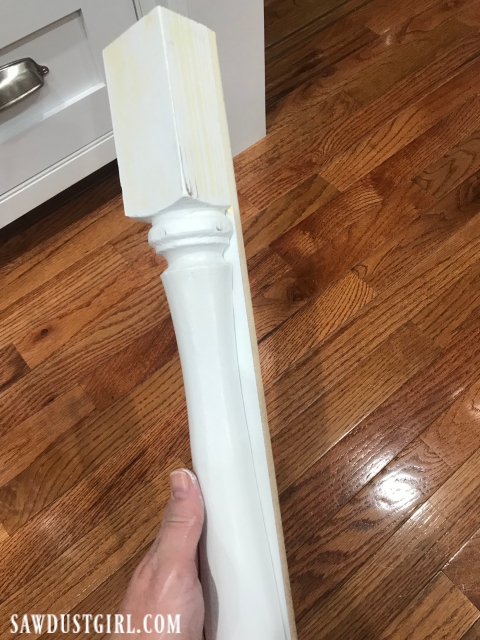 After applying wood patch and letting it dry, I sanded the legs smooth.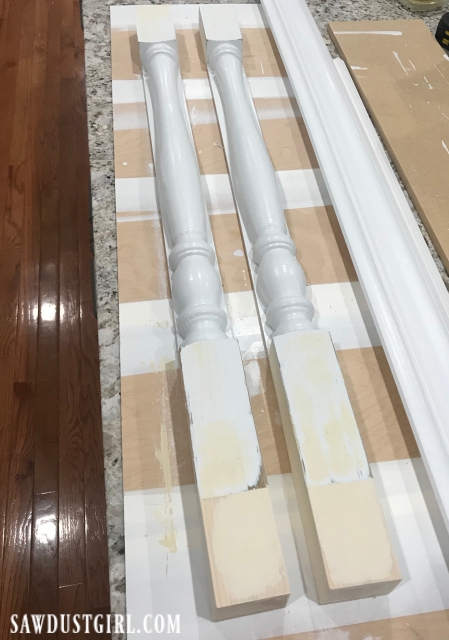 To install the legs, I attached blocking 1/4″ back from the front of the side cabinet. The backing on the leg fits perfectly into that space. Caulk is a favorite of mine, I used it to secure the blocking inside the cabinet cavity AND to secure the leg to the blocking.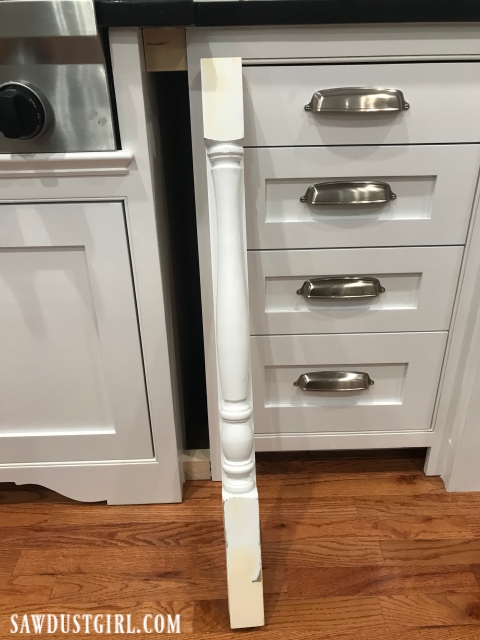 Then I used more caulk around the newly installed decorative filler. That thing is in for good. I have to say, $4 looks pretty good!