I'm painting and installing CabinetNow doors in the jack and jill bathroom.  I always get questions about paint and my airless sprayer so I'm going to share some painting FAQs today too. Y'all, this post is an organic advertisement. CabinetNow.com provided these doors for me to use in my Jack and Jill bathroom.   Thank you for your support!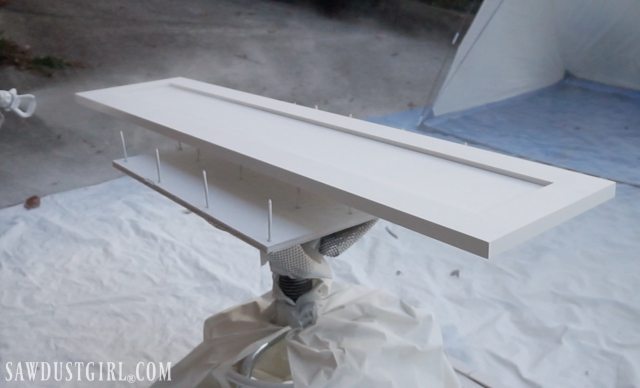 Way back when, before Julie's first visit or any sewer issues occurred…I measured ALL the cabinets in both bedroom closets and the bathroom.  There's 39 in total!
Measuring for Inset Doors
I'm doing inset doors, which have to be sized perfectly.  Inset doors are much more difficult than overlay doors in that regard.  When measuring for inset doors, I measure the entire cabinet opening;
top to bottom for width
right to left for the height.
If there is any discrepancy in measurement across the span of either the width or the height, I use the smallest measurement.  With inset doors, 1/16″ matters.
I emailed all my measurements to CabinetNow.com and they got started building my doors!  CabinetNow has all kinds of options for door styles and different wood selections.  I'm using simple Shaker doors with Maple frames and MDF panels, which is great for painting.  They were delivered to my doorstep, packaged with super duper care.  They arrived finish sanded and ready to paint!  Gorgeous!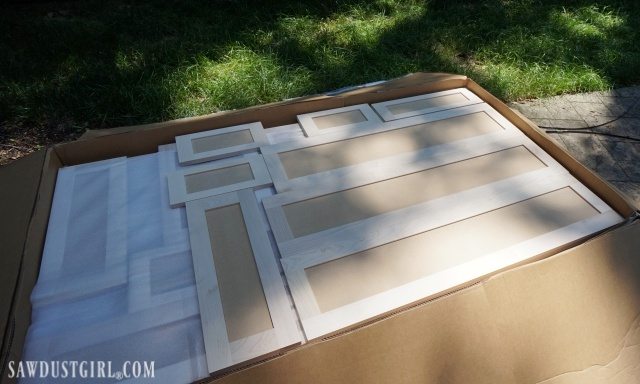 Air and Light
I started painting in Wes' garage.  I set up my modified HomeRight spray booth.  When using an airless sprayer, it's important to have airflow pulling the overspray away from the project.  That's important with any kind of paint spraying, airless, HVLP or cans of spray paint.  Otherwise the "overspray" (extra tiny particles of paint that are all over in the air), settle down onto your project.  The overspray particles are dry before they fall into your project paint, which is thicker so it dries slower.  Little dried overspray particles that fall onto the project make that project feel rough and bumpy; NOT glassy smooth which is what you want and the reason you are spraying your paint!
I have a box fan pulling air out of the spray booth. There is a cheap air filter over the front of the fan to catch the overspray so I don't end up with paint all over the garage floor behind the tent.  The fan air keeps the filter in place but I used a bit of duct tape to keep it from falling over when the fan is not in use.
Light is another important aspect of getting a good paint finish.  Light illuminating the project surface at an angle let's you see everything!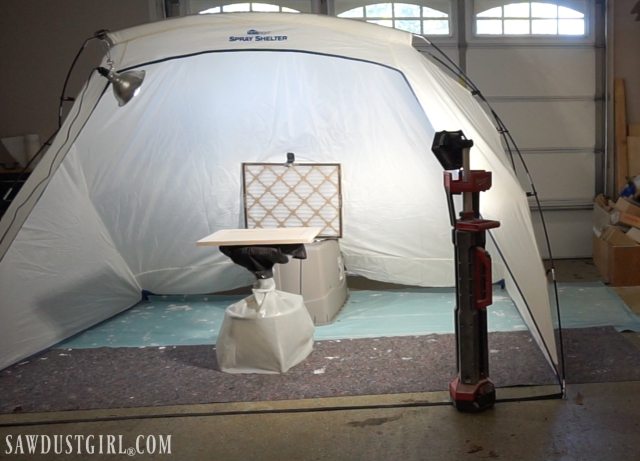 Prep the Airless Sprayer and Paint
I've been using my Graco Nova 390 for several years now and have had amazing results with it.  It requires some prep and clean up every time but the finish results are worth it.  I store the airless sprayer with Pump Armour so the first step before using it again is to clean all that out.
Pull half a bucket of soapy water through the suction hose and out through the drain hose and the spray hose.

(Dawn dishwashing liquid)

Run half a bucket of clean water through
Thoroughly mix primer
Pull Primer through the suction hose and clear out drain hose until the primer starts to run out.  Then clear out the spray hose until primer starts to run out.
NOW I put the tip guard with tip onto the gun.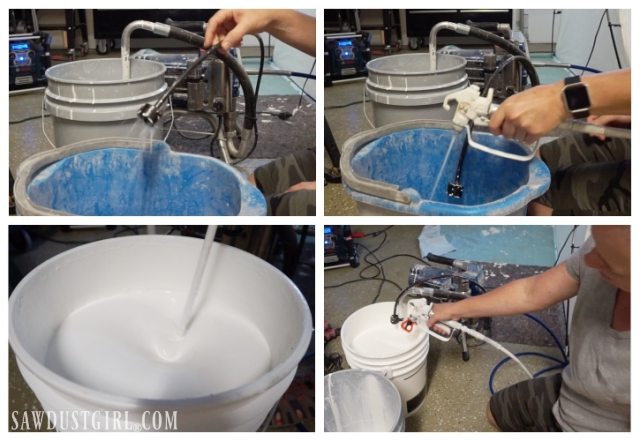 I'm using a bucket of leftover KILZ primer I bought for the plywood plank walls .  I normally use Sherwin Williams all purpose primer.  The KILZ works great and levels out nicely.  It is quite thick and requires a larger tip orifice than I normally use.  Let me just say that airless sprayer tips are confusing!  The fist number on the tip is the size of the spray pattern multiplied by 2.  WHAT?  So a 315 tip has a (3×2=6) 6″ spray pattern.
Additionally, it is somewhat difficult to get exactly what you need.  The KILZ primer I used requires a 17-21 orifice.  I could only find that size orifice with a very large spray pattern.  I want no larger than 6″ spray pattern so I need a 317 -321 tip.  THOSE ARE IMPOSSIBLE to find.
A 315 was the best I could find and I had to use high pressure up on the Graco to get it to spray well.  SO I had a TON of overspray and wasted a lot of primer.  That size tip works in the orange tip guard which is usually what comes on the spray gun when you purchase your sprayer.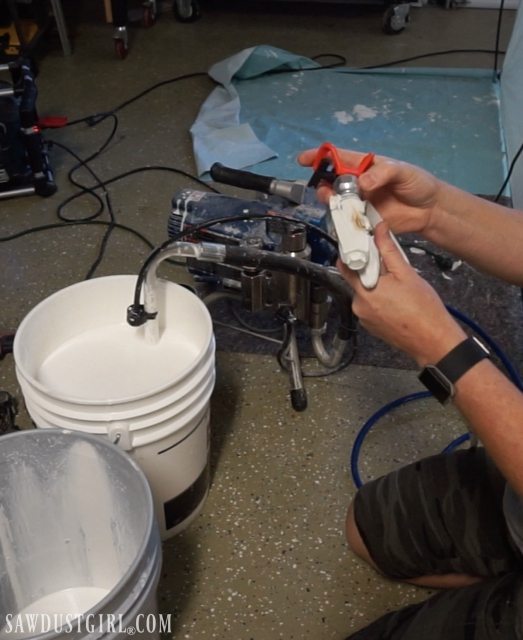 The finish you get with primer isn't as important as the paint so I didn't worry too much about not having exactly the right tip.  Also, primer isn't as expensive as paint so I didn't cry over wasting so much of it.  I DID wear a respirator in addition to my fan filtering the overspray out of the air.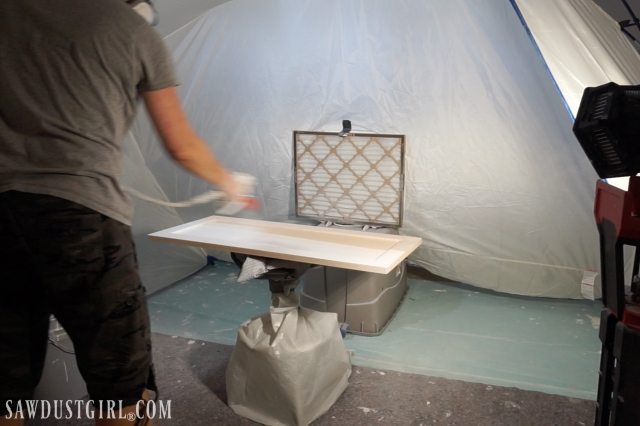 I'm spraying drawer fronts in addition to doors.  Most of them are small enough for me to put on a scrap board and paint 4 or 5 at a time.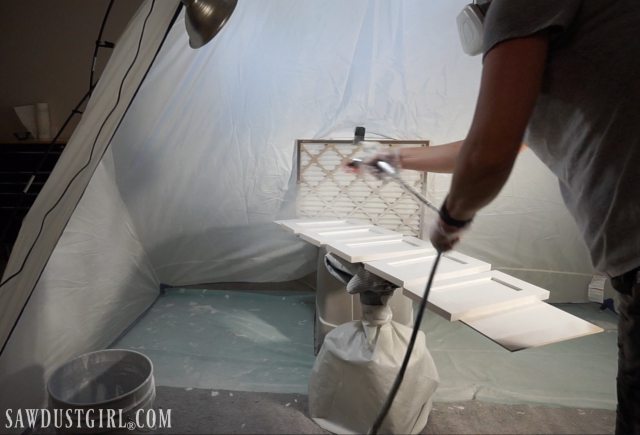 I painted each door (or group of doors/drawer fronts) and put them on the drying rack to dry.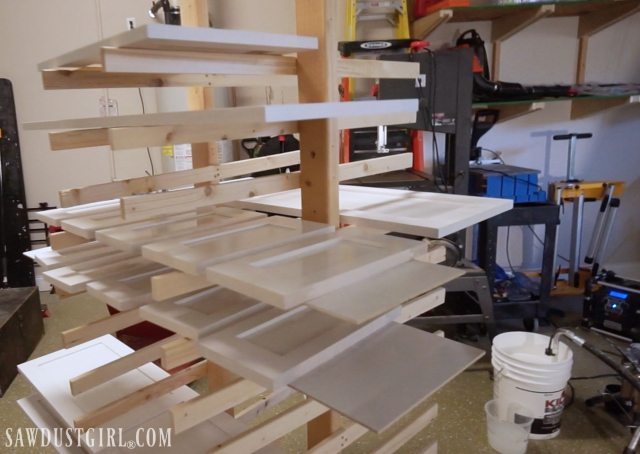 I started getting painty footprints all over Wes' garage floor because I didn't have enough drop cloths to make a path from the paint booth to the drying rack.  Also, the garage was feeling just way to cramped so I moved my work station outside.  Thankfully I had two consecutive, beautiful days.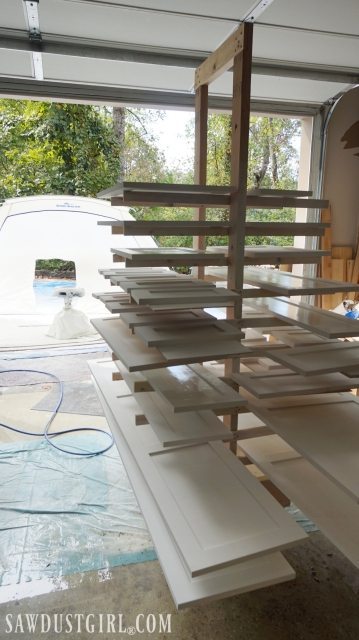 I made a couple other adjustments to my "work station".
I moved the box fan IN the garage blowing air toward the spray booth to push air away from the project.
I made a better spray stand.

I got a scrap of wood
drove a bunch of 3″ screws up through it
hammered the top of those screws to dull the points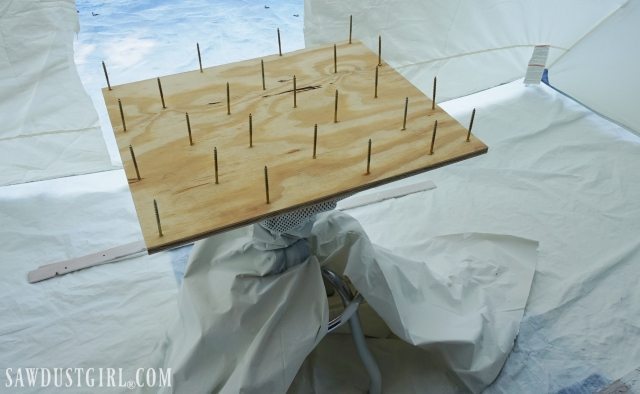 That nifty "screw board" was placed on top of my already awesome makeshift swivel stand.  That's a shop stool covered with plastic and topped with a no-slip shelf liner.
I made a failed attempt to keep it paint free.  It became uncovered at some point and I didn't notice.  Oh well.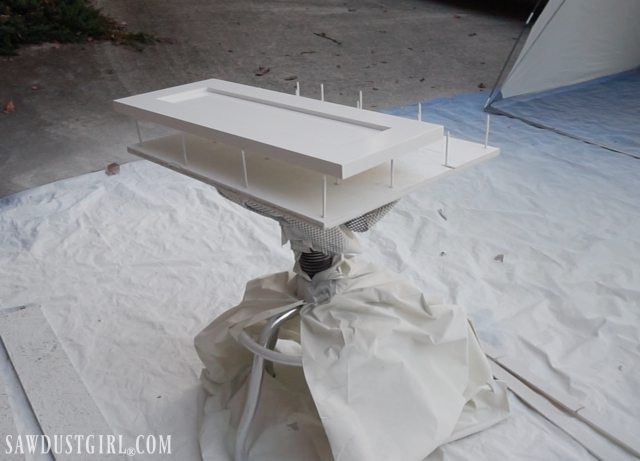 Painting with an Airless Sprayer
After priming both sides of my cabinet doors, I moved on to painting.  I get asked all the time so here it is:
Sherwin Williams Pro Classic
Semi Gloss
Decorator White
For paint, I use fine finish tips which are used in the BLUE tip guard.  With this paint I used the RAC X 314 tip.
When painting horizontal surfaces, you can lay the paint down a little heavier than you would on a vertical surface.  Since there is no gravity to deal with, you don't have to worry about drips or sags.
When using an airless sprayer, you want to keep the gun perpendicular to the project surface.  Don't tilt your wrist.  Think of the spray gun back as an extension of your arm.  Move your arm/gun back and forth, starting the paint flow before it makes contact with the project and ending it after you have moved beyond the project.  Pull the trigger and start the spray flow in front of the work piece, as you're moving your arm towards it.
I hit the sides first, including the lip where the panel recesses.  Then I hit the top.  I made a short video to demonstrate what I'm talking about.
If you get just the right amount of paint on the surface, you'll end up with a beautiful glass finish with just one coat.  If it's a bit thin, do another coat after the first coat has dried.  Knowing how much is enough but not too much — that just takes some practice to get used to.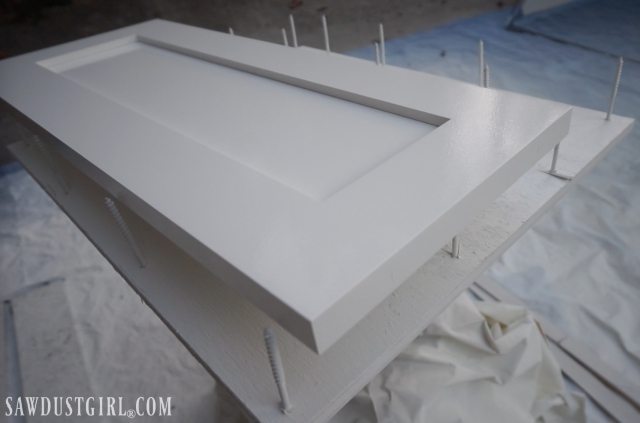 If I were painting fewer doors, I could hang them all and paint all sides at once.  Although when I only have a few doors to paint at one time I generally brush and roll them because it's not worth it to prep and clean up the airless sprayer for a little job.
It took a total of three days to prime and paint all 39 doors. Not the entire day of three days.  There was a lof of waiting for paint to dry in there.  Prime one side.  Let that dry.  Prime the other side.  Dry.  Paint one side…
Now I have to install them all which includes boring for the hinges.  That is a service that CabinetNow offers but I hadn't selected hinges at the time of my door order so I skipped that service.  I am regretting that now because I don't have the right jig for my hinges so, after drilling completely THROUGH a door (TWICE) I am pausing to wait for a $300 jig that I ordered.  I hope that jig makes all my dreams come true!