You guys are AWESOME!  I got so many thoughtful comments to my question about the best configuration for my utility sink.  The vast majority of you said to center the sink and use the side wall as countertop.  So that's what I'm doing!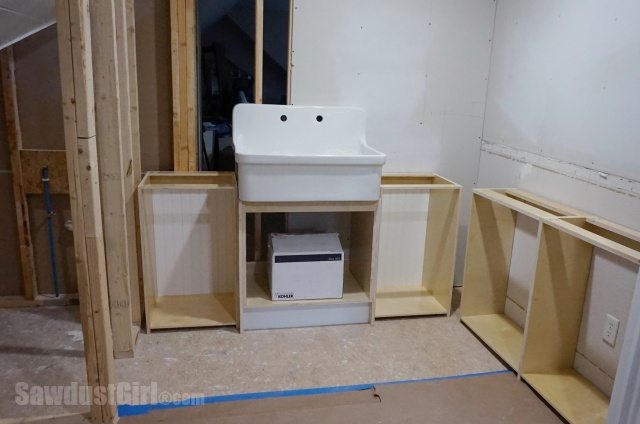 I built the base cabinet for my sink  first so I could put the sink in place, at the correct height, and then move it around to decide where I would best like to use it. Then I decided I needed backup on that decision.  I posed the question to y'all with about 9 out of every 10 comments saying go with centered sink and extra countertop.
Center the sink.  Done!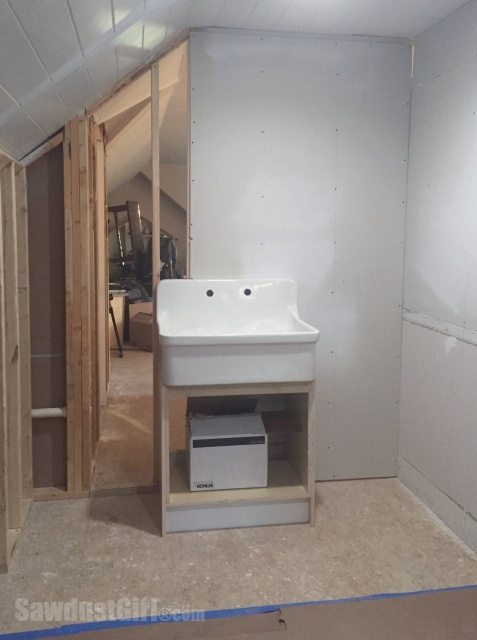 I am not convinced that a 12″ wide countertop will prove terribly useful but I built the bases and will give it a try. Because like 70 of you voted for that so there MUST be something to it.  😉
If I find myself wishing for full height storage, I'll build the top section on top of the countertop.  Eventually.  🙂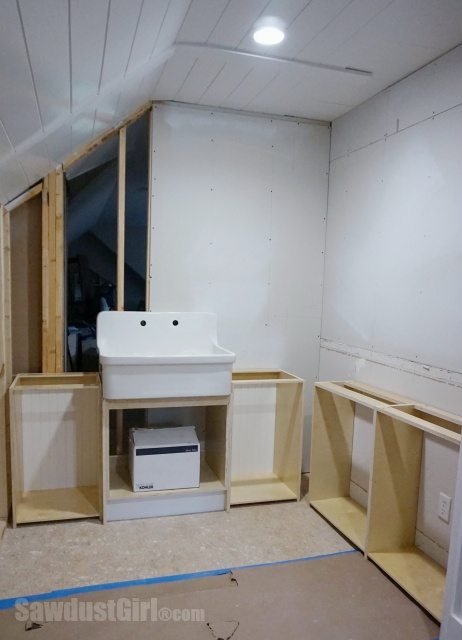 The sink placement is the most important issue right now.  I built the side cabinets so I could get the sink placement exactly right so my plumber can come in and do the rough-in work.  There's not any wiggle room after the water supply valve is installed on the wall.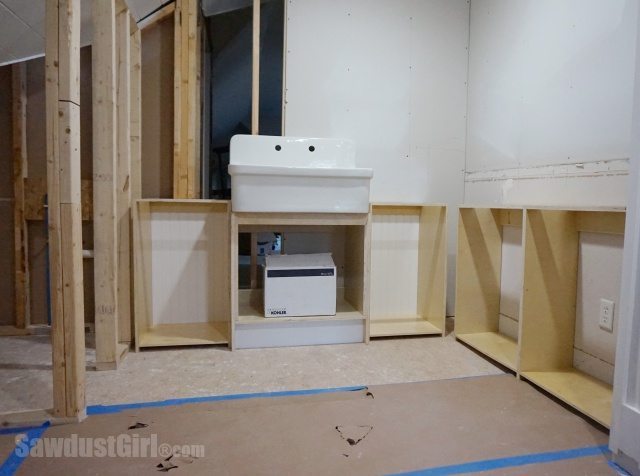 I'll have to pull those side cabinets back out so I didn't bother building their bases.  So in case you were thinking there was an odd height difference between the sink and side cabinets, they will be taller when they go in for real.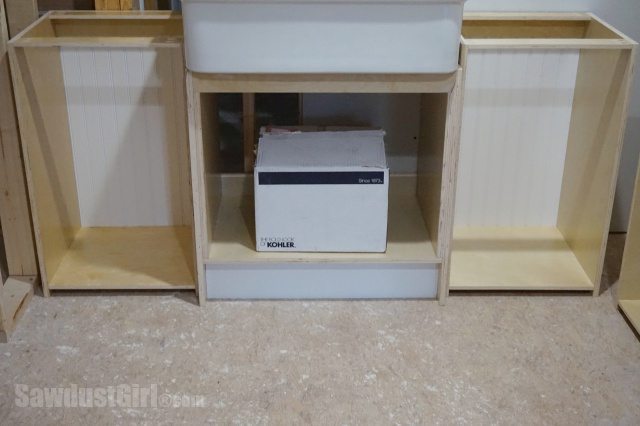 The plumber will be tapping into the powder room water and drain that you can see in the left side of the picture below.
He came over before I even started "the loft project" so we could discuss options.  I wanted to make sure I could get water to the areas I wanted it BEFORE I planned out the whole project and built the cabinetry.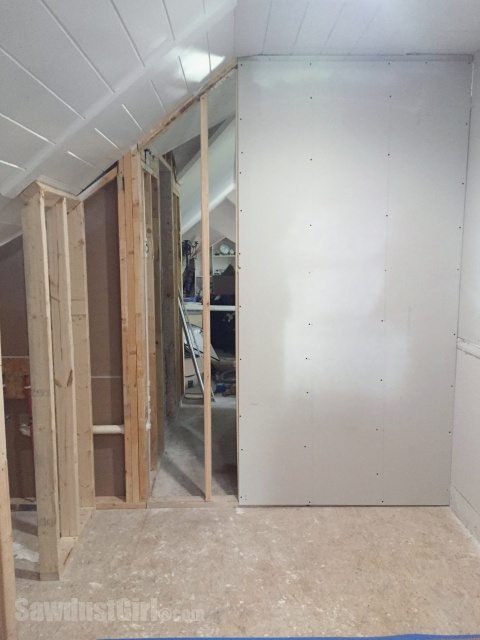 I definitely think centering the sink is a good idea; for elbow room and to have room to wash long items (like my wallpapering tray as someone pointed out).  Visually, I don't like that the sink halfway under the slanted ceiling, but sometimes I have to compromise.
When I build an area, my main focus is on function.  Then I figure out how to make it as visually appealing as possible.
Both function and style are subjective to each individual's likes and needs.  I usually have a good grip on what I want, like and need, but it's great to throw a question out to you guys and get literally dozens of useful ideas and suggestions.
Thank you!
I will not build upper cabinets right away in case I change my mind — which I may.  For now, this is the plan (disregarding the drawer/door situation on the base cabinets because I haven't decided what I want there).
Madison whipped these drawings up for me!  (I don't know what program she used.)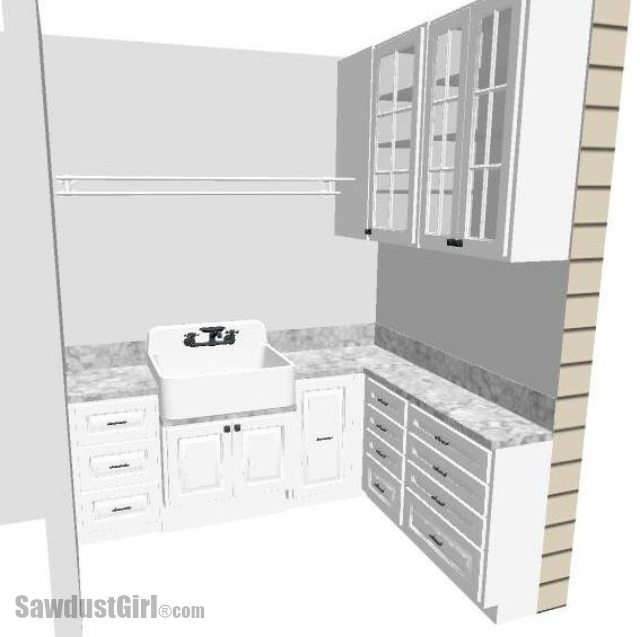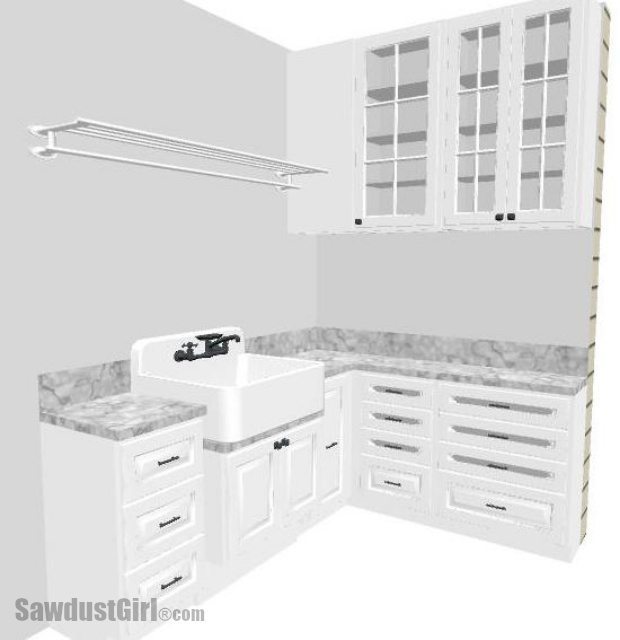 This is it for now though because I have to wait for the plumber.  He's a busy guy but it's hard to find skilled, trustworthy tradespeople (that you can work with) so I stick with them when I find them.  Even if I have to schedule two weeks out.  It's not like I don't have tons of other things to do!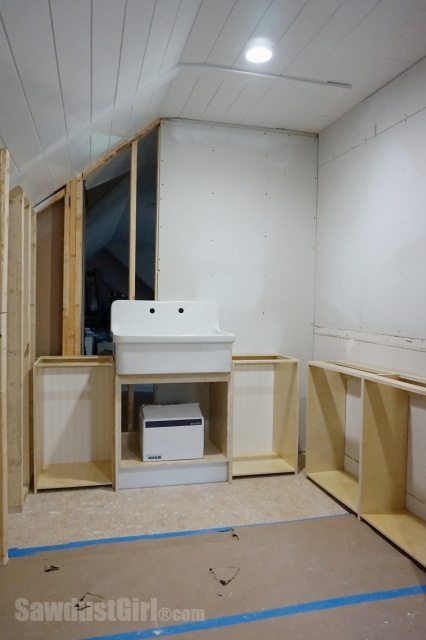 For those that have been asking, the sink is Kohler Gilford 30″ Scrub Sink.  I will share plans for the base cabinet once it is finished.