Today I'm sharing my review of the Porter-Cable 20V MAX Wet-Dry Vac.  I've had a chance to use it around the shop as well as during "Demo Days" at Calderwood Cottage.  The Porter-Cable PCC795B  is currently available for less than $60.  This price is for the tool only.  Battery not included.  That's not a problem if you already have tools and batteries from Porter-Cable's 20V MAX lineup.  Often times you can buy tools kits with batteries and chargers for a great price.  So pick and choose when you add an additional battery to your arsenal.

Porter-Cable 20V MAX Wet-Dry Vac Review
First off, the Porter-Cable 20V MAX wet/dry cordless shop vac is battery powered.  No cord!  Cords and hoses are the bane of my existence so the word "Cordless" — is music to my ears.
The Porter-Cable PCC795B will run for up to 28 minutes using a 4AH/20V MAX* battery.  The vacuum (with battery attached) is lightweight, easy to carry and use.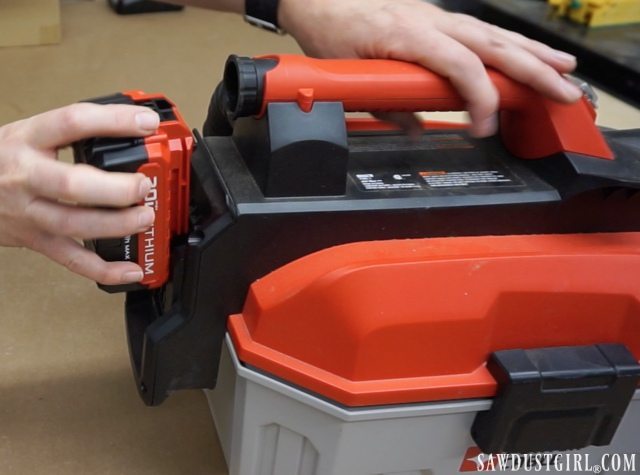 On board attachment storage
I love smart storage so I really appreciate the on board storage of two attachments, a crevice tool and a wide nozzle tool.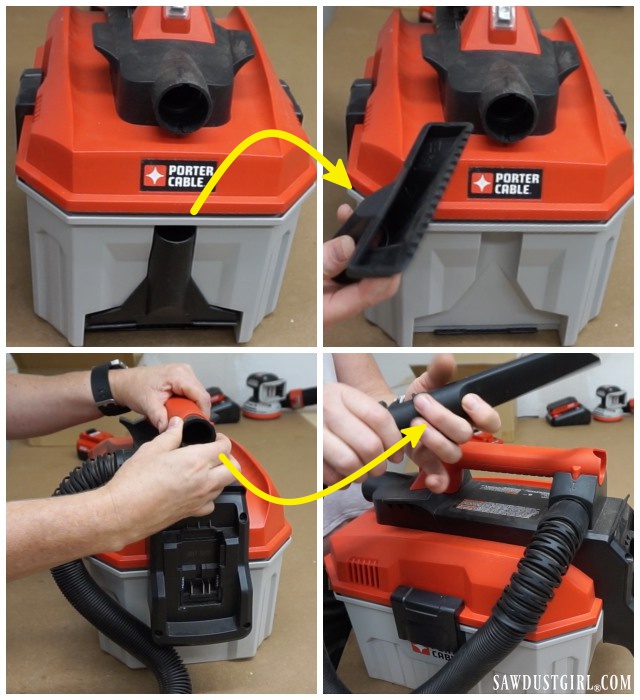 Vacuum or Blower
The Porter-Cable PCC795B can be a vacuum or a blower. Easily move the hose from the vacuum port (in) to the blower port (out).  *I did not find the blower all that impressive.  When I need to blow air, I find a high pressure, concentrated stream of air is generally what I'm looking for.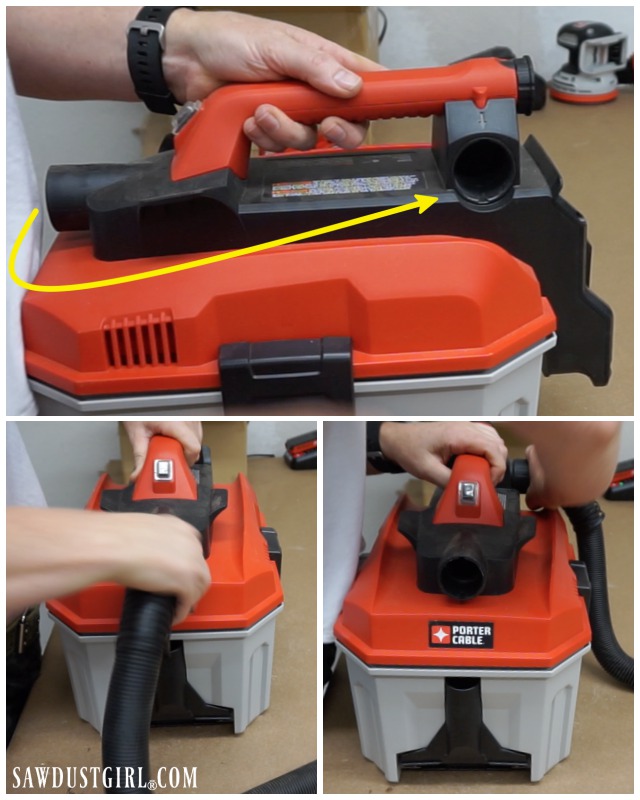 The 34 CFM of airflow provides decent vacuuming power for this small vac.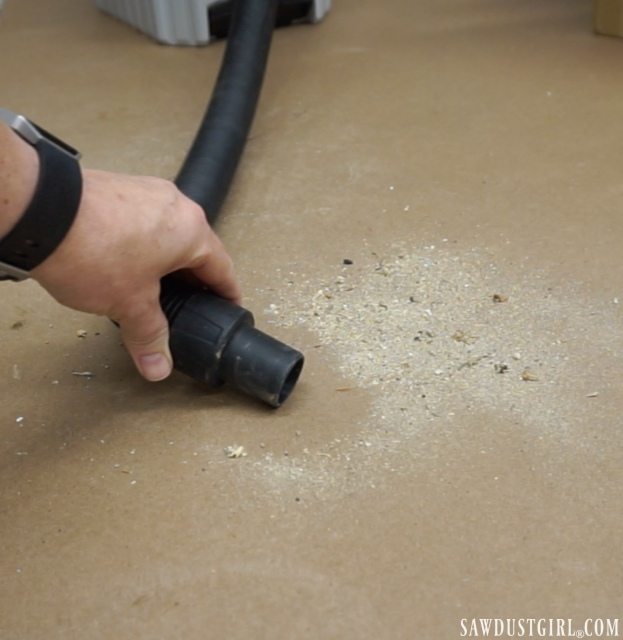 Filter
The vacuum had plenty of suction power to clean the sawdust off my shop floor, however, as I was pulling the wide nozzle tool across a shop mat, the motor lagged, like the battery was dying.  But then it went back to normal.  Then it lagged again.  This happened repeatedly while I was cleaning up the fine sawdust off my shop floor.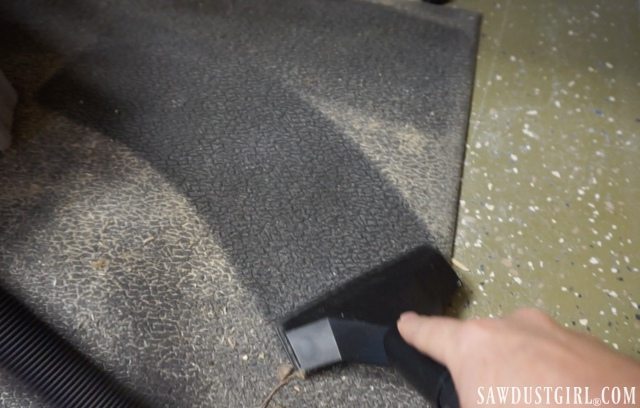 I decided it must be the cartridge filter getting full of sawdust and inhibiting airflow.  I checked my theory by vacuuming just larger bits of wood scraps.  No problem.  Then I stuck the hose into my shop dust extractor bucket (which was full of super fine sawdust).  Motor problems again.  So I opened up the tank and here's what my filter looked like.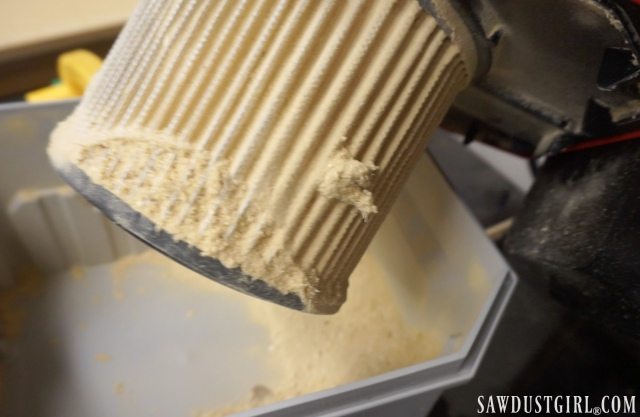 To empty the tank or clean the filter, open the top by releasing two side locks.  Easy.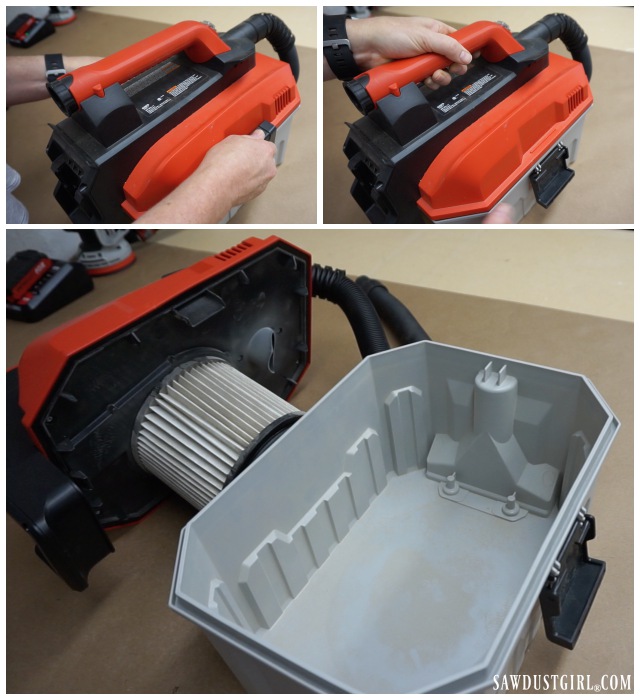 The included cartridge filter is also easy to remove.  Simply twist the end cap and pull the filter off.  It was very easy to get all the sawdust out of the filter by tapping it over my garbage can.  This created a dust cloud so…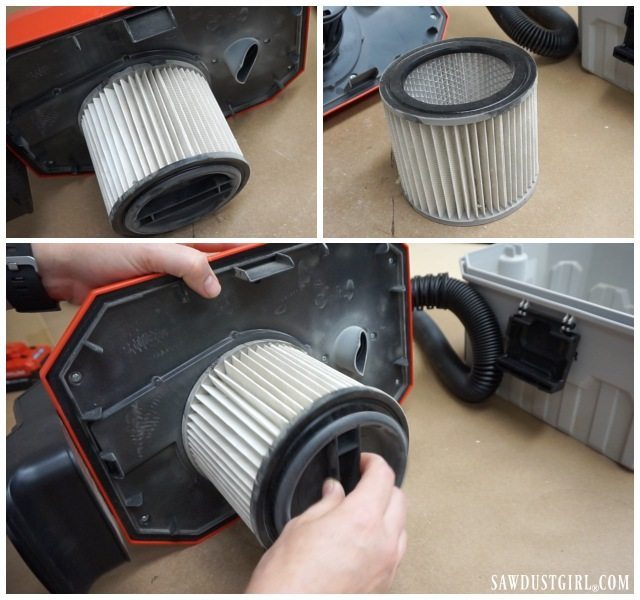 Porter-Cable PCC795B -Wet Vac 

Testing
Next I tested it out as a "wet vac".  I poured a bucket of water on the garage floor.  I used the wide nozzle tool and it sucked up that water like nothing.  With no motor lag.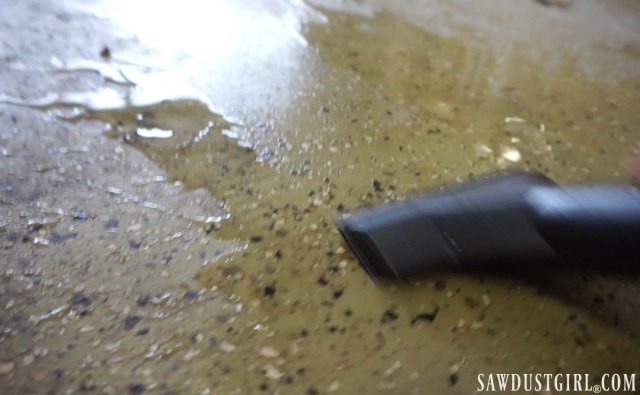 I was impressed and wanted to really see what the Porter-Cable PCC795B could do with a wet situation (like if I'd had it during my Sewer Saga)!  I filled a bucket halfway up and stuck the nozzle right into the bucket. It cleared out that bucket in no time with no problem!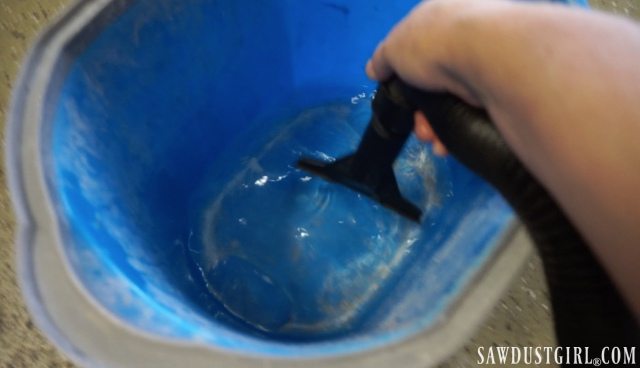 Oh yeah!  Sewer lines be warned, "I'm comin' for ya!"  Seriously, I was impressed at the amount of liquid the vacuum consumed in like 5 seconds.  Actually, I have no idea how many seconds it took as I was having fun watching the tidal waves being created in my water bucket.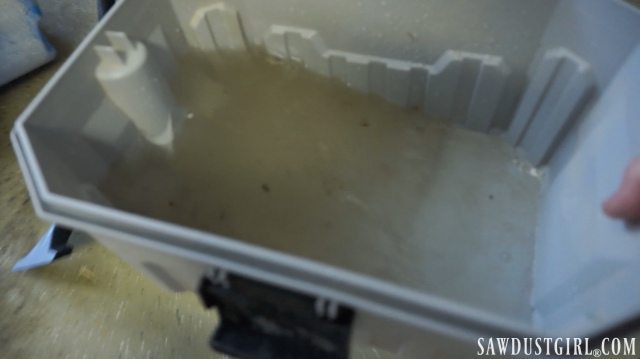 I didn't fill the 2 gallon tank and my filter didn't really even get wet.  I am assuming, after you fill the tank up enough that the water starts to penetrate the filter, you'd get that "motor lag" that was happening during fine dust extraction.  Then you'd know it was time to dump the tank, I guess.  I put all the parts in the tank so everything could dry before I use it again.  Because I don't want to suck fine dust into a wet hose.  'Cause wet sawdust is what I call "muck" and I don't want a mucky vacuum.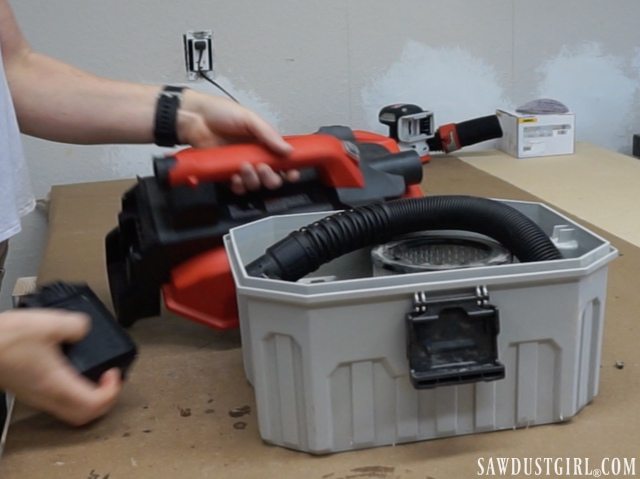 Once everything dries, the tool attachments go back into their on board storage.  The 7ft. hose even has a wraparound storage solution so the Porter-Cable 20V MAX Wet-Dry Vac stores away in a compact little bundle – until I need it again.
Conclusion from my Porter-Cable 
PCC795B test:
works great for small particle clean-ups- like after you drill holes.

great for cleaning up small liquid spills – up to 2 gallons.

could not handle vacuuming large amounts of fine sawdust off my workshop floor. 

I did not test it hooked up to any tools.  I'm guessing it would work fine for finish sanding because you're only producing small amounts of fine sawdust at one time.  However, eventually sawdust would build-up and block the filter causing the motor lag. (I don't know what else to call it.) Then you'd know it was time to clean the filter.

Blower function was not too impressive.  If I need a "blower", I need a leaf blower or an air compressor.  All this did was blow a little sawdust around.  (woh-woh)
I found the Porter-Cable 20V MAX Wet-Dry Vac to be a handy, small portable shop vac.  In the last couple months, I have grabbed it over my larger, more expensive shop vacs because it is super convenient.  Especially when I need it for a spill that is up (or down) a flight of stairs.  For this same reason, I might grab it in certain finish sanding applications, instead of my larger, dedicated dust extractors.  Those I purchased for the sole purpose of extracting dust while I'm using power tools and they don't get clogged filters.  I will definitely grab this bad boy any time I need have a small liquid spill to clean up.  It worked awesome for that job and frankly, it was a weirdly satisfying thing to suck up the dirty water out of that bucket!  It felt like I was really "sticking it to that dirty water"!