It's been a while since you heard from me – I'm Jenn, the winner of Sandra's Sawdust Extravaganza giveaway!  You might have read my intro post on Sawdust Girl, but this is my inaugural post as a an Awesome DIYer here on The Sawdust Diaries.  You can read more most days at A Jennuine Life, where I'll be weaving my DIY adventure as one of Sandra's Sawdust Girlz into my typical sewing and crafting.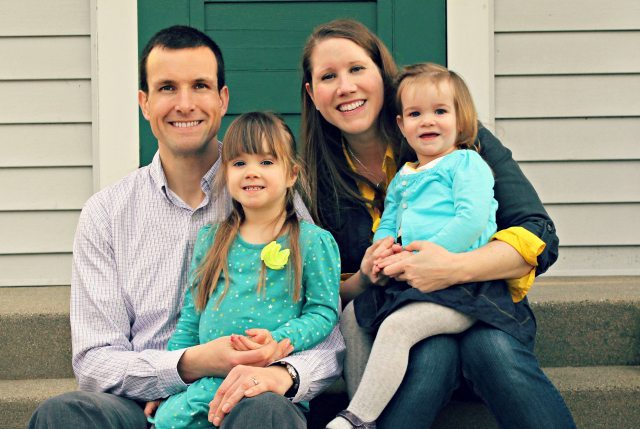 It's been a while in the making due to vacations and life in general, but I have begun building and wanted to share a bit of the before with you.  The plan is to transform my four year old daughter Arden's room into a giggly hangout ready for slumber parties, or to let her little sister Hadley sleep in her room with her.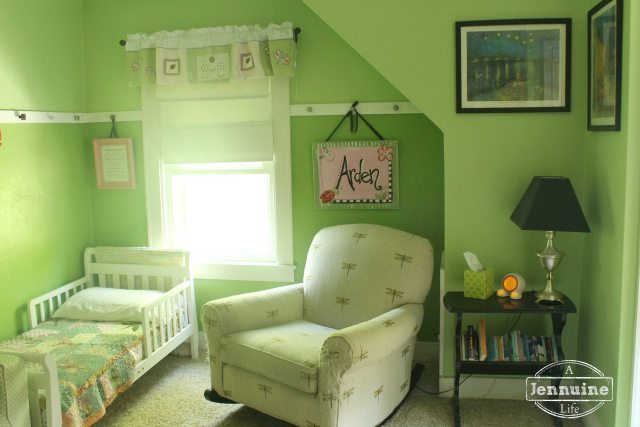 Here is Arden's room as it is now (okay, it's really a little messier now since I tossed all the stuff into the hallway to take pictures).  I have moved some things around; there was a desk where the chair is and the chair was where the library table is now.  I want to try to ease her into the transformation gently.
This is the design concept Sandra drew.  Twin daybeds with a trundle under the bed on the left and storage under the one on the right.  We've tweaked things here and there and there are some fun additions to the plan but this is the gist of it.  Phase 1 is the bookshelf and the angled piece.  Nothing like trial by fire with some cabinetry, right?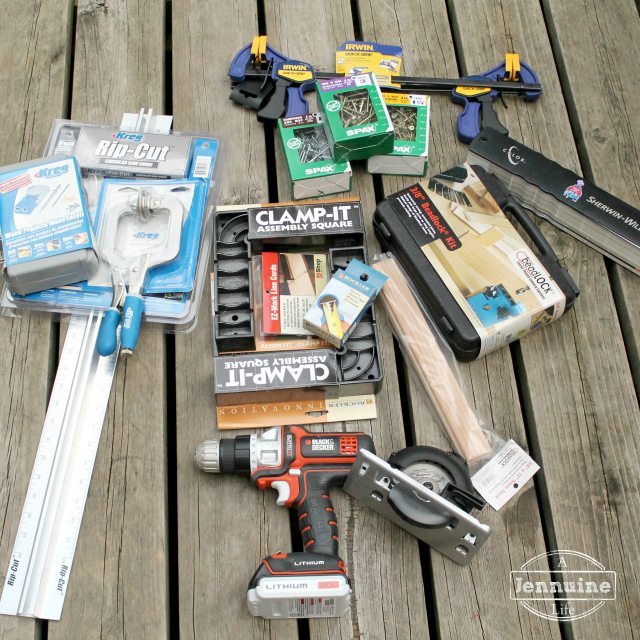 However, I'm confident that I can do it with Sandra's help.  Oh, and the goodies I won along with Sandra's coaching.
Here's a reminder of the prizes I won:
Two gallons of my choice of paint from Sherwin-Williams
A Rip-Cut guide, KregJig Jr and face clamp from Kreg Tools
Matrix drill and attachment (I chose the trim saw) from Black&Decker
Screws from SPAX
Beadlock starter kit,  tenon stock, assembly square, Irwin mini clamps to use with that assembly square, EZ mark line chords and square check from Rockler
$150 gift certificate from D Lawless Hardware
$250 Visa gift card
Sawdust Girl custom design and coaching
We've already video conferenced several times, and it's been so much fun!  If anything we have to stay on track and not start rambling like tweens at a slumber party.
I had a little trouble getting going, with the difficulty of trying to haul large sheets of lumber in my crossover SUV (translation: tiny) and needing to make cuts wider than both my Rip Cut guide or our table saw went (my awesome brother Jeff swept in and saved the day!).
I used PureBond plywood and I am really excited about this product.  We're tree huggers in this household so the fact that it's formaldehyde-free, created with soy-based assembly technology, and Columbia Forest Products practices sustainable forestry really floats my boat.   End commercial, but I like this stuff; I really do!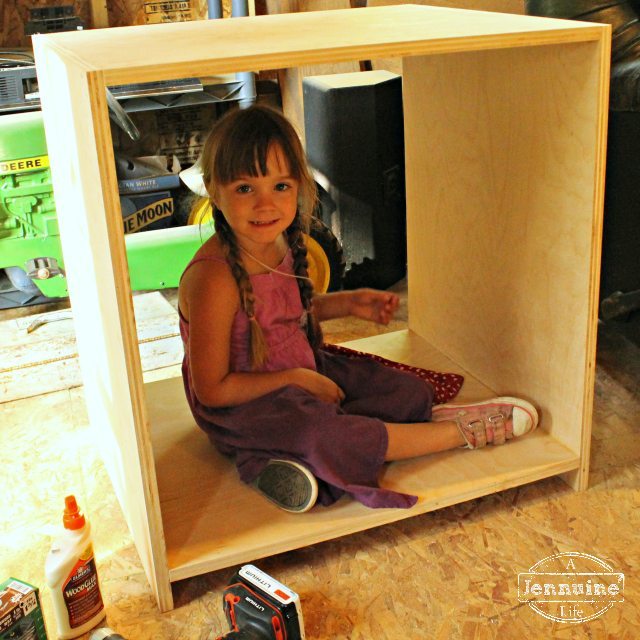 Here's a little progress pic with Arden checking out the fit of what will become the bottom cabinet for the bookcase.  I think I spy a future secret hidey-hole!  I also have the top cabinet completed including holes for shelf pins to make the bottom two shelves adjustable.  Since I have two small kids at home I've been doing most of my building at night which does not lend itself to spectacular action shots.  You'll just have to wait until I'm a little further along to see more!