This is Fawn's current dining room room.  It's a bit of an odd space.  Too small to be a living room but obviously to big not to do anything with.  The plan is to transform this space into an incredible library/reading nook.  It's going to be so awesome, I can't wait to see it come to life! Here's Fawn's first project diary.
 Already read this one?  Read the rest: Part 2, Part 3, Part 4, Reveal and get the Free plans here!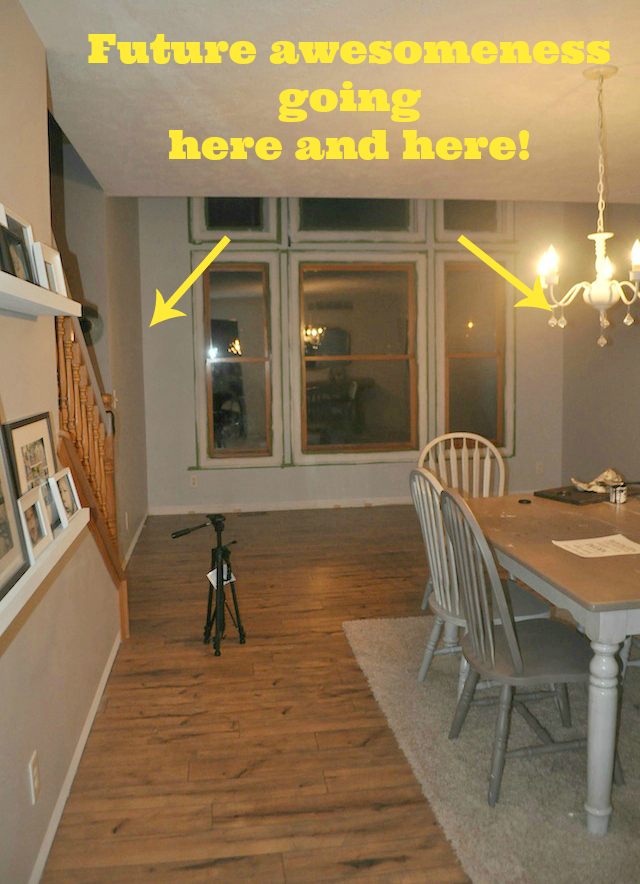 Fawn's Library part 1
Day 1.
We had a few problems…
1.  We ordered the Kreg RipCut online after Sandra's recommendation.  So the day it arrived we went out to Lowe's and bought 3 sheets of MDF to begin.  Our circular saw has an L shaped cutout that is shorter than the rest of the plate so the RipCut kept falling off.  We wasted a whole sheet of MDF trying to get everything cut.
2.  I never really paid attention to how Sandra uses insulation and a work table to cut wood without it dropping. So, while my husband cut the wood, I tried to hold it from underneath, without getting my hand cut off and trying my hardest to not let the wood drop — which was quite the spectacle. Once Sandra realized how ridiculous we were (after I told her how I held it while he cut) she explained how to create the table to cut on, which made life 1000 times easier.
So after crazy acrobatic cutting and (just a few) bad words…. we had everything cut and primed and ready to go the next day.
Day 2.
We assembled the first bookcase, which took us a little while.   Sandra told us where to get some good corner clamps and introduced us to many new gadgets… which made everything much easier–well much easier than it would have been.
The first one took us a few hours to figure out.  I found out that I am terrible with a nail gun because I cannot shoot straight. So after missing one board four times I decided that I should no longer be allowed to do that part of the process and let my husband do it.  Once he started going. the bookcase went a lot faster.
Day 2 we only got one book case together.  Since our saw was not fitting into the Ripcut the cuts were off on half the boards and that was  insanely upsetting once we realized that the wood was not even –so we called it a night.
Day 3
We had to buy more wood since the first day we messed up.   So while we were out we decided to buy a new saw since ours kept falling out of the rip cut.  The new saw made the ripcut worth it and we began moving along quickly. We ended up getting all the wood we needed cut to finish up our bookcases in less than an hour (which it was taking us 1 hour to cut 1 board before)
Day 3 we finished up the other two bookcases and we were feeling good.
Day 4
The next day we skyped with Sandra so that she could explain to us how to square them up before adding the backs. She warned us this would be hard and frustrating and, well… terrible.   But I was determined that we would get this done tonight.
So we got off the phone with her and started squaring up the cabinets.  The first one was just as bad as she had said.  They weren't square and we would move the cabinet, kick it,  yell at it… and somehow everything we did made it worse… and worse… and it was terrible.
About 45 minutes we figured out how to move it to make it better rather than worse… and then me being absolutely paranoid and crazy and telling my husband don't touch it, do not move it…freaking out as he carefully nailed it in… while thinking i am a psycho… because i would remeasure it the ENTIRE time he was nailing… we got through bookcase one.
After the learning curve on the first one, the other two went much more quickly… and by the end of night… (3am) we finished the other ones and called it a night.
Day 5
We started the on next wall, this time around everything was easier. we were knocking them out in no time. amazing! So we finished up 2 that night and the 3rd one the next morning. This time though, I did not prime them because I was in such a rush to get these built. which… looking back was not the smartest decision. but at that moment I wasn't thinking straight. Just wanting to get them built.
So in the first week we were able to finish up 6 bookcases and we are still happily married. Although, the stress of learning to square a cabinet and working with your husband… I am pretty sure that is the true test of the strength of your marriage. I seriously think my husband wanted to use the nail gun to nail my mouth shut so I would stop saying, "… hang on i think you moved it let me see if its still square."  Yep. I was annoying!
Even though it has been frustrating (some days more frustrating than others)  I feel like we have gotten so much done in a matter of a week and I cannot wait to keep going on this and have the finished project.
Now I have to go back in and prime all the cabinets that I made the split decision of doing it later.  Maybe for now on I should just listen to all of Sandra's suggestions…since she does know what she is talking about. 🙂
Read the rest of Fawn's build:  Part 2, Part 3, Part 4, Reveal and get the Free plans here!