When I started this bathroom remodel, I knew I wanted a tile shower including the shower floor.  My choices were to either build my own mud shower pan, or find a tile ready shower pan.  I didn't want to try to build a mud pan so I quickly began the search for a tile ready shower pan.  I spent some time on The Floor Elf website reading up on shower tiling tips.  Based on "the Elf's" experience and recommendations, I  was sold on using HYDRO BAN (paint on) waterproofing membrane.  I decided to try the LATICRETE HYDRO BAN® pre-formed shower system which includes a pre-sloped, waterproof, tile ready shower pan.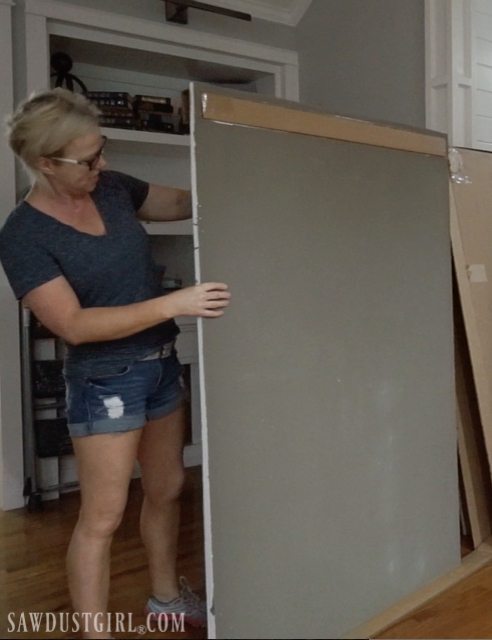 The drain placement was complicated because we have engineered floor trusses and, of course, there is a truss right smack dab in the center of my shower.  You don't want to go cutting into those so I had to get a shower pan with an off-center drain hole.  I could have special ordered a pan made specifically for my space, but didn't want the extra wait time.  I went with a linear shower pan which has the drain located at one end.  It was the exact right width but I had to trim it down to the correct length.  It's polystyrene and trimmed easily with my track saw.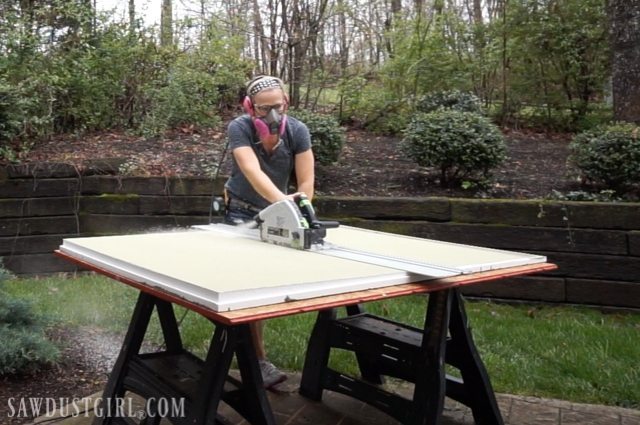 There are two options for drain hookup of this tile ready shower pan:
Hook it up from below, after the shower pan is installed.
Rough in plumb the drain pipe to the correct height that it will need to be once the shower pan is installed in mortar.  AND make sure that drain pipe is secure so you can properly seat your shower drain.
Option 1 is not an option for me since the space below this renovation is one of the few spaces in the basement that still has an intact ceiling.  So I called in my plumber to do #2.  (See what I did there?)
I had secured a 2×4 to the sill plate to support the subfloor patch.  We notched that out and secured the drain pipe in the right location (we dry-fit the shower pan to make sure we got it right).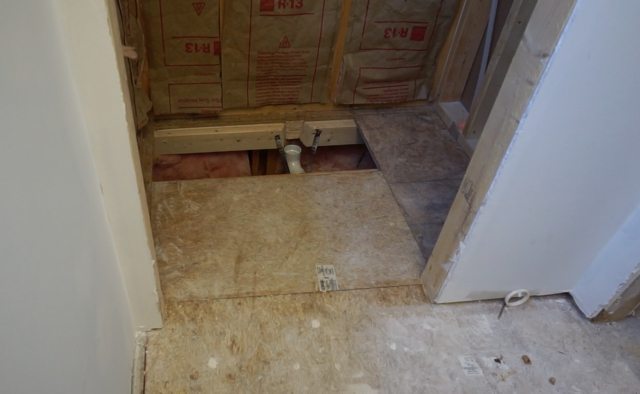 I cut out a 3″ hole in the subfloor patch, secured it in place and cleaned up.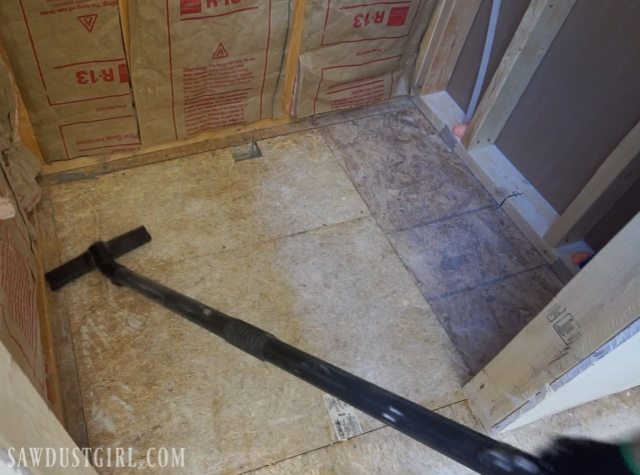 Tile Ready Shower Pan Installation
To install the tile ready shower pan, I mixed up 4XLT  which is a medium bed, polymer fortified mortar.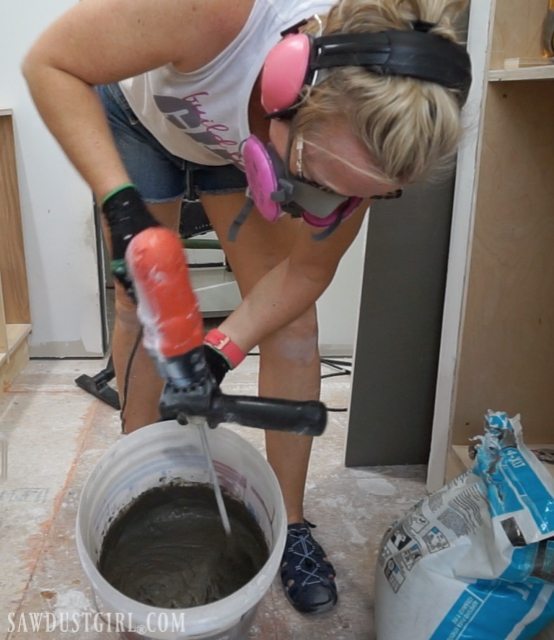 Using a 1/2″ x 1/2″ notched trowel, I spread the mortar onto the shower floor.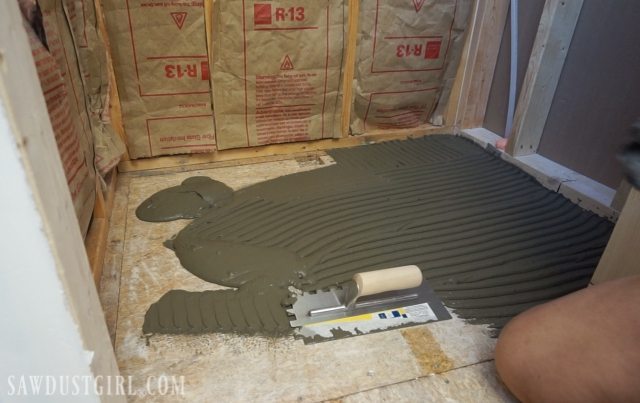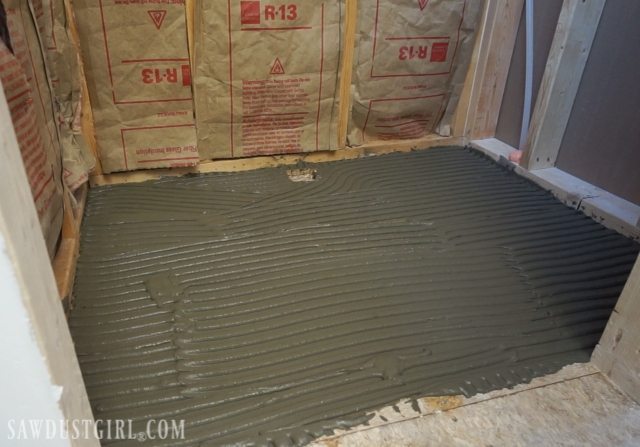 I also skim coated the underside of the shower pan with the same mortar.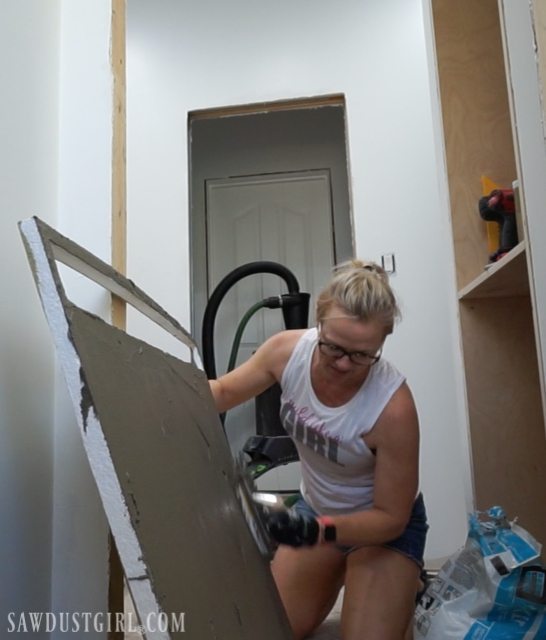 Then I set the shower pan in place,  made sure it was level and weighted it down with plywood and a few cement pavers I scavenged from the yard.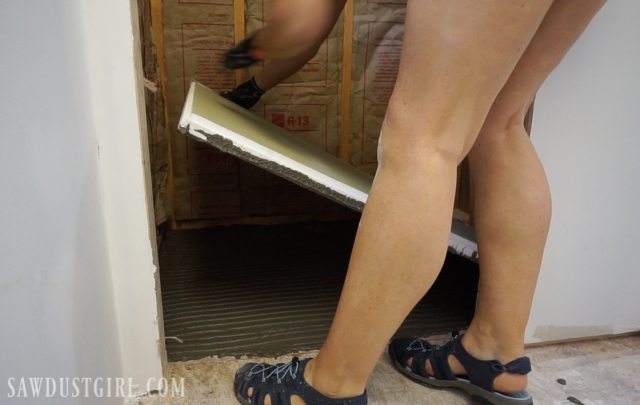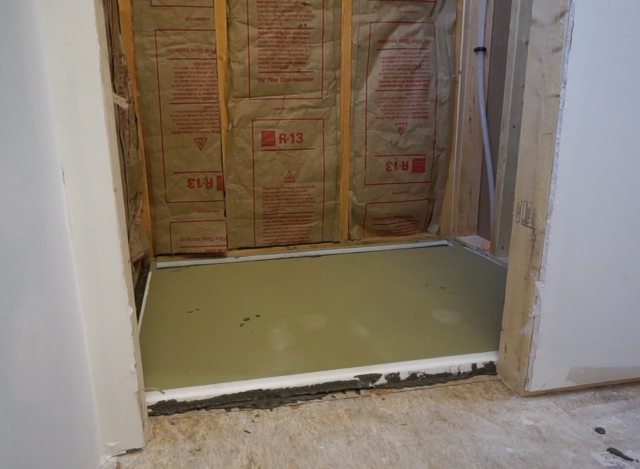 The linear drain is installed in a similar manner with the addition of a bead of HYDRO BAN Adhesive & Sealant under the flange.  However, because I had my plumber do the drain connection I have no pictures of this step.  He doesn't allow me to take video or photos of his work process.  He says it has something to do with America's most wanted…
With the drain in place and all hooked up, painted at least two coats of HYDRO BAN over the drain flange and the Shower pan next to it.
This picture shows the walls in too but it's the only drain pic I can find so …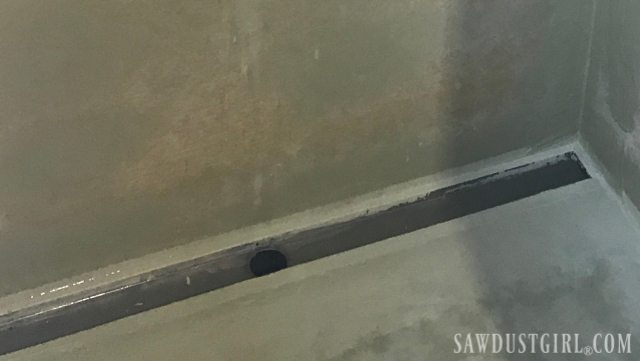 The threshold is made up of the same waterproofed polystyrene material as the shower pan.  I cut it to length with my miter saw (because it was right there in the room) and set it into a bed of mortar with a bead of  HYDRO BAN Adhesive & Sealant  between the shower pan and the threshold.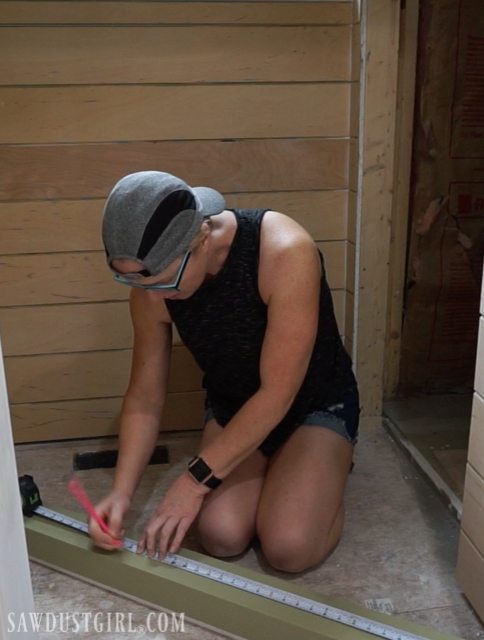 Again, just paint the seam between the threshold and shower pan with HYDRO BAN and voila!  The tile ready shower pan is in!  Then you install your walls.  The perimeter of the shower pan has grooves for 1/2″ shower walls to seat into.  You can use 1/2″ cement board or HYDRO BAN BOARD, which is what I used.
I'll share that process tomorrow.  See you then!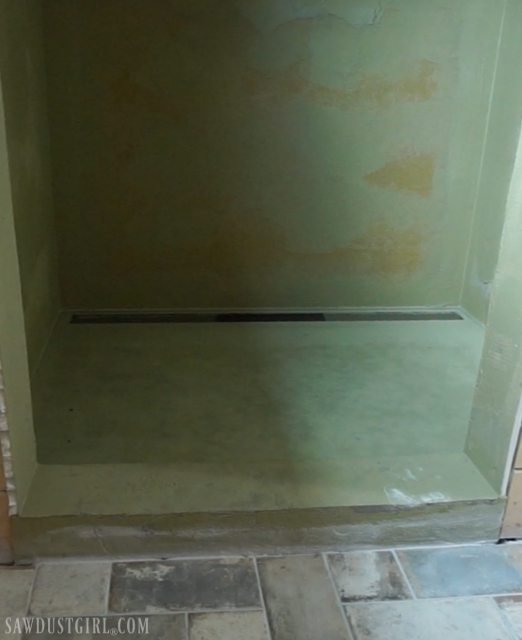 *LATICRETE supplied product for this project.