Finding the right paint sprayer has always been a bit of a pain in the butt for me. I've told you all about my struggles trying to find my large paint sprayer, but at least the research I did on sprayers back then can help me in the future. It was so hard to find the information I was looking for, but now I feel much more prepared for my search.
I should also mention that I still love my Graco, and it's still my go-to for big projects. It worked beautifully on my library wainscoting. I just also need a sprayer that's going to be able to do the finer, finishing work for my smaller projects or areas.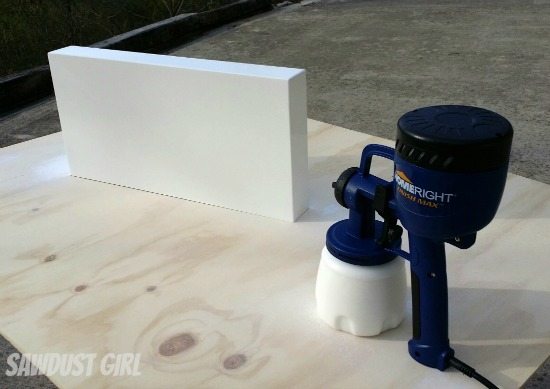 How's the Hose
As I said before, I really love my big sprayer. However, it's got a really, really long hose that is just not a great choice for small projects. The hose eats up like a quart of paint before it even reaches the sprayer, plus it's a little stiff and bulky. I had a little trouble maneuvering it when I was painting the walls and wainscoting, so imagine how hard it would be to manage when painting even smaller projects.
Know Your Knobs
When I made my paint sprayers post, I made sure to make it clear that 2 or more knobs meant do not buy. Tuning one meant the other one got out of place, and then when you adjusted the second knob, the first went out of place. And on and on and on. It was an endless cycle of pain and frustration. So, when looking for my fine finish sprayer I wanted to find one with only one knob.
Stake Out Your Storage
The last thing that gave me trouble when trying to find a paint sprayer was the actual storage for the paint. With my Graco, I just had to attach the hose to a gallon or five gallon bucket of paint, and boom! Ready. That process is great for painting such large projects where so much paint will be used, but again, it's not very practical for smaller scale.
When I was testing out sprayers, before I found the Graco, I was irritated with some of the ones that had the little buckets or holders for the paint on the sprayers, as you had to refill them constantly. Now that I'm looking for a fine finish sprayer, I'm going to take a look at some of those again, because with detailed work and smaller surfaces, I won't need to refill the paint holder so often.
The Best Fine Finish Sprayer
With all of those criteria in mind, I ultimately found that the HomeRight Finish Max Fine Finish Sprayer was the best fine finish paint sprayer around. I get asked about paint sprayers a lot, and it's nice to be able to offer up the right options for the different kinds of jobs you want to do.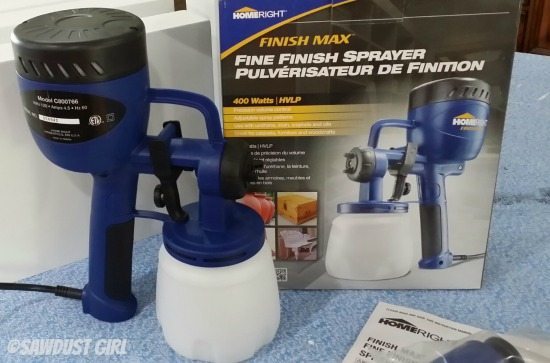 I generally end up painting small projects by hand, but sometimes painting small projects by hand can be a pain, especially when there are spindles and crevices and nooks and crannies to get into.  Additionally, achieving a perfectly smooth finish with a brush and roller can be difficult to master, so having a second sprayer for small projects has been on my list for a while. I'm really glad I have the HomeRight Finish Max Fine Finish Sprayer as another option for small paint jobs.
HomeRight Finish Max Fine Finish Sprayer
I used the FinishMax to paint the floating shelves I built for my kitchen and couldn't believe how easy it was to use and how perfect the finish was with so little effort on my part.
The knob situation is perfect–there is only one adjustment knob to worry about and that allows you to control the amount of material flow. Lot's of HVLP sprayers are so hard to use because you have to adjust the material flow and then the air pressure and then the material and the air…they're a constant tug of war trying to get it just right. Not with this one! FinishMax only has one knob, and that's the best way to be!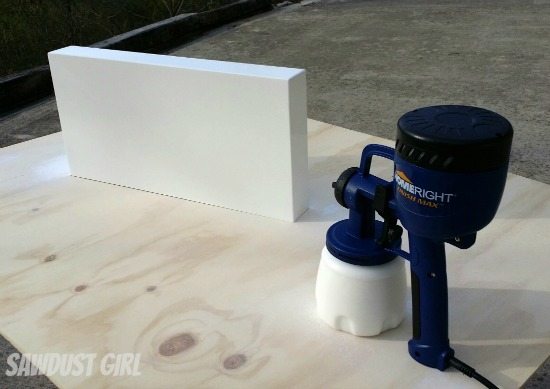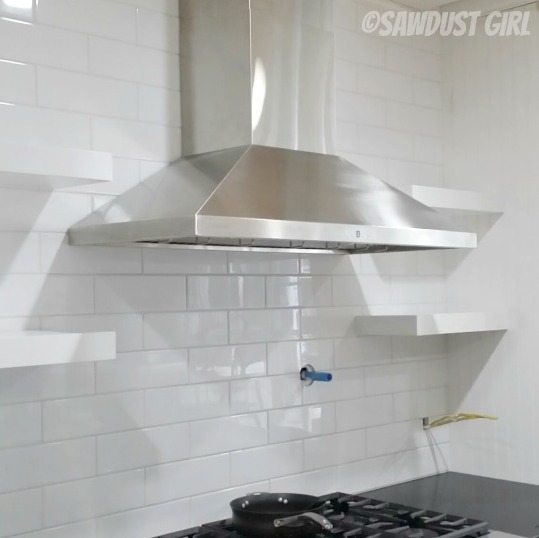 The key to getting a good finish is to follow the instruction manual's viscosity chart and make sure the material you are using is thinned down properly. Simply run your paint through a little funnel that is provided and time how long it takes for it to run out. EASY. Then, fill your cup, and test your technique on some scrap wood before you dive into your project.
I have to say, I found that the paint cup lasted for quite a long time when working on the detail work, and the fears I had about having to go fill it up constantly were unfounded. The paint cup was perfect!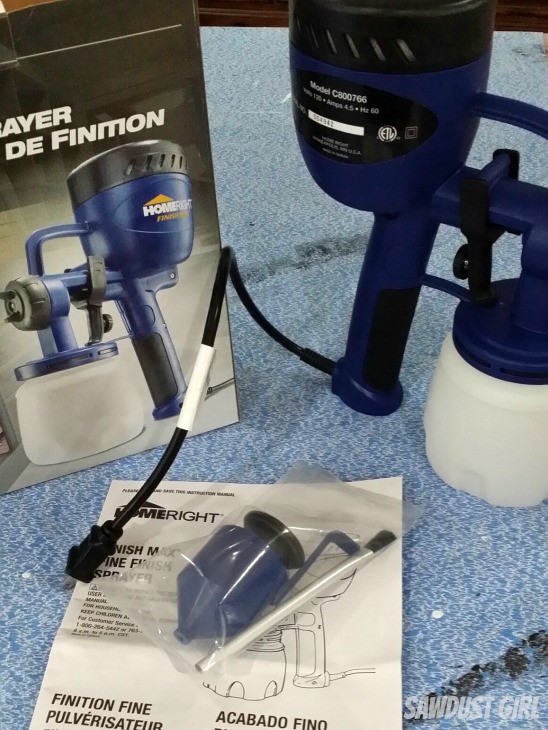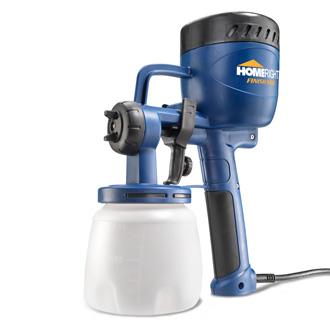 I actually tried this sprayer out a couple years ago when I was searching for my large paint sprayer and was not able to get a good finish, but I was having issues with my paint and couldn't make a judgment on the sprayer until I had given it another try.  This time I made sure to thin my paint properly, mix it well, and strain it before adding it to the cup.  So, my conclusion on my first trial with the HomeRight Finish Max Fine Finish Sprayer is that is was user error.  What can I say? All in all, the HomeRight FinishMax is a great little paint sprayer, perfect for the projects my larger sprayer can't handle. This little guy is precise, powerful, and quite honestly, pretty awesome!
Disclosure: I received this product free of charge to try out with NO obligation or compensation to share my experience with you. You know how particular I am about sharing products — and I give the FinishMax two thumbs up and wanted to share that with you. All words and opinions expressed in this post are all my own.