If you missed my last post…long story short: I'm giving myself 6 months to FINISH all of my unfinished projects! It's a tight deadline– but occasionally I leave my house for a few days to go learn about new tools or products. Part of what I do as a "Pro Remodeler" blogger/YouTuber is learn about new innovations in the home renovation industry.  Then share that with you.  You're welcome.  🙂  This post is sponsored by National Gypsum PURPLE XP® Drywall.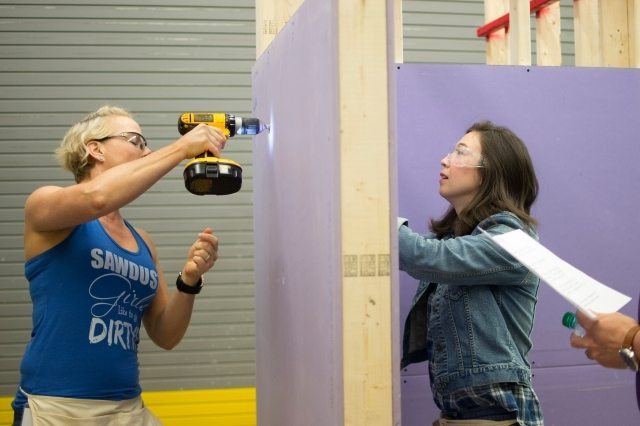 Think all drywall is the same?  I did too — until I went with a group of 5 bloggers to National Gypsum's headquarters in Charlotte, NC  a couple weeks ago.  I learned all about PURPLE XP® Drywall and DANG, I wish I would have known what I know now, BEFORE I started drywalling my Jack and Jill Bathroom!
But I didn't…so I just have to deal with the fact that I used regular ole' greenboard and drywall in the bathroom and I'll use the good stuff on my next project.  Speaking of next projects…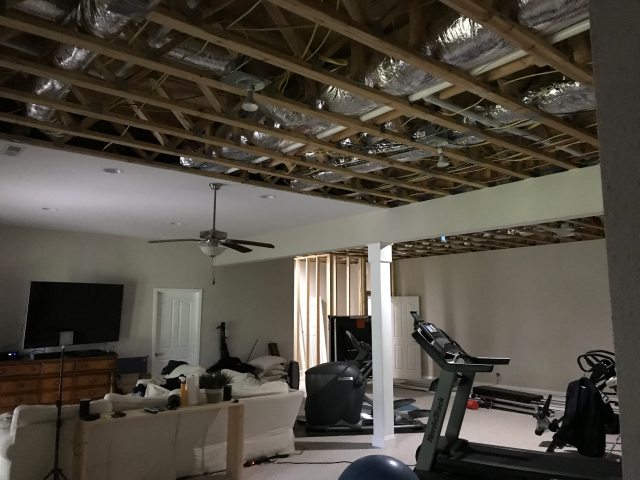 The basement ceiling has been open for the last two years… three years …ever since I did the kitchen renovation.  (Which is also, still unfinished.)  Why?  Because I can't close up the ceiling until I move the gas line for the fireplace in the living room which I'm going to move.  Because I HATE that gigantic corner fireplace!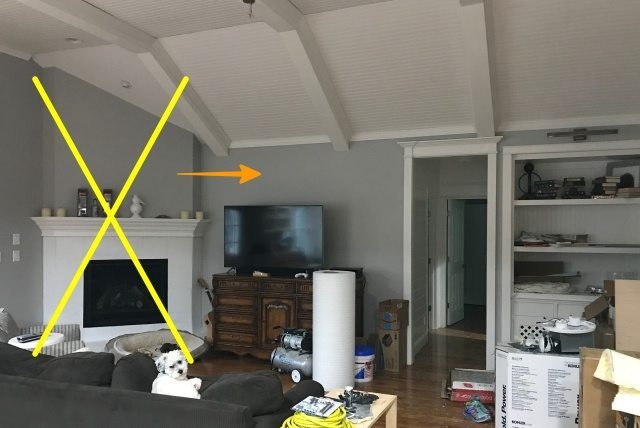 So, since I have to finish the basement ceiling I also HAVE to move the fireplace as part of my 6 month plan!  Move the fireplace and cover that basement ceiling up with PURPLE SoundBreak XP® Drywall! Because Wes works out a 5:30 am and always has the tv blasting so he can hear it over the workout machines. All that noise just floats up through to the main floor where I'm still trying to sleep.  I don't like waking up at 5:30 am.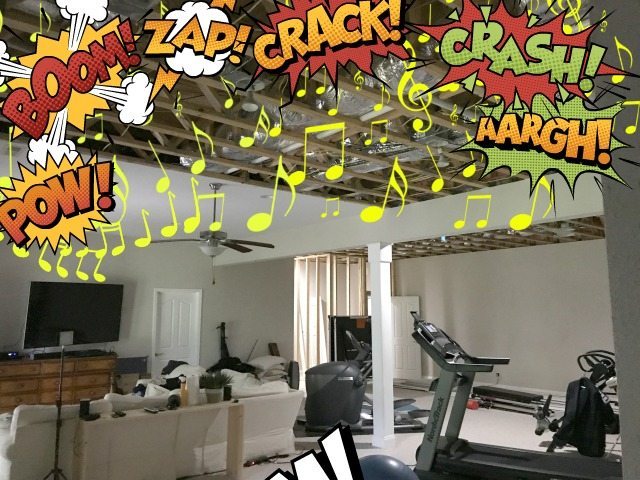 PURPLE SoundBreak XP® is one of the products I learned about.  It has a viscoelastic damping polymer sandwiched between two pieces of high density, mold resistant gypsum board.  It reduces the sound levels from other adjacent rooms by about half or more!  I'm so excited for those days of sweet, sweet quiet sleepy time.
After my visit with National Gypsum, I'm actually pretty excited about the entire line of PURPLE XP® drywall.  Because, as I now know, all drywall is NOT the same!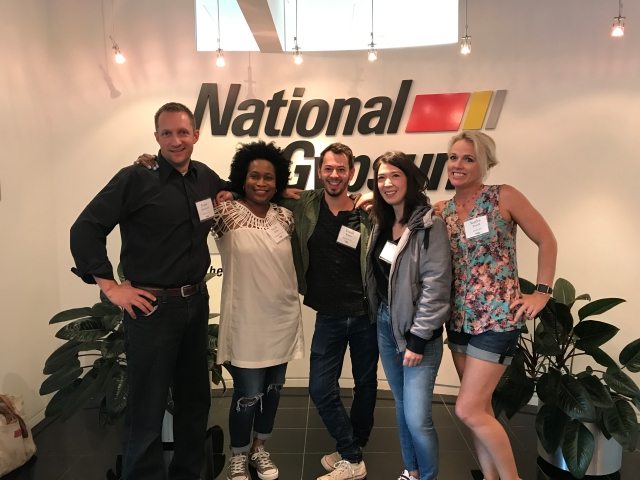 PURPLE XP® Drywall
Drywall is the 'street' name for the sheet of natural or synthetic gypsum covered in paper that is used for interior walls and ceilings in most homes. I thought that "drywall is drywall" and there's not much variety. Hate to break it to me, but there actually is.  Well, there is with PURPLE XP® anyway.
There are four different kinds of PURPLE XP® Drywall:
PURPLE XP®
PURPLE Hi-Abuse XP®
PURPLE Hi-Impact XP®
PURPLE SoundBreak XP®
They ALL have moisture/mold/mildew resistance on BOTH sides of the drywall.  Normal drywall is sandwiched in paper.  Greenboard only has moisture/mildew protection on one side and regular paper on the other. That's one of the big reasons I wish I would have known about this stuff before I replaced my bathroom ceiling because it was all moldy from the leaky vent stack in the roof.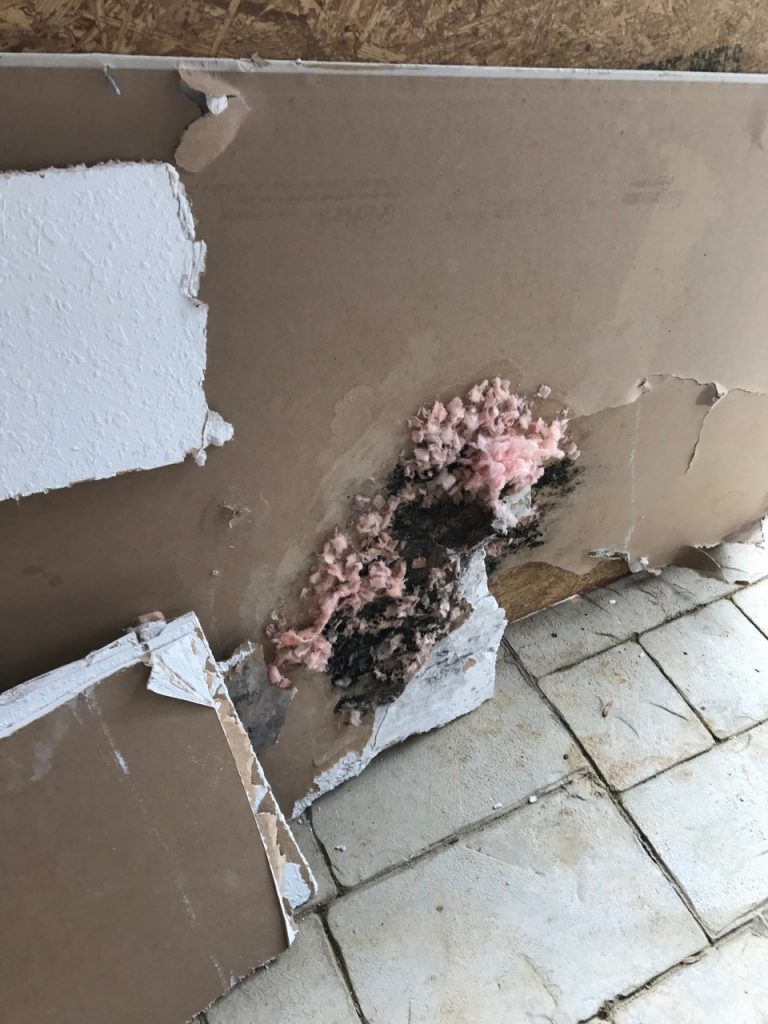 Obviously you have to fix the problem if you have a leak.  However, my vent stack only leaked during torrential downpours — so not very often.  I don't know for sure, but I suspect that if this was PURPLE XP® instead of regular paper backed drywall, this would not have happened.  I think the occasional water would have dried up if this were PURPLE XP®.
XP® stands for "Extra Protection".  All PURPLE XP® products are mildew, moisture and mold resistant on both sides.  It is made of natural and synthetic gypsum and made in the USA!  Made in 1/2″ and 5/8″ thickness and cuts just like regular drywall.  It comes in standard 4×8 and 4×12 sheets but can be ordered in other lengths.
PURPLE Hi-Abuse XP® Drywall
The PURPLE Hi-Abuse XP® is scratch, scrape, and scruff resistant. It's a little more heavy duty than the general PURPLE XP® board.  Great for areas that get scuffed and scraped against.  (Below is a repetitive scrape test performed against PURPLE Hi-Abuse XP® and regular drywall.  Look at the difference!  Same machine.  Same test.  Different results!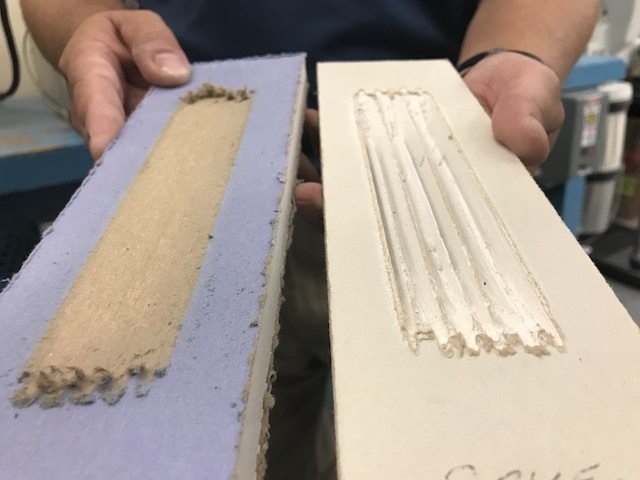 PURPLE Hi-Impact XP® Drywall
Now, if you've really got some heavy stuff flying around, you probably need the PURPLE Hi-Impact XP® Drywall.  This has got everything the PURPLE Hi-Abuse XP® has, but in addition, it's penetration resistant from things like cars, furniture, fists….
It has a fiberglass mesh on the back side which gives it the added strength.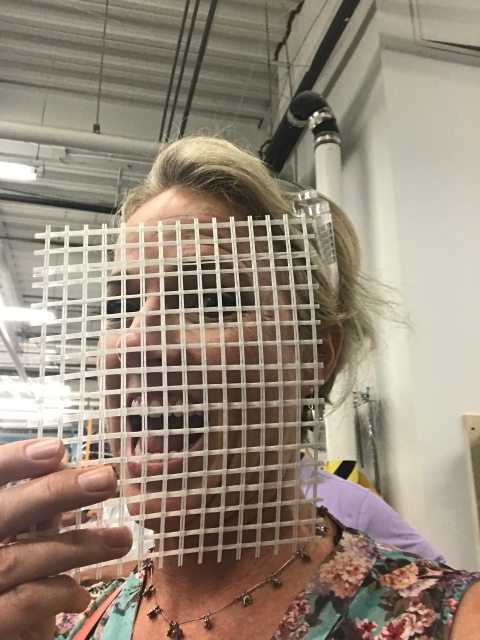 We all tried our best to bash a hole in this stuff.  All we could do was dent it.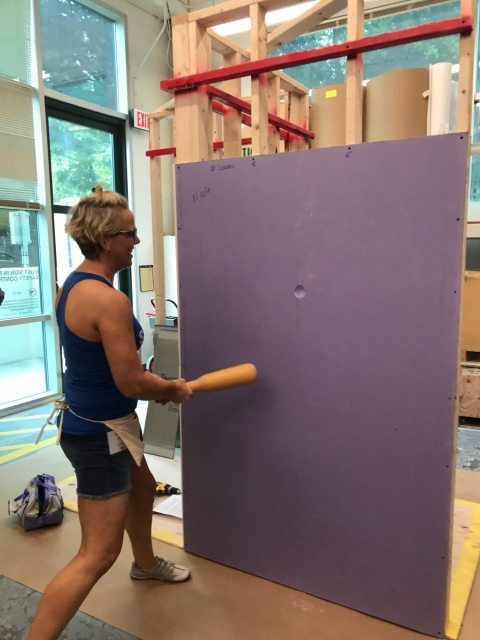 I posted on Instagram and Facebook and was asked, "where would you install the PURPLE Hi-Impact XP® Drywall"?  Well, I would personally install it in all my stairwells.
(This is how Wes repaired the drywall after I slid a box of flooring down the stairs and told him I wasn't going to repair it right that second because I still have to skim coat that whole wall at some point.)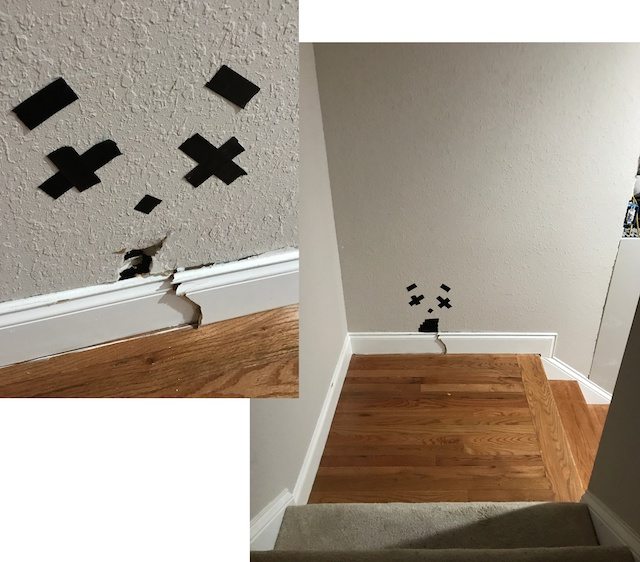 It also makes sense to put it in: garages, workshops, playrooms, home gyms, entries… and other areas where the walls get hit often.
It's a lot easier to repair a dent than it is to repair a big hole.  This is a piece of PURPLE Hi-Impact XP® Drywall that was slammed into with a a bajillion hundred pounds by a big hydraulic hammer thingamajig.  (Technical gypsum board jargon.)
That's all the damage a bajillion hundred pounds did on this piece of drywall.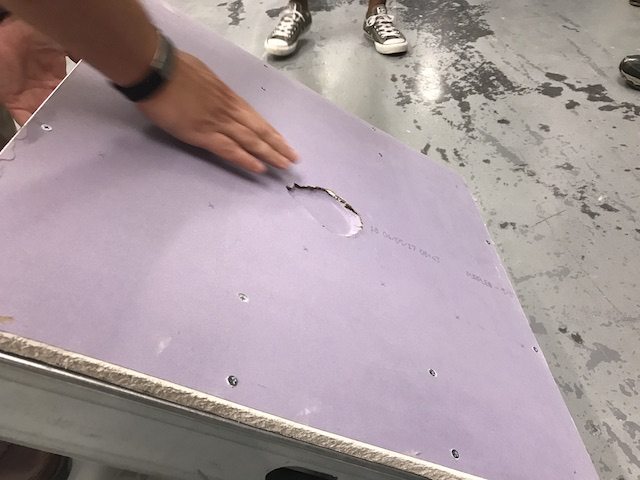 While you're looking at this close-up, take a look at those little x's.  That's the GridMarx! Another awesome thing that is unique to PURPLE XP® drywall.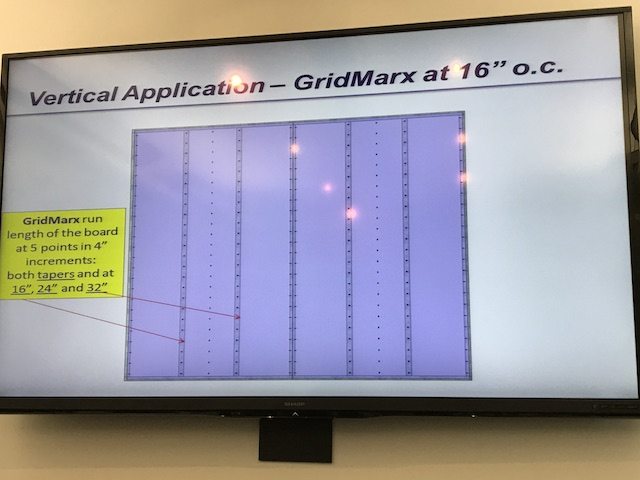 No more using a straight edge to mark a line to follow while driving screws.  Thank you!
The hydraulic thingamajig caused a little more damage than we did with the baseball bat.  As part of our tour, we had little contest.   We each had a "room" in which to perform several drywall related tasks which included patching a hole/dent.  Before we started, we all took turns making the biggest dent we could in another competitor's wall.  (We tried for holes but no luck in the PURPLE Hi-Impact XP® Drywall.)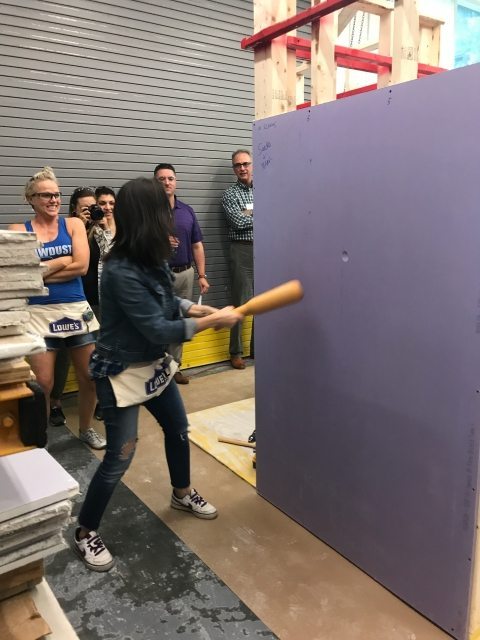 Look how happy I look that Kim didn't cause too much damage!
PURPLE XP® Drywall DIY Challenge
We mixed up our joint compound, taped and mudded, drove screws, nailed some cement board…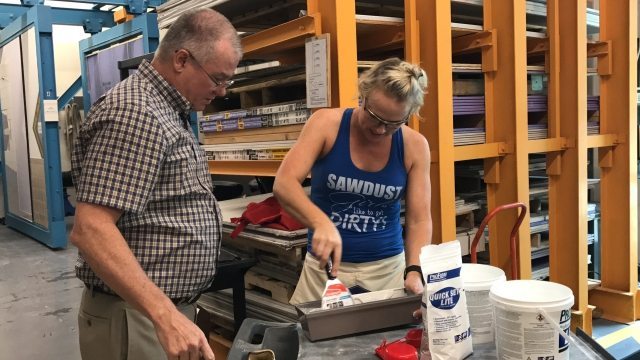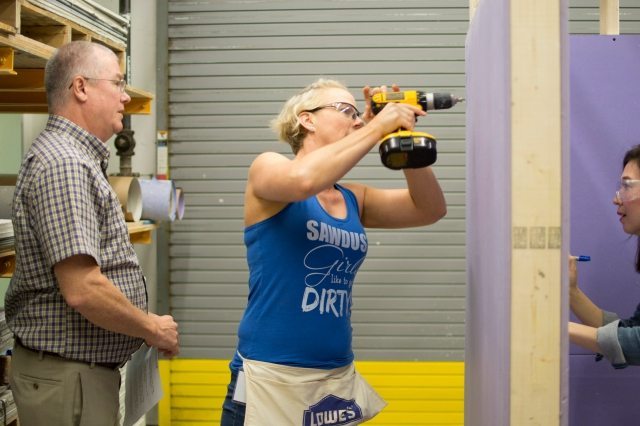 There was a prize for the winner.  It wasn't me.  😀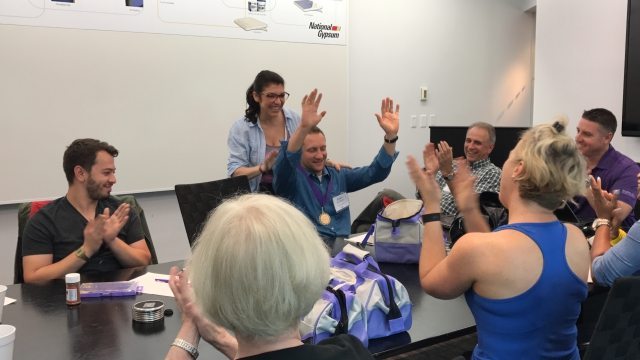 There's a lot more drywall variety than I ever thought possible. I guess that's what happens when you have innovative people working hard to make better things and to make things better.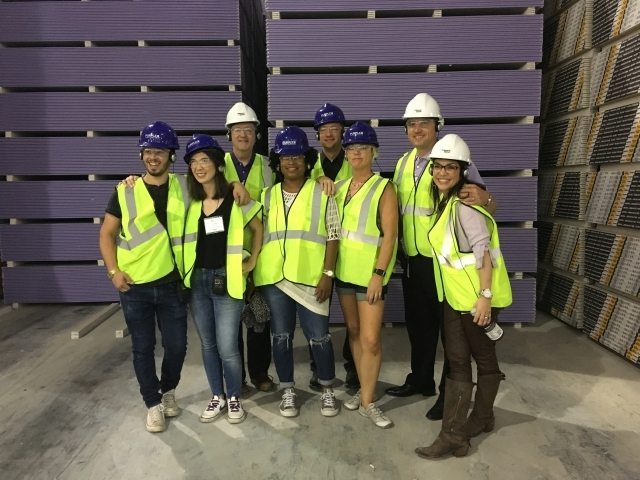 The AskForPURPLE website has a handy Materials calculator to help you figure out how much PURPLE XP® Drywall you need for your project and a "Where to Buy" button so you can find PURPLE XP® drywall near you.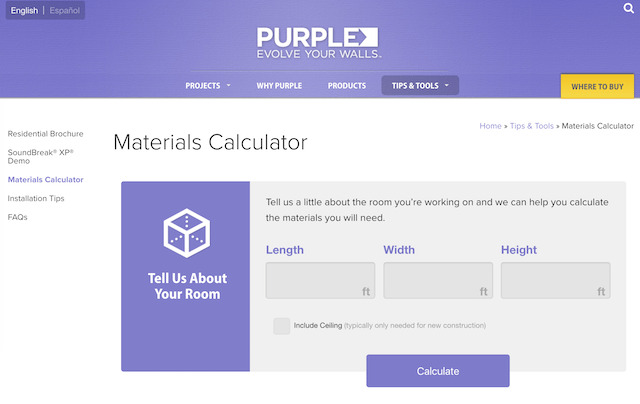 I have to finish the bathroom first and then I'm tearing out that fireplace and then drywalling my basement ceiling!  And then finishing every other single unfinished project in this house.  In 6 months!
Seriously!  Julie's gonna' help!  Wish me luck.
Funny fact before I go:  I parked my demo dumpster (aka "my truck") at the airport during my 2 day trip to NC!