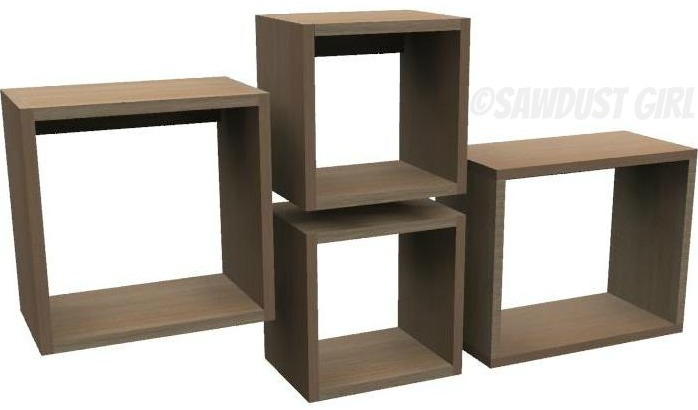 For someone who has never built anything before, taking on a big project can be daunting, so I'm sharing some simple plans today. These hanging box shelves are a good place to start because they give you a chance to experience a lot of the different aspects and techniques that make you a successful builder on a very small scale. You can use scrap 1/2″ plywood if you have it or spend very little on 1/4″ sheet and give it a try. After all, if you can build a box, you can build practically anything!
I've included dimensions for boxes in three sizes. The building instructions are the same for all three.
You can use 3/4″ thick material instead of 1/2″ if you choose, but you'll have to reduce the width of the "wood colored" pieces by 1/2″.
How to Build the Boxes:  
Use wood glue and fasteners to secure the "wood colored" pieces inside the "white colored" pieces.
You can use pocket hole screws, wood screws, or brad nails to experiment with all different methods, but I would use simple brad nails for functional hanging boxes so the fasteners are invisible
12×12 box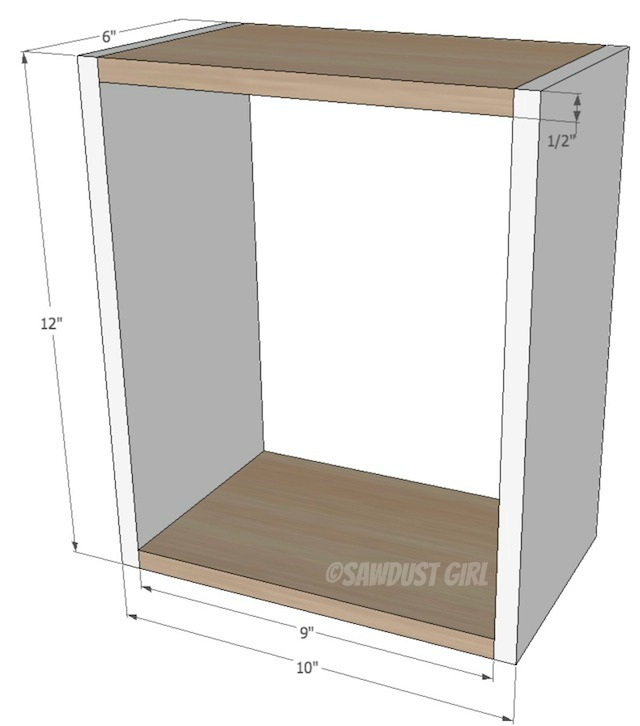 10×10 box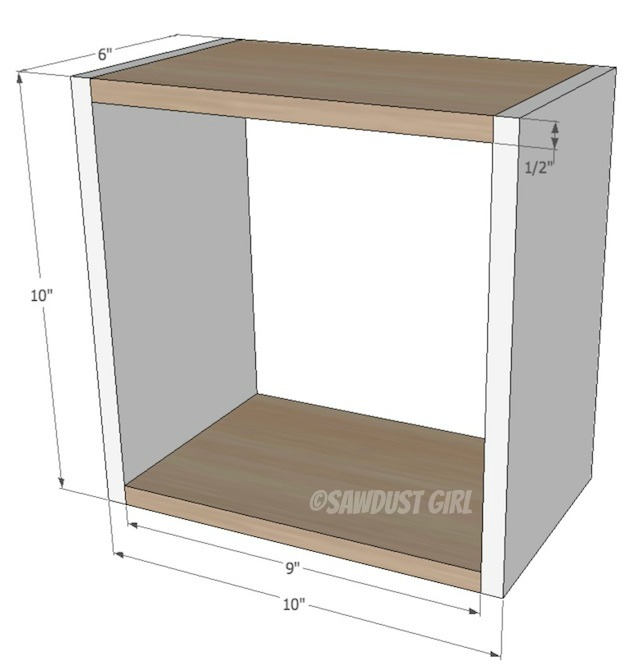 8×8 box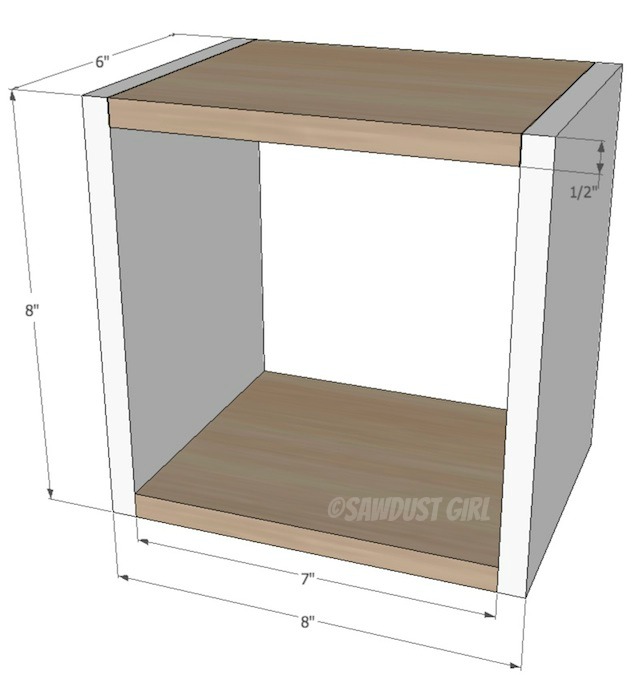 Add the Cleat for Hanging the Box
The cleat is 1/2″ or 3/4″ plywood and fits inside the box at the top
Secure with wood glue an brad nails
This is how the box is secured to the wall. For future reference, in cabinetry, this is the same way base and upper cabinets are secured to the wall.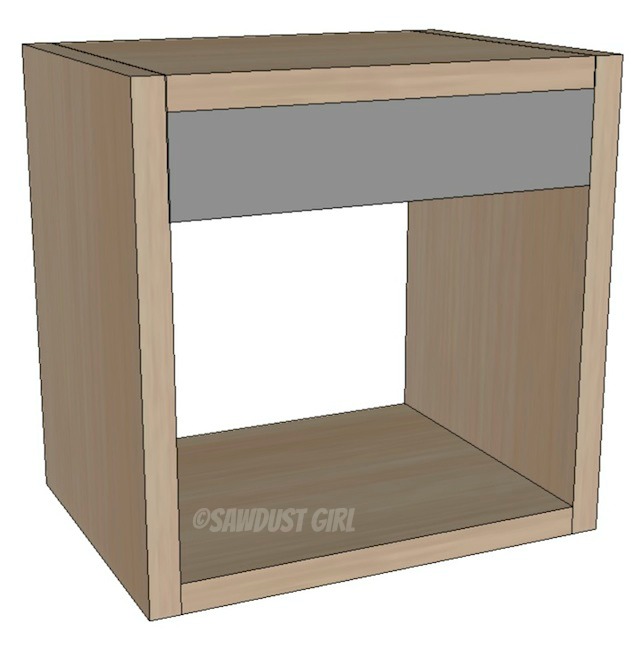 How to Hang the Boxes
Screw right through the cleat into the wall-hopefully hit a stud. 
If no stud is behind where you want to hang it, use drywall anchors. I never waste my time on plastic drywall anchors. I always use the metal, self-drilling ones.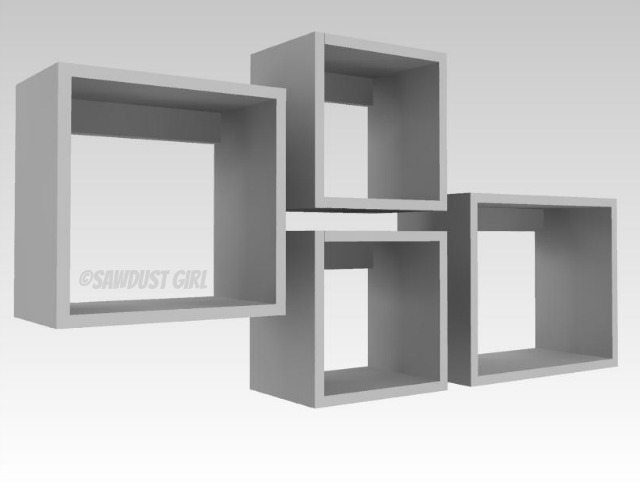 You can build a combination of sizes and cluster them together for a fun storage collection. They would be perfect over the Apothecary Console Table, don't you think?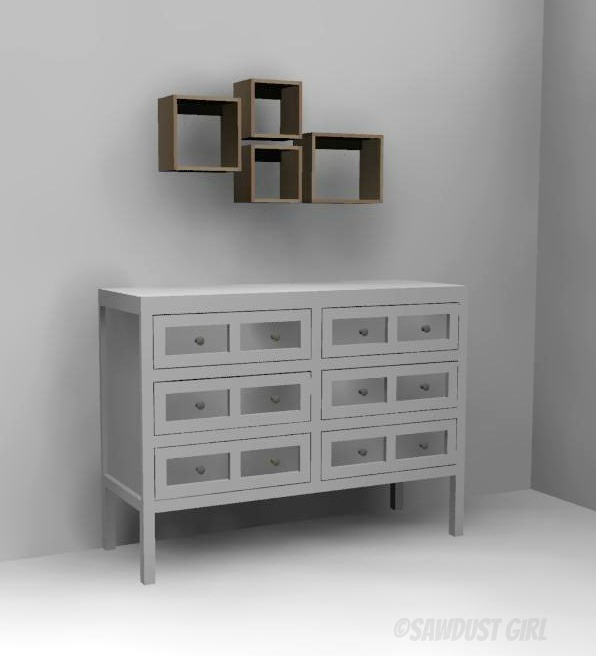 Hopefully, these free hanging storage box shelf plans have helped you on your way to becoming a confident DIY-er. If you are interested in my other free plans, take a look around my blog as I have quite a few! I also have tons of tips and tricks for new builders, as well as design tips. Good luck and good job on your journey of carpentry!