Continuing our demo at Calderwood Cottage!  After tearing down the ceiling and clearing out all the insulation, we spent hours pulling up tack strips and nails and staples and washer headed tacks that they had used to nail down 5 layers of linoleum.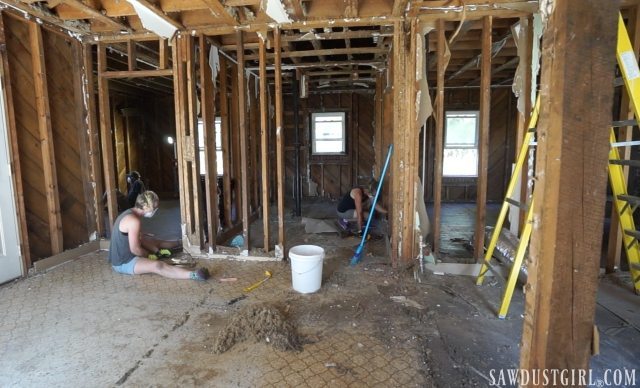 We pulled up layer after layer after layer of nailed, stapled and tacked down linoleum.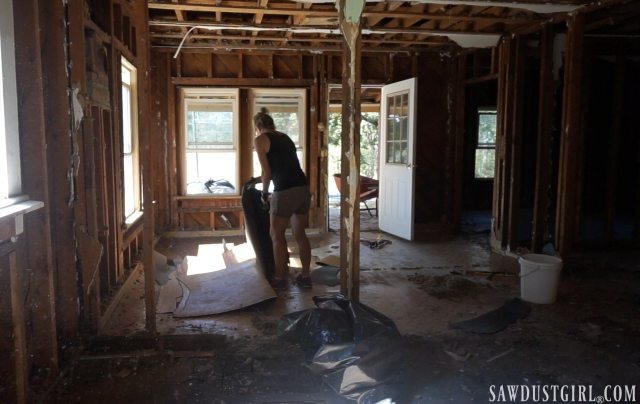 When we first pulled back the carpet, and pulled up a few layers of linoleum, we were excited to find hardwood floors.  However, as we removed more and more linoleum, we just kept finding more and more damage. Plumbing failures, dry rot, termites…this house has seen it's share of problems.  And it seems like every time there was a problem, it was just covered up with another layer of linoleum.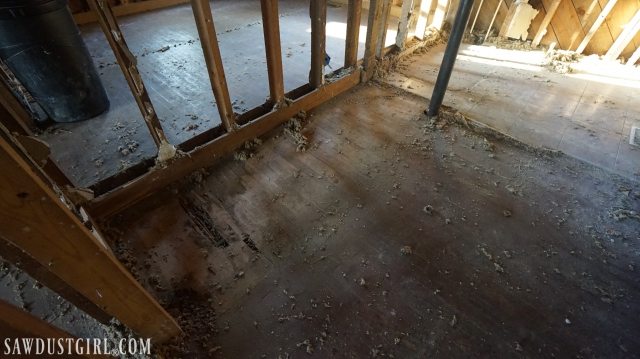 The hardwood floor had previously been removed in the kitchen and replaced with 1/4″ plywood and then 3 layers of linoleum.  The whole kitchen floor was in terrible shape.  It bounced when you walked on it and felt like it would cave in.  Someone had obviously attempted a repair to some kind of problem.  We figured there were some issues to the "structure" below but the crawl space becomes non existent in this area.  We had to remove some of the subfloor to see what we were dealing with.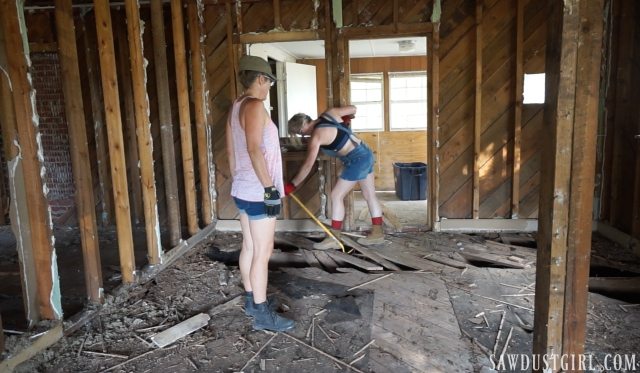 We discovered floor joists that were almost complete eaten away by termites.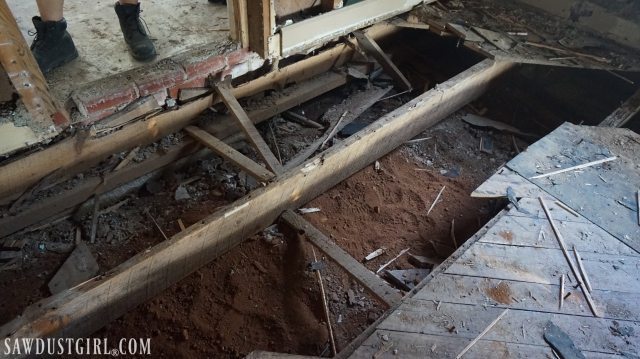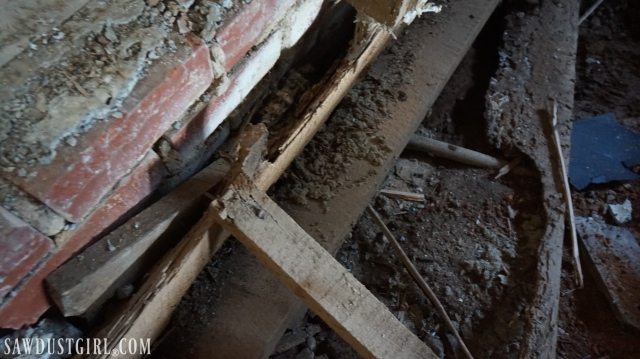 We pulled out more subfloor which revealed more damage…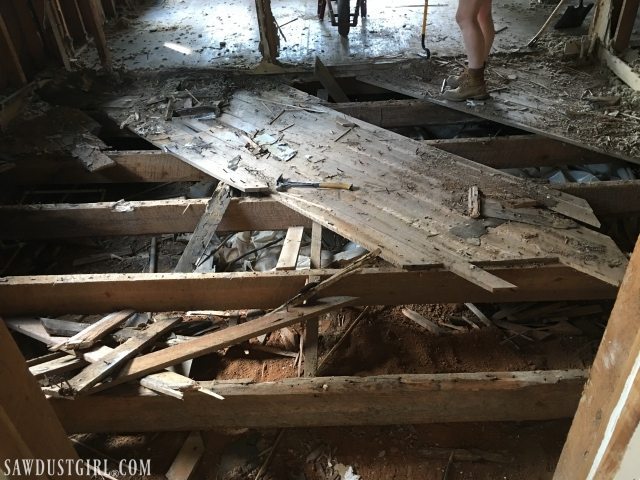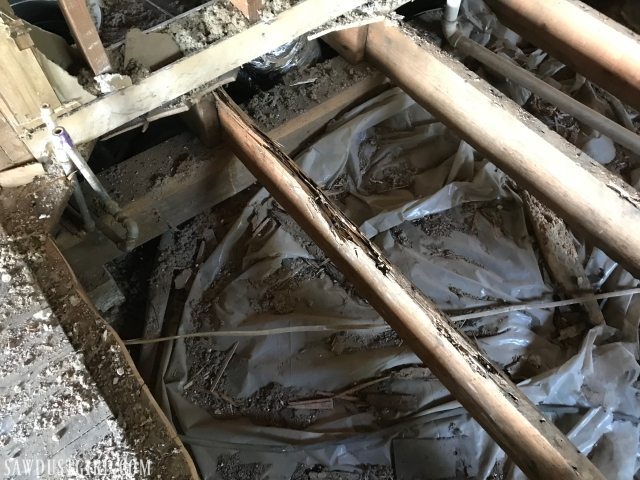 We pulled out ALL of the kitchen subfloor and determined that we needed to replace the floor joists.  Which meant we'd have to remove all the hardwood and subfloor in the adjoining bedroom and the wall that was sitting on those joists.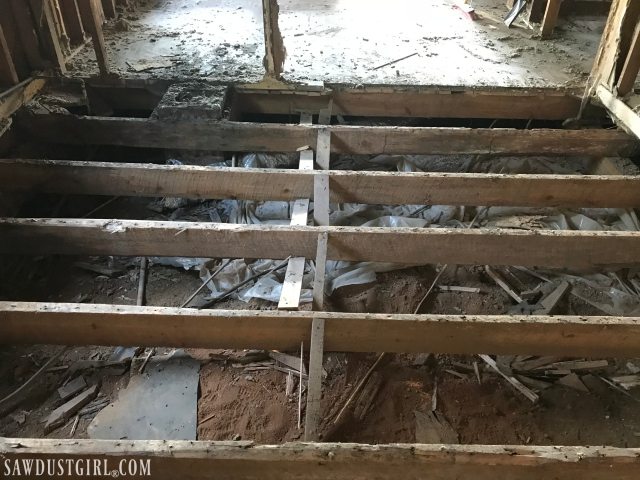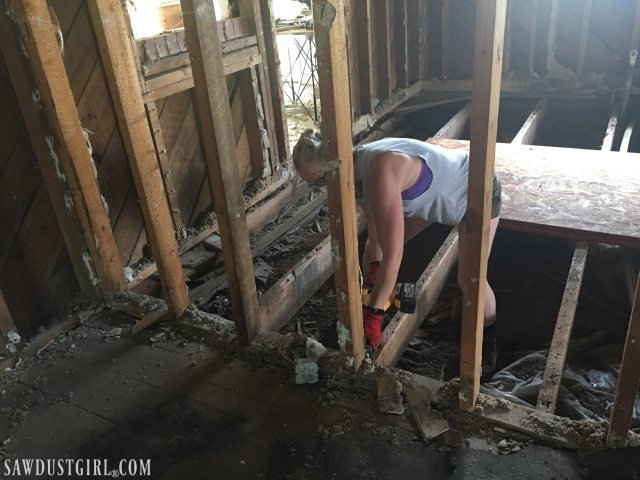 Literally every time we looked at anything, we found more damage.  We were working to hard to stay down for long but there were a few times that we had moments of feeling defeated.
After taking down that wall and pulling up more hardwood, we discovered some gems of true remodeling craftsmanship.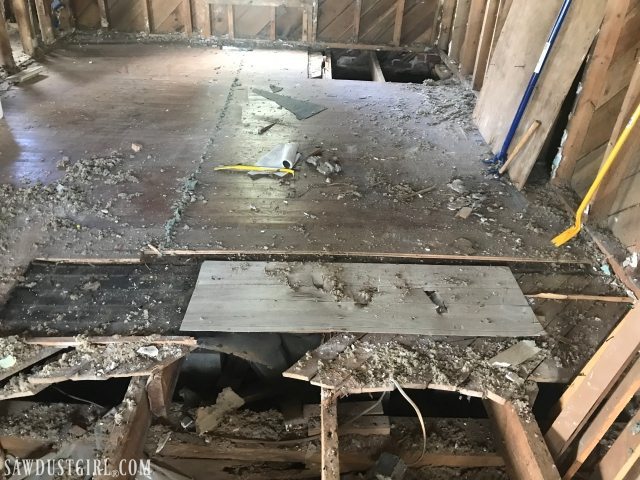 Holes in the subfloor had literally been
patched
 covered up with scraps of wall paneling — which is like 1/8″ thick.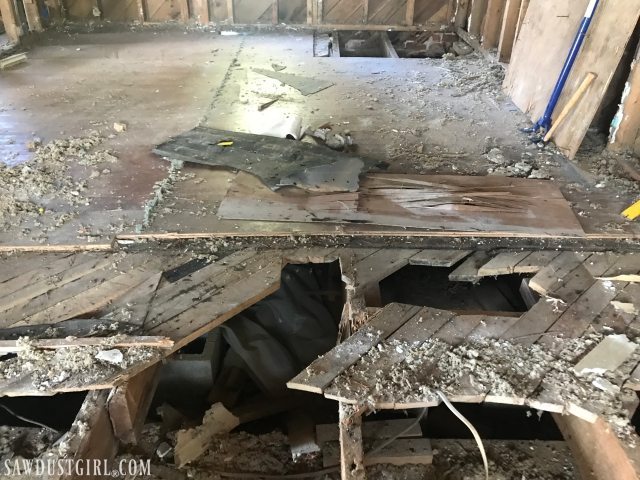 There was a patch over in the corner of the bedroom that was more difficult to pull up.  That patch was actually 3/4″ plywood and secured with 500 nails and screws.  The patch covered up a "repair" to some termite eaten framing. Also, the old subfloor was cut off inches away from the joist so it wasn't actually sitting on anything.  Explaining why it felt like you were going to fall through the floor when you walked in that area.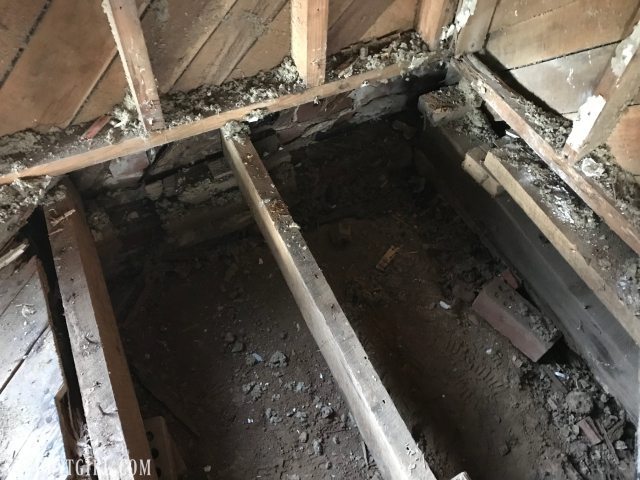 The termite damage really goes deep!  The girder was a true 6×6 with a true 2×6 sitting on top of it.  We're not sure if the 2×6 was always there or if it was put in at some point as a "repair".  We could tell the 6×6 was in bad shape but couldn't tell the extent of it until we cut and removed the 2×6 that was sitting on top of it.  It was BAD.  Those termites really feasted.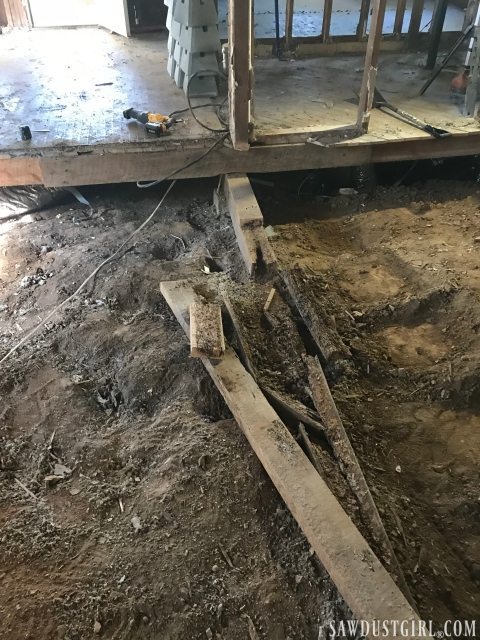 Then water leaks caused dry rot in the bathroom and kitchen.  SO, those hardwood floors we were happy to see?  Pointless excitement since we had to tear it all out.  Pointless.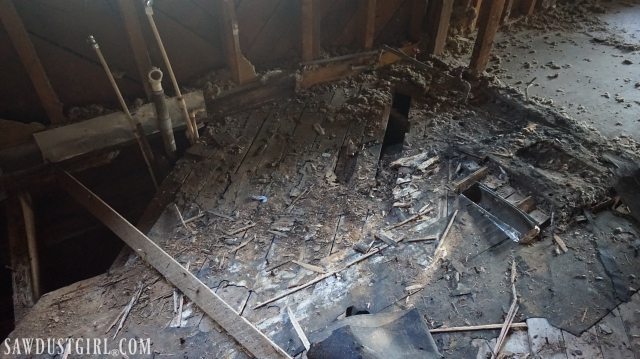 These were a couple very – hard – demo days!  I was so tired after that hard work I could barely drive us home.