"The Day that Didn't"
Yesterday ended after we removed all the drywall from the master bedroom wall.  But see all those electrical boxes?  There are 5!  And all of them have numerous cables running up and down and they all have to be removed before we can move on to the next phase.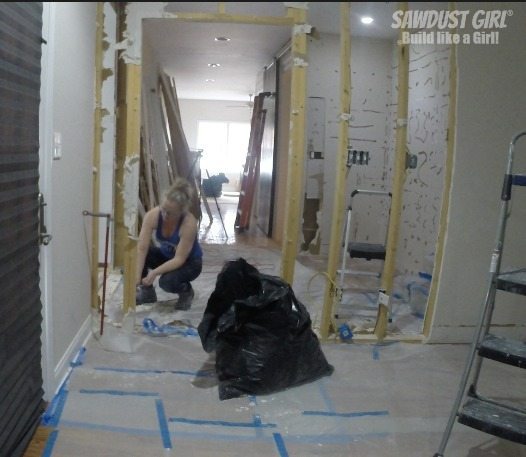 Madison and I spent half the day pulling that electrical wiring up through the floor above us and down through the ceiling below us.  We had access in the basement to pull the wires down because we removed the drywall on the basement ceiling before we started the kitchen reno.    The second floor "whatever room" is above the Master bedroom and there is no access to the wiring between the floors.  So we had to MAKE access!
We pulled up the carpet and cut out some of the subfloor.  That was fun – NOT!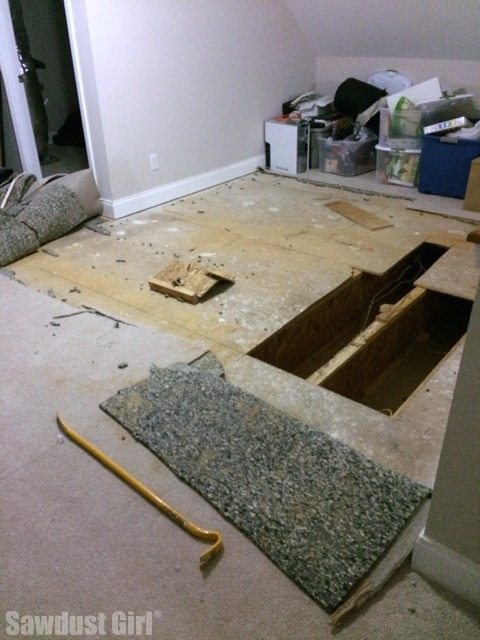 (So that is going to be awesome to deal with some day in the far away future!)
We were able to go and pick up materials today so it felt like we took one step forward!
We got 30 2×4's and 10 sheets of drywall.  I had no idea how much material we were going to need and I didn't want a house full of materials and figured I'd go get more as needed.
What we got was plenty for the two of us to unload though!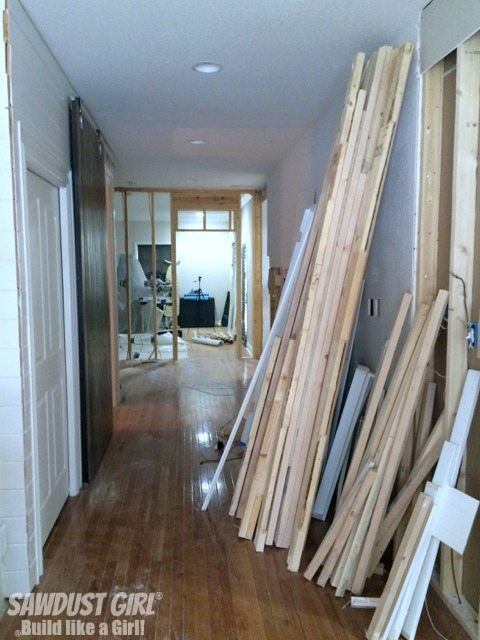 Time to get something built!
YES!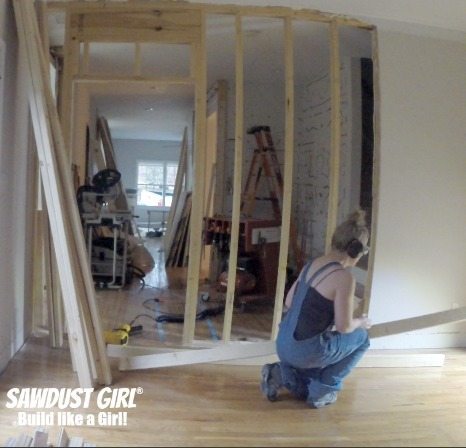 Nope, just kidding.
My framing nailer was jammed!  So Madison and I spent at least an hour taking it apart.  I've never strained so hard trying to loosen 4 bolts!  Stupid nailer doesn't have a quick "unjam my ass" clamp!  I almost went and purchased a new nailer but felt stubborn about fixing that one.
I had to use pliers to remove the nails.  I have no idea HOW those two nails got into that position (criss cross with one upside down).
Then we spent another hour or more putting the nailer back together.  And now it works!
And that is what we accomplished today.
There's gonna' be days!
AND WE ONLY HAVE 2 MORE!!!!!
holy crap