DIY wall decor art idea from an upcycled headboard. This is a fun, inexpensive, easy DIY that adds architectural interest to any room.

Maddison's bed turned out fabulous; and the added posters defined a large wall space that was a perfect opportunity for some overscale DIY wall decor. We wanted to create something sculptural that would tie in to the color and style of the bed.  We really liked the idea of a pair of angel wings and were brainstorming ways to create them when we found this headboard at Restore. Not exactly angel wings, but the shape is referential and it has great architectural bones; and for $20, it was the perfect starting point for our DIY wall art.
DIY Wall Decor Supply List:
Old Headboard
Fusion Mineral Paint (Chnmpness blue, Buttermilk Cream, and the Bronze metallic)
Dark Stain
Wax (paint resist and finish)
Keyhole hangers
Sawzall or jigsaw
Sand paper
Let me start by reassuring you that we did not destroy an antique mahogany Chippendale headboard. This was a sad 1970's reproduction made of  photo laminated MDF, and we kept the turned posts for another project.
Step 1: Cut
Cut off the posts and legs.  Cut the bottom to achieve desired height.  Because we wanted the piece to reference angel wings, we rounded the ends to reflect the curve of a shoulder. In order to compensate for the poor material (MDF), we created a handcrafted edge detail on all of the cut edges. This was achieved by wiggling the saw blade along the edges. The edge detail added a pretty bespoke touch, especially when painted with the metallic paint.
Step 2: Paint
Lightly sand and clean with mineral spirits and it's ready for the fun part- painting.  All of the paints and wax we used were from Fusion Mineral, which is my new fav specialty paint! It goes on really smooth, and the coverage and hide are great, it dries very flat – no brush stokes, and it sands beautifully. The wax goes on smooth and even and buffs to a perfect luster.
I started by painting patches of the same Champness blue chalk paint that we used on the bed. Then I rubbed a dark stain along the edges and over any exposed MDF and let that dry completely. Next I rubbed wax as a paint resist over areas that I wanted to show through the next layer of paint and then painted over the entire piece with the Buttermilk Cream chalk paint. I wanted this layer to be thick and gloppy with lots of brush strokes and drips. I even threw a little dirt on some areas for good measure. The idea is create the look of years and years of paint and repaint, use and abuse so it looks 100+ years old.
Once this layer of paint was dry I scraped and sanded and then went back and repeated the process until I achieve the balance I was looking for. Then I used the Fusion Mineral Metallic glaze to highlight the edge detail and some of the molding edges. The metallic glaze added a lovely sparkle and glamour to the piece, it doesn't show well in the photos, but in person the sparkle is really glam.
Step 3: Finish
Once I was happy with the overall look of the paint, I wiped the finishing wax over the entire piece and buffed to a soft sheen. This wax seals and protects the piece and gives it a lovely hand rubbed luster. Lastly I added keyhole hangers to the back–this art piece weighs about 10-15 pounds and I don't want it coming down on Madison's head while she is sleeping!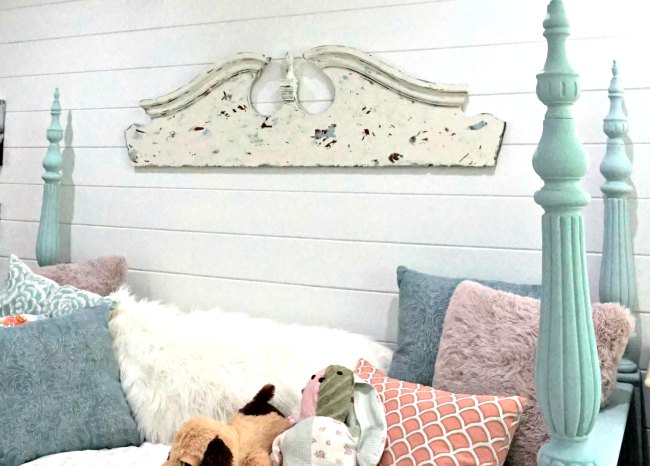 This wall decor art idea turned out so beautiful! It is fills the space perfectly and gives Madison her very own Angel wings to dream under.