Recovering from my sewer saga will require a LOT of drywall installation and after my current issues and the moldy drywall I found in my Jack and Jill Bathroom from a leaky vent stack I'm really glad to be installing PURPLE XP® Drywall!  Unlike traditional drywall, PURPLE XP® uses a thick moisture, mold and mildew resistant paper on BOTH sides of the gypsum sheet.
This post is sponsored by National Gypsum PURPLE XP®Drywall.  #AskForPURPLE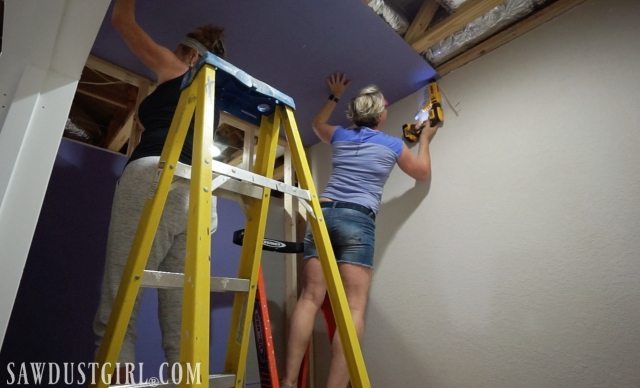 Even though I'm not ready to take on a whole renovation of the sewer zone right now, I do need to deal with some of the chaos it has created.
Since I hauled EVERYTHING out of that bedroom and closet so I could demo, the rest of the basement is an unusable mess. We hauled a full truckload to Habitat ReStore and gave away a bunch of big items to friends that just bought their first house.  But we still have a lot that needs to be stored.  The main basement area is where we work out and watch tv — and we can barely get to the machines or sofa right now.
So, right now I'm going to FINISH a basement storage closet (that got framed about 3 years ago) and put things away.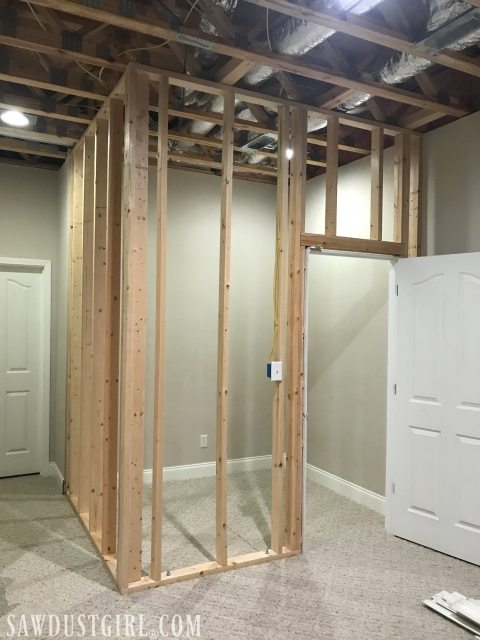 Now, this may seem like an unimportant project in the face of the chaos that my entire house has become.  (Literally every single room except Madison's new bedroom is now under construction in some way!)
BUT, it needs to happen!
It needs to happen so I can have a win.

I so need a win right now!

It needs to happen so we can store the crap in the basement.
It needs to happen so I can store the crap in the garage that I need to move so I can USE my workshop …so I can build drawers…so I can finish the Jack and Jill Bathroom!

I SO want to finish the Jack and Jill bathroom which is what I was SO CLOSE to finishing before my whole entire life got flooded with poopy sewer problems.
So it's happening!  The first step to finishing this closet is installing PURPLE XP® Drywall.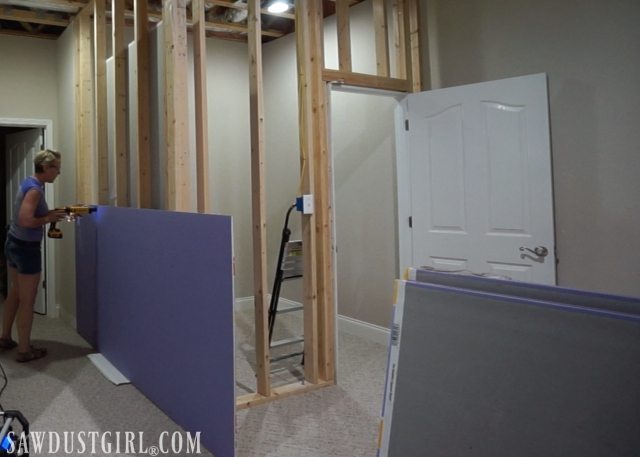 I was able to most of the installation by myself but needed an extra set of hands here and there.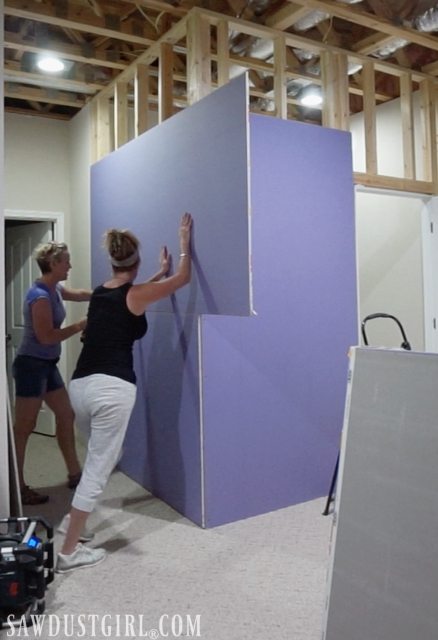 Penny bravely volunteered to help me get the 5/8″ thick PURPLE XP® Drywall installed on the closet ceiling.  5/8″ drywall is a lot heavier than 1/2″ and ceilings are a lot harder to install than walls.  Just sayin'.
This closet is only about 7'x7′ so it only took two sheets of drywall.  Thank goodness because I think a third time through our process would and my arms would have completely given out.  But we made it through two.
Installing PURPLE XP Drywall on the ceiling
First we lifted one sheet of drywall up and propped it on a ladder.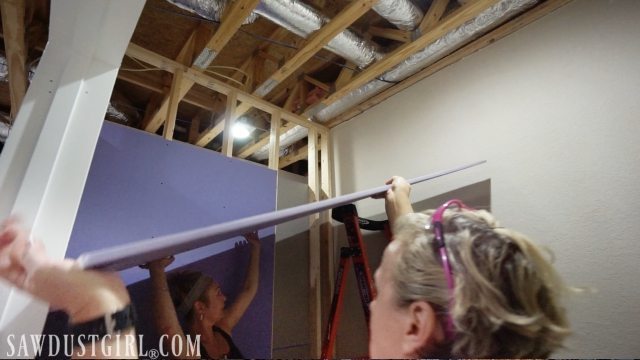 Then Penny climbed her ladder and we pushed the drywall up so it was propping on her ladder (which was taller).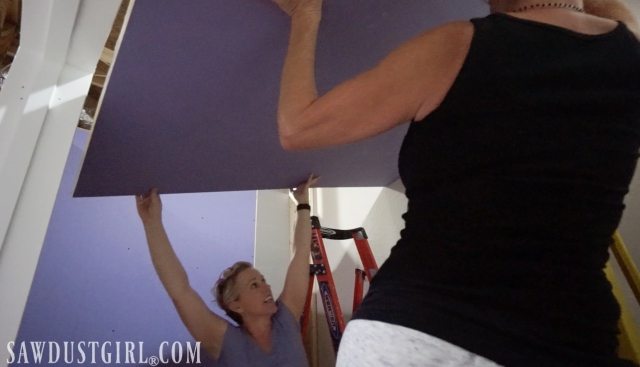 Then I climbed my ladder and we lifted the drywall into place.
Then I held the sheet of drywall in place above my head while Penny climbed down and moved her ladder so she had better leverage so she could hold it while I secured it with screws.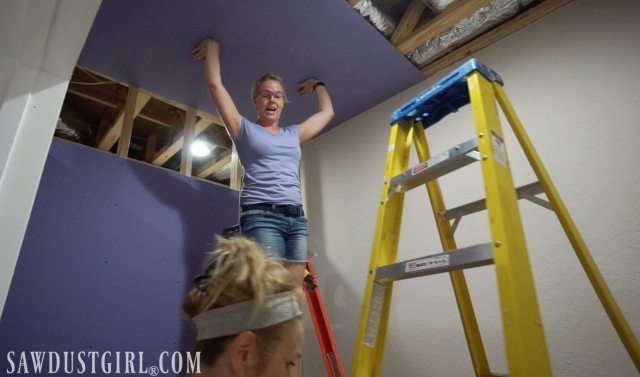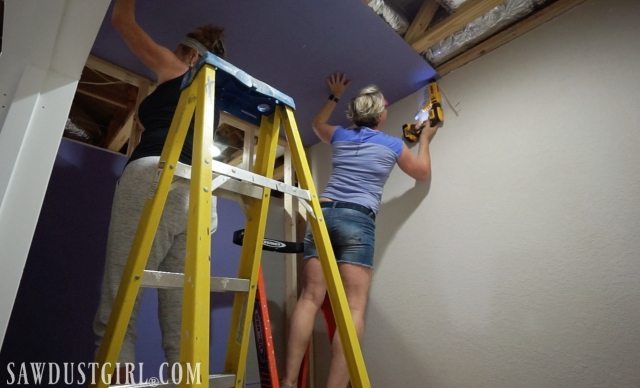 After finishing that task I had to go rest my arms for a few minutes before proceeding.  I'm not kidding, my arms were sooo tired.  But I was SUPER happy that we did it!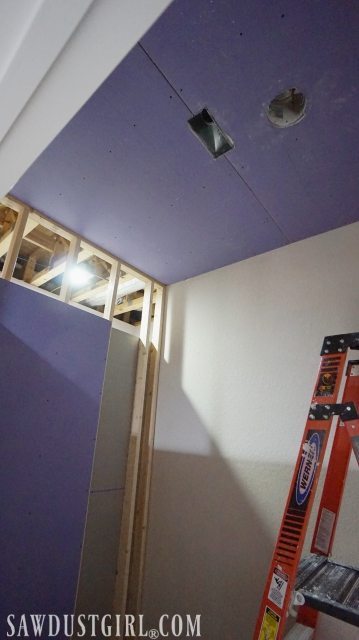 I finished installing the rest of the drywall by myself.  Listening to music.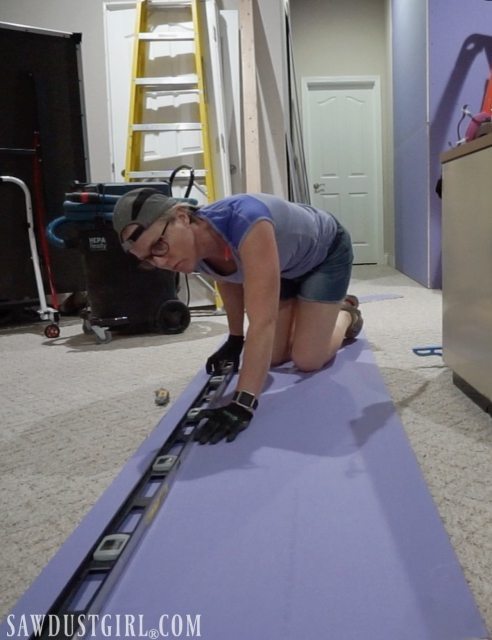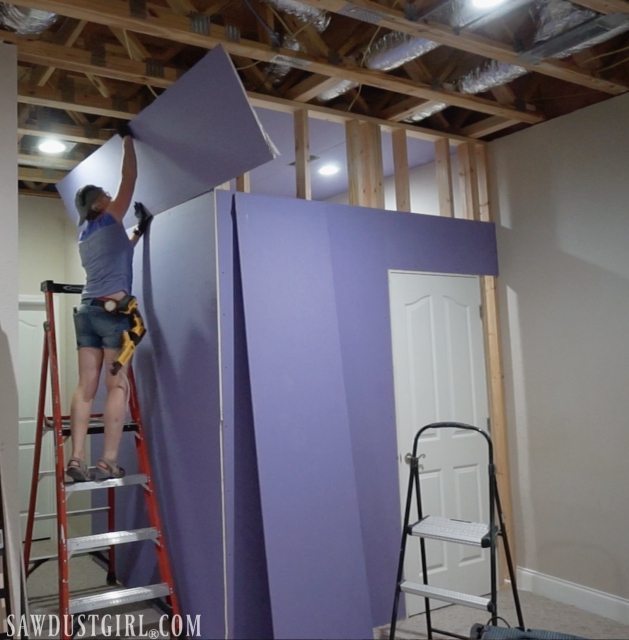 It all went smoothly and I'm really feeling like this project is going to be the big win that I really really need.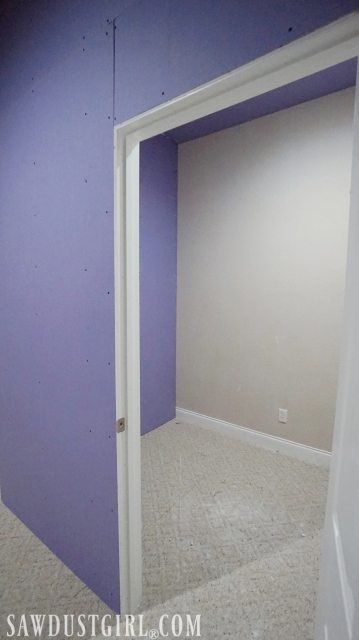 It's my big PURPLE box.  My own special TARDIS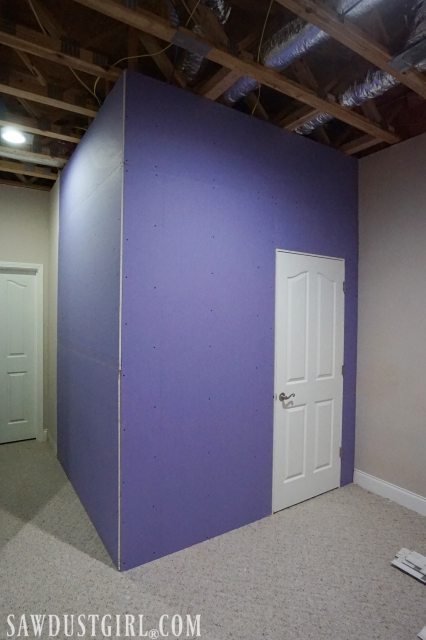 I'm REALLY bad at predicting project timelines — but I set goals.  Generally they are unrealistic and I miss them hard.  But I still set them because lofty goals motivate me to knock things out!  I'm competitive.  Even if I'm only competing with myself.
I set a goal to install drywall and finish mudding this closet before the end of the day.  I started mudding at 10pm.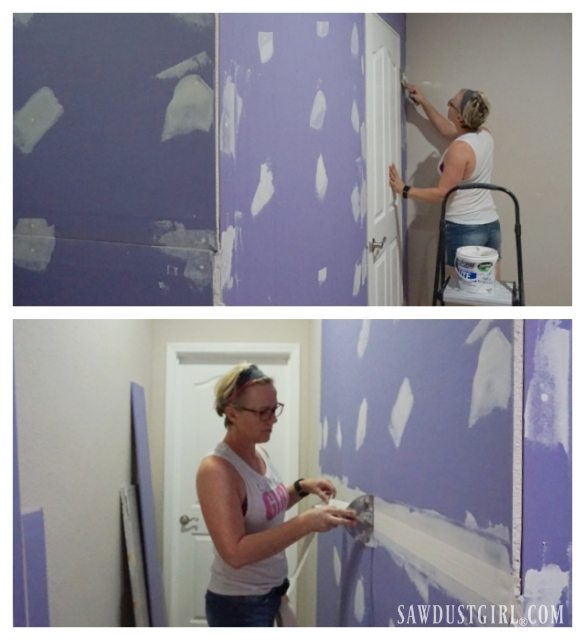 I'm mudding with ProForm® XP® Ready Mix with Dust-Tech®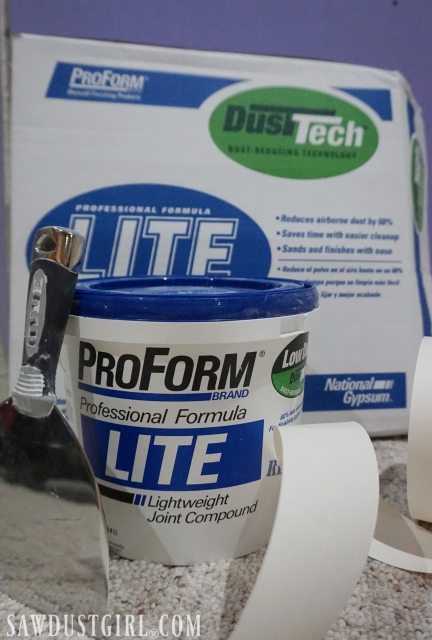 It's formulated to fall straight to the ground when sanded.  Even if you use a vacuum attachment when sanding joint compound, this technology will help keep the air quality better.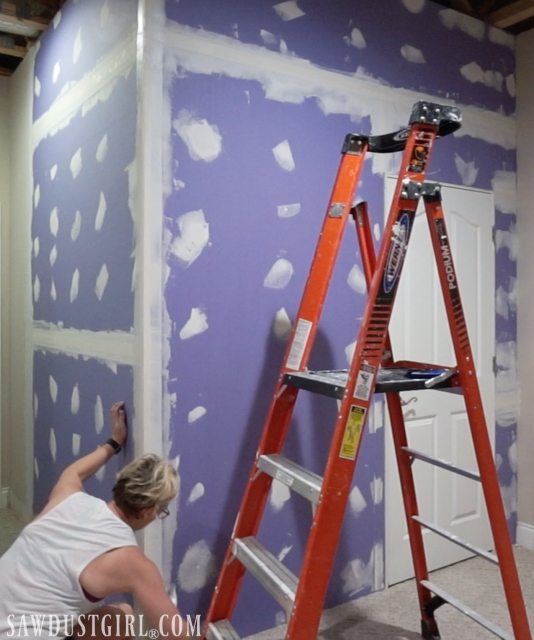 Mudding went surprisingly fast and I finished before midnight!  It needs another coat but my goal to finish only included the first coat.  So that's a win!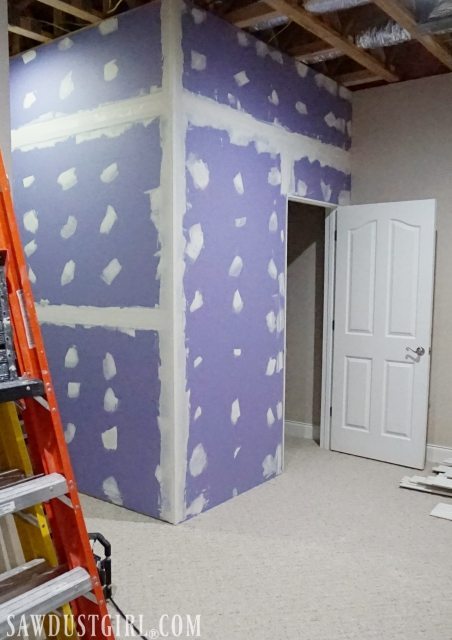 It felt like a win.  And now you have a chance to win something too.
National Gypsum PURPLE XP®Drywall   is giving away this fully stocked purple tool bag AND a $100 Visa gift card.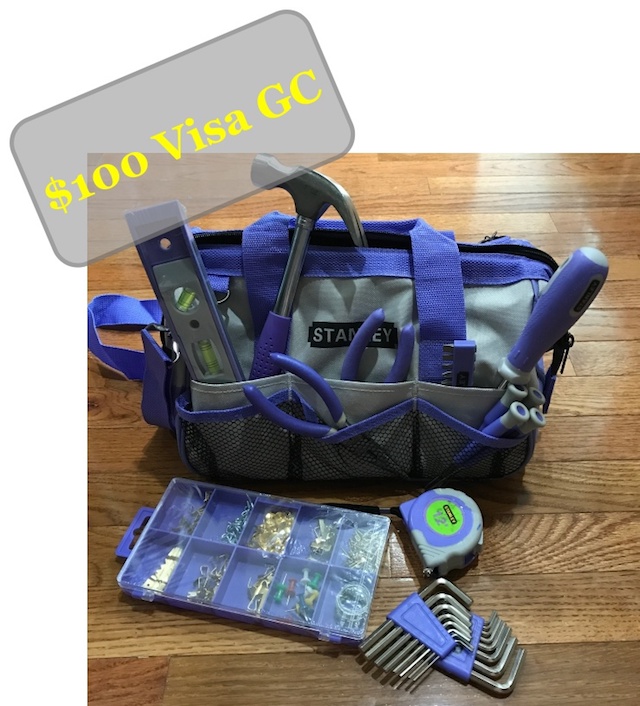 Enter through the Rafflecopter box below AND leave a comment on THIS blog post to enter.
There will be one (1) winner.
Giveaway ends at midnight (ET) Thursday, September 7.