I've installed a picture ledge and some lights and now my studio "feature wall" is complete!  It's a small success but I like to celebrate achievement – regardless of size.  I built and finished the picture ledge to look like an old, reclaimed beam and I love it against the 
brick and plaster wall
 backdrop.  I actually built two but when it came time to install, I decided only one would fit.  Maybe I'll find a spot somewhere for the extra one but each picture ledge only cost me $8 in materials so I won't mind if all it does is sit in my scrap pile until I find another use for it. My picture ledge is 72″ long and made of one 2×4 and three 1×4 furring strips. The lights are the
Academy task swing-arm sconce
 in antique brushed nickel from Restoration Hardware Baby & Child.  RH has almost exactly the same lights fin different finishes for an additional $159.  The RH Baby&Child site had the finish I wanted and cost less so it wasn't hard to choose.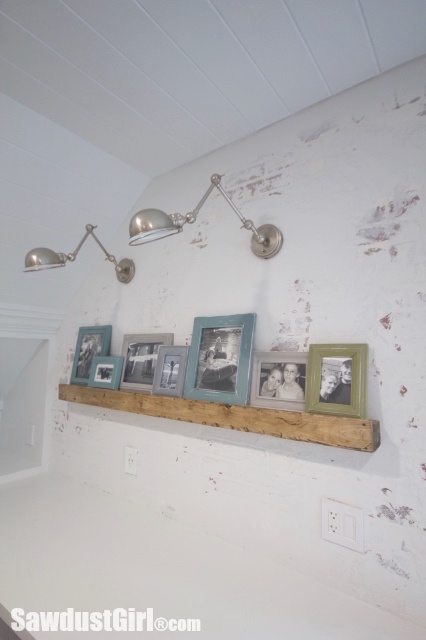 Building the Picture Ledge
First, I ripped the 2×4 in half. One half will be secured to the wall onto which the picture ledge will be mounted.  The other half will be part of the picture ledge itself.  Without a table saw, one could purchase two 2×2's and recreate this project with almost all the work already done for them.  I happened to already have a pile of 2×4's on hand so I decided to use what I had instead of purchasing more.
I sorted through the 1×4 furring strips to find three that looked similar in color and then arranged by appearance to create a front, top and bottom for my "beam". I generously applied glue to three sides of my 2×2 as well as to the pairing 1×4.
Then I sandwiched the 2×2 between the "top" and "bottom" furring strips and secured that tightly with a handful of clamps.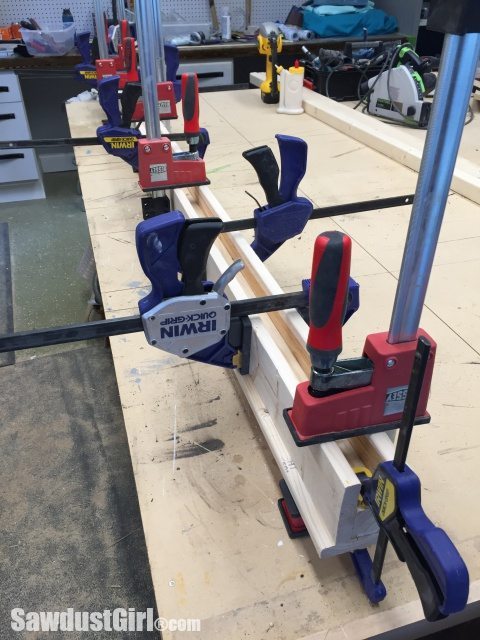 Then I used more clamps to secure the wood sandwich to the "front" furring strip and left that overnight to dry.
How to Get the Rustic Reclaimed Beam Look
I scraped up any dried glue and made sure to bang and whack a lot of new "distress marks" into my lumber to try and get the look of a beam straight out of some old, rotting barn. I want my picture ledge to look old, but I want it to have the security and structure that an actual reclaimed beam couldn't get me. I also don't want splinters from it, so I sanded it smooth to the touch without removing the imperfections.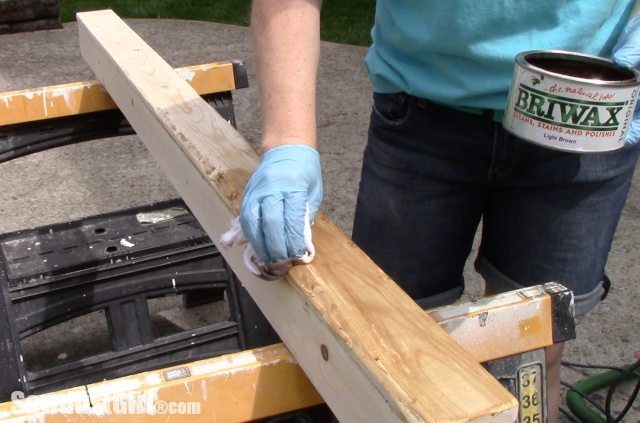 I finished my picture ledge with Briwax in Light Brown and Ebony.  I apply with with an old T-Shirt rag focusing on getting it into all the nooks and crannies.  It's easiest to apply Briwax when it's soft or melted, either from the sun or a heat gun so get it nice and toasty.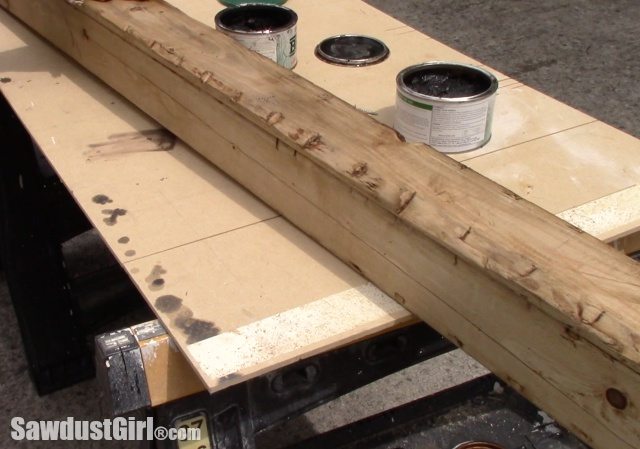 It's a really fun process to work with Briwax. It dries very quickly so you can re-coat in a matter of minutes. I just keep playing around with it until I like the results.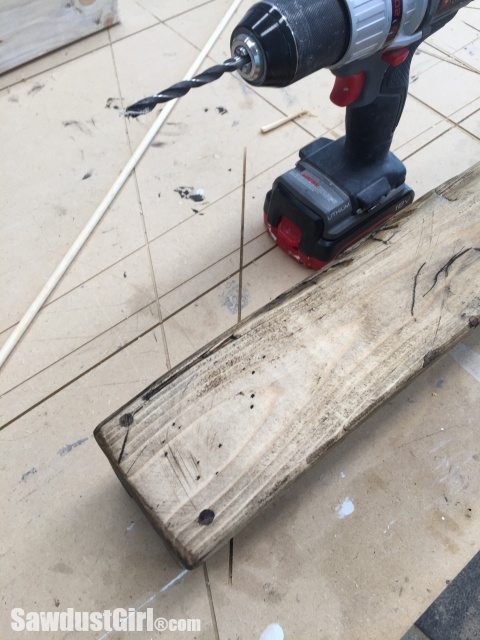 I drilled two 1/4″ holes in each end and glued in some wood dowels for an additional touch of realism to my reclaimed wood beam – dream.
Installing the Faux Reclaimed Beam Picture Ledge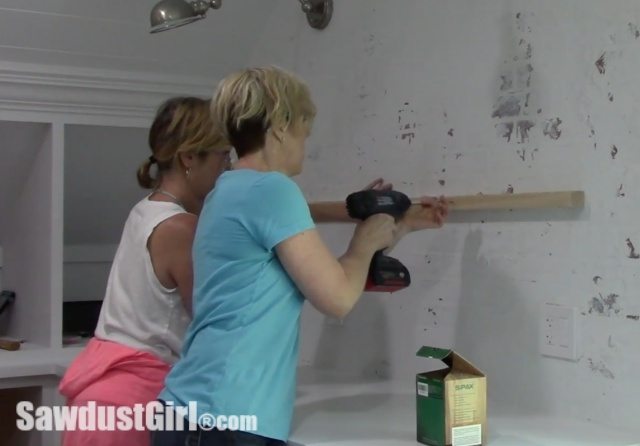 Penny helped me install my picture ledge.  She first held it in place while I stood back and put up with me while I instructed her to move it down 4″, now too far, left 1″, ahh – too much…and so on until we got it exactly where it made my eyes happy.  I had to locate the studs and my new Zircon stud finder worked through the brick paneling.  Thank heaven!  I used 3″ construction screws to secure the wall cleat (which was the leftover 2×2) on the right side.  Then we used a long level to level the cleat and I secured it on the left.  Then I drove screws into all the studs in between.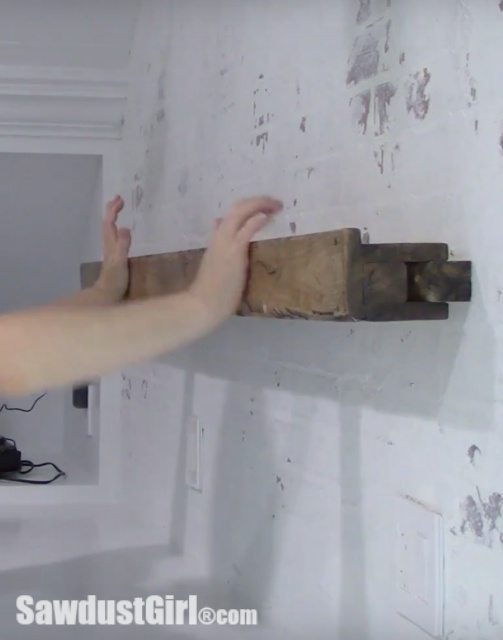 The picture ledge slid right onto the wall cleat and I shot a few nails through the top of the picture ledge into the cleat to secure it. It is sturdy! If you recreate this picture ledge, don't forget to finish the ends of the wall cleat same as your shelf. It remains visible.
The front furring strip is taller than the wood sandwich portion which is what creates the lip on the ledge to hold your picture frames from falling off. You could also use this for a plate rack or use wider material for a deeper shelf.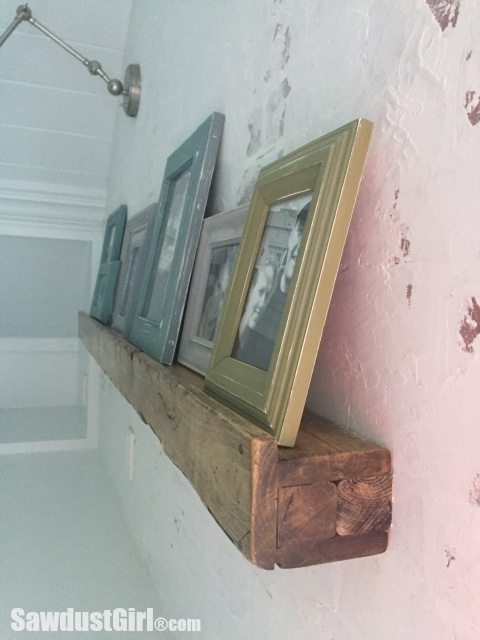 The picture ledge was a really quick, easy and inexpensive project — which was FUN when most of my projects take weeks to months to complete. It's also FUUUUN to see the studio start coming together! I've created a build video for those that like videos and below is a smattering of "Reveal photos" because I apparently go wild for reveal photos when it's a completed project!