This is how the work begins!
From the amazing plan that she created for me,  Sandra broke it down into manageable pieces starting with four base units. I printed out my cut lists and headed to Home Depot to get started!
Did you know that the big box home stores will do most of the cuts for you from huge sheets of MDF, plywood, etc.? I don't have a table saw and never could have done this on my own. You could use a workbench and a circular saw, but I had no desire to try that out.
I learned quickly that attention to detail is going to be crucial for this (and every) project. Because I was making two of each cabinet, I assumed I needed two sheets of MDF for each unit, and doubled the number of sheets Sandra put on the cut list.
Bad idea.
You can imagine that cutting 4 huge sheets took poor Joe from the Home Depot lumber department a loooooooong time. My little
monkeys
boys got bored.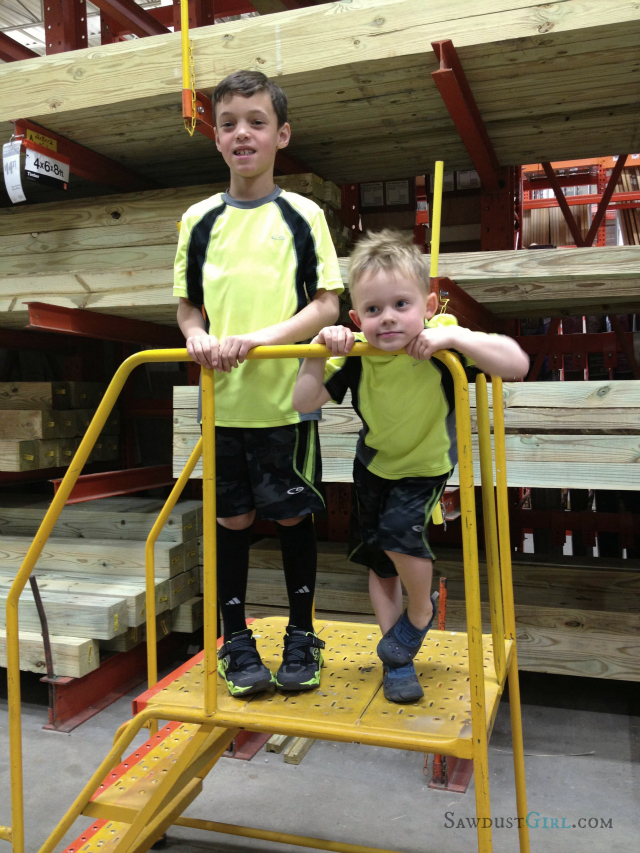 We finally made it home, lugged (double) the MDF into my front room and called it a day. Phew!
The next day, my first call with Sandra went really well! We Skyped in the front room, and it felt like she was right there with me.
That first day, Sandra literally walked me through how to draw a line across a board in pencil. And I messed it up. That's how basic it gets! So if you are thinking, "I don't have the experience to do a project like that," don't worry! Sandra has the patience of a saint.
After some lessons with a corner clamp and SPAX screws (no pilot holes – yipee!), the cabinets were taking shape.
I know it's not much, but it really is amazing to see a pile of MDF sheets transform into the beginnings of built-ins.
This is going to be so much fun!
If you missed Kelly's design and part 1, check it out here and read more Sawdust Diary stories — here.