Hey there! This is Kelly. When we last caught up here on Sawdust Diaries, I was on a roll with Part 1 and Part 2. I had even conquered my fear of the circular saw in Part 3 and fixed (with Sandra's help, of course) what I thought might be un-fixable. But lately I've been MIA, and I have to admit that some of my work has come to a complete halt. I've got some good excuses, I really do. First and foremost is that this summer was cray-zee.
A huge highlight of the summer was going to Haven in Atlanta and meeting up with Sandra and my girl Carrie from Making Lemonade!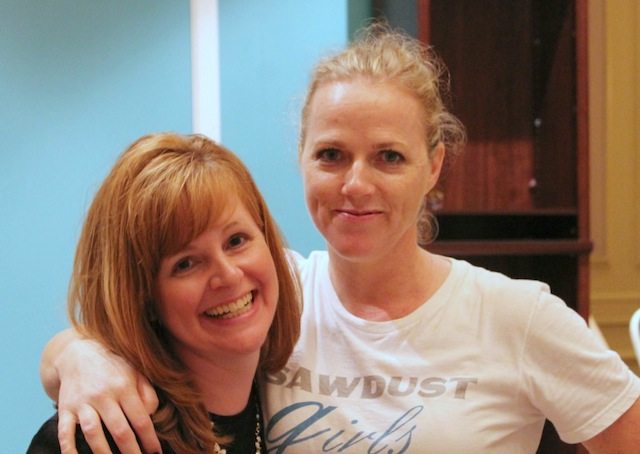 Look at this dream team, could I love them any more?
I also did a lot of "family stuff" and keeping up with my two crazy active little boys. But my project suffered and my front room is a mess that is stressing me (and my family) out.
What have I done? Well, there are a few things I finished:
Using Sandra's method of drilling shelf pin holes, I made a template out of pegboard and a stop block for drilling.
I built face frames and attached them to the base cabinets using the Kreg Jig Junior (Do you have one of these? You NEED one!).
I squared up, and congratulated myself for being so crazy about alignment during the building of my bases; consequently, squaring up was relatively painless.
I pushed the towers and bases up against the wall so it would start to look like an actual built-in, and leveled the towers so I could attach them. Oh Cara, I feel your pain about the leveling process. It can just about drive you crazy trying to get it perfect. Don't show Sandra this picture, but I gave up after getting it this close, and decided to live with it:
I also enlisted some help from my apprentice, Ben, who stepped in when I couldn't properly clamp the tops of the towers to the bottoms. His weight held the top down while I screwed them together from underneath (so the screws won't show). Thanks, buddy!
Oh, and in the picture above you can see I added wainscoting for the backs of the towers. I love the way it looks! The base cabinets are backed with plain old hardboard, since they will be hidden by cabinet doors.
I really wish I had made more progress, and have to admit I am looking forward to the boys' school starting next week! Sometimes at the end of the day, I collapse and think that all I did all day was keep my head above water. And the thought of having time to build makes my head spin. But, you know what? Doing this work is therapeutic and rewarding. It makes me feel good about myself, it builds my confidence and is just plain fun. Saying this makes me realize I NEED TO MAKE TIME TO BUILD. I'll be a better mom and wife if I do what I love. Oh, and the house won't be such a stressful disaster <sigh>.