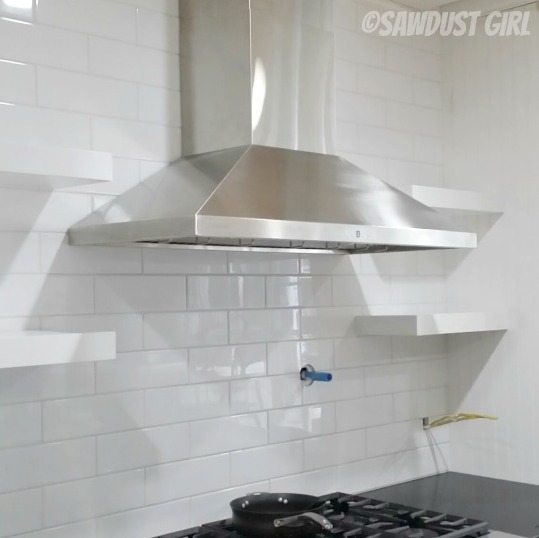 I'm making all kinds of small progress in the kitchen. 🙂 After I installed the tile backsplash I had to cut tile out for junction boxes because I decided to install undercabinet lights. It was so long ago that I can't remember why I didn't install the junction boxes before I tiled. In hind sight it seems like it would have been easier to cut the tile around those — but I didn't. Maybe I was still trying to decide which side I wanted the double gang box and which side should be single…who knows.
A couple weeks ago I decided it was time to have some power above that countertop. (It's only been a year.) So that decision has finally been decided!
How to Cut Tile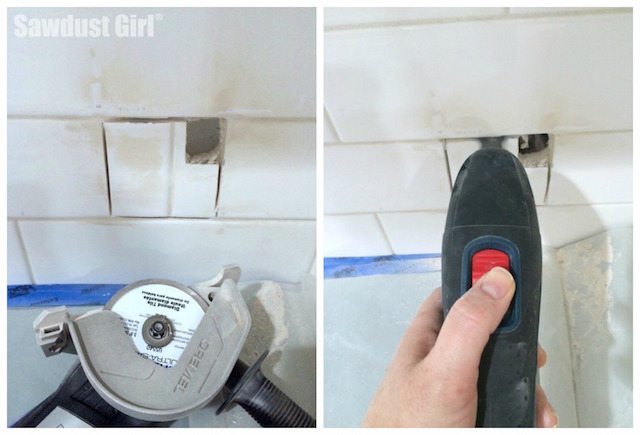 I shared a post a long while back: how to cut tile around a vent but the vent was in the perimeter of the tile so it' was done with regular wet saw. I was asked at that time how to cut a hole in the center of the tile so here's the answer to that question. Have the right tools. I tried a few different tools with a few different blades.
Tools that Worked Great
Dremel UltraSaw with a Diamond Tile blade.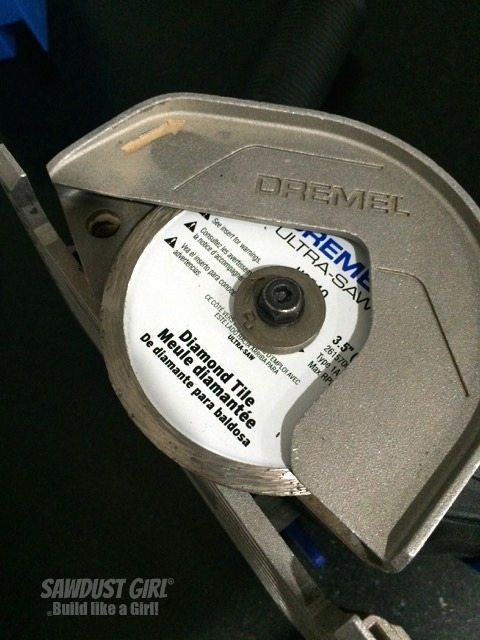 Bosch oscillating tool with a multi-material blade.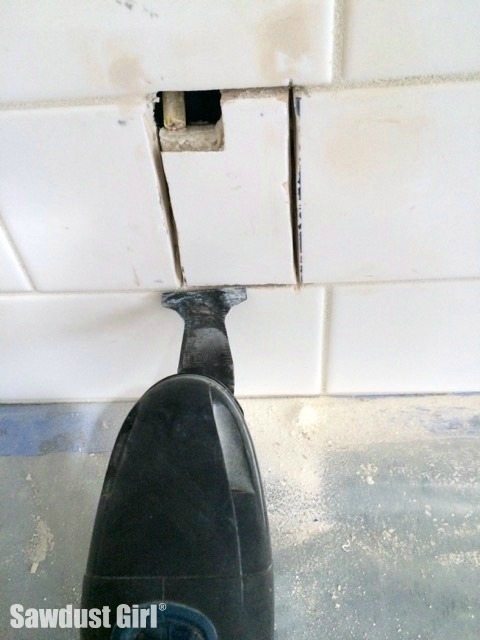 What did not work
I tried a tile/grout cutting blade on my oscillating tool and it sucked for cutting tile. It cut the grout fine, but would have taken an hour to scratch/vibrate/cut through the tile.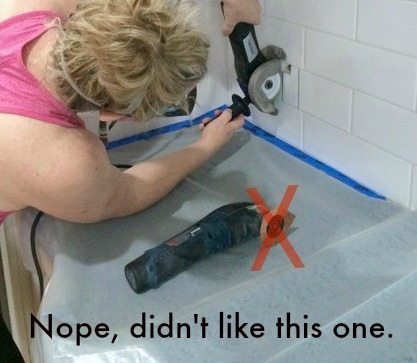 SO now that you have the right tools, you can get to the task.
Mark your surface
Obviously before you cut tile, you want to mark where you want to cut. I used a permanent marker because pencil or pen don't work very well on glossy tile.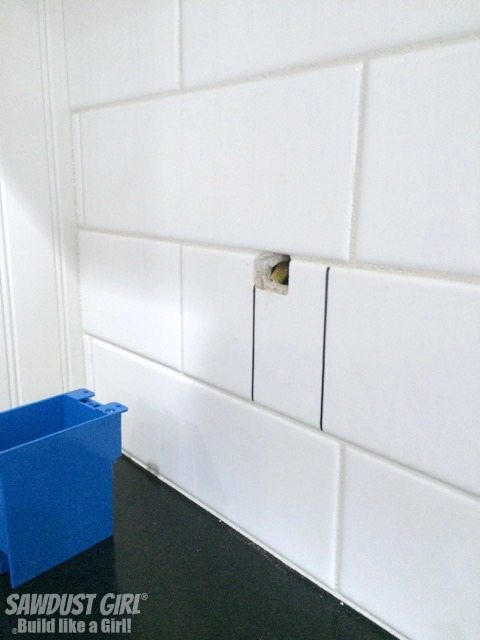 Cut the tile!
I did cover my countertop and cooktop with plastic to contain the dust as much as possible. This is dusty though so make sure to use your safety glasses and respirator while cutting. 🙂
I used my Dremel UltraSaw with a Diamond Tile blade to make most of the cuts because it cut through the tile (and drywall behind the tile) like it was nothing!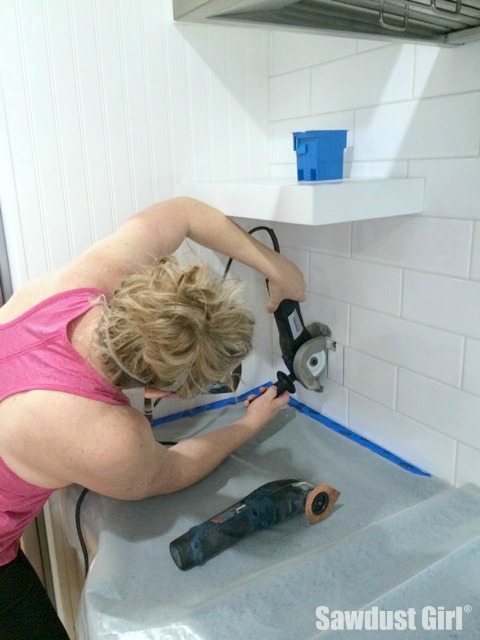 But that blade is round and I couldn't get the corners without cutting past my "cut line" on all sides and that would look dumb so I grabbed my Bosch oscillating tool and got the corners.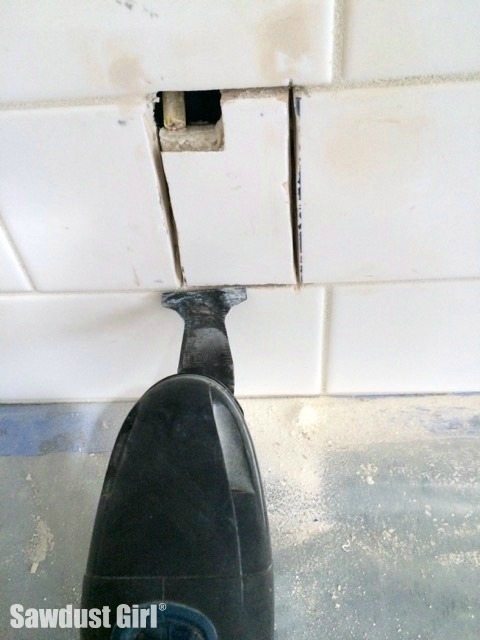 The multi-material blade worked amazing on the tile and grout and I could have easily made all the cuts with just that one tool. Because it's smaller and you have more visibility to what you're doing, you have a little more control over what you're doing with the oscillating tool.
After experimenting with all the tools and blades, I made fast work on the second hole.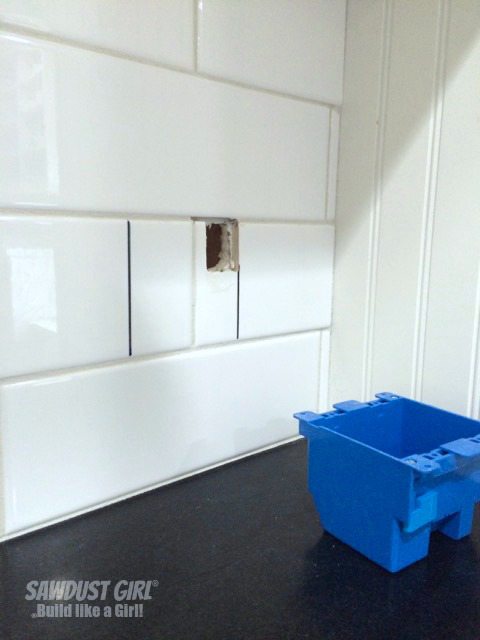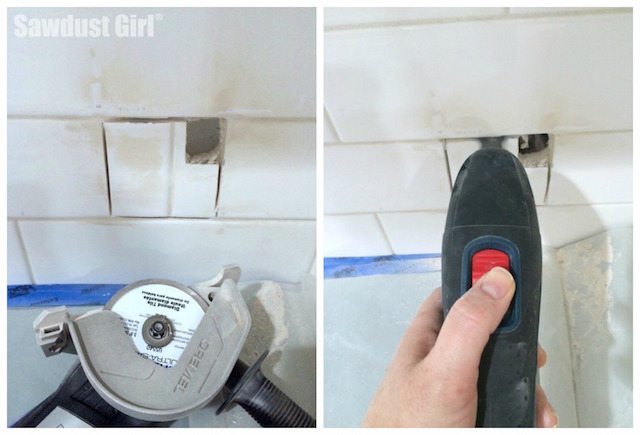 I admit I did feel nervous before I cut into my backsplash. Especially since I was basically experimenting with several different blades I hadn't used before so I didn't know what to expect and I wasn't experimenting on a scrap tile. Always a good idea… But nothing broke or cracked and all said and done, it was ridiculously easy.