I build a lot of cabinets, built-ins, bookshelves and such.  I often get asked how I select materials for different kinds of projects.  MDF, plywood, solid wood.  What's best for what applications?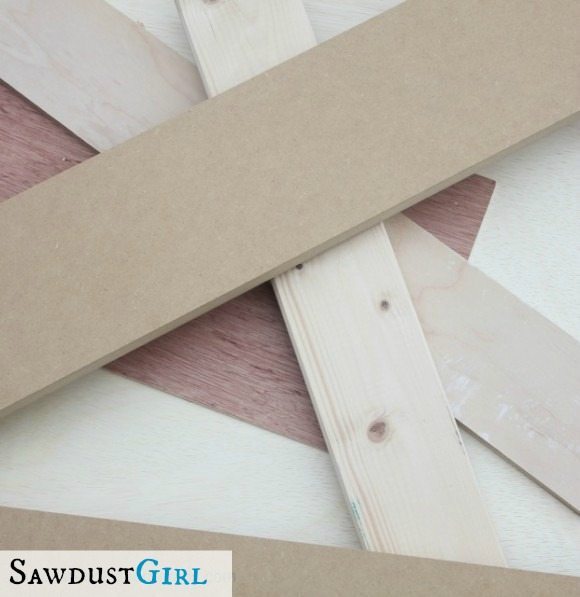 I generally buy my lumber from a big box store because it's convenient and available at the moment I decide I have to run out and buy some wood to build something.  Also, I have simple wood needs.  I don't need a huge selection exotic wood (though I know you CAN order them from Home Depot) so the general, run of the mill stuff they keep in stock is usually good enough for my needs.  ('cause I know you're going to ask…Home Depot is my go-to for lumber.  They have a wider selection of sheet lumber than the other big box stores in my area.)
What are the run of the mill choices I generally choose from?
For cabinets and built ins, I generally use MDF, Melamine (or a combination of the two), or Plywood for the boxes and solid wood for faceframes.
MDF (Medium Density Fiberboard) is very smooth and a great option for painted cabinets, built-ins, bookshelves…
It is made by pressing wood fibers and glue together to form a sheet of "Dense Fiberboard".  It doesn't expand and contract like solid wood.  It generally doesn't warp or twist or bow.  *It needs to be stored flat and kept dry.  MDF is generally available in 3/4″ and 1/2″ thicknesses.  I choose 3/4″ for cabinet boxes.
The downside to MDF is, it's SUPER DUPER heavy.
Melamine is like MDF but with a plastic veneer on one or both sides.  It is most generally "in stock" in white.  Because of the plastic veneer, the white surface is much harder and more scratch resistant than a painted surface so I often use Melamine for shelves or the entire inside of the "Box" if a cabinet will have a faceframe with doors and hidden sides or I plan on adding panels or beadboard to the outside.  You can buy edge banding that you iron on the edges of Melamine so you can use it without a faceframe.  I did that in Madison's Playroom Wall Storage and it was fine in there.  I don't do that too often because it doesn't look as custom and professionally built; more like something you buy pre-made and put together.
Plywood is what I use when I'm going to stain a piece or when I'm building something HUGE and MDF will be too heavy.  Plywood is generally more expensive than MDF so I don't waste the money if it's going to be painted in the end unless the benefit of having lighter material is worth it.
Plywood is strong, sturdy, resists warping and bowing and is less expensive than solid wood.    Cabinet Grade plywood has a solid wood veneer on the front and back and is sanded smooth on both sides.  It is generally stocked in Birch and Red Oak though you can special order other species if you want to.  It is available in different thicknesses.  I generally choose 3/4″ for cabinets and 1/2″ for Drawers.
Solid Wood is generally stocked in 3 species:  Pine, Red Oak and Poplar.   Sometimes you can find other species at big box stores, but generally, it's those three.
Pine is the least expensive of the three.  It is smooth and paints well.  It is SOFT wood.  I can press my fingernail into it.  It is not a great choice for face frames if you are installing hinges into it.  The soft wood just won't hold the screws well after a lot of wear and tear.  (in my house, doors always tend to get leaned on).  I do use it occasionally if I want to save money and I'm not planning on installing doors ON the faceframe and I don't care if it gets dinged and dented.
Poplar is a hardwood that is also smooth and great for painting.  It's more expensive than Pine but less than Oak.  It holds screws well.  Poplar can also be stained (as any wood can).  *Poplar is my go-to for painted faceframes.
Red Oak is a hardwood with a unique graining which is porous.  I is NOT a good choice for painting.  (Unless you want to fill the grain first or you LIKE that grainy painted look.)  If you like the look of red oak and use red oak plywood to build a cabinet box, naturally you'd want to match it with a red oak face frame.
I use MDF for pretty much anything that I am going to paint.  In my Master Closet, I started out using MDF but then switched to Plywood because of the weight of the huge cabinets.  It was hurting my back, lifting the cabinets up after building them.  When I build a GIANT entertainment center, I tend to use plywood, or I'd never be able to lift and carry pieces for installation.
 If you're new here and want to see some examples of things you can build out of "run of the mill" lumber choices, Check out my
project portfolio
.  You can do a LOT with MDF and plywood.  🙂