Holy moly less than a week till Halloween and we haven't done much decorating yet.  Living in an ongoing remodel means not every being able to find anything when you need it because everything is in boxes.  And the boxes you need are never the ones on top or in front!  We have TONS of Halloween decorations but, you guessed it, I have NO IDEA where they are.  So we're making some new, homemade halloween decorations.  We decided we needed a creepy DIY Halloween candle sconce.  Or two!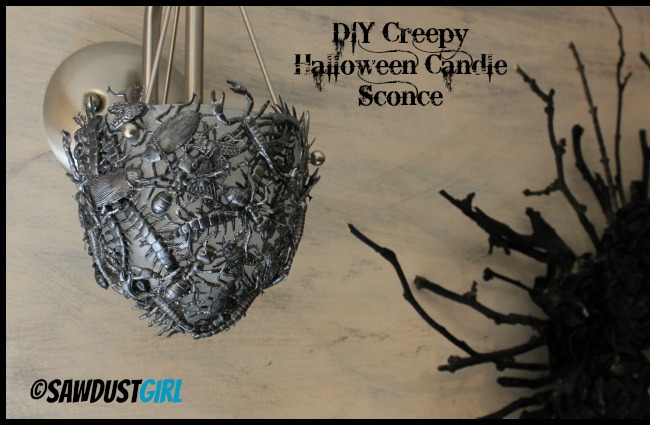 So to make sure that this isn't remembered as the "worst Halloween ever" we are doing a few projects. We started with our mantle which is short and wide.  We built a Faux Overmantle to make hanging and removing decorations easy and then put up the spooky stick wreath. But it still needed something to fill out the sides. I have a pair of sconces that I saved during the demolition phase of our remodel, they are cool but odd, I can't really picture where I would reuse them.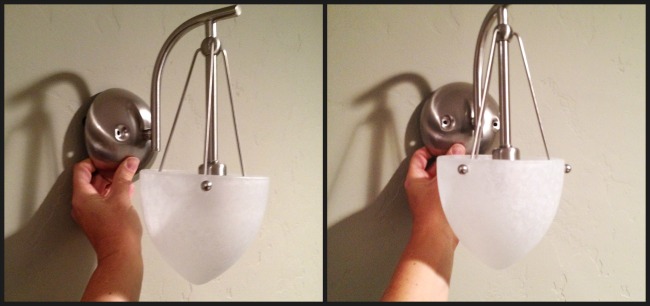 I figured why not turn them into candle sconces and spook them up a bit—I can get really creative in order to get things cleaned out of my shop!  I'm using Campana as my inspiration.
Creepy DIY Halloween Candle Sconce
We started with some plastic insects from the dollar store.  Spray painted them with left over silver spray paint, then immediately blotted with a paper towel to create some dimension and let more black show through. We were going for an aged silver metallic look.  Next we hot glued the bugs to the glass shade layering and weaving them into each other. Since the light from these is going to be candle powered, we left some areas bare to allow the light to come through.
Next I attached the back plate to the wall. Then attached the light fixtures and plopped a couple of candles inside—super easy because no wiring to deal with!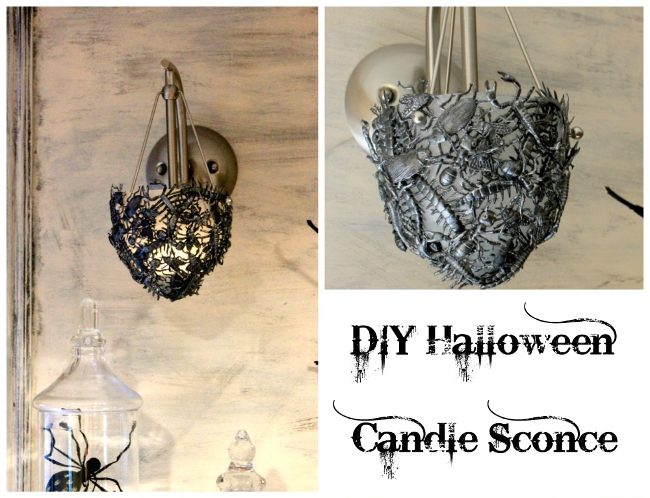 This DIY Halloween project was easy and fast (less than an hour if you don't count paint drying time) and they look amazing! OK, maybe not quite as amazing as the $1000 -$2000 Campana lights. But pretty darn creepy awesomeness for our mantle display!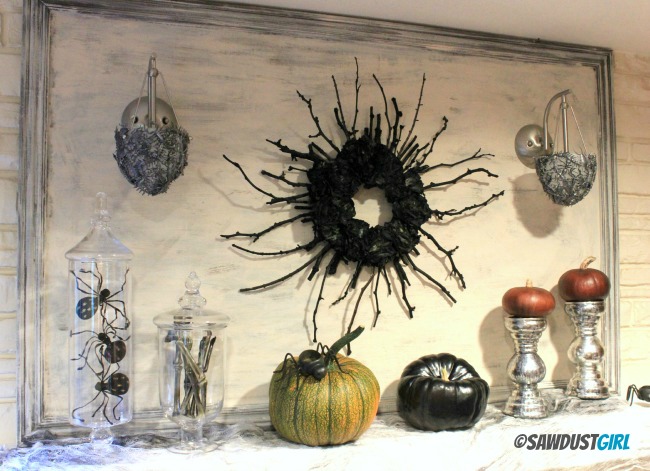 If you don't have unused light fixtures just laying around (That's not weird is it?). I think these would look great using any number of the used sconces that they always have at the ReStore for a few bucks. Then pat yourself on the back for creating Campana creepy sconces without spending your children's college savings, although that would be pretty scary too!
Other Halloween DIY ideas you might like: