Our goal is to get drywall up by the end of Round 2 with Calderwood Cottage. Now that we have plumbing, HVAC and electrical taken care of, so we can finally insulate. We are doing spray foam insulation. The ceilings are "closed cell" which is more expensive but the only way for us to take care of "all the birds with one stone" (so to speak).
We have a cathedral ceiling with short rafters and need the highest R-value per inch of material. Plus we had to use what would work with our specific roof situation. There are a lot of factors to consider and every situation is different (and every company will tell you different things) so make sure YOU do your homework and know exactly what YOU need before you start getting quotes.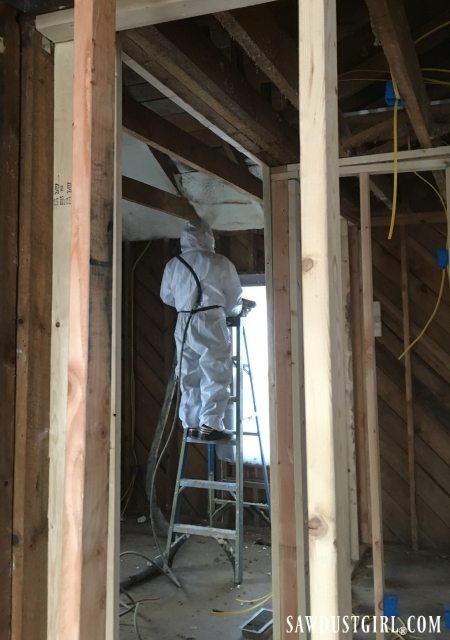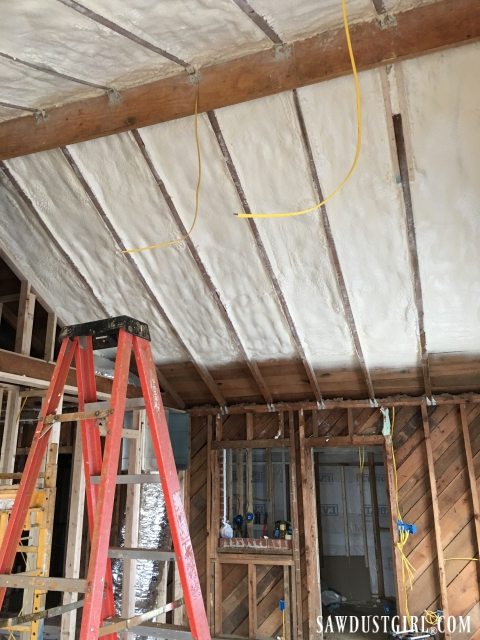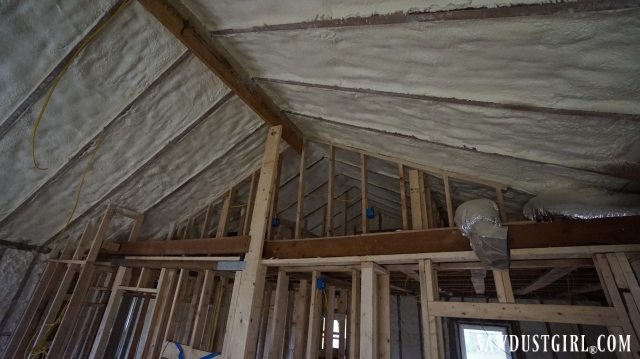 We opted to go ahead and have the walls sprayed too (with open cell). Our wall studs are not even close to be evenly spaced so it would have been a huge chore to make batt insulation work. It ended up not even costing us much more to pay them to do the walls with spray foam than it would have for us to buy and install the batt insulation ourselves.
So heck yeah we hired that out! One less thing for us to do in our quickly diminishing timeline!
After a technician sprays the foam onto the surface, the foam swells pretty quickly.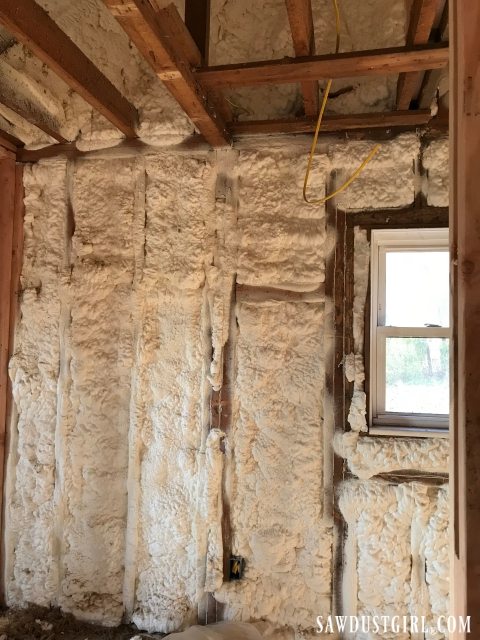 Then they cut off the excess, so the insulation is flush with the studs.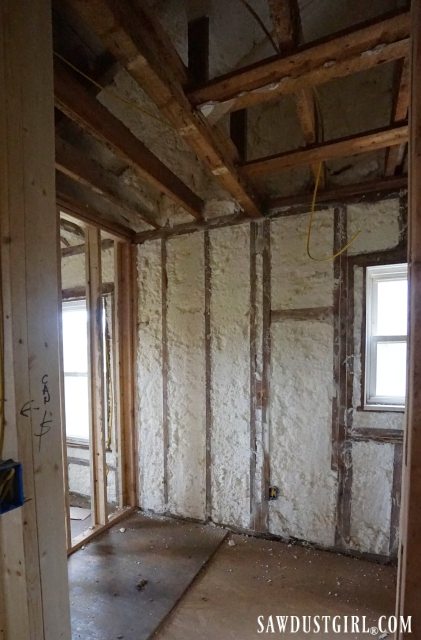 The "clean up" is a messy process. So glad I didn't have to do it!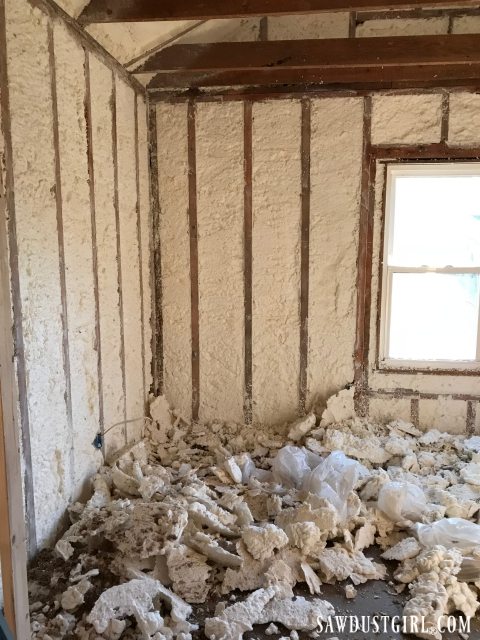 All Julie and I had to do was check in every so often to see the progress! Of course, while the insulation was being done on the inside, we were outside tearing out the concrete steps and bricking in the windows in the cellar that were previously covered with scraps of rotted wood and other important things (I'm sure they were important.  I can't remember that far back. "This morning" is about as far back as my long term memory can reach).  We have been working so hard!
It took them a total of 3 days to do all the walls, all the ceilings, cut and clean up. Was supposed to take 2 but their machine broke on day 2 and they had to bring a different trailer the next day to finish up. It was pretty exciting to see it at this point. The house is quieter and warmer. Which is nice because it's still really cold. What's up with that?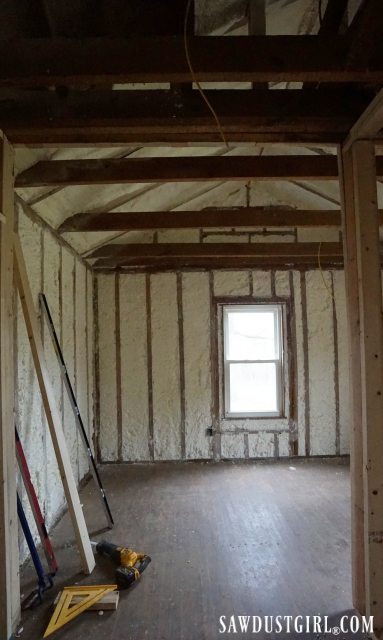 Round 2 is quickly coming to an end and it's clear we aren't going to make it to drywall. We knew the only way it would happen is if every player in our orchestra played their part without a glitch. Almost every part of the "symphony" had a problem so we're just going to have to wait until Round 3 to get drywall up. Still, we got a LOT accomplished in this 3 1/2 week Round with our little, old, Calderwood Cottage.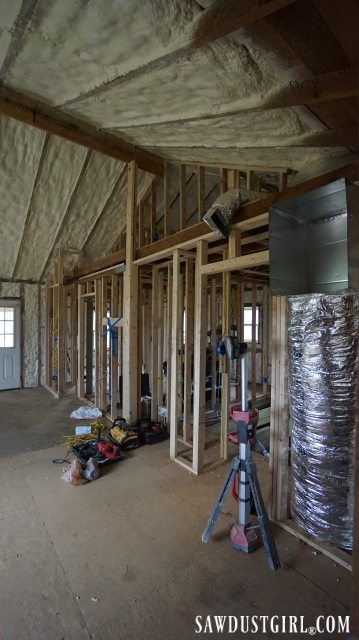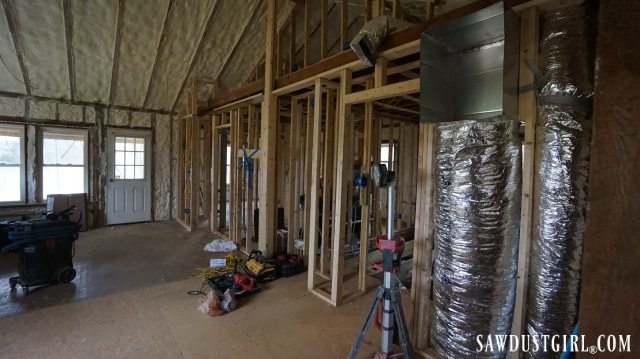 And, our break between now and Round 3 is literally only 9 days long. So I'll see you again soon with more!
This time it's going to be all the fun stuff and I CAN'T WAIT!!!!