Ok, so in part 1 of this saga, we were getting ready to have a new HVAC system installed. In order to make the air optimization engineer man happy with the placement of the return, we had to move the master bedroom doorway over and build a closet for the ductwork.  Also, we had to dig a trench for the 18″ ductwork that would be run to that new closet.
So we took down the wall and pulled up the piece of subfloor. Digging would be much easier with the wall and floor out of the way.  2 steps back…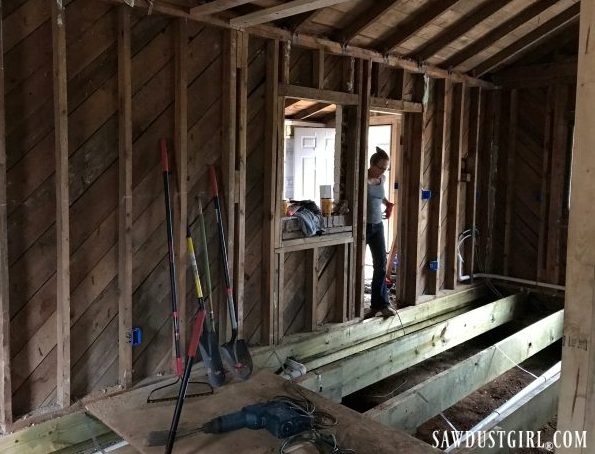 Digging
And we started digging! We rented an "electric shovel" to break up the hard, compacted clay.  Julie broke up the hard clay and I shoveled it into buckets. The buckets were dumped into our rickety wheel barrow and one of us hauled it outside and dumped it.
It's really difficult to balance a wheel barrow full of dirt as you teeter it down the wheel chair ramp.  Exciting stuff!
We started out strong!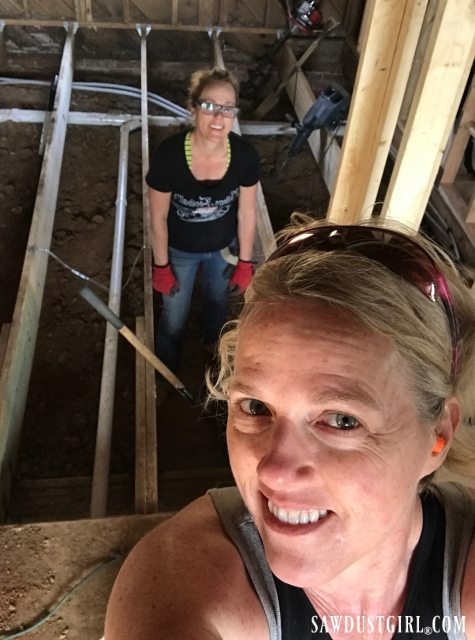 After 5 hours, I texted Wes and told him we were going to be late. Very late. Digging. I didn't even ask for help. I got myself into this!
But Wes, being my night in shining armor that he is, asked if he could help.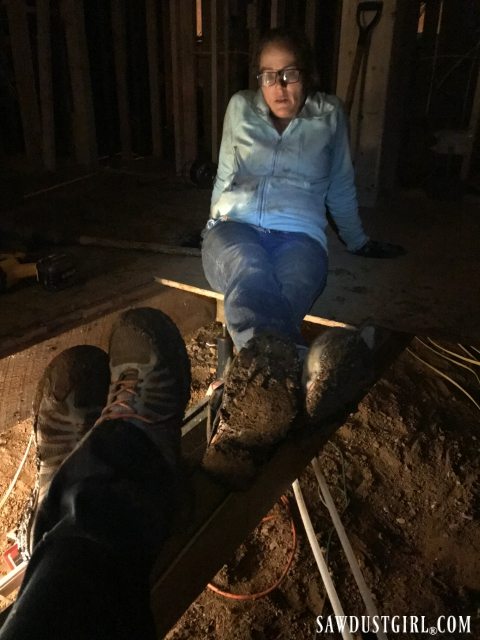 I didn't hesitate to accept (and Julie and I both smothered him with gratitude). He brought us dinner, new shovels, and his muscles.
We told him it would probably take another hour. It took 3. But we got that trench dug!
To make sure there was room for the ductwork to hang from the floor joists, well off the ground — we dug an extra 6″ more than the 18″ they told us we needed. We dug that trench 24″ deep! Wes went home while Julie and I stayed for another hour to put back the subfloor and build our wall again. (With the door in a new spot.)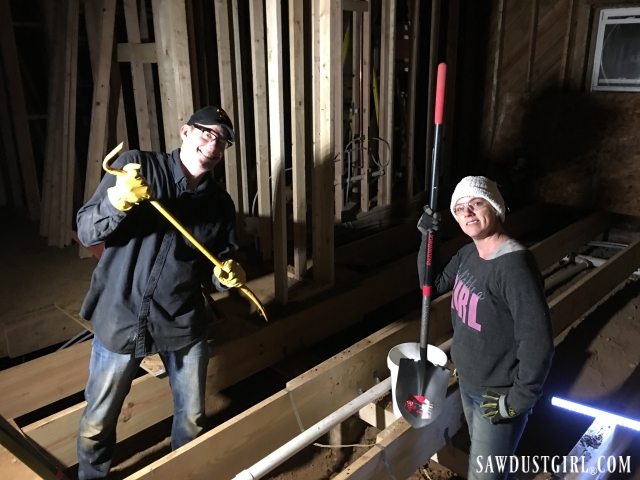 Fueled by our successful trench digging, we got up bright and early the next morning to let the HVAC guys in so they could do their work.
It's exciting when things are happening on schedule!  The new equipment went in and they started installing the ductwork. By now the weather has cooled down to the mid 30's.
It's cold but things are coming together and we're feeling positive!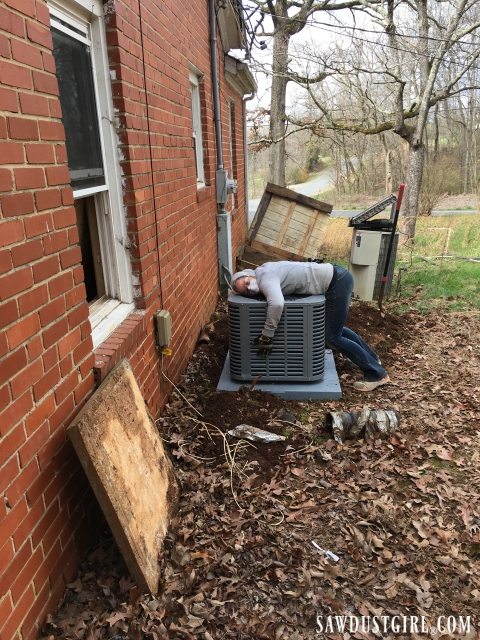 At the end of the day we saw the ductwork in our trench was not hanging. Not only that, it was a little smooshed in our 24″ deep trench.
We gawked! The inner diameter of the ductwork is 18″ and then there's a whole bunch of insulation around it. Additionally, we needed a wider trench for two lines.
So we had to dig some more. Deeper and wider. We needed a 48″ wide by 30″ deep trench.
We took down our wall –again, and pulled up the subfloor –again. It was Friday, so we had the weekend to "dig to China".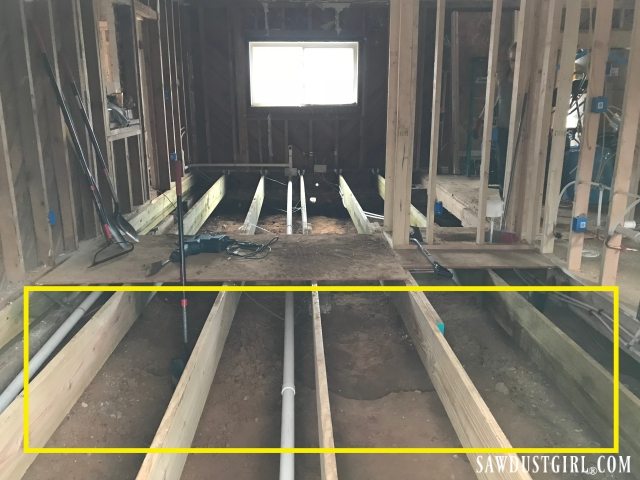 More Digging
Wes and Madison both helped us on Saturday. We made some good progress! But not enough. 48″ wide by 30″ deep is a BIG trench! Plus, we needed a (smaller) trench under a part of house that still had subfloor. We needed more help.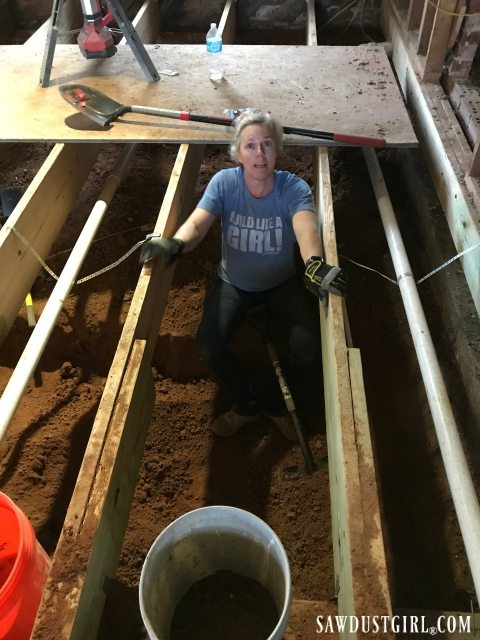 On Sunday, we had some "professional help". The guy who we had lined up to do our drywall, Bucket, who was recommended by our plumber,  knew a guy… And MAN could he dig! We call him Mario Mark because was like a video game character. He hammered away at the hard ground with one spiky tool in each hand. Mark referred to himself as a gopher. I like Mario Mark better.
Mark shoveled the dirt up onto the floor, Julie and I shoveled the dirt into the wheel barrow and hauled it outside.  Around midnight, Mark and I worked toward each other on the under the subfloor trench. We finished at 12:30 am on Monday.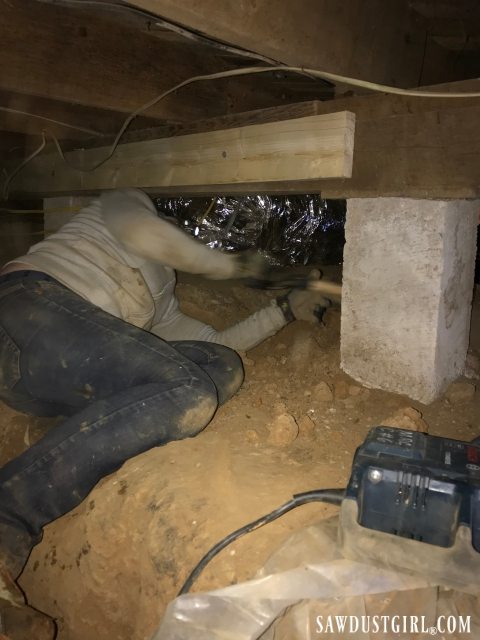 It was late. We were so sore and tired and sick of digging. But it was done. Again.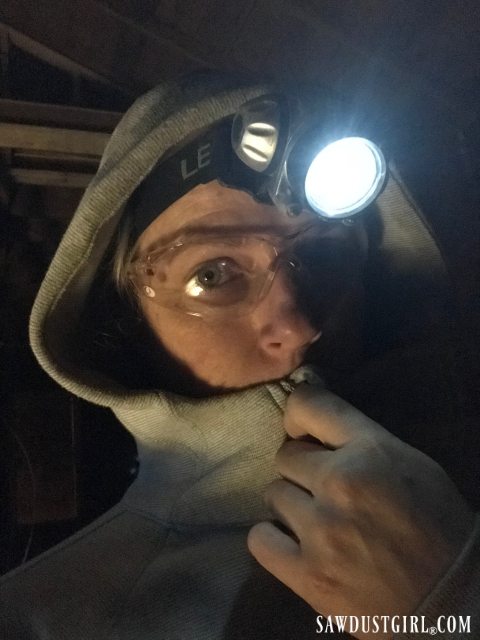 We laid down on the subfloor (the part of the house that has subfloor) and contemplated seeping right there. We probably could have ignored the hardness, but it was too cold.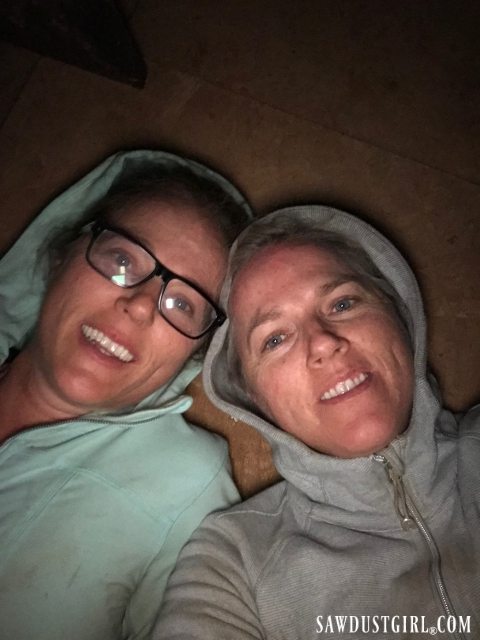 In the morning, Julie got up and let the HVAC guys in to the house while I slept in – a bit. She is ALWAYS up before I want to be so we designated her as the "let them in'er".
We couldn't get in the HVAC guys' way while they were working but had some things that we needed to prepare before the spray foam insulation went in.
That was scheduled for the following day. So once again, we were there until after midnight, working by the light of our headlamps. The thing I love about working with Julie is that we can work SOOOOO hard and still laugh all the time.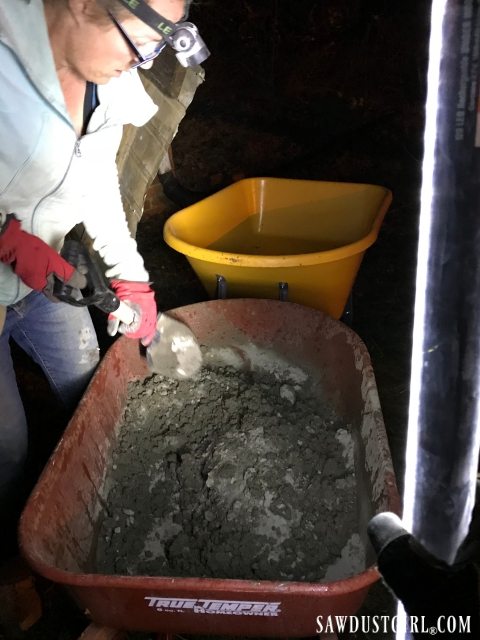 This is definitely not a glamorous job. It's cold and dirty. We stink and are so sore — every- single- night.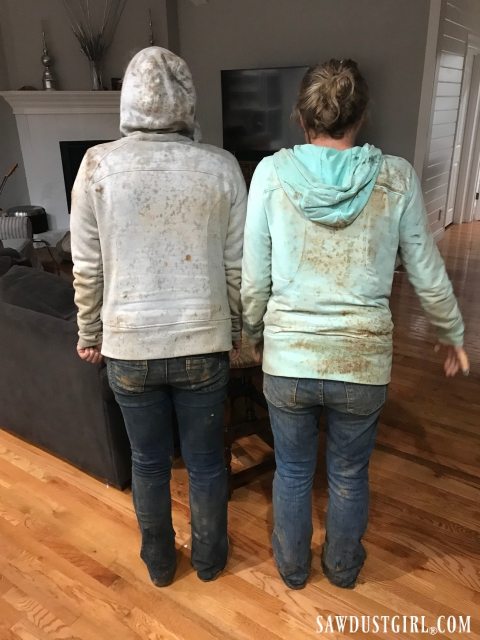 We keep ourselves motivated by looking forward to the end of the week when we're going to be getting DRYWALL on the walls! It's going to look and feel so different once we have drywall!
Part 3 soon!