Fair warning:  This is another post about my plumbing issues and it might be even more gross than the last.  I can't tell any more.  My gross meter has been maxed out since last Wednesday so I'm desensitized to it all.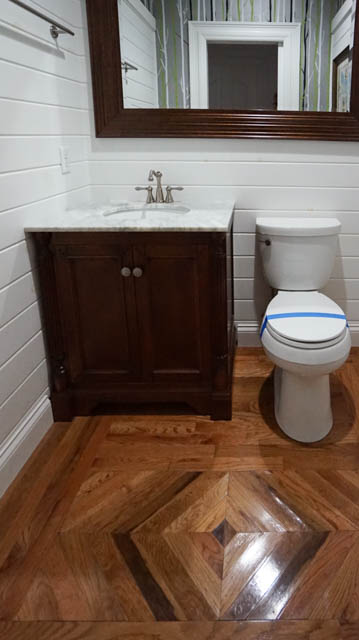 Well, the plumber came out and cleared the clogged drain line which was packed full of toilet paper.  He then scoped the line with a camera to see if there was a screw driver or "something cool" in the line causing the problem.  There wasn't.  The problem is, as we thought, that the drain line doesn't have enough slope to properly clear it when a toilet flushes.  The drain is cleared but we are not using that toilet until the problem is FIXED.  Every time any toilet paper (even if it's just being flushed with liquids) is flushed, the paper begins to line the drain pipe.  Next flush, a little more paper another layer.  The paper gets pushed down the line a bit more but not OUT.  So eventually the whole line is just filled with paper.  Paper and anything else with "bulk" that gets flushed.
The photo below illustrates the drain run from the upstairs powder room.  The drain pipe is about 50′ in total.  It goes straight to the exterior wall, takes a 90º turn and then travels to the opposite exterior wall, down to the ground and out of the house.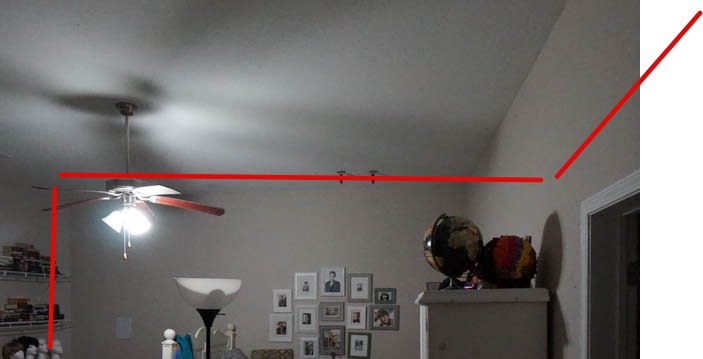 The crazy thing is that it passes right by a drain pipe for the downstairs shower.  Literally right by!  My plumber suspects they plumbed the upstairs and sometime later decided they should do a downstairs bathroom.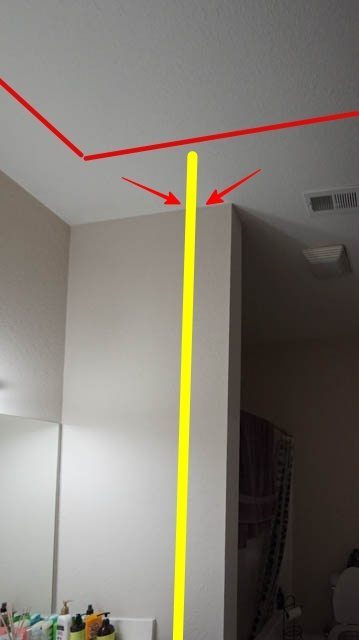 We think we can tie into that line but I need to remove some drywall in the downstairs bathroom ceiling before we know for sure.  Maybe there's something funky going on there and THAT'S why they didn't use that drain line.  Who knows.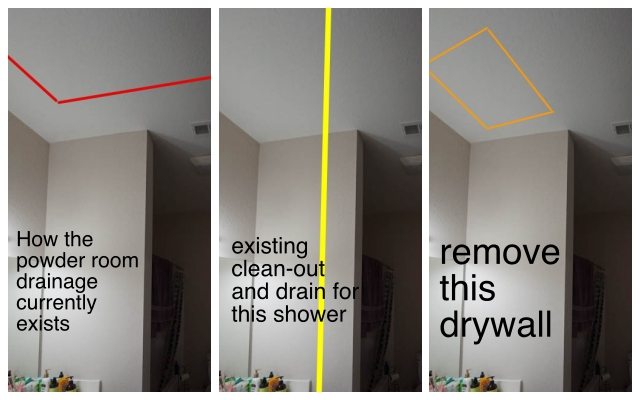 IF we can, we'll tie into that drain line, making sure there is plenty of slope so we don't have any issues with the powder room–ever again.
The Plan to Fix my Plumbing Issues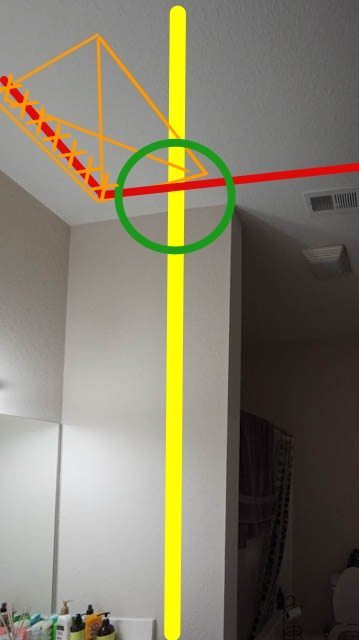 yellow-existing bypassed drain line
red – existing problematic, sewer spewing drain line
orange – drywall I have to remove and hopefully part of the problematic drain line that will be removed.
green- hopefully the tie-in to the more logical drain line
THEN ALSO…
I have to remove the drywall that is in yellow below.  Wait, I don't think he said down the wall.  Just the ceiling.  I get demo happy when I'm mad.  This drywall removal will allow my plumber RE-DO ALLLLLL the jack and jill bathroom tie-ins to the drain line that I've been working on for the last 6 months!  Because now that we're re-routing the powder room drainage, the Jack and Jill is the only thing on this drain.  And because we're cutting that old drain line a lot shorter and it's starting in a new location, and the original plumber can't be trusted — we need to make sure there is enough slope on the Jack and Jill bathroom drain line so we don't have issues in there!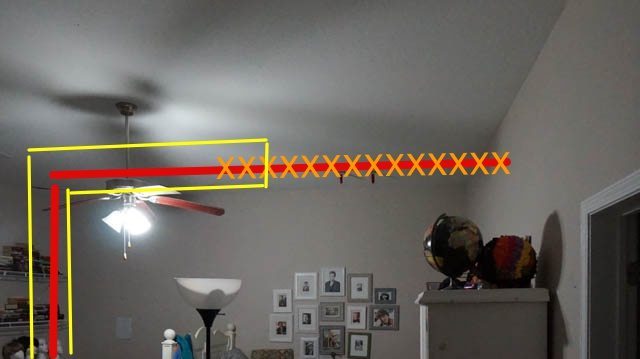 And then after all that is done I have to go back to the powder room and probably pull everything out because the poopy water flooded the subfloor before it founds it's way down onto the closet ceiling below.  There's damage to the hardwood too.  It's a bit smelly when you go in there now and it's got to be the floor.  I just want to rip that whole bathroom out and start over.  You can't replace the subfloor without gutting – right?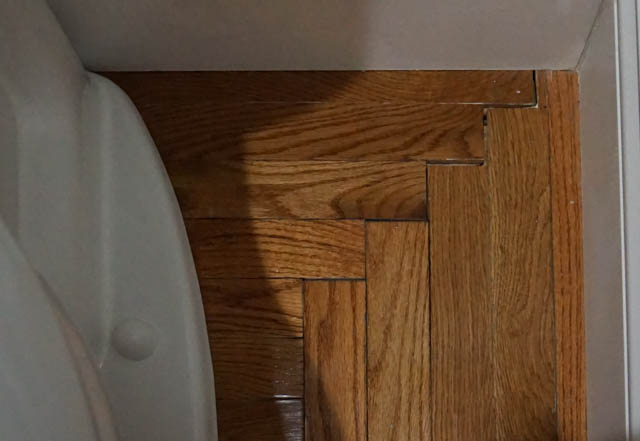 So there's that.  If we don't use the powder room and create another paper clog, we can use the Jack and Jill bathroom.  So at least everyone is not sharing the master bathroom (or running upstairs or downstairs to use a toilet).  The plumber isn't coming back to do ALL THAT for 2 weeks because that's how his schedule goes unless he's trying to fit in an emergency.  Which he always is!
Also because I'm supposed to be leaving for a week this Wednesday.  We're going "home" to Idaho for Wes' class reunion and to see our parents and siblings that still live there.  I was flirting with the idea of staying home alone and just working because I think I'm going to be going crazy, being "on vacation" with so much unfinished business at home.  That's dumb though!  Because I'm never going to NOT have a lot of unfinished business on my plate and a week isn't going to change my life either way.  Plus, Wes was really counting on me being his arm candy at his reunion and I really don't want to let him down.  LOLOLOL  OL
I have 2 days to finish up a couple things, do a little something else and dabble in some more of that other stuff.  So who knows what I'll post next.  Certainly not me.  I've literally lost a bit of my mind with this last sewer hurdle.  No worries though.  It's just a thang.