Let me start by saying, I absolutely love how this pantry is turning out. All the storage space is going to be fantastic, and it's so nice to have a space that is functional and stylish without having to sacrifice one for the other. With that in mind, let me show you how I added one of my favorite features in this pantry: the vertical wine rack.
When I was building, I left this corner of the pantry for last. I knew I wanted to either build some kind of display feature or I'd just block it off with some cool faux paneled door or something. I am so glad I went with a vertical wine rack!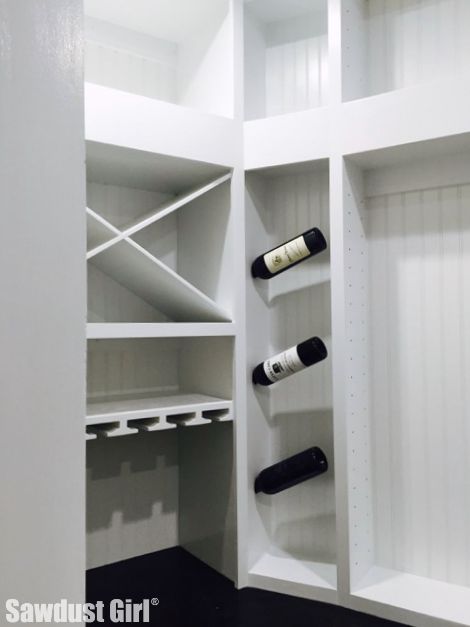 What else would I put on display in the pantry right next to the wine and stemware cabinet, but more wine? Only the most tasteful bottles go here!
Building a Vertical Wine Rack
The first step was to identify the size hole I would need to be able to rest the bottle's neck. I also knew I was going to have them at an angle, which made cutting the hole a bit harder. At least I had a bottle for sizing!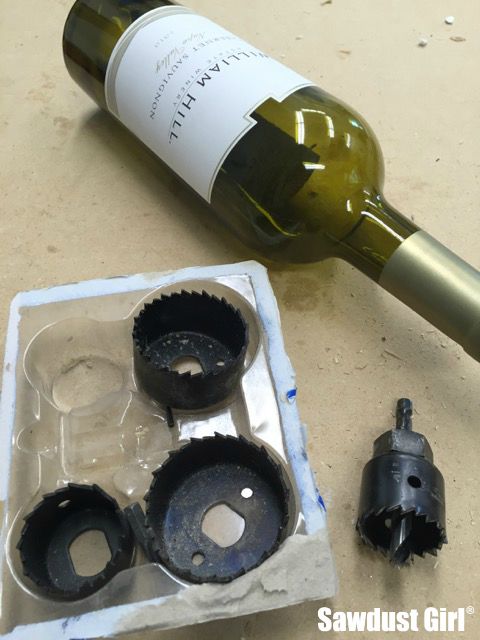 And, if you were wondering, THIS is the reason I had to put together that stupid drill press that gave me so much trouble!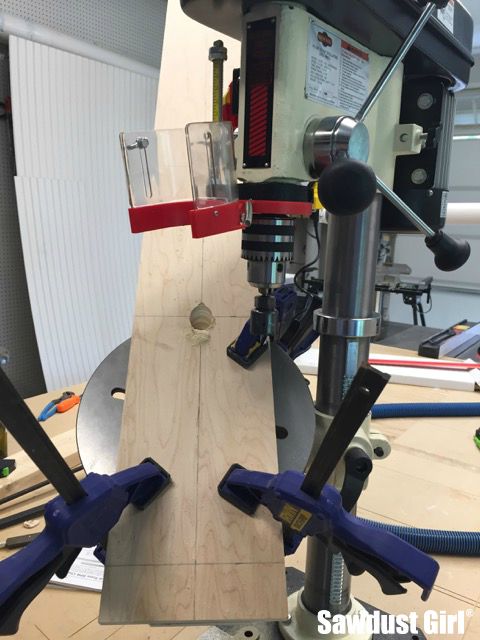 Once I got it put together and I figured out the right sized attachment to use, it worked like a charm!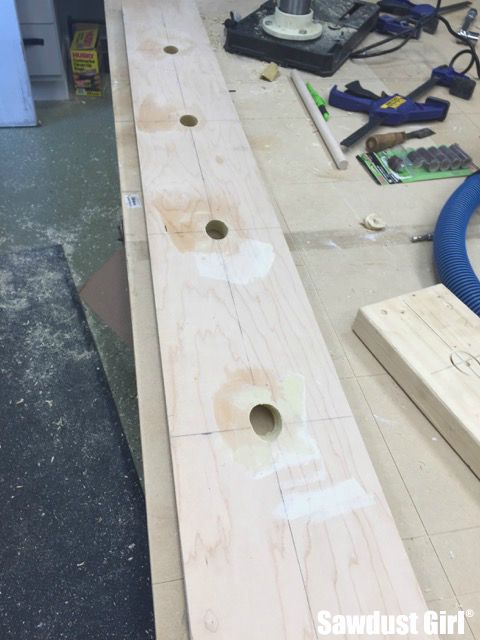 It did take me three whole days of messing around with that drill press to actually get them drilled, but it worked out in the end. I decided on drilling 4 holes, as I mainly want the vertical wine rack for storage. Most of the wine will be store next to it in the wine cabinet, along with our fancy glasses.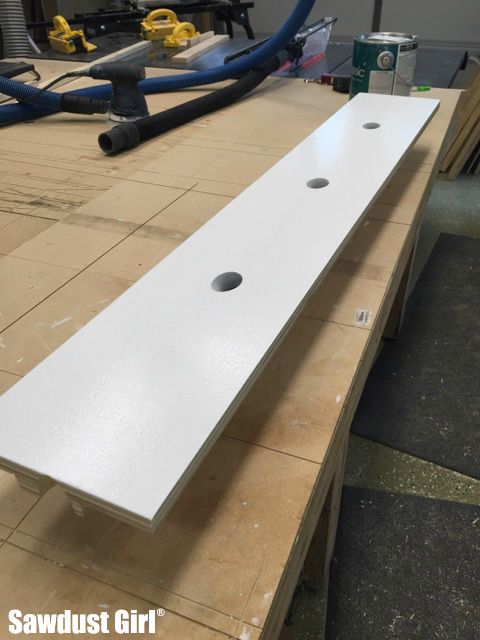 After I finally got the board drilled, built, primed, and painted, I then cut off one of the 4 holes because I wasn't sure how tall I wanted this thing to be. This is me making it up as I go, one of my signature ways! Sometimes I do my best work when I don't have a plan.
When I was building my vertical wine rack, I covered the back as well. You never know, maybe some day someone might stick their head in there and peer through one of the holes!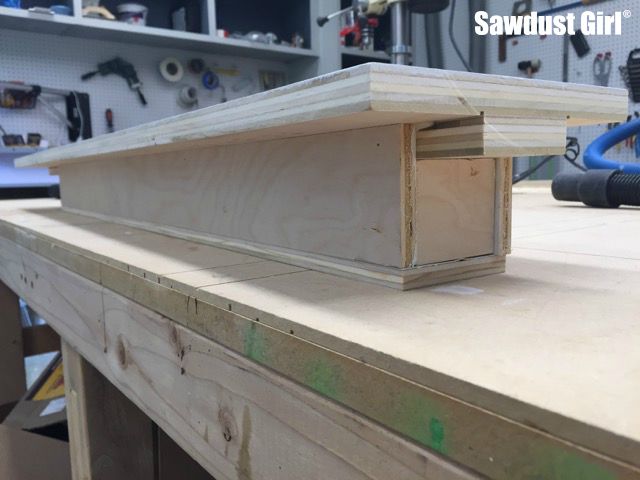 It took some finagling to fit it, and I had to sand and paint the face about 5 times because I kept messing it up when trimming down to fit it into place.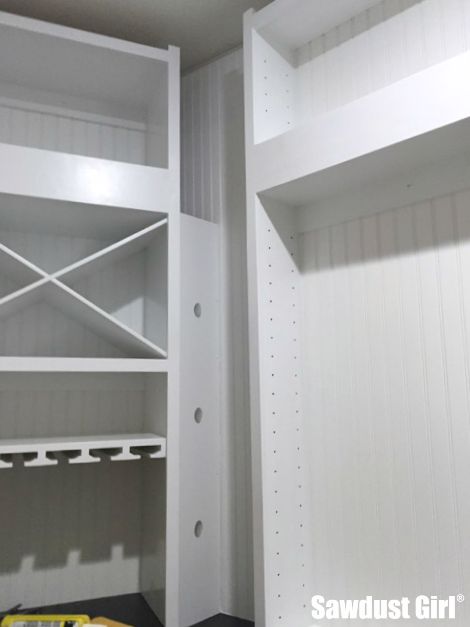 And the rest of this build was the biggest cluster fugazzi of all time!
Overall, I'm really happy with how it turned out. You never know, though–I was thinking, maybe instead of a vertical wine rack I might just do some fancy doors on the cabinets. That is the life of a DIYer, builder, and designer. Sometimes you make a really cool thing, and then decide you want to do a different cool thing instead.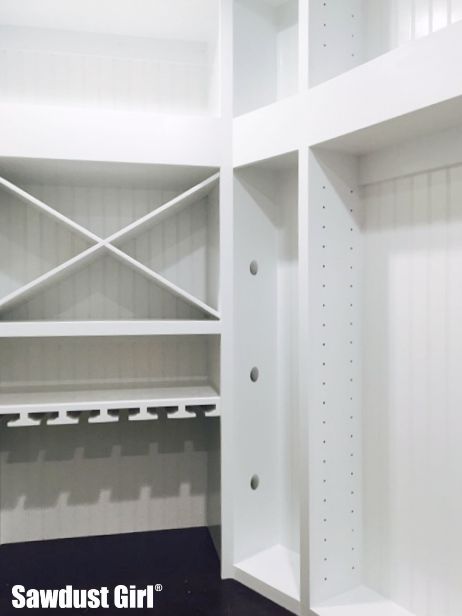 For now, I am really pleased with how it turned out. If you are interested in seeing how the rest of the pantry came together, check out the rest of my blog. You can see how my specialty wine and wine glass cabinet was made, or my built-in mini fridge.