I designed a couple cabinets in the kitchen where I wanted the doors to lift up to open. Before building the cabinets, I looked around for hardware options for lift up cabinet doors. There were quite a few options ranging in price from ridiculous to reasonable. I knew I'd be able to figure out a way to get the function I wanted at a price I was willing to pay.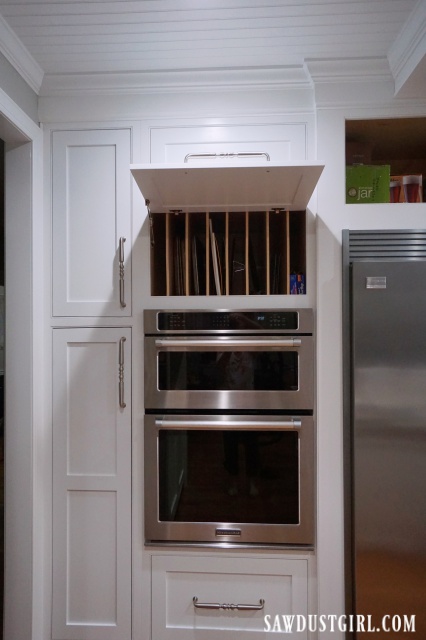 For design purposes, I wanted a single cabinet door above each of the refrigerator and freezer units. Above the ovens, I built a pan sorter which left space for another shallow cabinet above that. All of those cabinets are too wide to have a single door open outward. The doors to cover each of those cabinet spaces needed to open upwards.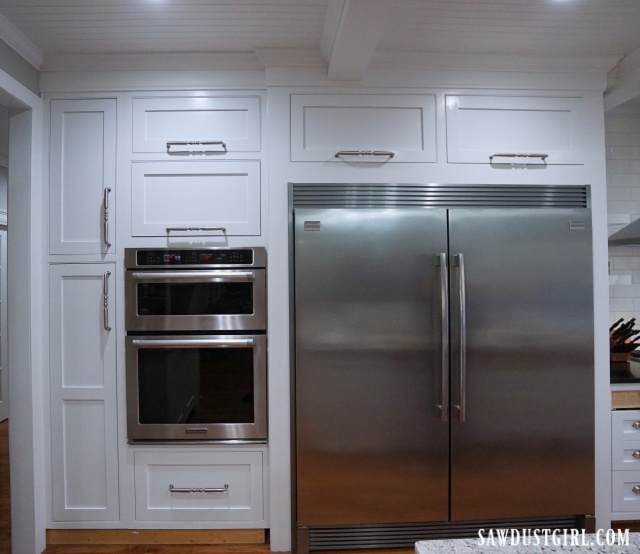 Hardware Installation Instructions ???
I ordered four different support arms to try to figure out which would work best. It's difficult to impossible to find installation instructions for hardware before ordering it. Upon opening up the packaging and pulling this out, I can see why companies don't post installation instructions on their websites.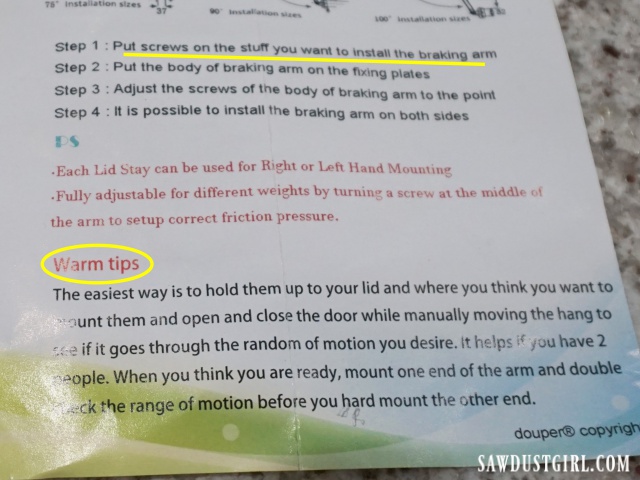 Installing Lift Up Cabinet Door Supports
With all of the lift up support systems, cabinet door hinges were required. I use these: Blum Soft-Close 110 Degrees BLUMotion Clip Top Inset Hinges For Frameless Cabinets. They are installed exactly the same as with normal, side opening doors, but the mounting plates are installed on the top of the cabinet instead of the side. Then the "lid support" or "door stay" is installed. Above the ovens, I used the Douper Lid Support Hinge Lid Stay.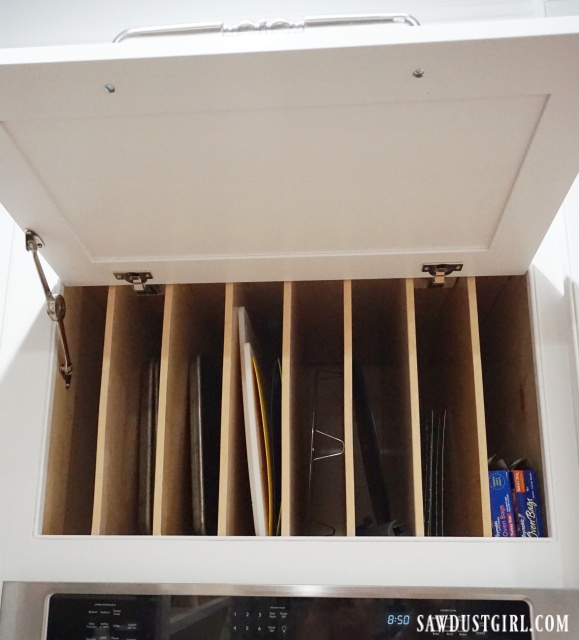 On all the lid stay systems I could find, I couldn't clearly determine if any of the instruction modifications accounted for inset doors. It took a lot of trials and errors to get these installed right. In case you plan on installing these exact lid stays, here's what I did for a desired open angle of 90º:
The center of the part installed on the door was set back 106mm (from the hinge edge)
The cabinet piece is set back 32mm from "closed door" point. (My doors are inset so I measured from the back faceframe as that is where my door stops when it's closed.)
The top screw is 160mm down from where the hinge plate is mounted.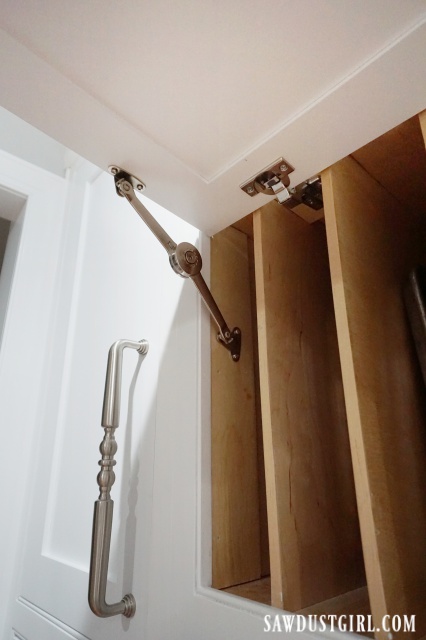 In a perfect world that would have worked out. It didn't. The knuckle of the lid stay didn't clear the cabinet door. Rather than change the placement completely, I simply removed one of the screws on the cabinet part. That way I was able to pivot that piece and try some different positions. I replaced that second screw after I found the right spot. The right spot meaning; the knuckle cleared the door, the door opened to the correct angle, and the door closed completely.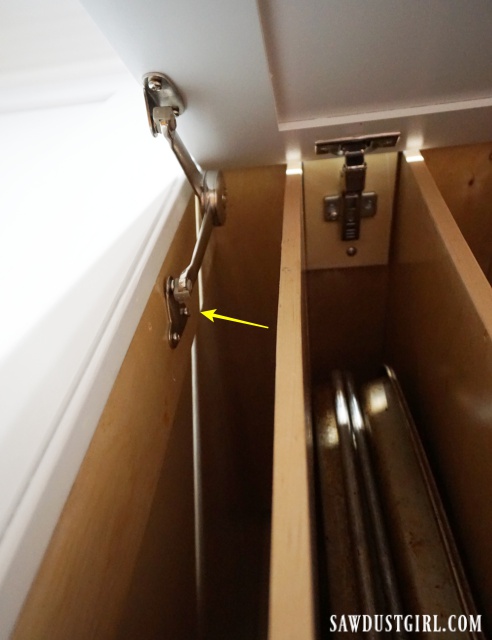 Installation on either didn't go smoothly but was tons easier on the top door because that cabinet is just an open cavity. Lots of room to get a drill/driver into to attach the hardware.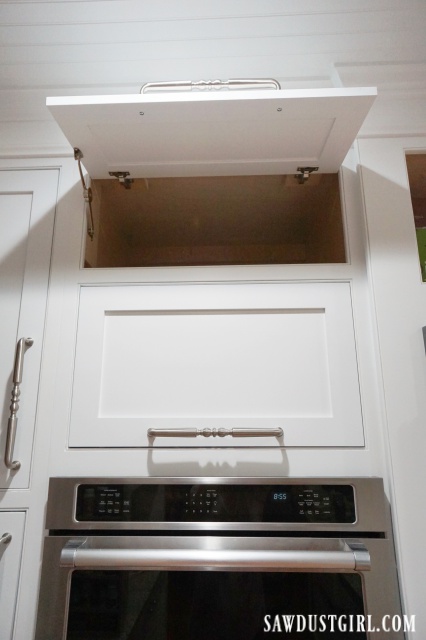 The slots on the pan sorter cabinet are only 3″ wide. I barely had enough room to drive the screws in on the pan holder cabinet. I had to use a knuckle pivoting bit holder to even get close.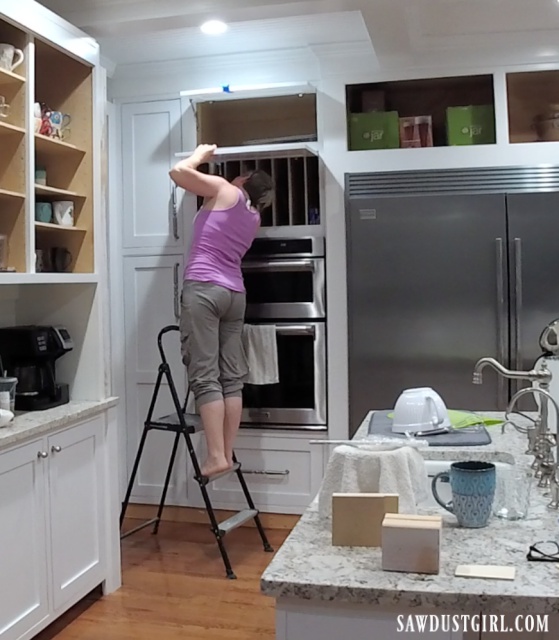 In the end I got them both installed and they work well. One per door is enough to hold the door open on it's own. That scenario could be necessary if one needed to use two hands to remove something from the cabinet. We haven't yet found ourselves with that need. It's only been a couple days since I got these doors installed so it could happen.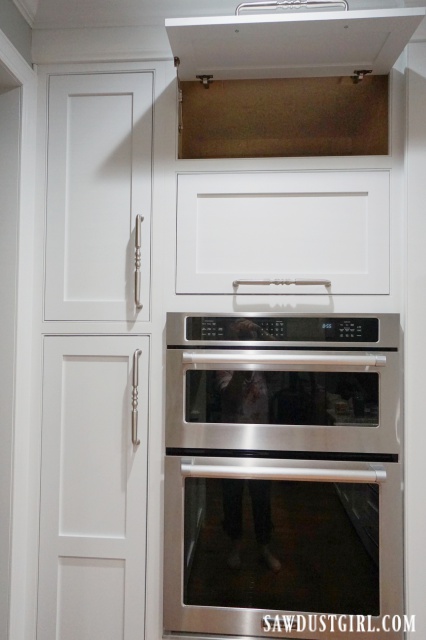 We only even use the pan sorter cabinet frequently. So far, we just open it with one hand and grab a pan with the other. Both the Blum hinges and the lid stay offer "soft close" features so the door doesn't slam shut. It closes slowly and quietly. Unless you let it go right after the lid stay knuckle bends and drip it from full open. Then it has too much momentum for the soft close action to stop the force.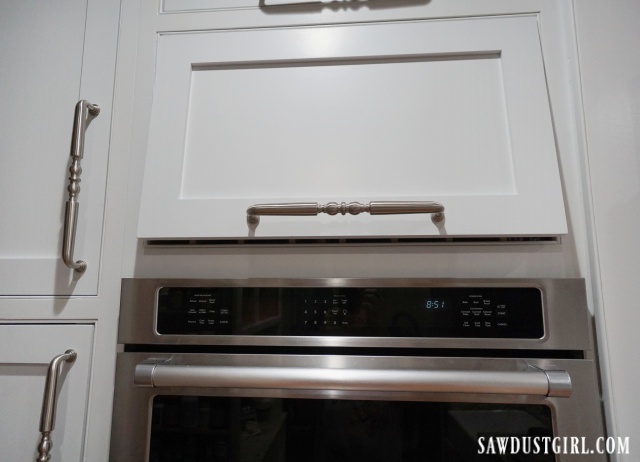 I bought four of the Douper systems but I found one of them was damaged when I removed it from the packaging. So when I moved on to the cabinets above the refrigerator, I had to use one of the other options I had purchased. Which means I had to make sense of another set of destructions.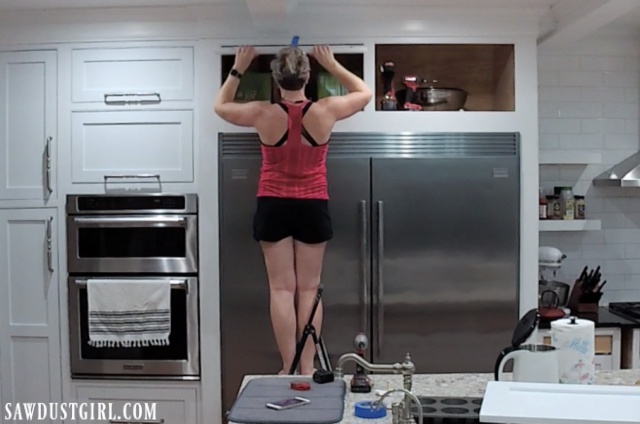 This time I used Sugatsune NSDX-20RK, Right Hand Adjustable Soft-down Stay. Without realizing it, I ordered four "right side" door stays. Again, one stay holds my doors open but if your door is very heavy, you may want to get a right and a left side support.
Like I mentioned earlier, there is no mention of how to use this product with inset doors so I improvised with the information provided.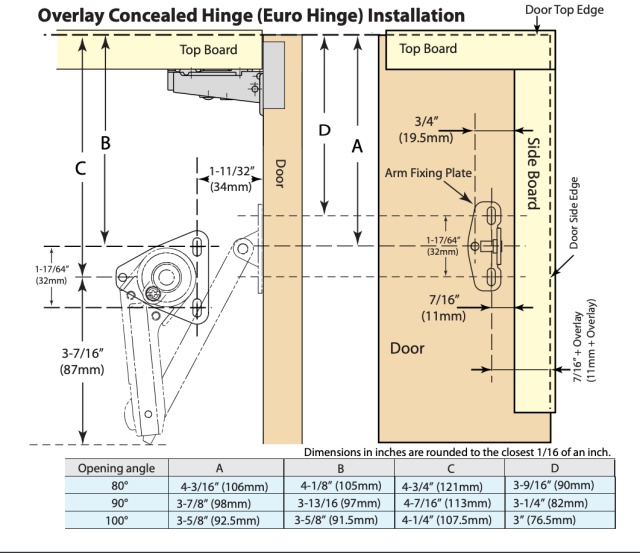 Sharing what I did again, in case you want to know what I did. For a desired open angle of 90º …
The center of the part installed on the door was set back 98mm (from the hinge edge)
The cabinet piece is set back 32mm from "closed door" point. (My doors are inset so I measured from the back faceframe as that is where my door stops when it's closed.)
The top screw is 97mm down from where the hinge plate is mounted.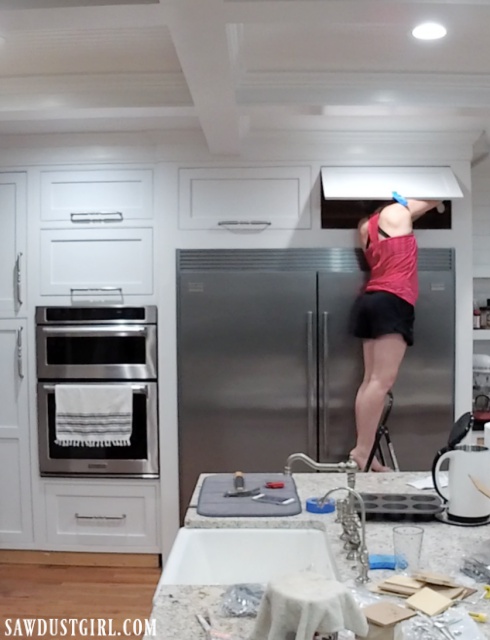 I can't be 100% positive but I think these ended up being a little easier to install than the first ones. They were both a bit frustrating. I seriously only got two doors installed on Friday and two more on Saturday.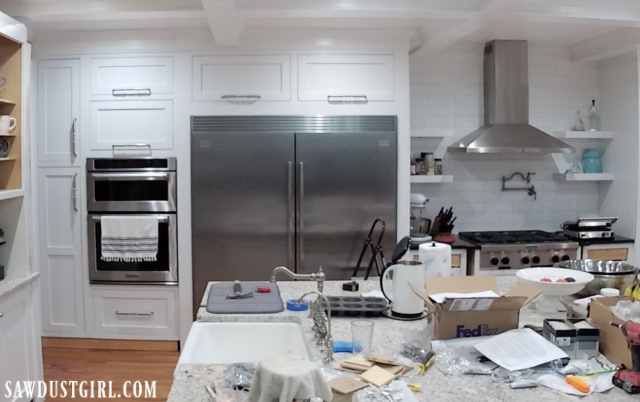 At this rate, I won't be done with the kitchen until March. Once again, the island has become a drop zone for all the tools and supplies I'm using. At least I haven't reabsorbed the dining room table. We have somewhere to eat!
I love the 12″ pulls. Same as the pulls I used on my custom dishwasher panels. Things are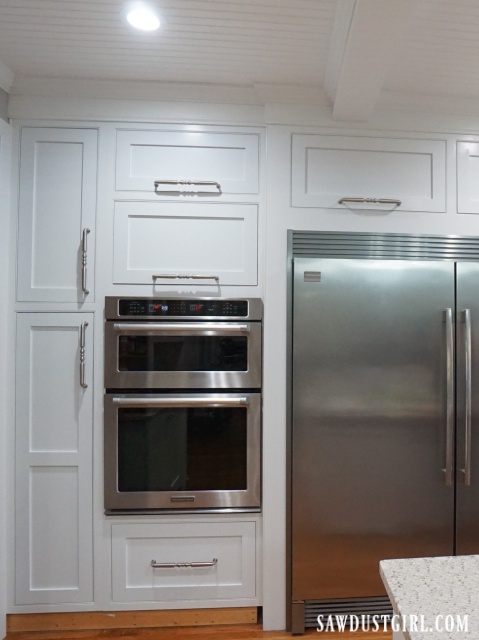 I never tried the other two hardware systems that I bought because I couldn't make any sense of their instructions. When looking online to try to find more guidance, I discovered another option that I hadn't seen originally. The Blum AVENTOS HK-XS Lift System For Small Cabinet Doors . The online instructions for those actually made sense. I generally love Blum products but have great disdain for their confusing instructions. If I ever build another cabinet where I need a lift up door, I'll try the Blum.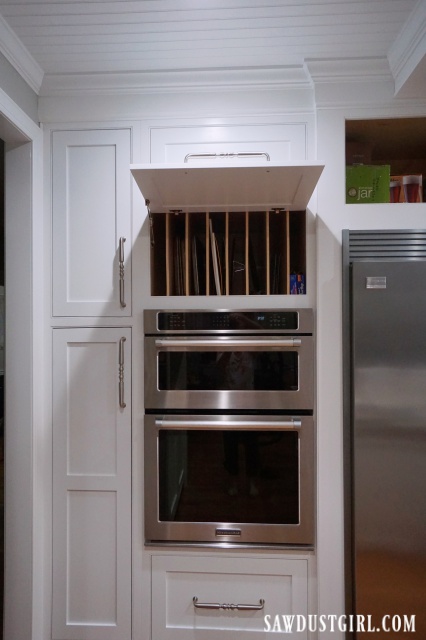 These lift up cabinet doors have me thinking: If manufacturers would spend the amount of time writing their hardware installation instructions as it took me to figure out how to install their hardware, it wouldn't take me so long to install their hardware!