I know it's been a while since I gave an update on what's happening in my house but it's not because things aren't happening.  It's because things are happening EVERYWHERE.  It's very discombobulating — living in this house right now.  Almost the whole main floor is under "construction" in some way, almost all of the basement furniture is shoved into one corner and the entire ceiling is torn off.  The upstairs is a HUGE mess because all the things that need to be stored away while all this construction is happening is taking up residence up there.
Why all at once?  It pretty much HAD to happen that way.  Here's why…
The basement ceiling had to come down so we could relocate everything in the kitchen (water, electrical, gas…)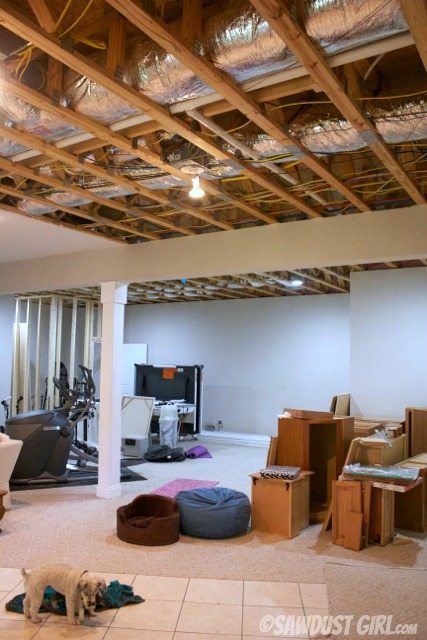 When I tore out the kitchen/living room wall, I opened up a new doorway in the dining room and closed off the two existing doorways which began two additional projects (Entryway plank wall and Side entryway mudroom).  The kitchen is mostly done now.  It's completely functional anyway and that's all that matters to me until we're not living in complete chaos anymore.  Then I'll come back and put doors on these cabinets.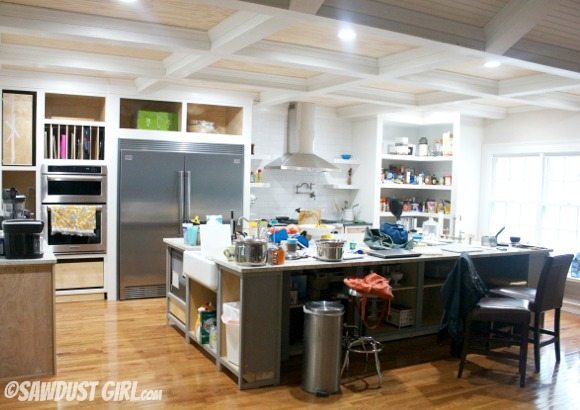 When I opened up the new dining room doorway I had to tear out the bookshelf that hid the air return and have that moved over to a different spot near the powder room which used to be a bathroom but when I tore out the coat closet I discovered that the bathtub stuck out INTO the living room so I tore that out and reframed that space and made a powder room.  I raised the height of the hallway door, that still needs to be framed out but I couldn't do that until the living room ceiling was "finished" so I would know how much room I had to work with for the moulding around that doorway.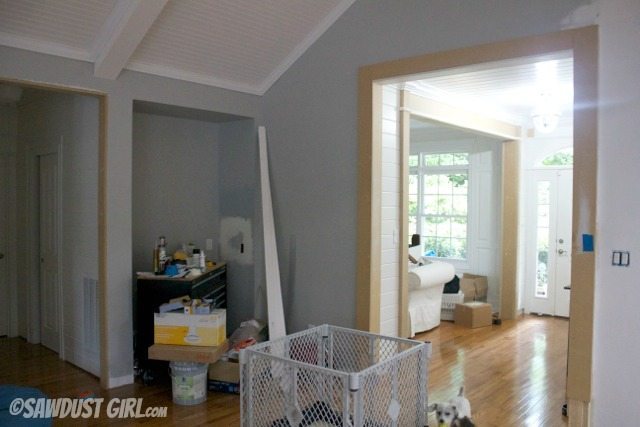 Before I could tear out the old kitchen we had to move all the "stuff" into a temporary kitchen which still happens to be set up in the "second dining room" so that room is not under construction but it's a mess.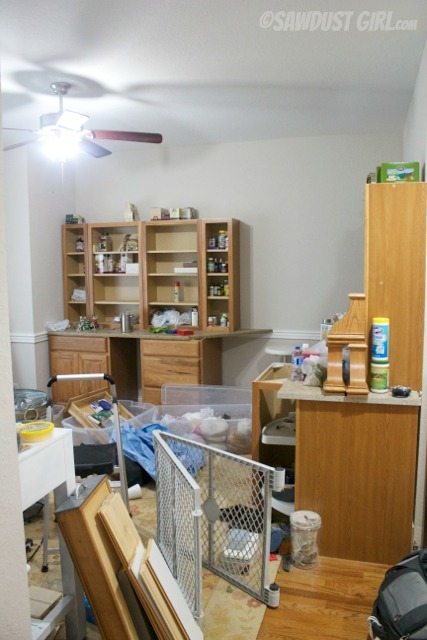 The ceilings are going to be sprayed (either by me or a professional) and I want them all done at the same time so even though I don't need to address the dining room RIGHT NOW, I went ahead and had that ceiling done so we can get all the ceilings painted at once.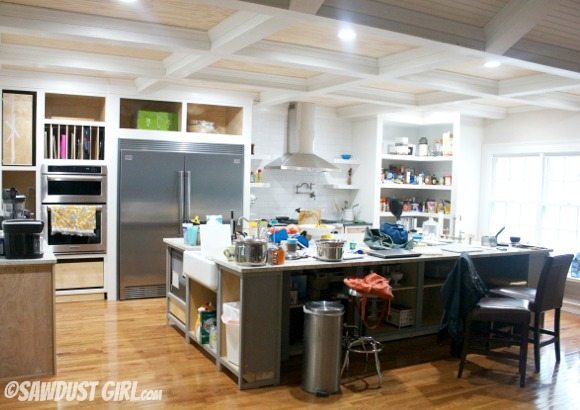 Speaking of ceilings, I know a lot of you want a tutorial on how to do this box beam ceiling and when they are done, I will provide.
One more thing about the living room:  I never finished skim coating to get rid of my hated texture.  I've decided that the existing fireplace has to go!  It's enormous in this small living room and takes as much space as that stupid coat closet did.  I love having a fireplace and will still have one but it will not take up an entire corner of an already small rom.  So that ugliness is staying as-is for the time being.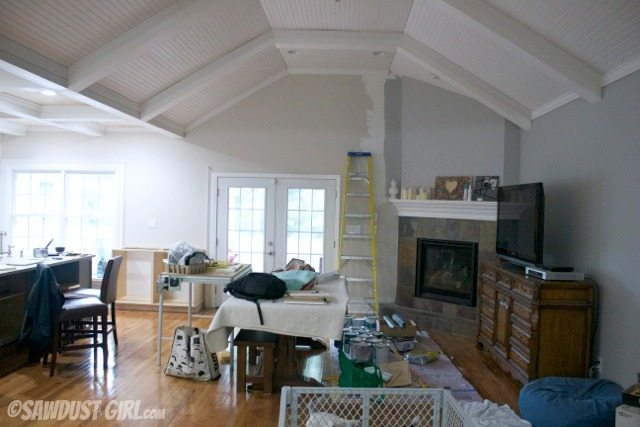 The garage situation was also out of hand so we spent a weekend cleaning and hauling stuff we haven't used for FOREVER to Habitat ReStore.  I am banned from buying any more "free or cheap thrift store finds with amazing potential" until my house is complete.
It's amazing how much more room we have without those 4 truckloads of "stuff"!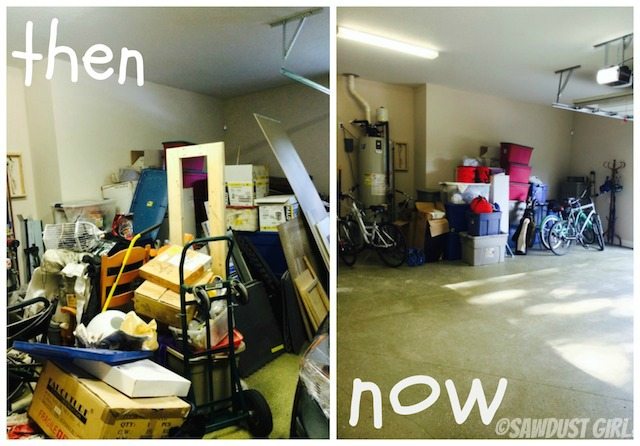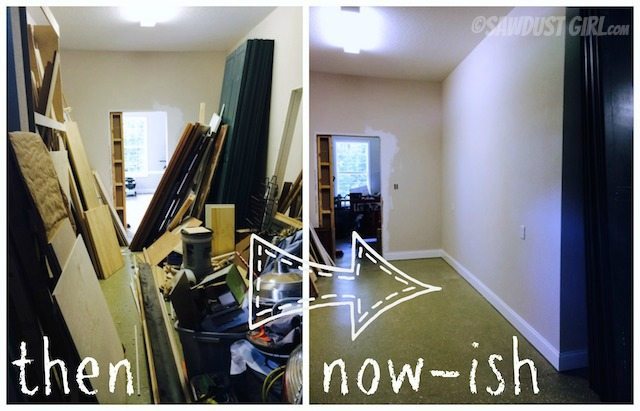 Right now I'm working in my workshop.  I'm tired of tripping over things and searching for the right tool.  I never finished setting it up properly and I'm fixing that problem at the moment.  I've been working on that particular issue for over a month.
I have sworn to myself that I will not move on until it is set up exactly how I need it to be so I can function and maintain some sanity in this life I've created for myself and my family.
(Crazy laugh) heeeheheeee
I'll share all my pans and tutorials with you when I come up for air.  Promise!