The living room was once a long, narrow, dark and segmented space. Now it feels open and inviting. Opening it up required some demolition which is always hard work but it had a big impact on the room.
Living Room Tour
Removing the giant coat closet and moving the air return opened up the space significantly. I also widened the doorway into the library and removed the wall between the living room and kitchen. That allowed me to open up a doorway to the dining room. Now the whole front of the house is a big open space with lots of natural light.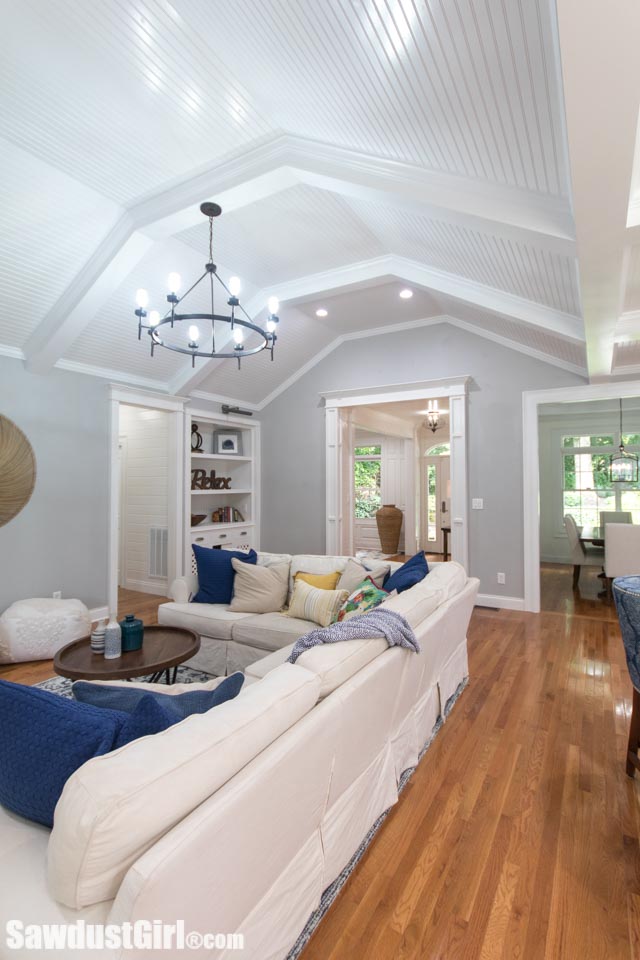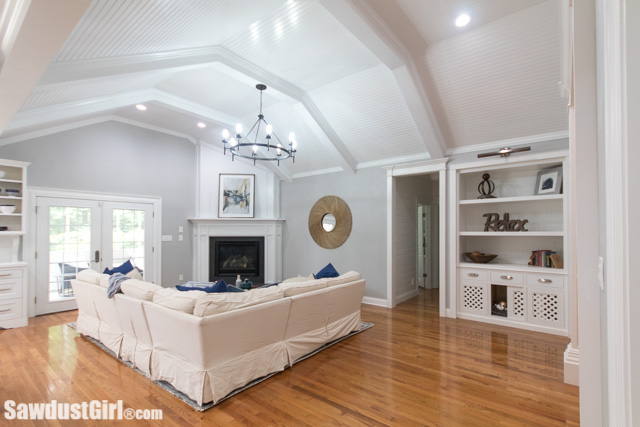 I can't find a great photo of the fireplace "before". This picture of my dad and Madison playing Rummikub happened to capture the fireplace in the background. It's the best I can find. It was a massive blob of slate tile, topped with a too large mantel.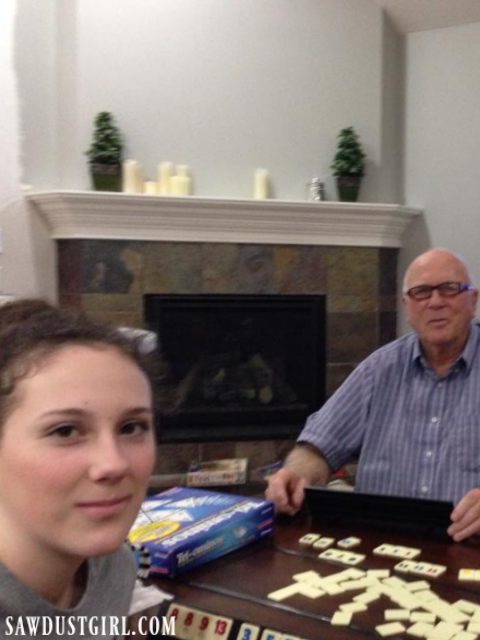 We removed all the slate and built out the lower section, trimmed it out, built a new mantel and Julie tiled it with a matte black porcelain tile. It's still a big corner fireplace, which I always wanted to change. I wanted to relocate and replace the insert with a sleek linear model. Never got to that project, but at least it has a more classic look now.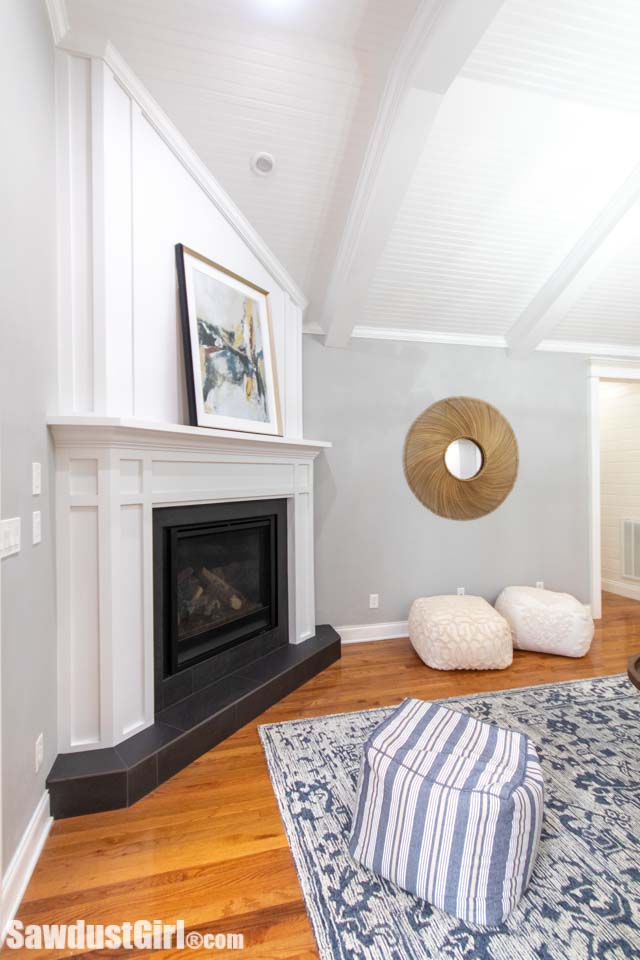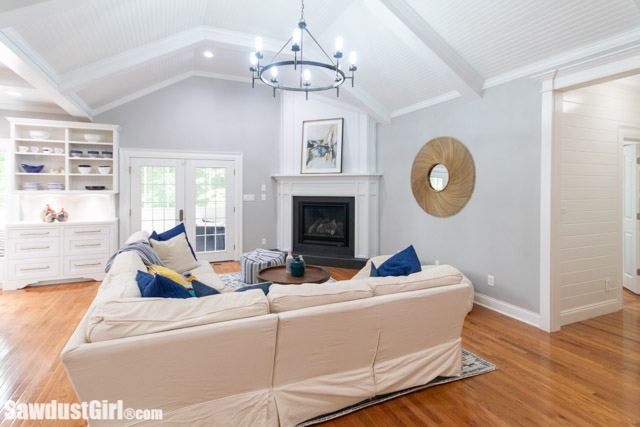 And what about those box beam, cathedral ceilings? I didn't change the shape of the ceiling, just added the beaded board, beams and crown. And changed out a ceiling fan for that light. (Affiliate link to Similar light)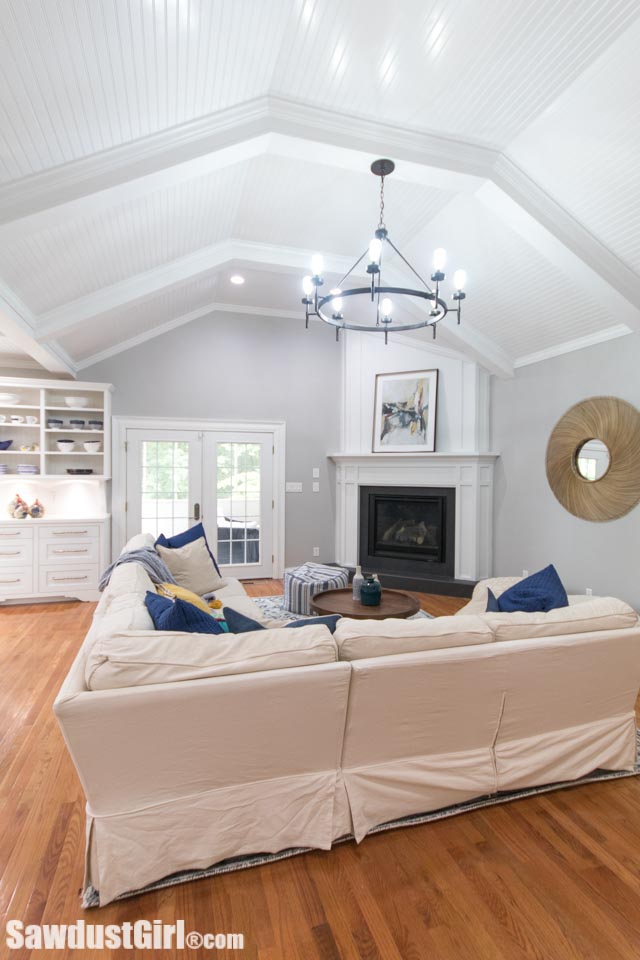 Since we tore out the wall between the kitchen, we also removed the bookcase the builder had built to hide the gigantic air return. I had it moved over to the left wall. Then Madison and I worked together to build the built-in bookshelf with a dog crate. Some people were critical of that feature – saying it was cruel. However, dogs love a safe little "cavelike" place they can retreat.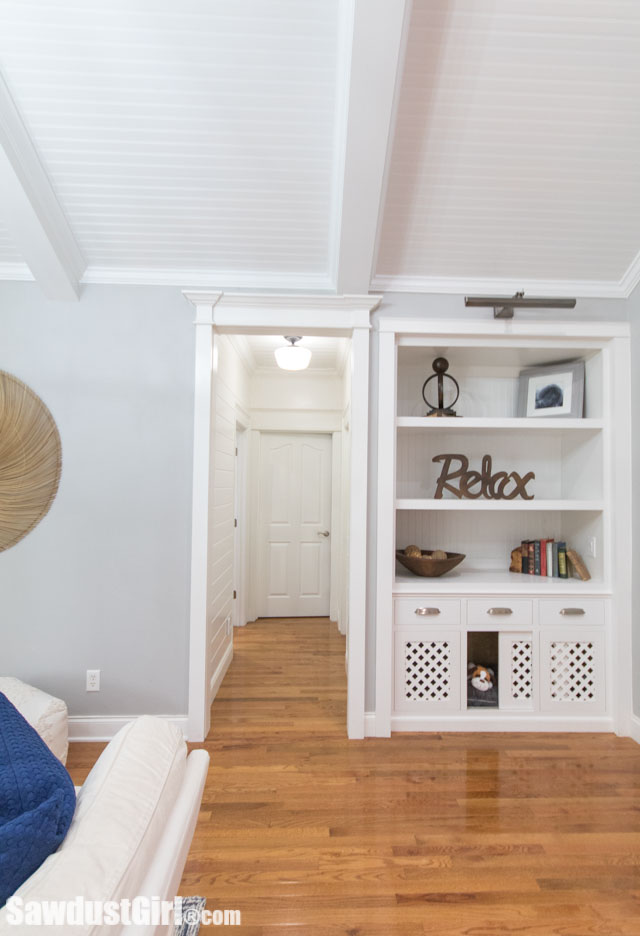 Now that we have moved out of that house, during thunderstorms, when someone is shooting or there are fireworks (or the frogs outside are especially loud), we find Bella hiding under a bed or, her newest place is on top of my clothes on the bottom shelf of some temporary shelving I purchased to hold my clothes. I need to build her a new crate-a-ma-jig so she can have her safe place to go when she wants it.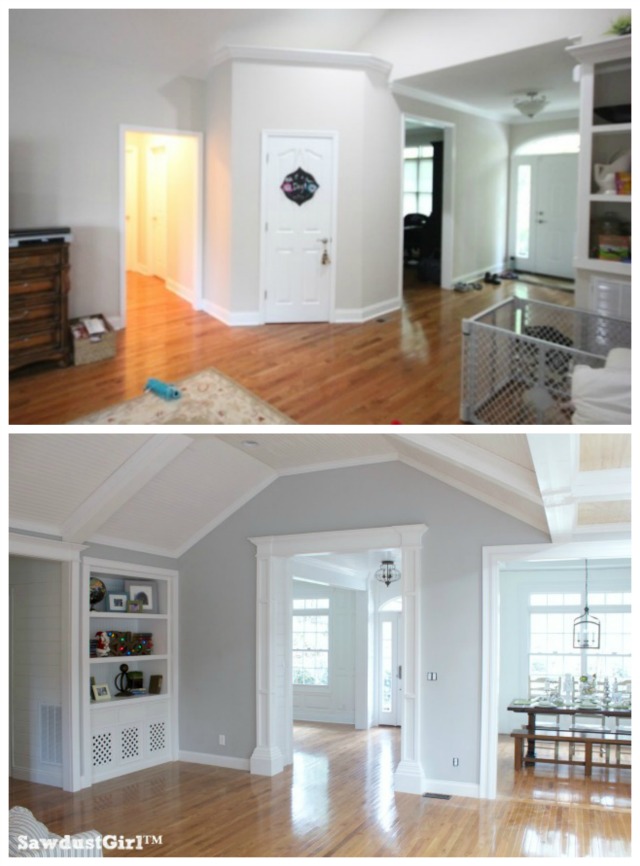 The living room was our hub in our house. (Along with the kitchen.) It's where we sat and laughed so hard we cried – with friends and family. A lot of this house wasn't finished until literally just before we moved. But this space has been finished and comfortable for long enough for us to actually enjoy it for a while. Though we didn't actually buy the rug or art/decor until we were staging. But we'll bring all that over to the new house once we sell this one so we'll get to enjoy those pretty things too — eventually.