So you want to be a carpenter?  Sweet!  Now let's get you geared up. Maybe you don't want to be a "carpenter" per say, but you want to build something … and just don't know where to start?  Don't know what tools you need?  I get asked for my 2 cents on this subject all the time — so here's my 2 cents.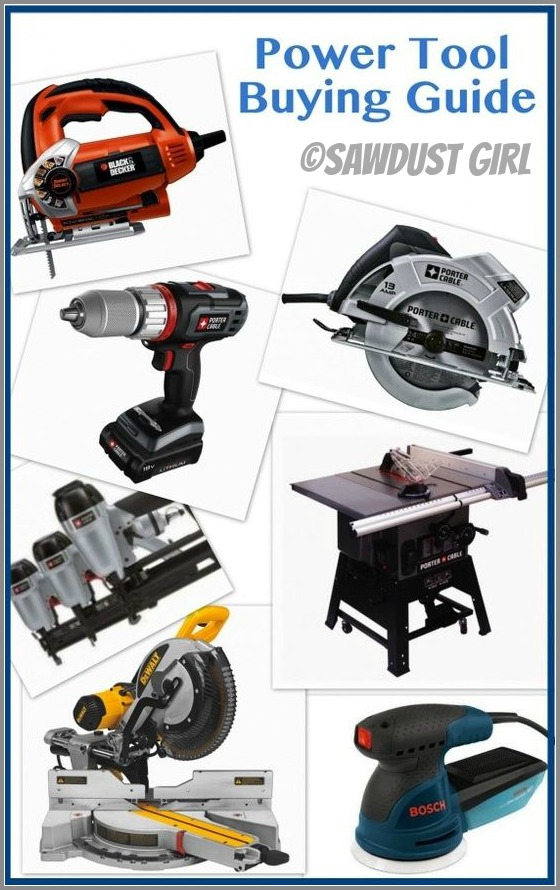 What tools do I need to get started in carpentry?
You don't need EVERYTHING listed below and I've tried to indicate how important each item is to me (or would be to me if I didn't have another tool).  Remember, this is JUST MY OPINION!
Every Carpenter needs:
Cordless Drill/Driver
Far and away the most used tool in my shop.  I would definitely invest in a good one.
What I look for.
high torque.  (at least an 18 Volt motor.)
two lithium-ion batteries.  (One can always be charged when you need it…)
an adjustable clutch
a chuck that will accept round shafts as well as hex shafts.
2 speeds
lightweight
work light
fits well in MY hand
A few buying options:
Circular Saw
You can do a lot with with a circular saw and a good straight edge or cutting guide.  As long as you plan your cuts out in advance, you can cut pretty much everything you need to build a simple cabinet or built in.  You can NOT do everything with a circular saw, but you can do a lot.  You can even bevel cut your lumber.  Boom!
What I look for:
The correct hand orientation!  Circular saws are oriented for right or left handed people.  Get the right one so that you are safely using your saw.
wide shoe (base plate)
blade guard
Depth adjustment with easy to read depth setting.
at least 45 degrees
laser guide (I don't have this and can see where it could be useful)  Not a must though.
A few buying options:
Random Orbital Sander (ROS) – (read my review)
I use mine on pretty much every single project.
Air Compressor and Nail Guns
Edit: Feb 2015:  My new favorite nail gun is my battery powered DeWalt.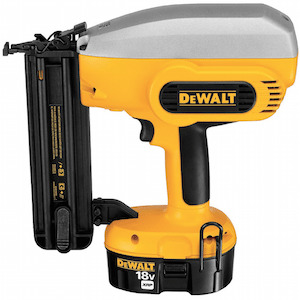 I still use these in my workshop where I don't have to wheel my cart around but with the cart it's pretty handy if you need to wheel it around a jobsite.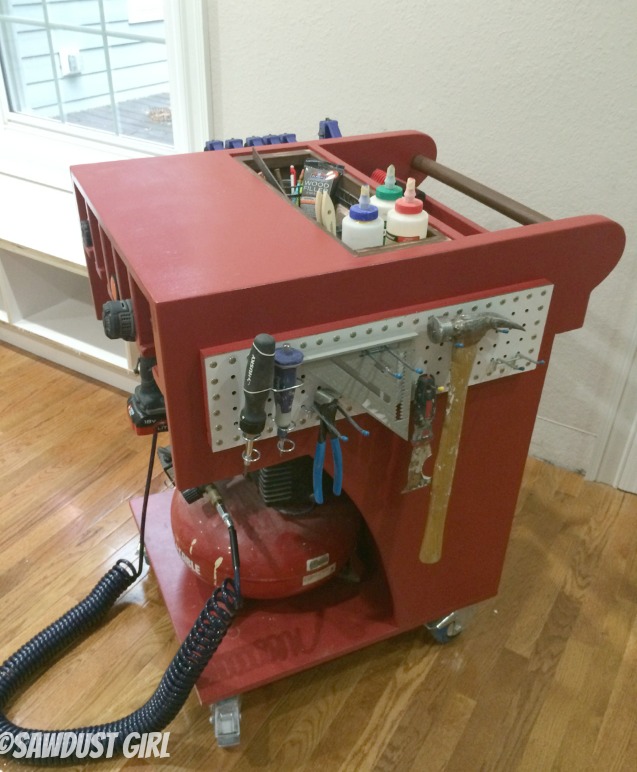 I use my 16 ga nail gun when building cabinets and installing large moulding.  My 18 ga when installing small trim and my stapler when installing backs on cabinets.  I use these ALL THE TIME.  They are a definate must have in my book.
It's generally the best deal to get everything in a kit.  When you start getting guns separately you end up spending tons more.  I have different brands than these guns but I have an 18 ga nailer, 18 ga stapler and a 16 ga nailer.  I use them all.
Jigsaw
I don't use my jigsaw a lot but there are a few times that nothing else will do so it's something I wouldn't want to be without.  I need it for curved cuts.  I also use it to cut holes for outlets in cabinet backs.  Stuff like that.
You don't have to spend a lot here.  The blade you use is probably more important than the saw.  You'll want a variety of blades for all your cutting needs.  The blade package will tell you what you should use that particular blade on.
Compound Miter Saw
This is one of my most used tools.  It's also one of my most expensive tools.  You can buy a miter saw for less than $100.  Mine was about $600.  I've had it for over 10 years and I love it.   I have the DeWalt double bevel sliding compound miter saw.
I would buy the best one you can afford.  Maybe that means you get a little one now and in a few years you invest in something more.  I would definitely want one in my arsenal.  Cutting long narrow boards on a table saw can be dangerous and using a circular saw is not recommended for the kind of accurate cuts you need for cabinetry.
What I look for when buying a miter saw:
12″ saw blade.  You'll only end up with a cut length of about half your blade diameter because the blade doesn't recess down into the saw when cutting.  You only get a portion of the diameter actually cutting the wood.  The sliding arm allows you to cut longer boards.
Sliding arm.  This allows you to get longer cuts.  Not all sliders allow you to get the same length of cut so make sure you look at that in the details.  One might only give you an extra 2″ compared to another saw that gives you an extra 4″.
Double bevel.  This allows you to tile the saw to the left OR right in addition to mitering left and right so you can do all your moulding cuts without flipping the piece and reversing your cuts.
Another important piece to the miter saw (as with any saw) is the blade.  You need different blades for different material.  Use the guide on each blade to determine what blade to use for what.
Table Saw (a woodworking staple but also something you might not invest in right away)
This is one of the big ones.  It can do a lot.  It can be dangerous.  I love mine and use it all the time.   Just like a miter saw, they come in all shapes and sizes (which translates into $$)
I get asked about this one ALL the time and it would take a BOOK to cover this tool.
Sawblades
The BLADE is so important.  If you are crosscutting (cutting across the grain), you need a different blade than if you are ripping (cutting with the grain).  2x's, MDF, Particle Board, Melamine, Cabinet grade plywood…will all cut better with different blades.
Rockler has a really good saw blade selection guide that spells it out much better than I could (or want to).  🙂
These are the staple power tools that I use on a regular basis.  You don't need everything on the list all at once.  I'd have a hard time choosing if I had to pick and choose.  Each up and coming carpenter has to decide what THEY would use, how often and what for — to determine if and how much they want to invest in their power tools.
Edit Feb 2015:  I've added a few tools to my "Favorites List" since I wrote this post you can see the tool reviews for each tool.
Track saw — this is a game changer!