Make these spooky skull candlesticks for about $5 each! It will only take about 30 minutes to make these easy DIY Halloween decorations.  They rival Halloween decorations you would find at a Halloween Superstore for upwards of $15 each.

Cheap and Easy DIY Halloween Decorations
Be on the lookout for inexpensive lamps on your next thrift store run and stock up on a few dollar store skulls and get you spray paint ready.
Supplies:
-2 lamp purchased at Goodwill (about $3 each)
-3 plastic skulls purchased at the dollar store ($1 each)
-1 can of satin black spray paint (the cheap stuff from Lowes- $1)
Step 1: disassemble lamps
 Most lamps come apart by twisting the socket and using a screwdriver or pliers to hold the screw or nut on the bottom of the lamp.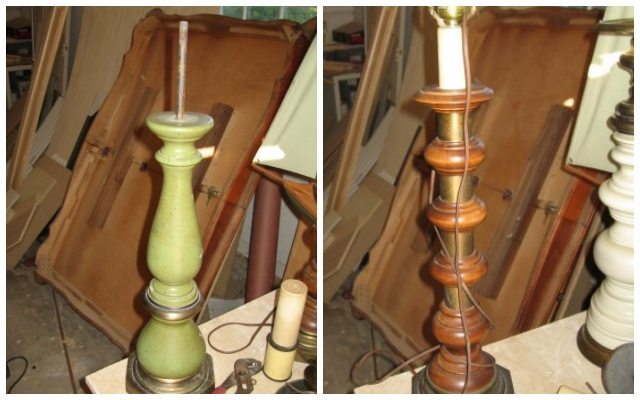 Step 2: Paint
After you take your lamps apart, paint all the pieces.  You won't put them back together the same way so make sure you paint each piece completely.  (Top, bottom, sides…)
*Do not paint the threaded rod, washers or nuts.  You'll be using those again and they don't work too well with paint in the treads.
Step 3:  Drill Holes in the Skulls
Use a drill bit that matches the diameter of the threaded rod you removed from your lamp and drill a hole all the way through each skull.  The skulls will be inserted onto the rods.  You may want the skulls to sit straight or you may want them tilted.  Decide how you want to arrange them before you drill the holes.
Step 4:  Assemble your Skull Candlesticks
Mess around configuring all the parts until you find a design your happy with. Like I said in step 3, it's preferable to do a dry run before you drill the holes in the skulls.  Take into consideration that you'll be sitting a candle on the top so have one of the wider diameter pieces on the top.
Use the lamps original rods, washers and nuts to secure all the pieces of your skull candlesticks together.  The threaded rods are threaded on both ends.  Adding the skulls means not using all the original lamp parts because you only have so much threaded rod to work with.  That's why it's good to get a couple different lamps so you have lots of parts to work with.  Alternately, you can purchase long threaded rods at the home improvement store in the plumbing and electrical section.  You need a hacksaw or reciprocating saw to cut that so depending on what tools you have available to you, that may or may not be a good option.
Optional Step 5: Paint the SKULLS
It's completely up to you to leave the skulls white or paint them.  Depending on how cheap your skulls look, painting might make them look less cheap.  As was the case with my project.  I took my candlesticks back apart to paint the skulls.
After painting my skulls, I used sandpaper to scuff some of the paint back off.  They looked way too uniform so I distressed them a little.
Then put them back together again.
Candles
These skull candlesticks are kept together with nuts on each end of the threaded rod.  So…there's a nut where the candle will sit.
No problem, candles are wax.  You can either cut or melt a concave area in the bottom of the candle so it will sit flat. Or, your candles might already be a little concave (like mine were) so they sit flat without doing anything.
Total cost for both candlesticks: $10
Other easy DIY Halloween decorations and projects: