After removing the mirror from my master bathroom, I wanted to repurpose it into some cool projects.  No idea what cool projects I was going to make with that large mirror but I'm too much of a treasure hunter NOT to do something with it. My first attempt was a complete failure.  My straight edge moved so my scored line wasn't straight.  That resulted in a …well, not a clean break.  In addition to not having clamped down my straight edge, my scoring tool sucked.  I bought a new one and tried again — with great success.  Here are some important things I learned about how to cut a mirror.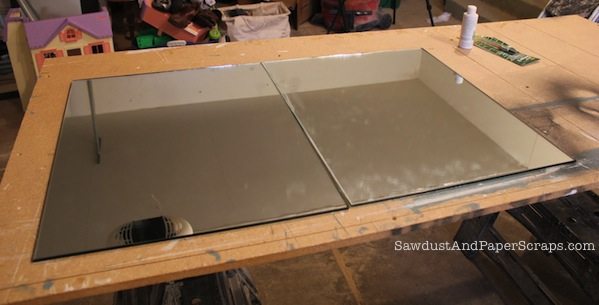 Mirror cutting Tools
1.  All scoring tools are not equal.  I first used one that I bought at the local home improvement store.  They only had 1 to choose from.  It did not work worth a lick.  Don't buy that one. 9It had 6 tiny scoring blades on a wheel.)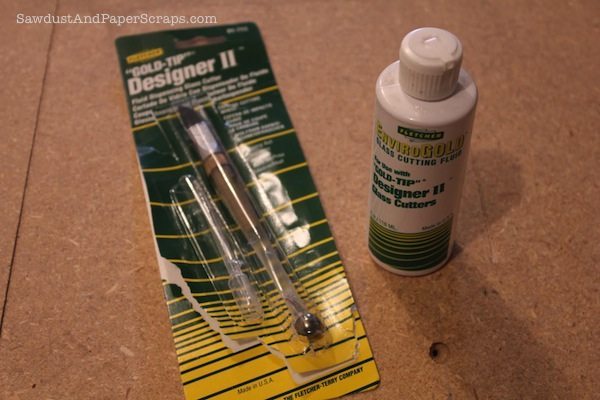 The new
glass cutter
I bought has one cutting wheel and a cavity in the handle for
oil
.
I bought mine on Amazon.  The tool was $20, which is high compared to some. But I tried the $5 option the first time and it sucked so I spent a bit more and got one that had a chance of actually working!  (It had good reviews.)
2.  You need oil.  Either on the mirror or on the scoring wheel or both.  I think you can use any kind of oil, sewing machine, cooking…not sure.  I just bought the oil that was in the, "often purchased with…" area when I put the scoring tool in my Amazon shopping cart.
Glass and Mirror Cutting…I mean Breaking
You don't actually cut glass and mirrors. Mirrors break. I am now going to give you a pathetic attempt at a sciency explanation of why. Glass is a solid liquid. When you score the glass it disturbs the surface allowing you to separate the two sides of that line.  After you score, can make a clean break right down that score line.
We're just going to keep calling it "cutting" because that's easier than saying, "scoring and breaking".
How to cut a mirror
Wear safety glasses.  When the mirror breaks, you don't want little pieces of glass flying into your eyes.  I don't suggest gloves for the scoring part because it's difficult to hold the scoring tool when wearing gloves.  You can put gloves on before you snap the mirror.
Score
Clean the mirror.  If there's specks of dirt or sand, it can mess up the score line.

Clamp your straight edge down on the mirror.

Hold the scoring tool straight.  Don't let it tilt to the left or right.
Use even pressure all the way through the score.
Start on the very edge and score all the way to the other edge.
Make your score line in ONE attempt.

DO NOT GO BACK OVER YOUR SCORE!   You might be tempted to go back and forth to make sure you got it.  Don't do it!

You should hear a scratching sound while you're scoring the mirror.  The kind of sound that makes you cringe.  Like fingernails on a chalkboard. But that's a good thing.  That awful sound means your disturbing those molecules!
Snap
After scoring the mirror you're going to run the score line.  That means you're going to apply opposing pressure to both sides of the score line — further separating those particles until the snap away from each other. There are a couple ways you can do this:
Pull the mirror so the half of the score line is off the edge of the surface you're cutting on. Hold the side that is still on the table firmly and then apply quick downward pressure to the edge that is OFF the table.  It should break cleanly right down the score line.
You can use running pliers to pull and gently wiggle the "off cut".  Work your way down the score line and keep pulling and wiggling until the two sides break apart.
 I personally like the quick snapping technique.  Especially with a large mirror. The most important thing to remember is to use ONE CONTINUOUS, evenly pressured score all the way from the beginning of your mirror OFF the opposite end!
That is all there is to knowing how to cut a mirror.