This month, Bosch Tools wants to celebrate families making memories while building together. My family is the perfect example of how "Building together" looks different for different families.  I often get asked how Wes feels about all the projects going on in our home and if/when he gets involved.
With Father's Day coming up, it's the perfect time to share with you the story of  "Our First Family DIY Project".  Also, it's a great time to celebrate where we are now because of the DIY journey that project started us on!
This post is sponsored by Bosch.  All ideas and opinions are my own.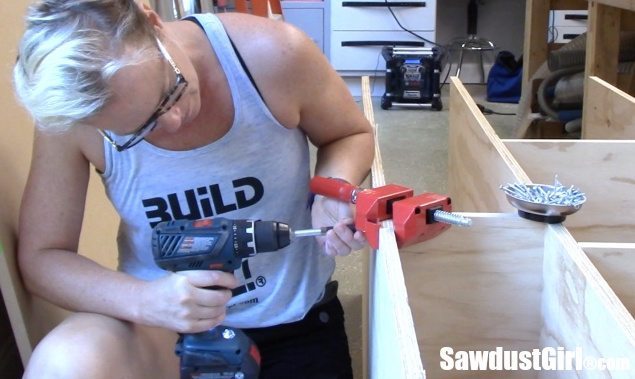 It all started when Wes and I settled down in our second home in Arizona. Madison was 3 years old and my parents were out for a visit.  It's important to always have a project to work on when my parents visit because Dad likes to stay busy.  My brother and sister drove up from CA for a couple days to visit while our parents were there… and to help with the project.  We didn't have a project planned.  We didn't even have a project in mind but everyone knew there would be a project happening.  This "knowledge" was just a given.  Except Wes didn't know.
Wes left for work, Mom took Madison to the park and it was decided that the perfect project would be to tile over the laminate countertops in the kitchen. We were pretty sure we'd have it all knocked out in a couple hours.
In a few hours we had scuffed up the laminate, cut off the backsplash with a circular saw, and were beginning to tile and over our destruction when Wes came home from work.  He came in the front door, stared in silent, gaping horror at the monstrous mess we had created.  He walked into our bedroom, came out with an overnight bag, and left.  Wes discovered two things in that moment; 1. there was a DIY project happening in his home and 2. he really disliked demolition mess!
BUT he also discovered that he likes the product that comes from the mess.  We finished tiling that night and when Wes came home from work the next day we were finished grouting and it looked awesome!  The mess was cleaned up and Wes was totally happy about it.
Our DIY journey had begun.  We were excited about creating awesome things in our home that we couldn't afford to buy or hire done. We could do it ourselves! We just decided Wes was going to skip out on demolition duty.  And actually it was best if he did not see, hear, or touch demolition with a ten-foot pole!  I learned to do demo when he was out of town and have it cleaned up before he got home without even mentioning anything about it to him.  That always works best for us!
When we moved to Illinois, our house had an unfinished basement. Overjoyed, he decided that since no demolition was required for us to begin remodeling, we could start finishing our basement….together. I was grateful for the extra help, of course, and we set our sights on the following weekend. We gathered our tools, pulled up our trousers, and got busy. The first goal? Frame the walls. After a few hours of working, Wes and I had built a 4′ section of wall. A 4′ section of wall, with a stud every 16″ is a total of four studs!  Wes wanted/needed to make everything completely perfect.  It was frustrating for both of us.  We discovered that DIY work is not something he enjoys.  From then on, I have been the primary DIYer of this family, and it's gone pretty great.
I've learned how to accommodate Wes's anxiety about the chaos when I tear things out, and he's learned to trust me to make our house beautiful. No matter the road it took to get where we are now, I wouldn't trade it for the world. Wes is a wonderful supporter of my DIY projects, and he is always willing to step in when I need an extra set of hands and lend his muscles when I need help lifting or installing something.
He supports me through my projects.  He pulls out my splinters, rubs my sore muscles, listens when I rant about something gone wrong and celebrates with me when a project is done!
That is what building together looks like for us.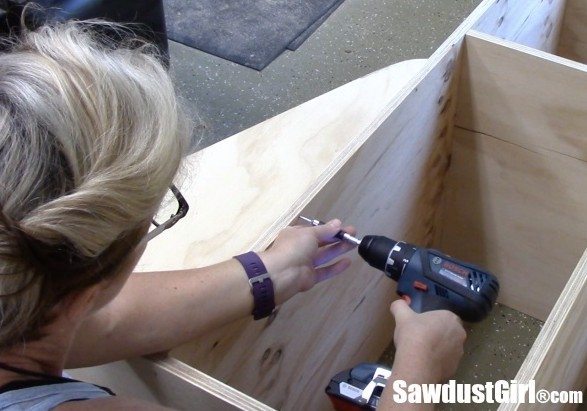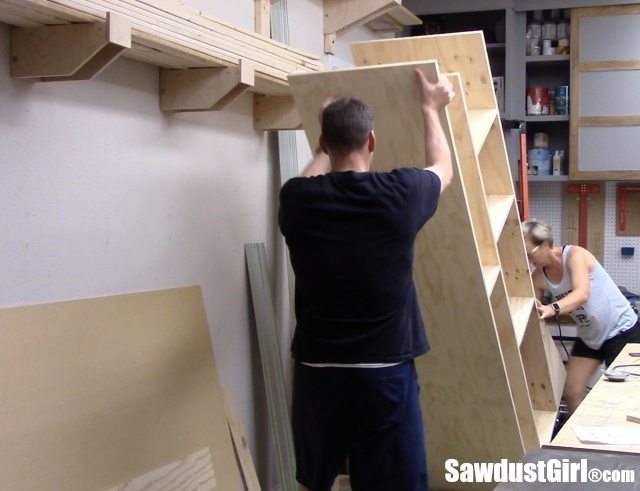 Giveaway!
To encourage YOU to build and pass on the joy of building together,  we're giving away a Bosch 2-Tool Combo Kit to one lucky winner!  
This 18 V Lithium-Ion Combo Kit includes a 1/2 In. Drill/Driver and 1/4 In. Hex Impact Driver, two 18-volt Lithium-ion batteries, charger and soft carry bag.  The regular retail value of this 2-Tool Combo Kit is $229 but it's available for $169 until at Lowe's until 7/4/2016!  (Great idea for a Father's Day gift.)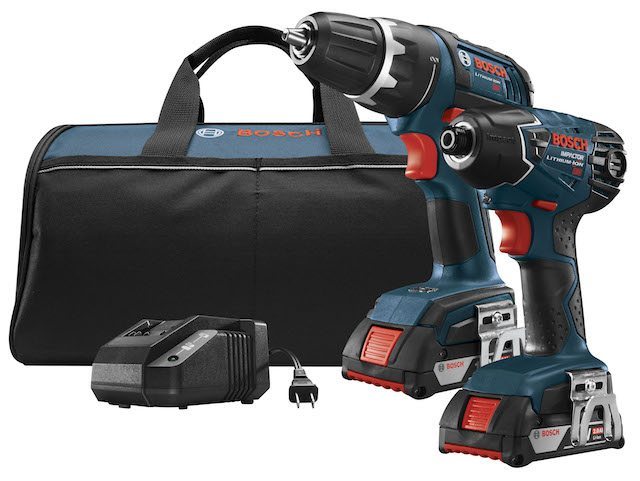 I've been using these tools all week and they fit nicely in my grip, are both lightweight and powerful.  The batteries are about half the size of the last Bosch impact driver I purchased a few years ago.  It's amazing how thin and lightweight 18V batteries are these days.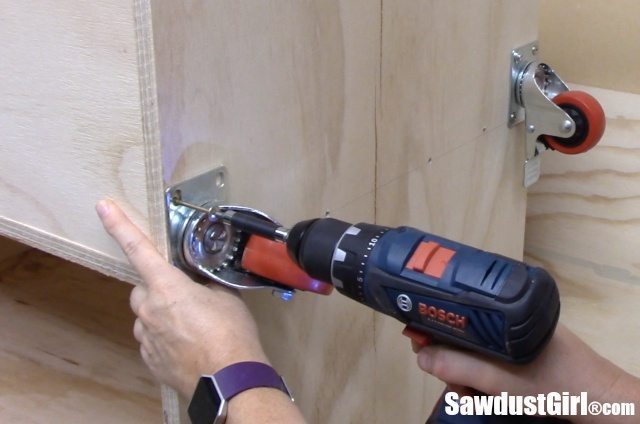 The impact driver has a small enough body that I was able to drive a screw inside the 8″ wide cavity of the lumber cart I build this week.  Not at an angle — but straight in– INSIDE the 8″ cavity!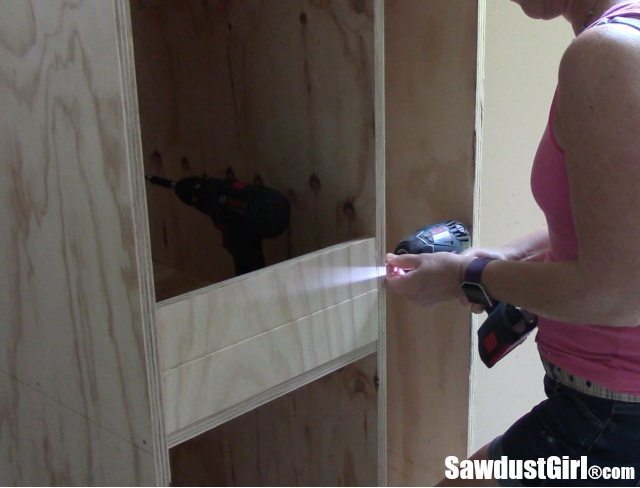 Father's Day is coming up and this Combo Kit would make a great gift for someone that loves building and DIY'ing — or you might want to keep it for yourself.  Everyone needs their own good set of tools.  Enter below for a chance to win and if you don't win, don't miss out on the discounted price that ends on July 4!  (found here)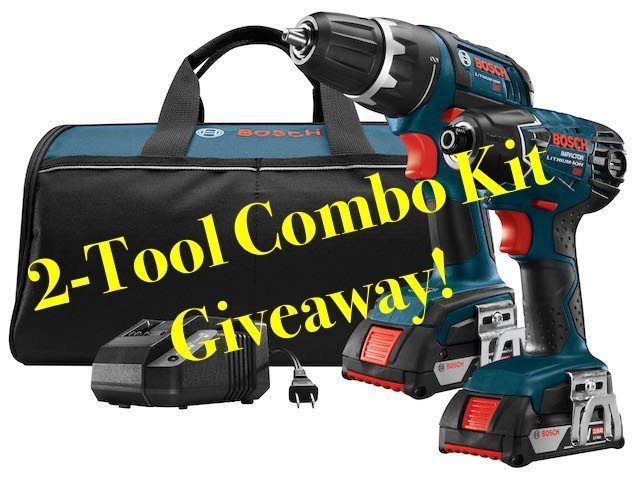 This giveaway runs from 6/3/2016 through 12 am on 6/8/2016.
To enter, follow the instructions in the Rafflecopter widget box below.  Each person has 4 total possible entries.
Open only to residents with a continental US shipping address and individuals 18 years of age or older.
Email address or facebook signup is required in order to contact the winner.  This information is not stored or used for any other purpose.
See terms and conditions for eligibility guidelines and additional information.
I received product and/or compensation from Bosch for this sponsored post.  
Connect with Bosch Power Tools on Facebook and @BoschToolsNA on Twitter