Madison and I had an exciting and exhausting day yesterday with stylist and photographer for a feature in Better Homes and Gardens!  What?  When I first opened up the email I was thinking, "hmmmm, maybe they want to shoot my closet…..?"  But the room they were interested in was Madison's bedroom.  Surprising —  but totally cool!
Last year we painted a world map on one wall and did a Subway Art sort of approach of throwing names of countries on the wall.  (We were in no way trying to label the map correctly!)
Madison, being a typical teen,  promptly made a mess of the room and it's been that way at least 97% of the time since we finished her room.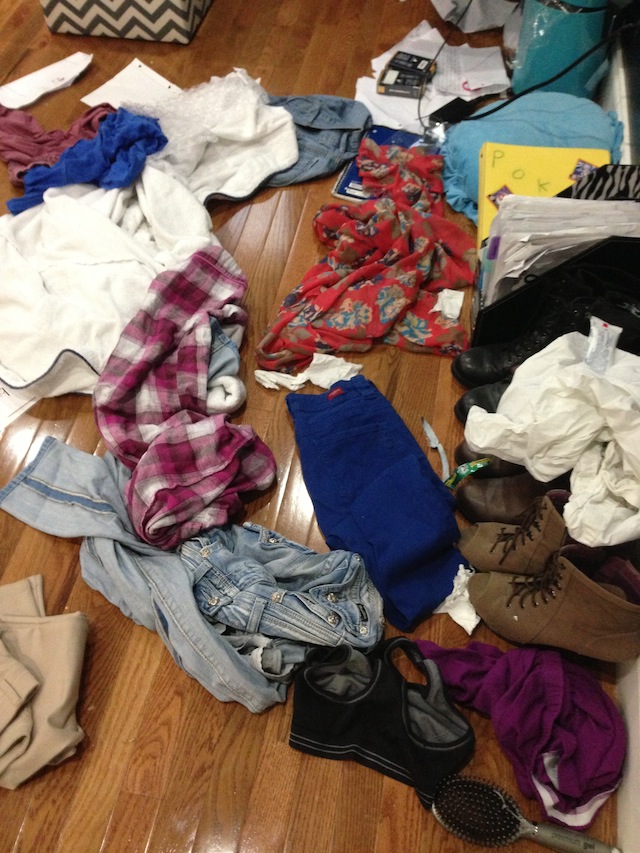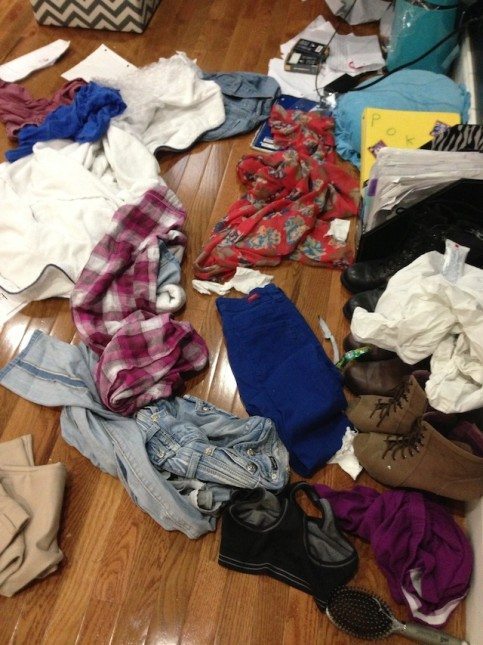 And this is how it looked Monday morning with the stylist scheduled to come by in the afternoon to prep for the shoot.   (I think the excuse was something to do with this is the last week of school and she had a big project due and her computer froze up and she had to redo part of it…)
So I "cleaned" up the mess.
Oh you glorious floors…even though I'm not fond of your orang-y glow I'm so thrilled to see you!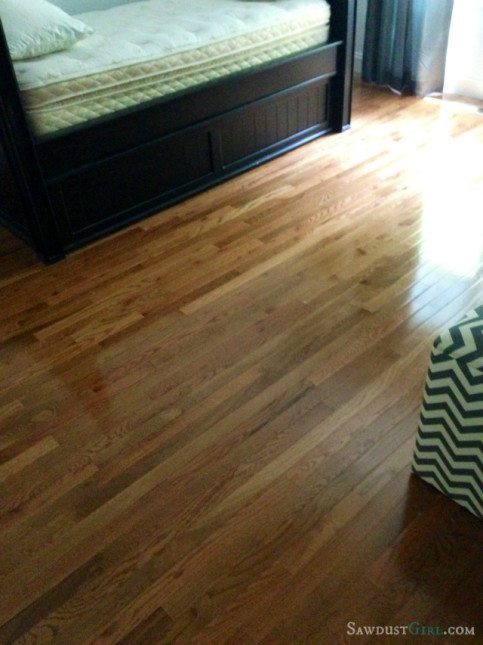 Our fabulous stylist, Jessica arrived later than expected since there was a mix-up with her travel arrangements so I had a little extra time to "clean".   She arrived around 5 and started right in prepping the room for the shoot.  She ran away every time I tried to catch her on camera!  She was fun and creative and cute as a button.  I'm so annoyed that she wouldn't let me take her picture…  I got her ironing the bedding.  ha!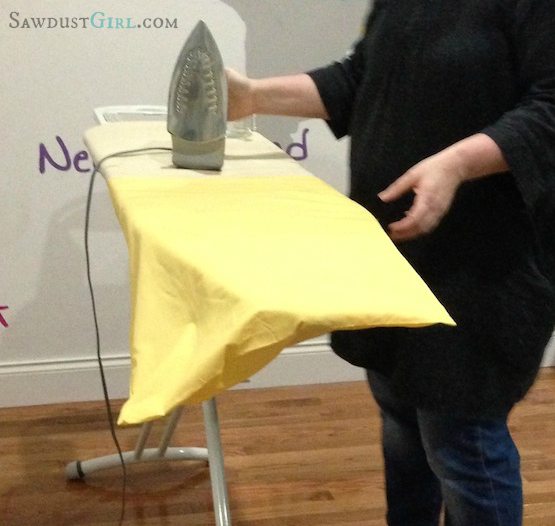 Our photographer, Edmond, few in from LA.  He's a genius, basically.  I don't know that for a fact, but it's my suspicion from our brief interactions.
Anyway…These rooms are so tiny, they had to be very creative to position the camera in the doorway of the "soon to be office"  to get everything they wanted into the picture and then they could view and manipulate the pics on this computer in the hallway.  It was a bit cramped getting in and out of the room but we all managed.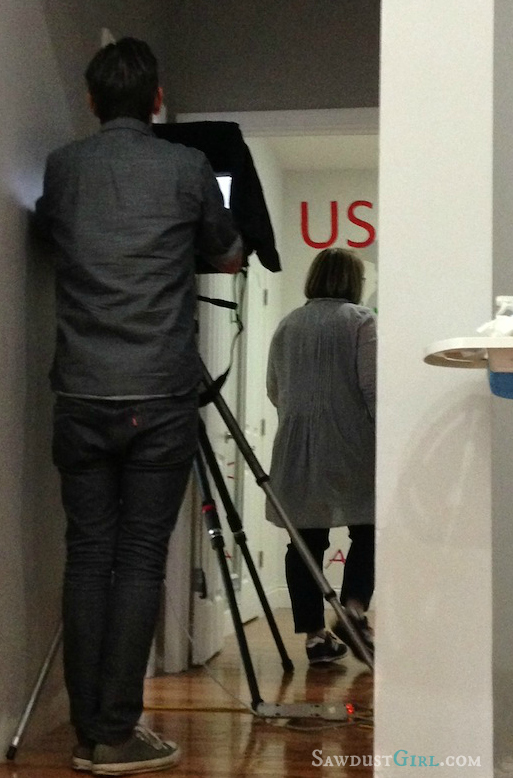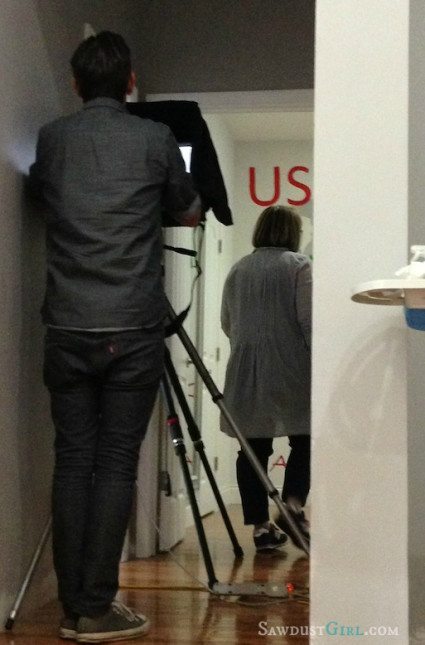 The office was temporarily taken over with gear and props.  Who knew how much was involved in these magazine photo shoots?  Not me!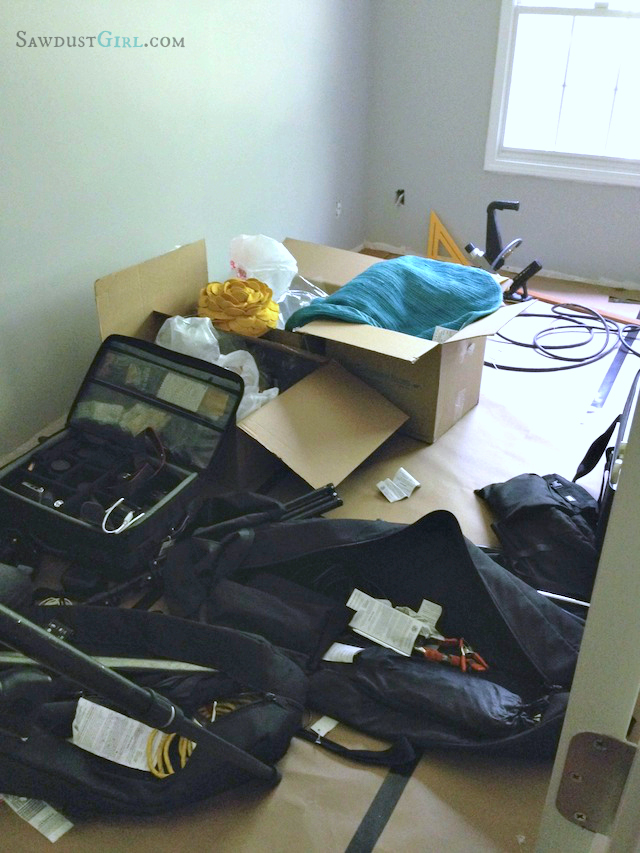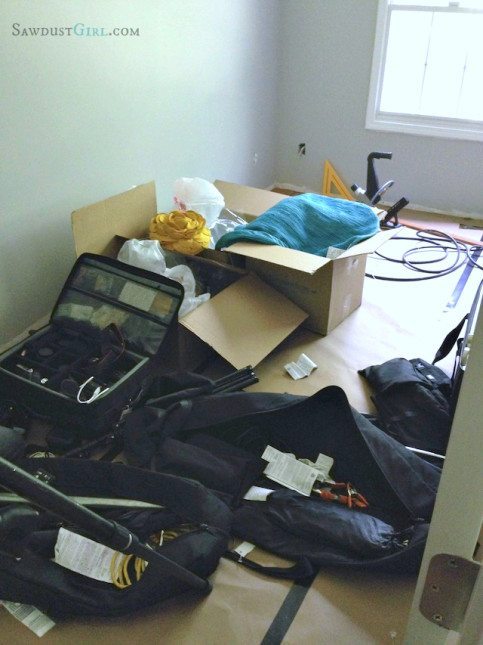 Truth be told moment:  I didn't really "clean" Madison's room.  I just moved all the junk from all over the floor as well as her bedding and ALL her pillows (I don't know how she doesn't suffocate every night) into the living room.  This is where we spent the first couple hours while everything was set up before we went in and took about 1000 pictures.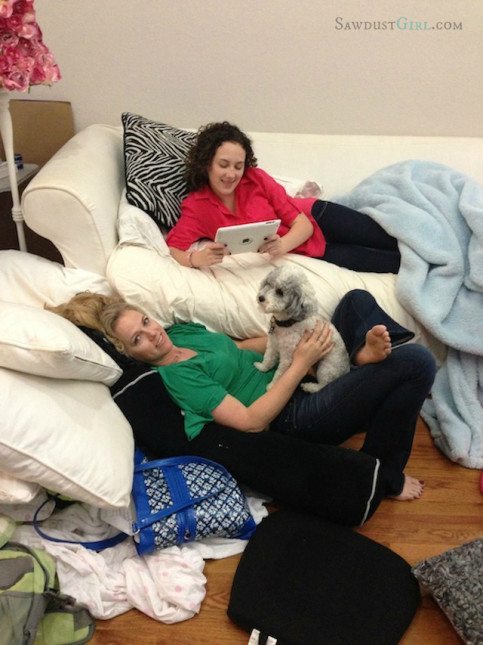 I have a new respect for professional models.  I find it very difficult smile naturally after 3 hours of smiling and positioning myself in all sorts of "not so natural" feeling positions.
I was exhausted at the end of the shoot.  Madison had a blast!  Brody put up with it.
We took a lot of shots with him and lots without him so we'll see what comes out in the Better Homes and Gardens issue when it runs.  I'll give you a heads up (but I think it's this August)!  FUN!!!